16 ARMAGH COUNTY senior titles.
1o Ulster senior club crowns.
And 6 All-Ireland senior club triumphs.
Since 1996, the amount of silverware that Crossmaglen Rangers have accumulated is remarkable.
Next month they will roll into Mullingar ready for another assault on a national title with a semi-final tie against Roscommon's St Brigid's.
The consistency of the club based in south Armagh yet how have they managed to endure for so long at such an elite level?
It's a question that has exorcised the minds of many. At last weekend's GAA Games Development Conference in Croke Park, club chairman Tony Brady and coaching officer Peter McMahon sketched the narrative of the club's rise.
As Brady put it in his opening address, "The secret is that there is none".
The background of Crossmaglen Rangers is salient. It is well-documented how part of their club grounds were requisitioned by the British Army for a military base.
Delegates were shown images of the club's main pitch resembling a quagmire after being torn up from helicopters landing on the playing surface or Army vehicles driving through it.
Even after coping with that hostile environment and regaining full usage of their property, Crossmaglen have then had to cope with the effects of the recession that afflicted every other club in Ireland.
"Despite concerted efforts to drive us out of existence, we emerged from the Troubles to redress years of stagnation and under-investment," said Brady.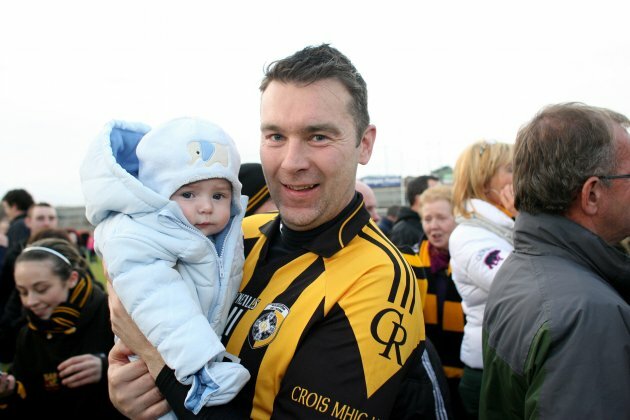 Oisin McConville of Crossmaglen celebrates with his son Ryan after the game. INPHO/Presseye/Andrew Paton
They have continued to thrive. Brady pointed out how the club does not have a parish teeming with players to choose from. Armagh clubs Silverbridge and Culloville, Louth's St Malachy's and Monaghan's Toome are all located within a four mile radius. But they have the knack of bringing players through from underage level.
"When we won our first All-Ireland club title in 1997, ten players had been on the Féile winning team of 1988," outlines Brady. "Even when we lost great players like the McEntees (John and Tony) and Francie (Bellew), we kept going and have been successful. The conveyor belt stayed working."
Jamie Clarke, David McKenna and  James Morgan are some of their new stars. They have contributed to a rich vein of success in recent times with the club aiming to be St Patrick's Day kings for the third successive year.
The club's structures are in excellent shape which helps smooth the transition from underage to adult levels. McMahon pointed out that they face the challenge that all clubs have to contend with – recruiting personnel to help out in coaching youngsters.
Yet they are selective about who they choose and feel it is critical that those in charge of their underage teams have the right qualities and manner for the job.
The practice of former Crossmaglen players coming back to fill coaching roles is also notable with former senior manager Donal Murtagh and current senior joint managers Tony McEntee and Gareth O'Neill being prime examples of that.
And yet this is a club which is focused on more than just Gaelic football matters and serves as the hub of the community.
"With all the big games (club and county) that have been held in Crossmaglen over the years, it is estimated that we have brought in one million visitors and helped generate £20m for the local economy," revealed McMahon.
"The South Armagh area that we are situated in is top of the deprivation charts. But when some councillors were down from Belfast to see our club five years ago, they were amazed to see that there was no graffiti in the town, which is a big example of anti-social behavior.
"We've also made a conscious decision over the last few years to engage with political and community leaders to promote South Armagh in terms of economic development and tourism."
A club then which takes its responsibility seriously as leaders within a community. On February 16th the show continues.