The42.ie / YouTube
This post is part of The42′s Facing History series, supported by Cadbury Boost. To read more, click here.
THE BALL, THE ball, the ball.
It's everywhere we go in New Zealand.
Children playing pick-up games of touch in the parks, students practising their passing in between school classes, professional players working on their extras before and after training.
When we visit Rugby Park, the state-of-the-art home of the Crusaders and the Canterbury Rugby Union, the ball is unsurprisingly omnipresent.
Out of international camp for a few days, the Crusaders' All Blacks – the likes of Sam Whitelock, Codie Taylor, Ryan Crotty and Matt Todd – are hammering into a gym session at their Christchurch base.
But here too, in between sets of squats and rows, the players always have a ball in their hands. Supersets of passing practice, flicking the ball to themselves, even simply dropping and catching the ball one-handed. The ball, the ball, the ball. Everywhere.
Buzzing in between some of the All Blacks who will form a central part of his Super Rugby squad next year is Scott Robertson, who has been head coach of Canterbury for three years and makes the step up to succeed Todd Blackadder for 2017.
Eoin Lúc O'Ceallaigh / The42 Robertson takes over the Crusaders for 2017. Eoin Lúc O'Ceallaigh / The42 / The42
Robertson – known as 'Razor' to all – is an energetic, positive presence. He's a little bit different to your average professional rugby coach. A native of the Bay of Plenty region up on the North Island, he is now a Canterbury man through and through.
A self-proclaimed surfing disciple who once spent a season playing rugby for Ards RFC in County Down, he won 23 All Blacks caps as a back row before becoming one of the many ex-Crusaders players to turn their hand to coaching. They take that production line seriously in Christchurch.
Canterbury have won 12 National Provincial Championships – the competition is now known as the Mitre 10 Cup for sponsorship reasons – second only to Auckland's 16. Winning seven of the last eight titles, two of those under Robertson, underlines Canterbury's stranglehold on provincial rugby.
The Crusaders, meanwhile, have won seven Super Rugby titles, four more than the second-best Blues and Bulls. Two final defeats in the last six years mean the Christchurch franchise hasn't enjoyed Super Rugby success since 2008, however.
Canterbury and the Crusaders are somewhat unique for their close ties, at a time when other provincial unions and Super Rugby franchises have grown apart.
Housed in the same building, with the same CEO, Hamish Riach, over both organisations, Canterbury and the Crusaders have been hugely important to the success of the All Blacks, providing both players and coaches who have gone on to star in Test rugby.
"The people here are hard-working," says Robertson. "They're pioneers, they came from a lot of English roots when they came into Lyttelton [the so-called 'Gateway to Canterbury,' where colonial settlers landed] on the boats, so they are people of the land.
"A lot of farmers, a lot of locals who have owned farms for 100-odd years. It's very traditional, and a lot has changed since the earthquakes. 2011 to now, you come into the city and there's a lot of rebuild. We've become pretty resilient from it."
Eoin Lúc O'Ceallaigh / The42 Rugby Park, home to Canterbury and the Crusaders. Eoin Lúc O'Ceallaigh / The42 / The42
That's what we hear about the people of Canterbury wherever we go in New Zealand – they're hard, honest, intelligent people. Their rugby players exemplify that.
They also have a reputation as standard-bearers in the world of rugby, as being part of a dynasty that has helped produce the likes of Richie McCaw, Steve Hansen, Dan Carter, and many others.
"The one thing that stands through it all is 'team first,' but I would guess that applies to most teams and organisations, so it's all in the detail and the people who live it that counts," says Riach on what has allowed Canterbury and the Crusaders to be successful.
"There's no magic wand where we all face southeast on a Monday morning and something unfolds. If you have a general philosophy about the team being greater than any individual, that's a good start."
From there comes the detail that allows the players to excel. It's important to point out that Canterbury and the Crusaders have different coaching staffs and employees, with philosophies and structures that are not identical.
One thing they do share is a reputation as teams who play attractive, attacking rugby. What you see in Christchurch very much reflects what you see when the All Blacks are tearing sides apart.
Robertson's Canterbury side have shone in the Mitre 10 Cup again this year. They sit top of the Premiership Division heading into the final regular-season round and have scored 48 tries in nine games, 12 more than the next best. The 42-year-old understands the need to continue the legacy with the Crusaders next season too.
"The expectation is that we play with a high skill level," says Robertson. "We've had a lot of players that have come through who are multi-skilled with the mindset that they want to play. As coaches, we put structures in place to allow them to do that.
"We work really hard, have a lot of fun, but it comes with a massive expectation."
Eoin Lúc O'Ceallaigh / The42 All Blacks hooker Codie Taylor. Eoin Lúc O'Ceallaigh / The42 / The42
Playing with a high skill level means practising those skills relentlessly. A desire to improve the basic skills pervades everything in Rugby Park.
Their focus is on the most minute details of catch-pass, for example, and how the 1% elements can affect the bigger picture. If the halfback's pass is off by one millimetre, how does that affect the timing of the whole move that's been planned?
Both set-ups invest time into practicing how their players carry the ball into contact, how they present the ball after the tackle – all affecting their chances of creating 'Lighting Quick Ball' of under three seconds at the breakdown.
There is much emphasis on counter-attack and turnover attack in training, something that is reflected in the amount of tries the Crusaders and Canterbury score on counter-attack and from inside their own half.
Post- and pre-training extras are a religion at Rugby Park, as we see that morning when the Canterbury squad have an 'organisation' session planned, where they walk and jog through their plays for the weekend's Mitre 10 Cup clash.
The entire squad is out early, and will be again before the main training session in the afternoon. Extras focus in on the micro-skill work that each player feels can improve their threat – high-ball work, footwork into the tackle, grubbers, chips, cross-field kicks.
There are passing clinics two or three mornings each week, where the players gather to get the most basic skill in the game nailed down.
Under Robertson, the squad contact training slots are called 'Under Fire,' highlighting that these sessions are going to involve applying pressure on the players, testing those skills they've been working on, pushing their tactical knowledge to solve match-related problems that may arise at the weekend.
The results of Robertson's approach with Canterbury speak for themselves, with two Mitre 10 Cup titles in three years, and a semi-final already guaranteed with one league game to go this year.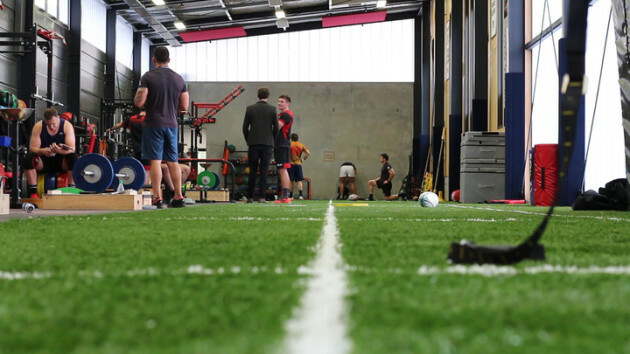 Eoin Lúc O'Ceallaigh / The42 The Rugby Park facility opened last year. Eoin Lúc O'Ceallaigh / The42 / The42
"It's huge for development, it's huge for exposure," says Robertson of the Mitre 10 Cup, an important tier in New Zealand rugby.
Played from August to late-October, the competition brings together club players who only turn professional for four months each year, exciting emerging talent, Super Rugby players and All Blacks not currently involved at Test level.
The rugby is often thrilling and while attendances can be poor, Kiwis view it as a vital stepping stone.
"It's exposure at a level with a lot of tradition and history," continues Robertson. "You've got your four provinces of Ireland and we've got our 14! It's so passionate here. Your numbers in crowds aren't unreal, but it means so much for the local community for one of their players to come through."
Canterbury also claimed the Ranfurly Shield – another fascinating layer of New Zealand rugby – this year.
The 'Log o' Wood' is famous in New Zealand, and deeply cherished by those who hold it. The shield is won and lost on a challenge system, whereby the holders defend it on home turf during the Mitre 10 Cup campaign or in designated challenge matches in pre-season.
It means potentially uninteresting fixtures can become all-out battles. Canterbury took the shield from Waikato to great fanfare during our time in New Zealand – their first shot at the shield in four years – retaining it when North Harbour came to visit soon after.
Perhaps Irish rugby could add something similar into the calendar by bringing back the inter-provincial trophy on a challenge basis.
Developing players is important at Rugby Park, but the development of coaches has been an intriguing aspect of the Canterbury and Crusaders organisations. The influence of Wayne Smith, Steve Hansen and Robbie Deans – all coaches here – is still felt.
The42 Canterbury and Crusaders use the same facility. The42
"They're probably three of the greatest coaches in modern rugby," says Robertson. "They're all different styles of coaches and so many of our players have come through under them.
"A lot of players that have come through have taken a lot out of those three coaches and taken their own personality into it and gone on to be successful wherever they've been coaching."
Robertson name checks Blackadder, Tabai Matson, Mark Hammett, Leon MacDonald, Aaron Mauger and Joe Maddock in the way of examples.
"I always remember the quote 'master coaches inspire their players to coach.' They've handed down the ability to teach, coach and deliver. They were the inspiration for the players to be coaches. That's true for us at Canterbury and Crusaders.
"The handing down of the knowledge, the expectation, the living and breathing of it, is huge. There's succession planning and that's part of the reason Canterbury and the Crusaders have been strong, and that applies to the All Blacks too.
"There's huge continuity and the New Zealand Rugby Union do it really well. The development of coaches, the development of players. There's high competition, a lot of us, so the pool is strong and the support is strong."
For Robertson, ex-Munster coach Rob Penney – another former Canterbury player – was a key influence. Penney gave him his first professional coaching gig, bringing 'Razor' in as an assistant in his Canterbury set-up in 2008.
"Rob was a great mentor and he still is," says Robertson of Penney, who is now with Japanese side NTT Shining Arcs. "He had success with Munster. I went over to Ireland and I was blown away by how Munster played under him.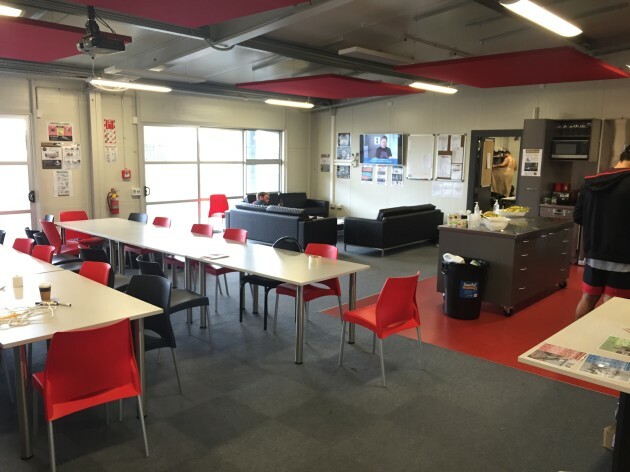 The42 The team room at Rugby Park. The42
"Their skill level and the amount of tries they scored in one of those European Cup games sticks with me.
"I went to the [2014 Heineken Cup] game against Toulouse, where they absolutely tore Toulouse apart by nearly 50 points [Munster won 47-23]. The whole experience was something I loved."
As well as developing their own coaches from within, the Crusaders and Canterbury are open to having outside members of the rugby community visit to study their methods.
Connacht assistant coach Conor McPhillips and Mike Blair of Glasgow Warriors have been among the visitors to Rugby Park this year, while coaches from Japan and Australia, even other sports, have also been welcomed in.
Robertson's coaching development has been relatively smooth so far – taking in a World Rugby U20 Championship success with New Zealand in 2015 - but he has a tough task on his hands moving up to Super Rugby level for the first time in 2017. Expectation around the Crusaders is always strong.
"It's hugely demanding," says CEO Riach, who has been with the organisation for 15 years.
"We lost round one in 2016 and a reporter wrote an article about 'The empire has crumbled'. One loss. We went on a nice long winning streak then and it begrudgingly appeared the empire wasn't crumbling. It's a very demanding community to play rugby in."
It is true that the Crusaders haven't won a title in eight years. In that time, the Chiefs have won Super Rugby twice, with the Highlanders and Hurricanes sweeping top honours in the last two years.
Having dominated the early years of the Super Rugby era after adapting to professionalism well, the Crusaders have had to deal with a balancing of the field in more recent times.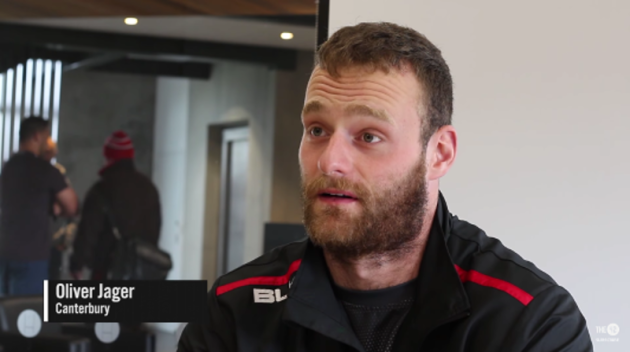 Jager played Leinster Schools rugby with Blackrock.
The advent of the central contracting of players to the New Zealand Rugby Union – Ireland's system is the same – in 2009 made it a far more competitive field.
"In conjunction with the central contracting, New Zealand Rugby equalised all the budgets," says Riach, "and so the big change there was the lift in money available to the Highlanders and Chiefs, because they had traditionally spent less money on their squads.
"It's absolutely no surprise to me that since that change, we've seen a resurgent Chiefs and Highlanders, as they've had the ability to compete for players from everywhere. They don't have to rely on the strength of their provincial unions.
"It's made it vastly more competitive and it's made the pitch to the player be a lot more about the environment than the money."
The similarities between how New Zealand Rugby operates and how the IRFU are attempting to operate under David Nucifora are apparent throughout our visit to New Zealand. As in Ireland, the union control leads to friction with the franchises.
"Inevitably there is friction around players and player availability and whose interests are being served by players doing what," says Riach.
"One of the things that works well from a New Zealand Rugby point of view is that New Zealand Rugby is the employer of the players. In the end, when it all boils down, all the scraps have been had, all the friction has been exhausted, New Zealand Rugby Union is the boss."
While Riach insists that he must always look out for the Crusaders' and Canterbury's interests, everyone is working towards the success of the All Blacks.
"Look, we're all Kiwis and we love the All Blacks. We want them to be successful and we love the black jersey. We see what it means to the boys and we want to help them earn that, to have the highlight of their careers being playing for the All Blacks.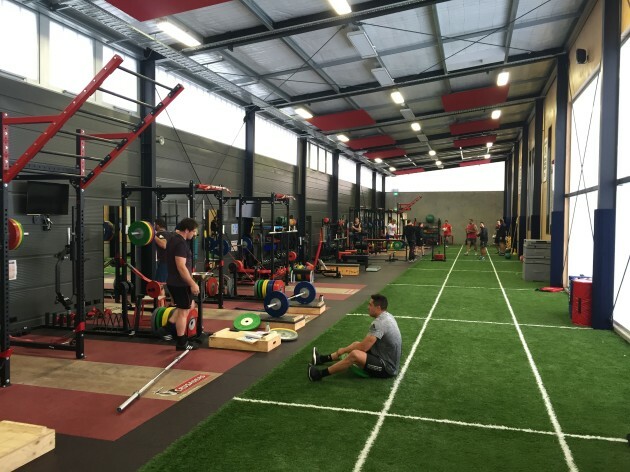 The42 Canterbury have won 12 provincial titles. The42
"But we don't just bow at the statue. We've got our own ambitions and our own needs to be met. You do have some decent old barneys about stuff, but in the end we're not trying to torpedo them."
Indeed, the streamlining by New Zealand Rugby is one of the major reasons the All Blacks are so successful – everything is built towards making the black jersey better.
The threat of English and French money – again, similarly to Ireland – is very real.
"It's certainly a worry," says Riach. "New Zealand Rugby Union is financially sound and the latest broadcast deal brought a significant lift in revenue, so that's been really positive.
"But there is no question that particularly England and France, in terms of the private money that sloshes around those clubs, and their propensity to recruit from off shore and in our case New Zealand, is a massive issue."
The response on the Crusaders' part has been to ensure that the players are "having an experience they treasure" in the environment at Rugby Park. On top of that, Riach stresses the need to "pay them as well as you can."
"You can't ever match the extra few zeros in the Northern Hemisphere, but you equally want to treat them fairly in your own context."
New Zealand Rugby has also introduced flexibility in its contracting process, enabling players who have played five or six years of top-level rugby to spend an off-season in Japan, for example, before coming back to Super Rugby.
Saving schemes have been introduced to help players maximise their earnings too, but that black jersey is the biggest incentive to stay of all.
Eoin Lúc O'Ceallaigh / The42 Wyatt Crockett in the squat rack. Eoin Lúc O'Ceallaigh / The42 / The42
Canterbury and the Crusaders will continue to play their part in the push for ongoing All Blacks dominance, all the while focusing on driving their own success at Mitre 10 Cup and Super Rugby levels.
While there is an openness to how they operate, the Christchurch-based organisations will also stress that nothing separates them from the rest of the rugby world.
"We're definitely not elitist," says Robertson, "it's not our mindset. There's a real tall poppy thing here in New Zealand. People don't like sticking their heads up as they get chopped off pretty quickly. We've got a big work ethic and background.
"We like to be quiet achievers, work hard. We express ourselves and we've got diversity of culture, with a lot of Pacific Islanders, the Maoris, generations of history of people making it from all walks of life.
"People here really admire others who are humble and work hard. That's our mindset."
The42 is on Snapchat! Tap the button below on your phone to add!