Good evening. Welcome to our coverage of what could be a tricky assignment for Louis van Gaal's side.
The Russians are no walkover and haven't lost at home in six months while they're five points clear at the top of their domestic league.
And, as we'll detail momentarily, United have made some changes.
As usual, you can reach us in a variety of ways. Via Twitter, Facebook or in the comments section here.
Strap yourselves in. This should be good.
So, as we've mentioned elsewhere on the site, Jesse Lingard has been included in the United starting lineup tonight.
It's the 22-year-old's first start since Louis van Gaal's first competitive game in charge – against Swansea in August 2014.
Meanwhile, Antonio Valencia also comes in for Matteo Darmian.
Here's how CSKA will line up.
A few names will immediately jump out. Igor Akinfeev is the skipper and veteran Russian shot-stopper but there's also Alan Dzagoev who'll play just behind the main striker, ex-United winger Zoran Tosic and their key attacker Seydou Doumbia.
United were in Moscow six years ago and beat CSKA 1-0 thanks to a goal from Antonio Valencia.
That season, Fergie's side reached the quarter-finals and were beaten on away goals by Louis van Gaal's Bayern Munich…
Van Gaal has admitted that he'd take a draw tonight and get the job done with his side's home fixtures. But after the loss at PSV, I'm sure something more will do very nicely.
Manchester derby is next Sunday so van Gaal clearly keeping an eye on that huge game. A victory for United will push them to the top of the table.
Moscow has proven a pretty giving city for United in the past.
Do you all remember where you were when this happened?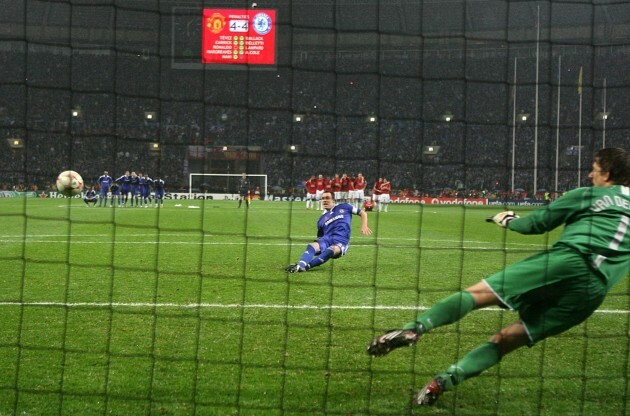 Adam Davy / EMPICS Sport Adam Davy / EMPICS Sport / EMPICS Sport
On BT, Owen Hargreaves has just attempted to pronounce Igor Akinfeev's name but then abandoned his effort midway through.
Here come the teams…Andrei Kanchelskis has been giving his opinion on tonight's match in Moscow and reckons the pace of Musa and Doumbia can cause United problems. He didn't have anything to say about those rumours linking him with Derry City though.
We all love a bit of Ander, don't we?
3′ - Formation-wise, Rooney is leading the line and Martial has drifted to the left side. Bit of a helter-skelter start, ball not sticking to either side. Some good industry shown by Martial in the opening exchanges.
6′ - United with all of the ball so far. Lingard and Martial finding some space – but not a lot of it.
9′ - United showing plenty of patience when they have the ball but that's allowing CSKA get the numbers back. Pretty standard start by United as Martial goes tumbling in the area and looks despairingly at the referee. No penalty.
10′ - Martial tries his luck from range but never catches it and it rolls harmlessly wide. Well wide.
CLOSE! Tosic comes inside onto his left and looks to whip it to the far corner but it takes a nick off Chris Smalling and ends up a couple of feet wide of the post. It all came from Marcos Rojo being badly caught out of position at left-back. United get lucky as no corner is awarded, despite the deflection.
Where did that come from? Inexplicably, Martial handles as he races back to defend an attack down the right side of the area. As the ball is knocked over his head, he sticks his arm up and tries to sneakily push the ball away.
But Eremenko's penalty is brilliantly saved by de Gea who tips it onto the post. The rebound hits de Gea's leg and breaks for Doumbia, who slots in the loose ball. Incredibly unlucky for the Spanish goalkeeper. United up against it now, completely against the run of play, really.
21′ - Well, United have to be drawn out now. They'll probably feel hard done by but they need to offer more in attack. They're still to engineer a clear opportunity.
Oct 21st 2015, 8:09 PM
23'0
That was Doumbia's third group-stage goal in three games. Right place, right time for the opener but he won't complain too much.
Oct 21st 2015, 8:11 PM
24'0
Oct 21st 2015, 8:13 PM
26'0
Jones misjudges a dropping ball and Doumbia looks to race away but Valencia gets across, deals with the attacker and United get away with it. Moments later, Doumbia dives in two-footed on Valencia – it's an awkward rather than malicious challenge – but he's lucky to escape a booking.
Oct 21st 2015, 8:15 PM
28'0
Lingard provides a spark and conjures one nutmeg before driving deep into the area. He runs out of space eventually but at least he's direct in his approach. Far too lacking in creativity so far.
Oct 21st 2015, 8:18 PM
31'0
VERY CLOSE! Magnificent effort from Susa, who races from halfway before whipping a superb shot towards de Gea's top corner. The keeper reaches high and tips it over with a great save.
Oct 21st 2015, 8:20 PM
33'0
Valencia whips in a cross wide right and it takes a deflection and holds up on its way towards the near post, allowing Rooney to nip in. Akinfeev is off his line really quickly though and smothers. More of a half chance than anything.
Oct 21st 2015, 8:25 PM
37'0
Martial pops up on the left, chests down, races away into the area and bends in a dangerous cross with the outside of his right foot. Still, it doesn't lead to anything. And United remain frustrated. Moments later, Rooney tries a shot from distance and it's always going wide. He's just not really been at the races tonight so far.
Oct 21st 2015, 8:28 PM
42'0
SUBSTITUTION! There's going to be a change for CSKA here. Vasili Berezutski is off and brother Aleksei is on in his place.
Oct 21st 2015, 8:30 PM
42'0
It's been immensely frustrating for United here. There;s been some intricate build-up, nice short passes but absolutely no way through the CSKA defence except for when Lingard and Martial have conjured a moment of individual skill in wide positions. They need more of that but the lack of movement inside is a big worry.
Oct 21st 2015, 8:33 PM
45'
Oct 21st 2015, 8:36 PM
45'0
Not good enough from United. They've had all of the ball but lacked any sort of ability to unlock the CSKA defence. It's a lot like they were early on this season, a dull and lifeless approach and having to rely on hap-hazard moments from younger players for bright moments. Rooney has offered nothing through the middle while they've also cheaply conceded and allowed the home side the best opportunities – Susa also testing de Gea with a superb long-range effort.
Martial will receive plenty of criticism for the hand-ball but he's been the team's best player in that first half, actually showing some intent in possession. There will surely be changes. A loss tonight could be a big blow to their qualification hopes.
Oct 21st 2015, 8:45 PM
45'0
Oct 21st 2015, 8:46 PM
45'0
In the BT studios at half-time, Rio, Scholesy and Hargreaves all had a pop at United. But do they have short memories? Maybe.
Oct 21st 2015, 8:48 PM
45'0
SUBSTITUTION! What a shock. Fellaini is coming on with Schweinsteiger being replaced.
Oct 21st 2015, 8:49 PM
46'0
AND WE'RE BACK UNDERWAY HERE!
Oct 21st 2015, 8:49 PM
47'0
Oct 21st 2015, 8:51 PM
47'0
And there's Lingard driving straight towards the area, Rooney makes a clever run and he strays offside slightly as he runs onto the pass. Still, much better already as there's some energy and movement.
Oct 21st 2015, 8:54 PM
50'0
United have Schneiderlin sitting in midfield with Herrera and Fellaini in front of him. There's more zip from the guests so far. The least you'd expect, in fairness.
Oct 21st 2015, 8:58 PM
55'0
PENALTY CLAIM! That should be a penalty for CSKA as Rojo continues to prove a liability. There was talk before the season started that he could be on his way out of the club & he couldn't get in the side until Luke Shaw's injury. He's been awful tonight and he's just mistimed a clearing header in his own area, missed the ball and it's dropped onto his hand instead. Luckily for him, the referee missed it and didn't award another penalty.
Oct 21st 2015, 9:01 PM
57'0
Martial, as per the rest of the game, is faced with two players every time he gets on the ball. But he's still full of heart, knocks it back to Rojo who crosses after after the half-clearance, Herrera tries the volley but it's wild.
Oct 21st 2015, 9:04 PM
60'0
VERY CLOSE! There's the best United chance of the game. The cross is whipped in by Valencia, Rooney makes a run to the near post, plants his header but it's straight at Akinfeev and a great opportunity is spurned.
Oct 21st 2015, 9:05 PM
61'0
Apologies – it was Herrera's cross for Rooney just a moment ago.
Oct 21st 2015, 9:07 PM
64'0
SUBSTITUTION! We said Rojo was having a nightmare and he's been put out of his misery here as Daley Blind is on in his place at left-back.
Oct 21st 2015, 9:08 PM
65'0
Oct 21st 2015, 9:09 PM
66'0
Valencia gets down the right side and lifts in a cross. Martial, comes in from the wing, gambling on getting into the area, loses his marker and plants his header to the far corner. Wonderful finish.
Oct 21st 2015, 9:11 PM
68'0
It's quite frustrating, really. United have been so much better in this half, you wonder just how they were so lacklustre in the opening period. Martial continues his incredible start at the club with another goal – his first in the Champions League. United well on top here and another goal is there for the taking.
Oct 21st 2015, 9:13 PM
70'0
Oct 21st 2015, 9:14 PM
71'0
This is a lovely, lovely finish. Worth remembering that Rooney put a near-post header straight at Akinfeev moments earlier.
Arsenal Stats / Vine
Oct 21st 2015, 9:18 PM
75'0
CSKA enjoying more of the ball in the last few minutes and United have sat back a bit and got more scrappy. Blind and Fellaini have a word after miscommunication leads to them coughing up possession.
Oct 21st 2015, 9:21 PM
78'0
Less than fifteen minutes left here – are United interested in a second?
Oct 21st 2015, 9:22 PM
78'0
A glimpse of the old, rampaging Phil Jones there as he bursts into the area, jinking around a few challenges. He's won a corner too.
Oct 21st 2015, 9:23 PM
80'0
SUBSTITUTION! Jesse Lingard's Champions League debut is over. It was an encouraging performance from him too. Memphis comes in for the last ten minutes.
Oct 21st 2015, 9:27 PM
84'0
Martial, wow. What a find. Yes, he give away a unnecessary penalty but he's now drifted across to the right side and, let's face it, will put in a shift there too. Took his goal so well, has caused CSKA so many problems all night…take a bow, again.
Oct 21st 2015, 9:29 PM
85'0
CLOSE! Memphis whips in a cross to the far post, Martial flicks it back inside towards Fellaini but Akinfeev is out quickly to push it away.
Oct 21st 2015, 9:30 PM
86'0
SUBSTITUTIONS! A couple of changes for CSKA. Eremenko and Dzagoev are replaced by Panchenko and Cauna respectively.
Oct 21st 2015, 9:33 PM
90'0
A bit of classic United here with Valencia getting wide and whipping in the crosses into the area. They've been hinting at a second in the last few moments but I'd say they'll be very happy to take a point here.
Oct 21st 2015, 9:36 PM
93'0
Doumbia and Musa combine down the right bu Jones gets across and gets it clear.
Also, earlier on, Wernbloom did this.
BeardedGenius / Vine
Oct 21st 2015, 9:37 PM
90'0
Oct 21st 2015, 9:39 PM
90'0