Why we loved them:
Madness, mayhem but some fine football too.
Cameroon's tournament is indelibly linked to Roger Milla, his age-defying exploits and his corner-flag celebration routine. But dig deeper and the African side drew a line in the sand with their performances at Italia '90.
Their journey to the quarter-finals ensured that from then on, teams from the continent weren't treated as some silly punchline but looked upon as genuine threats. Without Cameroon, there would've been no Nigeria in 1994 or Ghana in 2006. And through 'The Indomitable Lions' spirit and energy, the ghosts of African football's dark and forgettable past (Zaire 1974) were buried.
Fondly remembered for bringing some fun and unpredictability to an otherwise cynical and difficult competition (Cameroon were able to mix it up too, as shown in their incredible opener against Argentina), many forget just how close they were to a semi-final berth.
The story:
Cameroon had been at a World Cup before – in 1982 – and hardly disgraced themselves, remaining unbeaten in the group stage (memorably drawing 1-1 with eventual winners Italy) but ultimately failing to make it to the second round.
Domestically, they had enjoyed a terrific decade and won the Africa Cup of Nations for the first time in 1984 and again in 1988.
But, their preparations for the 1990 tournament were embarrassing. Just a few months before, they – the reigning champions – had suffered a humiliating early exit from the Cup of Nations, losing to Zambia and Senegal. But there were other issues threatening to pull the squad apart, both personal and financial.
There was an intense rivalry between Cameroon's two goalkeepers – Joseph-Antoine Bell and Thomas N'Kono. The latter had been first-choice in 1982 and his performances led to a move to Espanyol. But Bell took advantage of N'Kono's club commitments to take over during the 1984 Cup of Nations triumph and retained his place for the remainder of the decade.
But on the eve of Cameroon's first group game against Argentina, Bell heavily criticised his team and predicted a first-round elimination.  So, a couple of hours before the match, the side's manager, Valeri Nepomniatchi, told N'Kono he was starting instead. So unexpected was the decision that N'Kono's wife missed the game because she had decided to go shopping instead.
dstuart82 / YouTube
It proved a smart decision as Cameroon caused one of the greatest World Cup shocks ever in what was the opening game of the tournament.
N'Kono kept a clean-sheet against the reigning champions while, at the other end, Nery Pumpido fumbled a Francois Omam-Biyik's downward header to the net for what proved the only goal of the game.
From then on, Cameroon became best-known for Roger Milla. The veteran, who had only been recalled to the squad after the awful collapse in the Cup of Nations, couldn't manage full games anymore but did more than enough as an impact substitute.
Against Romania, he came on after an hour and scored twice in a 2-1 win. The victory ensured their path to the knockout stage and though they were thumped 4-0 in the final preliminary game against the Soviets, they still advanced as group winners.
They faced Colombia next and in a tight game, Milla again proved the difference. After a scoreless ninety minutes, it exploded to life in extra-time. The 38 year-old scored a superb first, slipping around one challenge, accelerating past another before driving the shot inside Rene Higuita's near post.
But the majority remember his second very clearly – making the most of Higuita's awful error.
lippilizzi / YouTube
Ultimately, it was their ill-discipline that let them down. Having had two players sent-off in the opener against Argentina, Cameroon's inability to keep calm led to a collapse in the quarter-final tie with England.
And it had started so brightly too. In what was a thrilling game, Cameroon cut Bobby Robson's side to pieces with an early counter-attack that led to Omam-Biyik having a close-range effort stopped by Peter Shilton. When the rebound broke to Louis-Paul M'Fede, his long-range strike whistled inches wide of the near post.
They conceded an opener to David Platt but continued to create chances – M'Fede whipped in a teasing cross that Libiih inexplicably headed over the bar.
They needed to be more clinical in front of goal so Milla was introduced at half-time and, almost inevitably, he changed the game. On the hour, he ran off the back of Gascoigne and was tripped by the midfielder racing onto a through-ball. From the penalty spot, Emmanuel Kunde equalised.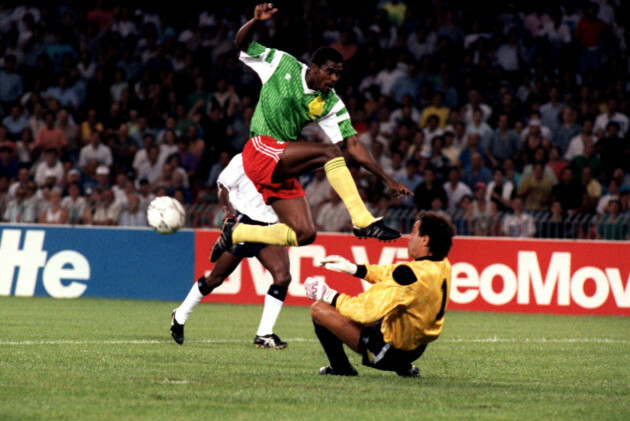 Ross Kinnaird / EMPICS Sport Francois Omam-Biyik sees his point-blank shot saved by England's Peter Shilton. Ross Kinnaird / EMPICS Sport / EMPICS Sport
Four minutes later, Cameroon cut through again. Milla found space between the lines, slipped a pass through for Eugene Ekeke, who expertly lifted it over the advancing Shilton. 2-1 up, they were 25 minutes from the semi-finals.
They very nearly had a third when Omam-Biyik played a one-two with Milla before attempting to back-heel past Shilton – but the keeper flicked out a leg and blocked.
But with seven minutes left, Lineker was clumsily brought down in the area and sent N'Kono the wrong way from the resulting penalty to make it 2-2. Still, there was time left for Omam-Biyik to see a snap-shot saved by Shilton at his near post.
Cameroon continued to threaten in extra-time though and if it wasn't for two last-gasp interceptions by Trevor Steven, they would've re-taken the lead. As Omam-Biyik fizzed another attempt narrowly over the bar after some excellent approach play, Barry Davies commentating for the BBC, paid tribute to their buccaneering quality:
They are unbelievably smooth in their movements"
But when Gascoigne played a sumptuous ball through for Lineker, a combination of N'Kono and defender Benjamin Massing brought him down. He drove the penalty right down the middle and Cameroon were out.
Stand-out player: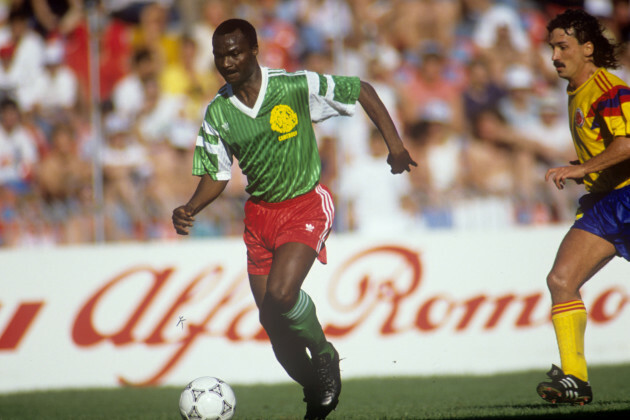 Peter Robinson / EMPICS Sport Peter Robinson / EMPICS Sport / EMPICS Sport
Roger Milla didn't start a single World Cup game but he inspired the team to great things. There were others who shone – Omam-Biyik and Mfede in particular – but it was the veteran attacker whose goals pushed the team to within a whisker of the final four.
His first goal against Colombia is an incredibly under-rated World Cup moment while his skill and swagger against England was magnificent and deserved more than the bitter defeat he got.
Stand-out moment: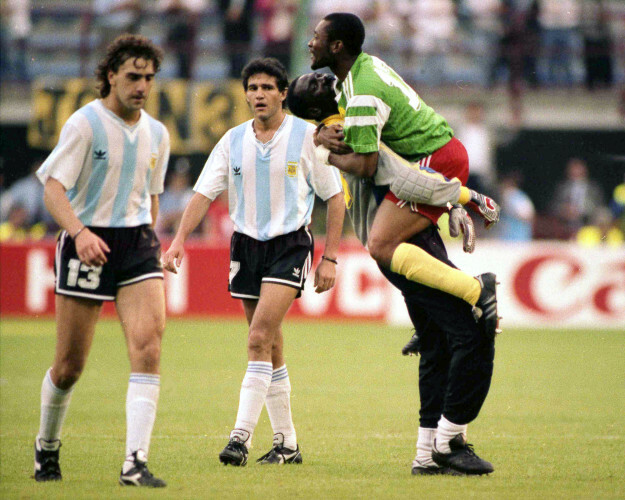 Diether Endlicher / AP/Press Association Images Diether Endlicher / AP/Press Association Images / AP/Press Association Images
When Cameroon beat the reigning World Cup champions in the first game of the competition, it arguably signalled the start of club teams around Europe heavily mining Africa for talent. Instead of the continent being looked upon as a football backwater, it was seen as an untapped resource post-1990.
The team arrived in Italy largely unknown, outside of the players who had played at the 1982 tournament. The goalkeepers – Bell and N'Kono – were the biggest names owing to their time in the French and Spanish top-flight but the majority were anonymous, with only a handful on the books of nondescript French clubs like Metz, Le Havre and Valenciennes.
In many ways, the 1-0 win over Argentina proved a metaphor for the rest of the tournament: tight and cynical. But, ironically, Cameroon were really a breath of fresh air – their approach to the quarter-final against England a testament to their wide-eyed and refreshing innocence.