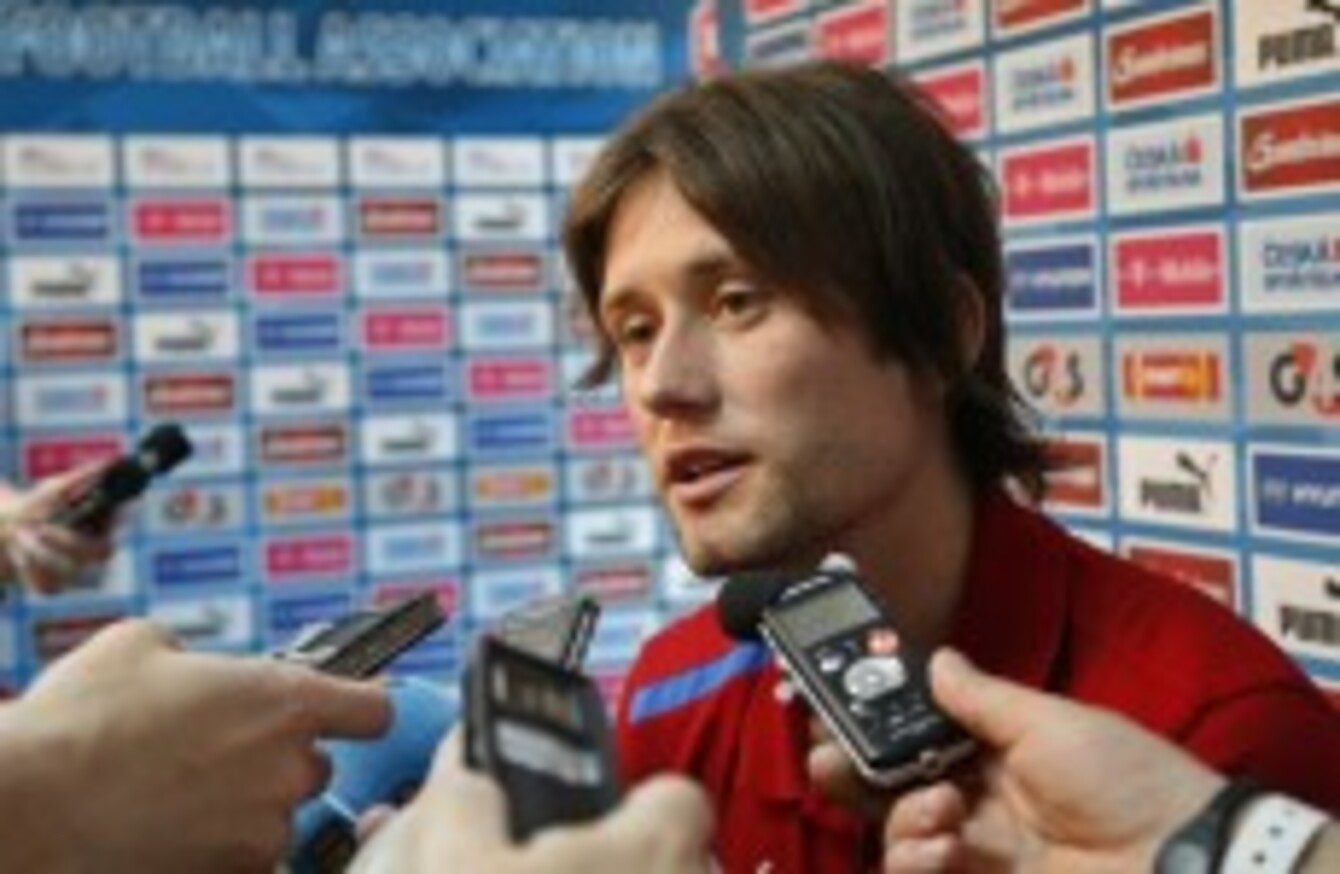 Czech Republic's Tomas Rosicky.
Image: Petr David Josek/AP/Press Association Images
Czech Republic's Tomas Rosicky.
Image: Petr David Josek/AP/Press Association Images
IF THE GENERAL feeling around the European Championships is that Cristiano Ronaldo will make things rather hairy for the Czech Republic tomorrow, Michal Bilek's side seem to want to beat him to it.
Tomas Rosicky came out to today's pre-game press conference at the National Stadium in Warsaw sporting the beginnings of a beard — something his 22 teammates will also be doing until they get knocked out.
It provided a rare bit of colour in a surprisingly sedate exchange that was, much more unsurprisingly, dominated by questions about Ronaldo.
At the very least, though, it wasn't all platitudes from Rosicky.
"He is a good attacker but, from what I remember, doesn't want to defend. But, if someone is at such a high level, he can just score goals."
His manager, Bilek, meanwhile deflected suggestions that tomorrow's first quarter-final can be simply boiled down to a moderate but unified team against one of the world's megastars — although he did concede that the presence of the prolific Real Madrid forward would force his hand.
"Ronaldo is an excellent player. We have that in mind. We will adjust our tactic to be more defensive.
"Of course, we will concentrate on our own game. We know that the Portuguese have a lot of dangerous players in the midfield and forward line… We know the Portuguese team is also very compact and balanced. Ronaldo is dangerous but he is not the only dangerous player so we are not only preparing for him but the whole Portuguese team."
One specific player, however, is going to face Ronaldo more than most.
"Theodor Gebre Selassi is performing well and, of course, it's an interesting challenge for him, To [successfully] defend against [Ronaldo] is exceptional. We have to close the defence and not give him any space.
"If Ronaldo runs, it's impossible to stop him."
Initially, of course, the Czech Republic's own campaign seemed to have been stopped before it even started, with that 4-1 defeat to Russia. Remarkably, they managed to turn it around.
"The first match was so difficult because we opened the game too much and Russia punished us for that," Bilek conceded. "We knew that was not the way so we strengthened the defence and that was the key.
"We have learned a lot from this match. We want to make the [defensive base] stronger and, of course, we cannot play as we did against Russia. We left them space and they punished us. We have to close Nani and Ronaldo."
As for the Czechs' own only true outfield star — as Bilek himself admitted — Rosicky is still not sure whether he will be fit enough to play. With the playmaker having missed the key game against Portugal, the medical team will assess his fitness in the morning.
Bilek insisted, however, that they would cope as well as they did against Poland.
"We don't have many stars but the team spirit is great. If we defeat Portugal it will be thanks to that."
Beardymen
Strengthening it, of course, is the facial hair issue.
"We know we look a little scary as a team," Rosicky said. "We hope it's going to get worse and worse."
Should they do that, of course, they will be on the verge of their first final since Euro 96. And their quarter-final opponents in that tournament? The Portuguese… with manager Bilek actually in the team.
"The lob of Karel Poborsky was amazing," Bilek smiled. "We would take that. I think the situation is similar. Potugal is the favourite again. If we repeat our performance from the previous matches we have a chance to go through."
Rosicky, at last, sounded a bit of rally.
"Even against Poland we knew we weren't the favourites but we feel we have a chance to go through. This is our chance and we will definitely fight for it tomorrow."