DAITHI CASEY'S LAST run out as a Kerry senior was on Sunday 1 February 2015, nudged on from the bench as a second-half substitute in Fitzgerald Stadium.
Kerry slumped to an opening league defeat that day against Mayo and Casey saw no more game time that spring.
Then the axe was wielded, Casey one of the victims of the annual upheaval that affects every inter-county squad, post league and pre championship.
An All-Ireland winner in Croke Park in 2014 – albeit reduced to a spectator role for the final through injury – he was gone for Kerry's defence of Sam Maguire.
"I was there for all of the league and then I got the lovely phone call", smiles Casey.
"I actually tore a tendon in my knee (in 2014). I do have an (All-Ireland) medal but I was sitting in the stands, I wasn't togged out.
"I was involved all year. I got injured then the start of August. I missed the semi-final and final. I was on the panel up to the Munster final which was a good achievement.
"I always felt part of it but it was also disappointing, I wasn't able to play on."
He's not bitter about being cast into the inter-county wilderness, rather taking a pragmatic as to why Éamonn Fitzmaurice chose to move him aside from his cast of attacking options.
Casey had come to the fore as a brilliant ball-playing attacker for Kerry underage sides, Dr Crokes county-winning teams and a successful UCC Sigerson Cup outfit.
But the role of an elite wing-forward evolved drastically and his impact was reduced.
"Look I always look back on it, I honestly just wasn't doing it. I wasn't living up to the standards. Unfortunately, I wasn't cutting it and and in Kerry I'm not exactly going for the easiest place – the forwards is where all the competition is.
"I was playing as a half-forward and it was between myself and Donnchadh (Walsh), I just wasn't doing it to the same level as himself and Mikey Geaney, I think they were the two I was in competition with.
"They were just doing it a lot better than I was at the time. My form wasn't great. I think at the time he made the right call."
Casey didn't take the rejection to heart. When Kerry's 2007 All-Ireland winning boss Pat O'Shea took the reins again in Dr Crokes in January last year, he pinpointed Casey as a player the Killarney club needed to get more from.
Central to the four-in-a-row that Dr Crokes strung together in Kerry between 2010 and 2013, Casey's form had slumped along with his club.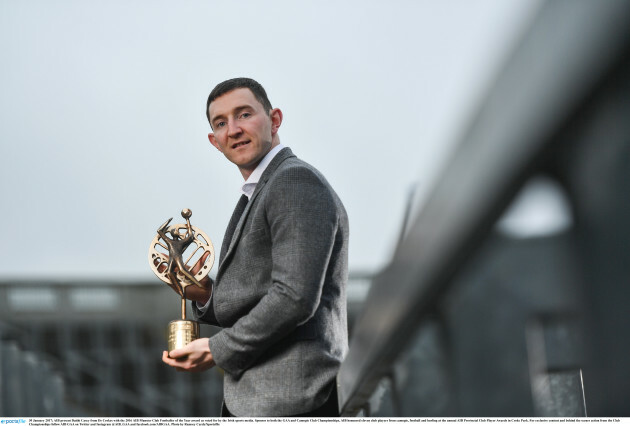 Ramsey Cardy / SPORTSFILE Daithi Casey was the AIB Munster club footballer of the year for 2016 Ramsey Cardy / SPORTSFILE / SPORTSFILE
"Pat came in at the start of the year and said 'you have more in the locker and we need to get more out of you', I took that as a challenge on myself.
"That was coming because I hadn't performed to the level that I'd like to think over the previous two years, none of us had, we hadn't won, we hadn't done the business.
"When I was first coming up at 19 or 20 with Kerry, I was probably (a) lazy, more skilful fella.
"I've looked at myself over the years, the game has changed so I've had to become more of an athlete and more into the defensive side of it."
"All the wing-backs are mad to go forward these days so I've got to follow that. As well as that, because I was so young I didn't appreciate what I had to do make it with Kerry and the professionalism that fellas have these days is just through the roof.
"I would say my mindset has changed in that regard with preparation and nutrition and all these buzz words. That has made a big difference to me.
"I've re-evaluated and it made me come back a better player. I think I'm more confident now."
The results and rewards have followed. Dr Crokes climbed back to the summit in Kerry last October and then carried off Munster the following month, Casey adorning the final with a clinical first-half hat-trick.
The question that hangs over them is whether they can shine in the spring. Three years on the bounce Dr Crokes came to February All-Ireland semi-finals and three years they were sent packing.
Galway's Corofin in the Gaelic Grounds on Saturday offer another chance to plot a path through this minefield.
"We had Crossmaglen practically beaten in the first half and just froze in the second half," recalls Casey.
"Ballymun were better and so were Castlebar. We haven't changed our preparations too much. I think the biggest thing is hopefully we've gained experience over the last number of years to get us over the line this time.
"We didn't take any break over the Christmas. We've trained hard all the time. We took a break for Kieran O'Leary's wedding at the end of December but came back in January."
For Casey this club campaign is his sole focus. He's still only 26 but is not viewing the All-Ireland club series as a platform to exhibit his talents in the hope of persuading Éamonn Fitzmaurice to recruit him again.
"I'm enjoying it, that's the big thing. Crokes is No1 at the moment and I'm very happy just to be playing for Crokes at the moment.
"Look, from the Kerry point of view, it would be great to be back in. Maybe my time with Kerry could be finished. Is that the end of the world? No, not if we can keep winning with Crokes. That suits me okay.
"Yes, it is a shop window for fellas but I think it's more a shop window maybe for the likes of Shane Murphy, for Gavin White and the younger fellas to really push on.
"I definitely wouldn't say no if Kerry did come calling but at the moment I'm happy with Crokes and if we can keep being successful with Crokes, that'll be plenty for me."
The42 is on Instagram! Tap the button below on your phone to follow us!