Cork v Clare…
I have to admit that I fancied Clare to pip Cork in yesterday's Munster semi-final but there was no doubting the deserving winners at the finish.
Cork's willingness to work hard, the ability of all of their forwards to pick off their points and their performance against a gale in the first-half was really impressive.
Cork got a marvellous start to the second-half and once their confidence rose, everyone could see that Clare's chance had gone given the dominance that Cork were exerting.
In the first-half when Clare fed Darach Honan early, he gave Stephen McDonnell a roasting. But that all changed in the second-half as Cork's performance improved.
Once they built a lead of four or five points, Cork cleverly dropped a man back to sit in front of Honan. It made a notable impact.
Clare's half-forward went pretty much out of the game with John Conlon, who is a really super hurler, a massive when he had to go off. Tony Kelly was well-marshalled by Brian Murphy. While at the other end, Cork's half-forward line really stepped up to the plate with newcomer Seamus Harnedy very impressive.
At the back Tom Kenny rolled back the years and gave a masterclass in positioning. I thought Luke O'Farrell was brilliant in how hard he worked at full-forward while Daniel Kearney at midfield is a super player. He worked particularly hard without the ball and is a superb ball carrier. Cork played very smart hurling and it was significant victory for them.
Clare still have a great package about them. They'll have Laois the next day and will be glad of that as they'll see it as a game they can win. Laois have no need to fear Clare and will match them physically.
A place in a Munster final would have helped them in their development but they are young and are capable of recovering. They'll have to get quicker ball into Darach Honan though as he is clearly a player who can cause huge damage.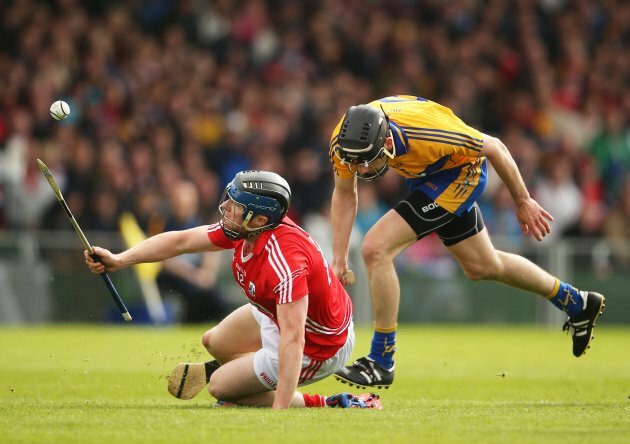 Clare's Patrick Donnellan and Conor Lehane of Cork
Pic: INPHO/Cathal Noonan
Dublin v Kilkenny…
I wasn't surprised by the strength of Dublin's challenge yesterday. Anthony Daly was with the Clarecastle minors on Saturday in Kilconieron in Galway and was speaking to a very good friend of mine, who got the sense that they were set to produce a really big performance.
The pressure was off Dublin and in any walk of life that can be really positive. I felt the points spread of Dublin at -10 was ridiculous as well. Chatting to Nicky English early yesterday in the Gaelic Grounds, he made the same point.
There's no reason why Dublin can't produce a similar performance next Saturday in the replay. People will talk about Kilkenny's replay record and how they have not lost a replay since 1985 but it's easy to pull out stats to fit an argument. Dublin brought a lot to the table yesterday and are capable of producing that performance again.
Credit to Kilkenny for forcing a draw yesterday and the move to the levelling score was reflective of a great display by Walter Walsh. I think their attacking display is a concern for them though. There's a lot more in Eoin Larkin and Colin Fennelly.
I know the Kilkenny U21′s were really impressive in a challenge game in Cloughjordan recently against the Galway U21′s. The U21′s are playing in the Leinster championship on Wednesday night and I'd be expecting Cody to shake things up for next weekend.
He has a ruthless streak and I think we could see that being displayed again. Kilkenny are still well in the hunt and still have huge quality in their panel.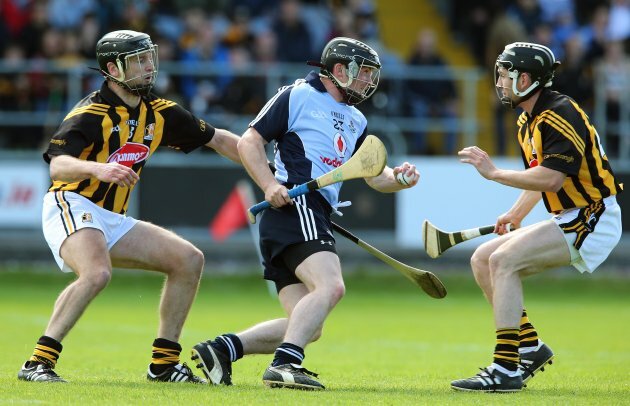 Kilkenny's JJ Delaney and Conor Fogarty tackle David O'Callaghan of Dublin
Pic: INPHO/Lorraine O'Sullivan
Saturday's All-Ireland Qualifiers…
Offaly's defeat against Waterford was an extremely disappointing game from a Faithful viewpoint. The feeling amongst the county's fans was that a great opportunity was missed. There was plenty remarking on the fitness levels of the side and how their conditioning was poor in comparison to their opponents. Just like the Kilkenny game, Offaly faded badly in the last 20 minutes of the match.
There was a great opportunity there to seize victory. Offaly had been gifted an early goal but Shane Dooley capitalised to finish excellently to the net. They hung in against the wind in the first-half with Rory Hanniffy dominating. Offaly would have been pleased at the interval but Waterford had a decent pattern to their play and greater speed about them in the second-half.
The decision to take Conor Mahon away from centre-forward hurt Offaly badly. He was doing well in blotting out the threat of Michael Brick Walsh, just like he had done for Kilcormac-Killoughey in the All-Ireland club semi-final against Thurles Sarsfields when he was marking Paudie Maher in February.
Walsh came into his own in the finale while Maurice Shanahan was outstanding up front. He was bottled up well early on but credit to the Waterford management they moved him outfield to get him into the game and he caused mayhem whenever he got on possession.
It was a huge win for Waterford and one for their fans, who always travel in great numbers, to enjoy. Offaly reach the end of the road for 2013 and I don't buy the argument that the championship needs restructuring because they have made an early exit. How long do they want? They were aware of the task but were not able to achieve it.
Wexford and Westmeath did what was expected of them in their games on Saturday. I think Wexford will advance next Saturday in their Phase 1 tie with Carlow. It won't be as easy a game for Westmeath at home to Waterford but they have one of the best drilled coaches in Ireland in Brian Hanley. He's a smart hurling man and will have Westmeath ready.
Action from Offaly against Waterford.
Pic: INPHO/Cathal Noonan