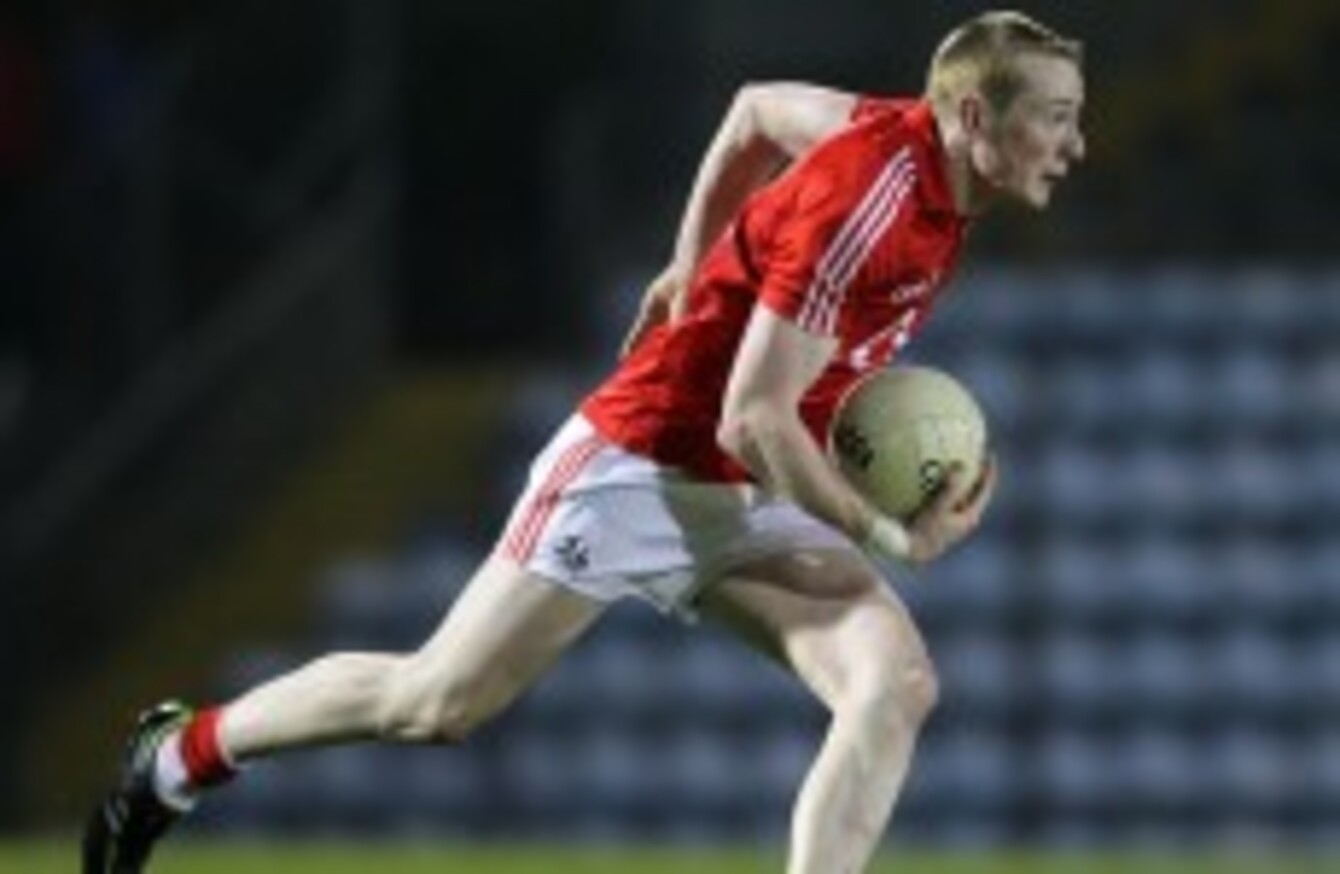 Cork's Damien Cahalane.
Image: INPHO/Lorraine O'Sullivan
Cork's Damien Cahalane.
Image: INPHO/Lorraine O'Sullivan
HIS PRESENT IS wrapped up in Gaelic football and his roots are entrenched in the sport yet Damien Cahalane has found time to dabble in activities that do not involve a size 5 O'Neill's.
This Saturday he captains Cork in the Cadbury's All-Ireland U21 football final against Galway, hoping to replicate a feat that his father Niall – a celebrated Rebels defender – achieved back in 1984.
Yet other sports have previously consumed his interests. In the past it was soccer, lining out in the schoolboy ranks for Cork club Greenwood alongside his close friend John Egan, the son of the late Kerry football great who passed away last April.
These days Egan Junior is on the books of Sunderland where he inked a new contract last month as he continues to recover from the fractured right leg he sustained while playing for Bradford City on loan last November.
"I'd still be great friends with him," says Cahalane. "We are trying to organise at the moment when we are going to go on holidays but we can't be thinking of that for the time being.
"He is recovering now from his injury, I think he is due a return date before the end of the season but I'd say he will take a bit of extra time to make sure he gets back right.
While the duo played for the same soccer club growing up, it was on the hurling fields that Cahalane and Egan clashed most frequently in the colours of St Finbarr's and Bishopstown.
"Growing up I would have marked him more in hurling than in football but he was an unbelievable athlete. I have absolutely no doubt he will make it in England, because he has the attitude, he has the physical attributes. He's a guy that works really hard and he really wants it."
Cahalane's performances for St Finbarr's lead to him climbing the rungs of the hurling ladder himself. Last season was spent in the Cork senior hurling camp listening to and playing with legendary figures from his childhood.
"I loved my time with the hurlers. Training with the likes of Sean Og, I was like a sponge trying to learn everything off them. These were guys I grew up seeing in Croke Park and being in sheer awe of them."
Cork's Damien Cahalane tackles Rory Jacob of Wexford.
Pic: INPHO/Lorraine O'Sullivan
But senior hurling combat was a lure he resisted at the outset of 2013.
"The main factor in why I chose football this year was the under-21 campaign.  You are missing out on a lot of the national hurling league if you are footballing with the U21′s at the start of the year.
"I went with football this year, I'm really enjoying it, and you kind of get the best out of yourself when you are able to concentrate on one."
He will still be an integral part of the county U21 hurling side later this summer. Soon he will return as well to Conor Counihan's senior squad – who he started for in their opening league ties against Dublin and Kildare – while last year's Munster football finalists Castlehaven will be back on club trail in the coming weeks.
Yet all those obligations are parked for this weekend. Cahalane and a cohort of his teammates have learnt at the school of hard knocks in recent times with a 2010 All-Ireland minor final loss to Tyrone and U21 semi-final defeats to Galway and Dublin the past two years.
Scraping through their recent semi-final against Cavan was a relief. Now they face Galway in a game that will awaken memories of their madcap All-Ireland minor meeting three years ago.
Cork trailed by 5-6 to 2-6 at one stage in that semi-final but in a whirlwind finish they chiselled out a 3-15 to 5-8 win.
"It was probably one of the most amazing games I played in but it was heartbreaking to lose the final then in the end. The last two years we felt we left ourselves down performance wise in the U21 against Galway and then Dublin last year. We are looking to rectify things but we know it's going to be tough."