DAN LEAVY'S HIGHLIGHTS reel from this season is going to make for good viewing.
He's already helped Ireland to a Grand Slam and he'll be a key figure again next weekend as Leinster look to secure the Champions Cup against Racing 92 in Bilbao.
Almost every time he has set foot on the pitch for Ireland and Leinster this season, the openside flanker has been a destructive influence. Still just 23, his impact has been nothing short of spectacular.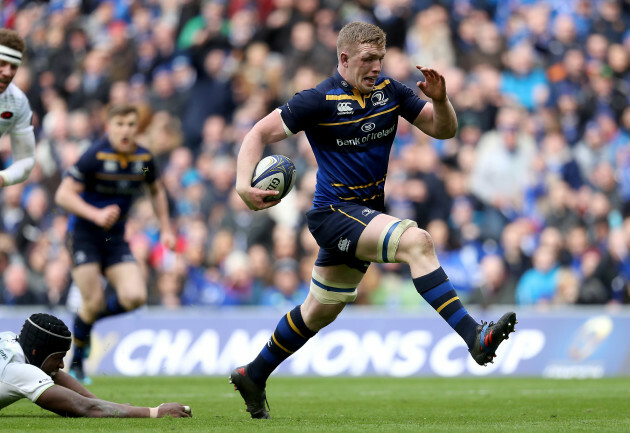 Tommy Dickson / INPHO Leavy has become a key man for Ireland and Leinster. Tommy Dickson / INPHO / INPHO
Leavy's talent and potential was well-known before this campaign, but the 2017/18 season has seen him explode onto another level for province and country.
His nomination for Mason Alexander Supporters' Player of the Year ahead of the Irish Rugby Players Awards on 16 May is no surprise – not to the Irish rugby family, nor to Leavy himself.
The Leinster man possesses impressive self-belief and it's notable how much he seems to enjoy high-stakes situations, how he has looked like an even better player each time he has stepped up a level.
"I just crave the big stage, I love the pressure," says Leavy of his mindset. "I don't see why people get so nervous playing a game that you've been playing since you were a kid.
"You're there for a reason – because you're talented obviously. It's all about just working as hard as you can in the space you're given and trying to help the team.
"As soon as you walk out for the warm-up, there shouldn't be nerves. It's the same game you've always played."
Leavy has that enviable ability to block out the possibilities for failure in front of many watching eyes, and there is little doubt that his sheer physicality contributes to this confident frame of mind.
Time and time again during this season, Leavy has produced huge carries and hits to change the momentum. He simply loves the physical stuff.
"If you strip it all back in rugby, it's who hits who the hardest," he explains. "The game is so much about front-foot ball and momentum.
"Coming up against a pack that's dominant, it doesn't matter what kind of backline you have; if you can't get ball and any go-forward, what are you going to do? It's really important and something that I always try to bring to the game."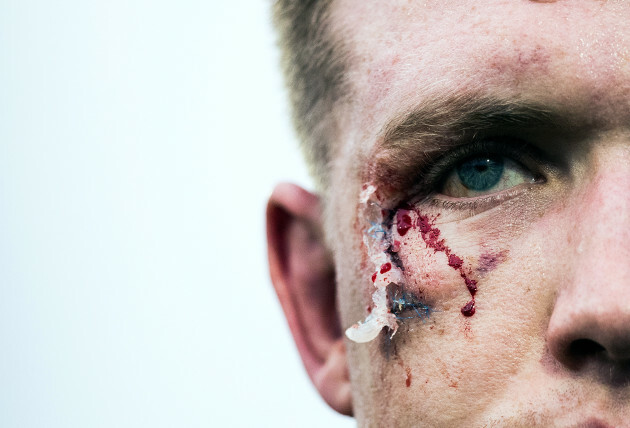 Tommy Dickson / INPHO Leavy has the scars to show that he doesn't hold back. Tommy Dickson / INPHO / INPHO
His team-mate and fellow St. Michael's College alumnus, James Ryan, has brought something similar in the collisions and Leavy says it's motivational to line up alongside another player with that love for the contact.
"Myself and Cheese are also always competitive with each other. Collision load is one thing – we have the GPS that tells you how hard you have hit and how much contact you've taken in the game. We usually check each other's numbers after the game."
Smashing into carries and tackles is important but Leavy is about more than just power in contact – there is technical quality to his play and an ever-increasing intelligence around his decision-making.
The defensive breakdown, such a key part of his duties, is the perfect illustration of Leavy's growth as a player.
He has earned many key turnovers for his teams and feels he has become more adept at deciding when to attack the ball, having worked hard on it with Stuart Lancaster and Leo Cullen at Leinster.
"When I was first getting into the team, I used to just go for everything," says Leavy.
"Stu always said he was shocked at it, he thought it was lunacy and he said that I was going for balls that most people wouldn't even think about going for.
"He said, 'Kudos for it, but you need to decide each time, you're no help to the team if you're down at the bottom of a ruck. You're better off being on your feet and helping in the defensive line or getting around the ball.'
"The technique was pretty good but there was poor decision-making around when to go for it."
The cues for Leavy are relatively straightforward, but he has learned to recognise them far more swiftly – how isolated a ball-carrier is, how quickly his team-mates tackle that carrier, how dominant the tackle has been.
Once he jackals over the ball, Leavy is extremely difficult to shift and an example against Wales during the Grand Slam runs stands out.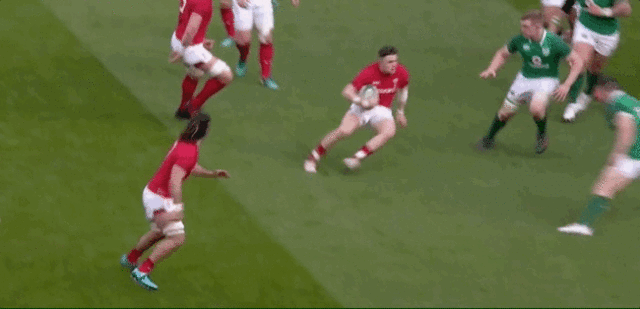 Click here if you cannot view the clip above
Leavy's left hand is on the ground initially, but once he clamps onto the ball he is almost immovable. Alun Wyn Jones hammers in with a clearout that would shift many a jackal, but Leavy stays in the fight.
"I'm not really thinking about it, to be honest," he says of surviving these clearouts. "When you go for a ball like that at international level, you're going to get whacked regardless.
"So if you're second-guessing it and trying to see who's coming to clear you out, that's what you potentially hurt yourself because you might have your head up or be thinking about something else and you might not be focused on getting into the right position.
"It's just about getting onto the ball as quick as you can and try to ride the clearout."
Leavy's discipline around the breakdown has also improved in recent seasons, with many instances of him testing the limits of the laws but then just pulling out at the final split second before a penalty.
"That was one thing that held me back at the start I think," says the back row. "It was because I used to go for everything – it was the bad pictures for the referee if you're getting whacked off the ball and not really releasing it straight away.
"It's just an easy out for teams. It's something that Joe Schmidt really drives and it's hugely important. If we're putting pressure on a team and you give away a stupid peno, it's their ball and 50 metres up the field. You've got to keep as clean at the breakdown as possible."
Leavy says he enjoys playing with referees who are clear and decisive in their feedback around the breakdown – whether in warning him off or highlighting that he is in a fair position.
The change to the law involving the tackler getting back to their feet and coming around through the gate to compete hasn't really altered his approach, although he does miss being able to kick the ball out of rucks, "which used to be great craic."
Leinster have been pleased with the added effort Leavy has brought with his detail around scrums and lineouts too, although he hasn't escaped the unfair attention of some team-mates for his efforts out of touch.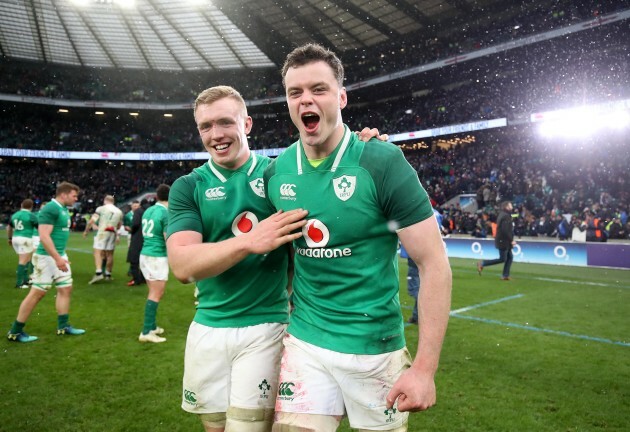 Dan Sheridan / INPHO Leavy and James Ryan have been in competition. Dan Sheridan / INPHO / INPHO
"I get a lot of slagging from the lads for being shit in the lineout but I don't think it's that – I just don't really go up that much.
"Fardo [Scott Fardy] is always slagging me. Even though I'm the same height as him, he's always trying to slag me for being short and stubby.
"But when you've got JR [Ryan] and Fardo there, I don't really have to go up that much. I went up twice against England, three times in the semi-final last year against Scarlets. So listen, I've got the aerial game!"
Leavy's quality in the maul is something that is perhaps underappreciated, but anyone who looks closely back over Ireland's successes at maul time during the Grand Slam – both in defence and attack – will very often note Leavy in the thick of it.
"That's one of the things where only the players really know what you're doing," says Leavy. "The line's kind of ringing in my head – when we come in for reviews in Irish camp, Joe's always saying, 'It's the little things where not everyone will know what you're doing but we'll know and appreciate it.'
"It's a lot of dark arts stuff in the maul that people generally wouldn't see. I wouldn't have it at the forefront of my mind in any list of attributes but it's a big fight and you just stick your head in.
"Technically, a lot of it is your height and getting your headspace right, getting under the player in front of you. If you're trying to push someone and they're beneath you, that's difficult. That's pretty much in all aspects of rugby."
In defence, Leavy tends to rack up big tackle counts but more importantly, he tends to leave an impression on the opposition.
His big tackle alongside Ryan early on against England captain Dylan Hartley at Twickenham is a standout so far this season, although his tackle on two Saracens players at the same time in the Champions Cup quarter-final was also eye-catching.
"It was deliberate although I didn't really realise!" he laughs. "It was a frenzy, that game, it was really intense so I couldn't remember it after the game.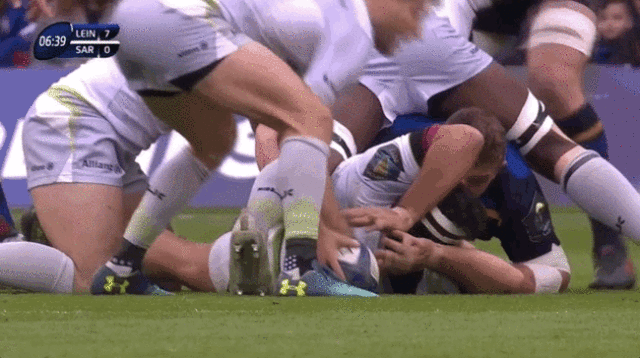 Click here if you cannot view the clip above
"I watched the match back the morning after and didn't pick it up but then in the review with Leinster, I was sitting beside Bryan Byrne and he was like 'You just tackled two players there.'"
Leavy watches his games back as soon as he can the morning after, eager to "be ahead of the curve" and learn from any errors he has made, while he likes to do in-depth preview analysis of key opposition strengths and their influential players.
However, he says he "literally never watches" rugby games outside of his analysis, unless they involve an upcoming opponent.
Some of his coaches have told him that taking in more rugby in his spare time will improve his understanding of the game, but so far Leavy is just focusing on his own work.
"Andy Farrell and Stuart always talk about rugby IQ and how a lot of head coach's sons are 10s because they understand the game so well. You have George Ford, Owen Farrell, Harry Mallinder, so you have these head coaches with their sons in an environment where they're always seeing rugby and being around it.
"They just understand the game better because they understand a lot more of it. It probably does make a difference but I know what my job is and I'm not in charge of running the team. I'm in charge of trying to get the ball back."
Leavy explains that he was in sixth year in St. Michael's when he realised for the first time that rugby could be a realistic career for him, having played some tennis, golf and swimming as he grew up.
The competitiveness of the Leinster Schools Senior Cup and the "almost tribal element" of it was a major part of developing a love for the sport, and he enjoyed his time at Michael's.
"I loved it as a school and I also loved the rugby aspect of it. I played Junior Cup in 2009 and we lost the final. I played Senior Cup in fourth year and lost the final to Clongowes, in fifth year we lost the semi-final to Clongowes, but we won it in sixth year, against Clongowes again."
Leavy was sensational in that 2012 final, captaining a squad that also included current professionals Rory O'Loughlin, Ross Molony, Cian Kelleher, Ross Byrne, Nick McCarthy, Denis Coulson and Josh Murphy.
Laszlo Geczo / INPHO Adam Leavy is in Connacht's academy. Laszlo Geczo / INPHO / INPHO
Leavy's younger brother, Adam, came off the bench in that final and the wing is now part of Connacht's academy. 22-year-old Adam is also a key man for Lansdowne and has been in superb form in their run to today's Ulster Bank League final.
The fact that both brothers are outstanding athletes might suggest that their parents had strong sporting backgrounds, but Leavy puts that theory to bed quickly.
"We're potentially adopted, the two of us – I don't know what's going on!" he says. "My dad has no sporting background. My mum tells us she used to be quite a good athlete back in the day, but I don't know.
"Adam is a phenomenal athlete in fairness, probably more so than myself. He's doing very well, he had a great game for Lansdowne in the Aviva last weekend [in the semi-final against Garryowen].
"We miss each other's games a lot of the time because we're both playing at the same time, but it's great to see him playing so well now.
"My grandad on my dad's side used to play hurling and GAA for Westmeath, he won an U21 All-Ireland medal and stuff like that, so it must have skipped a generation!"
The42 is on Instagram! Tap the button below on your phone to follow us!