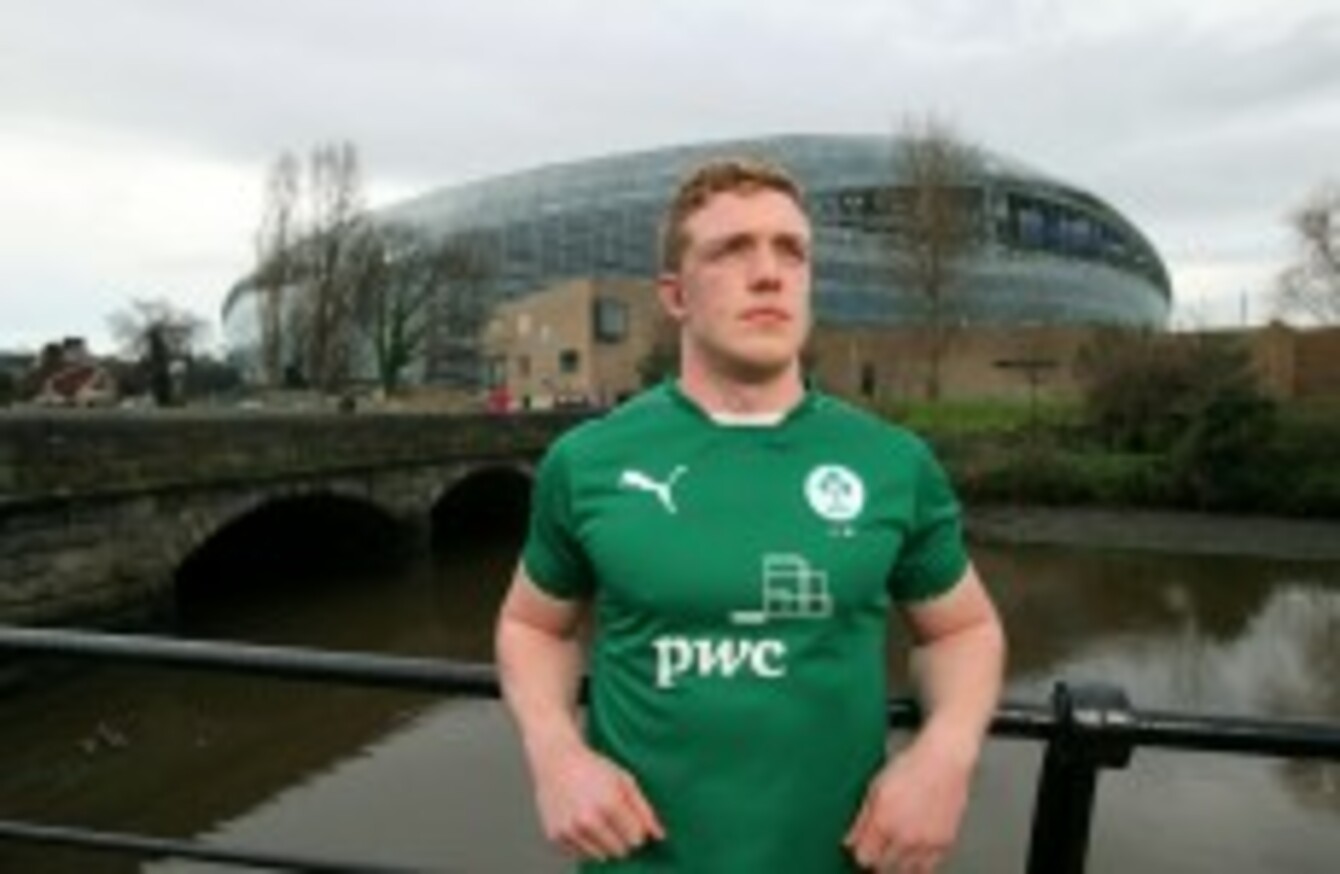 Image: ©INPHO/Dan Sheridan
Image: ©INPHO/Dan Sheridan
THE NATURE OF Under 20s rugby, of any age grade code, means the player turnover is high.
Each squad needs a captain, but you get a sense that this year head coach Mike Ruddock needed less time than usual to deliberate over who should fill that role.
Openside flanker Dan Leavy will lead Ireland's under 20s in the forthcoming Six Nations, but it is a role he is taking completely in his stride.
When Leavy talks, his answers make it clear he has been playing and training along with the elite of Leinster Rugby; where professionalism is a state of mind before it becomes a pay packet.
He has long been marked out as a back-row star in the making and having missed out on last year's hit and miss Six Nations, he is out to show that the finished product is not far away.
Content
"If we back ourselves and trust our patterns and skills I think we should do very well," says Leavy before we inquire just what 'very well' would entail.
"You have to go out there to win the Championship. You can't go out there thinking we'll be content with second or third. We're just taking every game as a final effectively. Scotland first, everyone's going to be focus towards Scotland and after that we'll be straight onto Wales and try to build from there."
Much like the senior side, the (affectionately nicknamed) Wolfpuppies as an entity take a massive amount of confidence into the tournament after running New Zealand extremely close at last summer's World Cup. Leavy started that 31 – 26 loss and having come off the bench for the second half as Ireland edged out Australia in the group phase.
The memory has mixed emotions for Leavy. When asked if those results bring confidence into this group his answer is an emphatic 'definitely', but he is keen not to let 'nearly' and 'what if' define his experience at this level:
"I think there was a lot of belief in the squad last year, as there is this year again. We obviously showed we can contest and we lost narrowly, but if a couple of things had gone our way…

"I don't think just that narrow loss proves how well Irish rugby is doing at under age; we're contesting every single game, so I think it's positive in that respect."
Things move fast for rugby players at this age, it is almost two years since Leavy proved to be the driving force behind St Michael's as they denied Clongowes a Leinster Schools Senior Cup treble in an intense 2012 final.
That's all behind the UCD clubman these days. Leinster A caps now count more than second level honours and winning on the opening night against Scotland in Dubarry Park is his sole focus. Last season's Six Nations is annoyingly straightforward to look back on; Ireland won at home and failed to win away:
""There's no grudge about it, just got to try and win every single game. I'm just looking forward to it."
And with the underage fixtures providing rugby fans with a kick-start to each Six Nations weekend, the Dubliner is acutely aware of the stage he is striding onto:
"You're not just playing in front of Ireland and Scotland you're playing in front of Europe really. It's a big stage to show your skills and you can impress at home and abroad."