THINGS HAVE CHANGED quite a bit for Dan Leavy in the last year.
He's gone from being perceived as an outstanding back row prospect to being regarded as one of the most dominant flankers in European rugby.
From being seen as an emerging four-cap international to being lauded as a Grand Slam-winning powerhouse who has gone toe-to-toe with best in the Six Nations and come out on top.
From being part of a talented crop of Leinster players who hadn't won silverware to celebrating a Pro14 and Champions Cup double.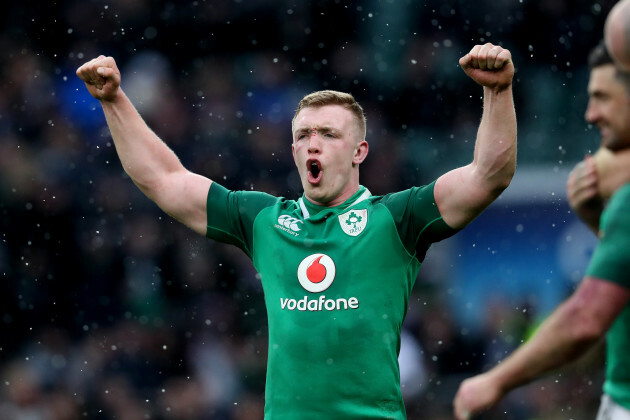 Inpho / Billy Stickland Leavy had an immense 2017/18 season. Inpho / Billy Stickland / Billy Stickland
As a young man with impressive self-belief, Leavy never really doubted that he would be any of these things.
The 24-year-old always had confidence that he would become the figure he now is. While he does appreciate that everyone needs a little luck along the way, he doesn't think there were any major changes to his game that led to last season's success.
Simply being ready and available to deliver on his ability was the key.
"The main thing is just keeping yourself fit so you can take opportunities," says Leavy as he reflects on an incredible 2017/18 campaign. "You could be the best player in the world but if you're injured, no one will see it. That's the analogy I try to use.
"So I have a big focus on trying to keep fit and my recovery. I do a lot of pilates classes and go for swims in the sea as much as I can. They're getting less and less enjoyable as it gets colder!
"All these little things don't seem like much but if you amalgamate them all, you look after your body a lot better, feel better going into training and there's less risk of injury. It's paramount in the game these days."
Indeed, Leavy had a long streak of being fit last season, up until the tour of Australia in June, when he missed the first Test and then had to come off at half-time of the second due to a rib injury.
He had a minor shoulder procedure during the summer to ensure his durability is good heading into the World Cup season but expects to be back in full training next week and out on the pitch very soon.
Dan Sheridan / INPHO Leavy was speaking at launch of the second Family SportFest at the Sport Ireland National Sports Campus. Dan Sheridan / INPHO / INPHO
Leavy says his twice-a-week pilates sessions have been valuable in helping him to avoid niggling injuries, while the guidance of Leinster's performance nutritionist, Daniel Davey, has been helpful too.
"You can work as hard as you want in the gym but if you don't fuel yourself properly afterwards, you're going to be susceptible to picking up soft tissue injuries," says Leavy, who counts himself lucky to be able to "eat whatever I want, whenever I want" during the season.
The flanker says Leinster are "blessed" with world-class physios and rehab coaches like Garreth Farrell, Diarmuid Brennan, Karl Denvir and Ferghal Kerin – the men who do such important work behind the scenes.
Keeping his neck and core strong are key focuses for Leavy, as well as making sure "the glutes are activated all the time," those mundane and regular activities reducing the risk of frustrating injuries.
Although Leavy has clearly become a more dominant physical presence on the pitch in the last year, he says he hasn't made any major changes to his strength and conditioning regime under Leinster's head of athletic performance, Charlie Higgins.
"The bulk of your strength and hypertrophy sessions would be around the start of the year during the pre-season window, that's when you put on as much muscle as you can," explains Leavy.
"Then it's more maintenance during the year because when you're playing games every weekend, it's impossible to put on muscle while trying to recover from those games.
"There's going to be a natural decline and drop-off just through fatigue or having a couple of 80 minutes on top of each other, on the Sunday and Monday you can sometimes barely move.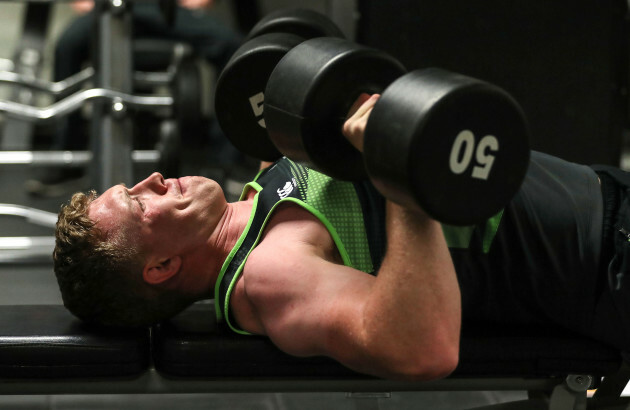 Dan Sheridan / INPHO Leavy works hard on his recovery. Dan Sheridan / INPHO / INPHO
"If you want to perform the next weekend, you're sometimes going to have to sacrifice a gym session or two."
Leavy loves the routine of the training week: "It's a dream job – you do some weights, run around and do some rugby training and recover."
His belief is that there is still much more to come from him as a player, even after the heights of last season.
"There's a lot of things I need to brush up on; my discipline, staying in the game for as long as I can and that's tied in with fitness and being in peak physical condition.
"Little things like lineout, footwork. I don't think there's one player in Leinster who's perfect and that's the culture we have – as brothers, we're trying to get better every day."
It's that environment at Leinster that Leavy believes will bring out the very best in him, particularly with such a strong coaching team in charge.
Stuart Lancaster tends to get the majority of the credit for guiding Leinster's rise towards their double glory and certainly much of it is deserved, but Leo Cullen has been at the heart of the journey.
"Leo would look after all the forwards, have us briefed on the opposition and what we're going to use against them," says Leavy of Cullen's day-to-day role with the squad. "The set-piece is so pivotal in the game, as is scouting the opposition.
"Leo and Stuart are completely in tandem with everything. Stu would take quite a bit of the training but Leo would do the other half."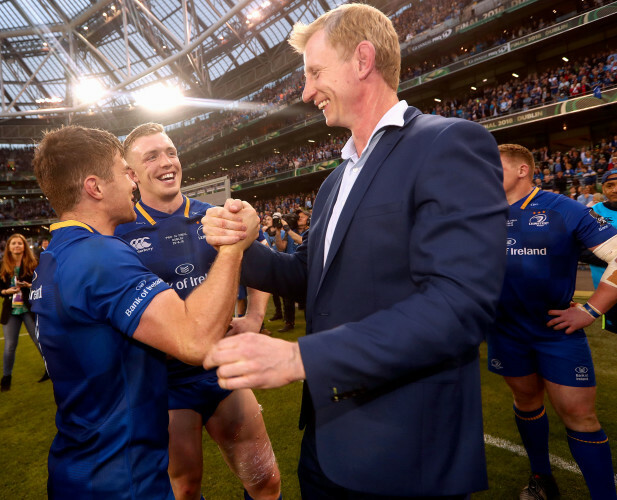 James Crombie / INPHO Cullen has overseen Leinster's rise. James Crombie / INPHO / INPHO
Leavy also speaks positively of scrum coach Denis Fogarty, new backs coach Felipe Contepomi and contact skills specialist Hugh Hogan, with whom he has been working closely on his rucking, poaching and tackle technique.
There has been a big change with the departure of former captain Isa Nacewa from the playing squad, of course, but Leavy says new skipper Johnny Sexton and his vice-captain Rhys Ruddock are perfect successors.
"Johnny is very similar to Isa. He's pretty much been a player-coach for as long as I can remember, so it's pretty seamless.
"The same with Rhys, he's a fantastic leader. There's been a bit of a changing of the guard but the younger lads are aware they need to push on too."
The recent Ireland camp under Joe Schmidt – where the players were put through "some pretty sick trainings" – ensured the international rugby season is in the back of Leavy's mind too, but his immediate focus is on getting back on the pitch for Leinster and making an even bigger impact than before.
"I want to keep fit, that's the main thing. There's no point in looking at the World Cup now, we've got a huge season ahead of us, so I'm looking forward to getting back out there and performing to the Leinster standard."
- This article was updated at 1.55pm on 4 September to add 'to' to the sub-heading.
The42 is on Instagram! Tap the button below on your phone to follow us!