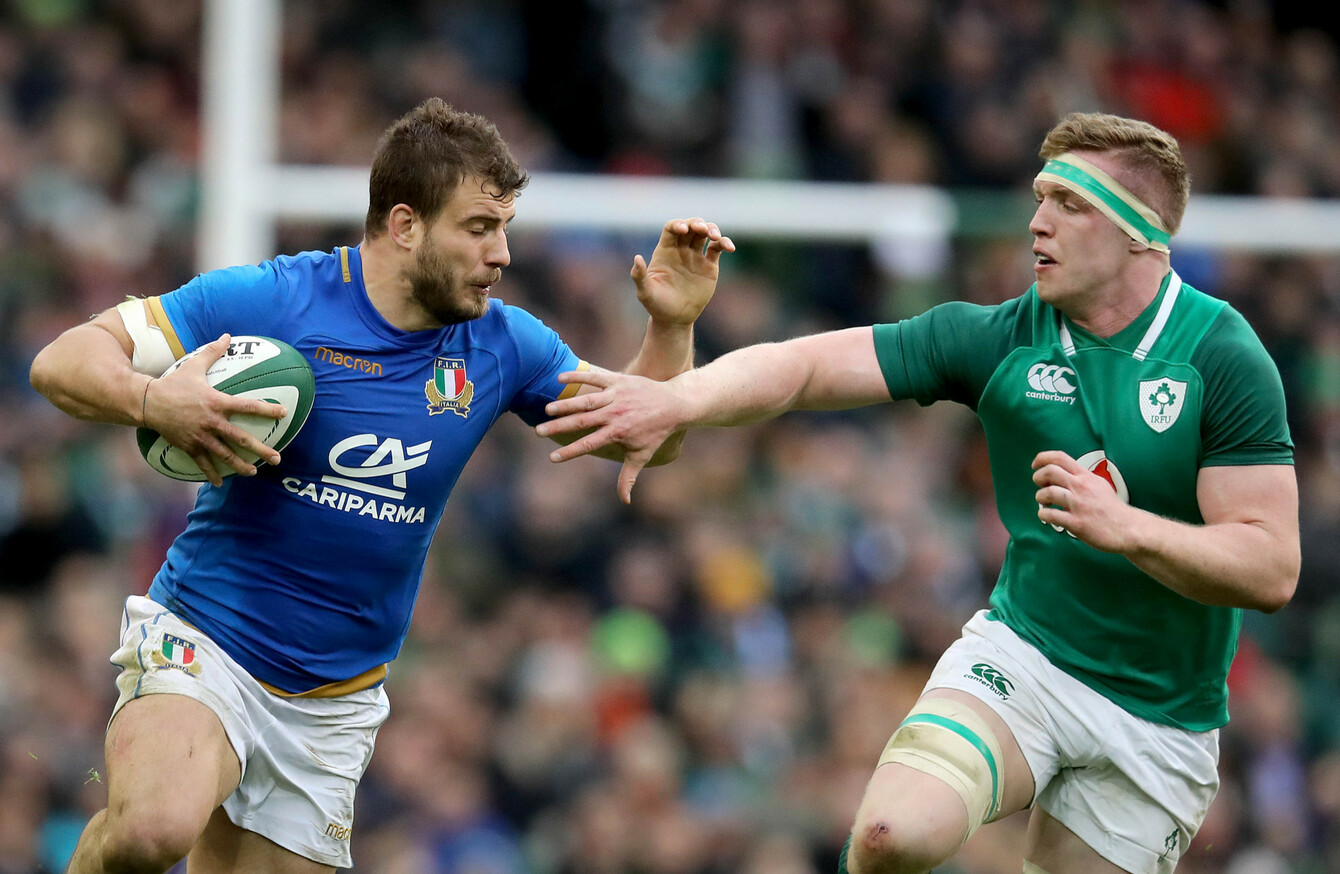 Image: Ryan Byrne/INPHO
Image: Ryan Byrne/INPHO
DAN LEAVY IS in no doubt that tomorrow's clash with Wales is the biggest game of his career to date.
For sheer drama though, the circumstances of his second cap, most likely second in magnitude too, will remain tough to match for some time to come
The 2017 edition of the Ireland v England Six Nations curtain-closer was all set to come to the boil just as Leavy was about switch his focus back to provincial matters for the closing months of the season.
"Usually, when you're the 24th man, you've been kinda watching a player who has been carrying a knock or something.
"And I was kinda walking in (after the warm-up), expecting Joe to tell me: 'aw, you might get an opportunity next year, blah, blah, blah'."
Instead of getting the nearly man speech, Leavy got a jersey – Peter O'Mahony's 20 shirt.Meanwhile the Munster captain was put straight into the starting line-up in place of Jamie Heaslip (who has not played since).
The occasion and the challenge awaiting Leavy now was a record-chasing England and a pressure-cooker atmosphere on the final day of the Championship. It must have been a nerve-wracking way to make a Six Nations debut.
What are they
really like?
Rare insights on sport's biggest names from the writers who know them best. Listen to Behind the Lines podcast.
Become a Member
"It was fine once we got out," says Leavy.
"I was going to have a shower and have a protein shake.
"So it was a pretty big flip, two minutes later I'm walking out in the tunnel for the biggest game of the season, fireworks going off…"
He won't turn 24 until May, yet the Dubliner speaks like a veteran who has long been hardened to the sideshows of these occasions as well as the intensity levels required to compete in them.
The Leinster openside is unshakably calm, immune to the nerve-jangling of the international arena. His voice doesn't trail off to giddy laughter, he sounds like this seventh cap might even be overdue. On a day when Joe Schmidt looked back to a 2015 World Cup quarter-final when he felt players were 'spooked', Leavy is, well, a man of contrasts.
I'm very jumpy if someone jumps out, like, to scare me in a different scenario. Anything like that I'm very, very jumpy, but in terms of before a game, no I wouldn't be.
"Despite not playing as many games as I've been in camp for – I've been here for about 18 months, came in last November and I've been in camps since. So I'm very well used to the high-pressure environment. The way we train is very intense with Joe and the coach is putting so much pressure on us.
"So when it comes to the game it's pretty seamless and we've been doing this stuff, playing the game, for years now so…"
The 'years' Leavy is keeping count of would include his time in a St Michael's jersey on top of his rookie seasons with Leinster. Big games, green field, tough opponents; it's all the same basic scenario: you just have to make sure you win each time you step up a grade.
"It's a bigger scale and there are more people watching it, but you always want to perform. Even if it's a Leinster game or a schools game,  the schools games are like your finals, so they're huge.
"And then any time you go out for Leinster it's so tight now at the top of the Pro14 table, you can't afford to slip up because you could cost yourself a home semi. So everything is of paramount importance. It's the same."
"I've played in so many big games now at this stage, I'm pretty well accustomed to it. So it wouldn't be something that crosses my mind.
"I'd say at the end of the day it's the same game. I wouldn't say it's a way bigger stage. They're all must-win games. France away from home is pretty tough. So I'd say it's quite similar.
"I certainly won't be approaching the game in a different mindset."
Not even after Schmidt name-checked his missed tackle in the lead up to an Italy try last time out? Just another work-on to be aware of and improve on the next time he has a chance.
"I knew myself and soon as the meeting started, I put my hand up and said, 'that was me and it's not good enough'.
"We are a team at the end of the day so other lads kinda said, 'I could have got a bit closer', and 'I folded there', or whatever."
"The only way you're going to get better is if you look at your mistakes. You can't come out and play to 70% of your potential and everyone telling you that you're a hero and stuff.
"I'm always striving to get better, so I'll keep pushing myself and if I make mistakes I'll try to make sure they don't happen again."
The instinctive qualities to Leavy stand out way above any slight lapses in concentration when the game against Italy was won. Earlier in the same fixture he created Keith Earls' try with a superb poach that provided Bundee Aki with an opportunity to raid.
Against a Wales team who have Josh Navidi making hay, Leavy's breakdown influence will be key.
"If there is an opportunity, go and take it, but you can't go throwing yourself into rucks where you could be potentially pinged. If you jump into a ruck where the outcome of winning the ball isn't likely, then you are going to put your other defenders under more pressure.
"It's about picking your battles. It's something that Stu Lancaster would always say to me when I am playing for Leinster and it is something that I try to bring into this set-up as well."