BIG DAN SHANAHAN has slammed comparisons between the Waterford hurlers and Donegal footballers as "bullshit".
The 2007 Hurler of the Year, now a selector alongside Waterford manager Derek McGrath, has taken grave exception to critics of the Déise's style of play.
In eight matches en route to winning the Allianz Hurling League Division 1 crown, the champions leaked just five goals.
Two of those were conceded against Offaly on the opening night of the Division 1B campaign, another against Offaly and two more in the Division 1 semi-final victory over Tipperary at Nowlan Park.
But Waterford had shut-outs in their wins against Laois, Antrim, Wexford, Galway and Cork and this impressive defensive solidity has prompted suggestions that they have adopted a style of play similar to the Donegal footballers.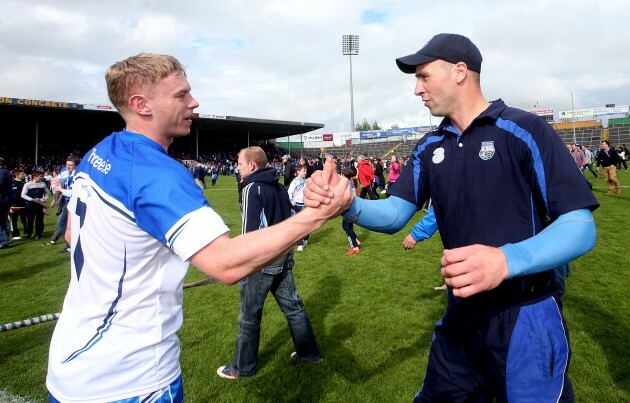 James Crombie / INPHO Dan Shanahan celebrates with Philip Mahony (left) at full-time James Crombie / INPHO / INPHO
"The systems only work when you're fit and able to work," Shanahan countered, in a post match interview with Oisin Langan.
"And our lads are fit. Some people say we're gone like Donegal but that's total and absolute bullshit to be honest with you.
"Our lads are just working. If they see a lad in trouble they'll go out and hunt and block.
"And that's all we want our lads to do."
Shanahan described Waterford's third League crown, and first since 2007, as "unbelievable" but he's conscious of the Cork threat when the teams meet again in the Munster SHC semi-final on June 7.
"To come from where we've come from, relegated to Division 1B last year, I took a lot of stick personally and the management team but we stuck together and got in Fintan (O'Connor), who's been a fantastic addition to us.
"We beat Cork on pure workrate. We wanted it more than they did.
"We did say that if we got 20-25 points that it would take a good team to beat us but Cork are going to come back in five weeks time as serious opposition again.
"They'll go away, they'll study it and they'll see how they get on but we'll enjoy it.
"A lot of people have been through a lot of stuff from last year, players, officials, management.
"We took a lot of stick and I'm thrilled for Derek McGrath. After being relegated to 1B last year, he took a lot of criticism from maybe a few of the top players in Waterford but he took it on the chin."
Cathal Noonan / INPHO Dan Shanahan is thrilled for Waterford boss Derek McGrath (left) Cathal Noonan / INPHO / INPHO
Waterford's League winners will now return to their clubs for two rounds of fixtures before an intensive three weeks of preparation ahead of the championship clash with Cork.
And Shanahan revealed: "The first thing we said is that we're not going to be jumped upon this year, which we were last year.
"We're not going to be bullied by teams. The lads have worked so hard physically and mentally and we have so many fellas to thank for that. Hopefully this is only the start of it but again, it's all down to the players. 
"They really performed and they wanted to win.
"But Cork are hurting. If you lose in a final, you have to hurt and they'll be ready in five weeks time to counteract what we're doing."