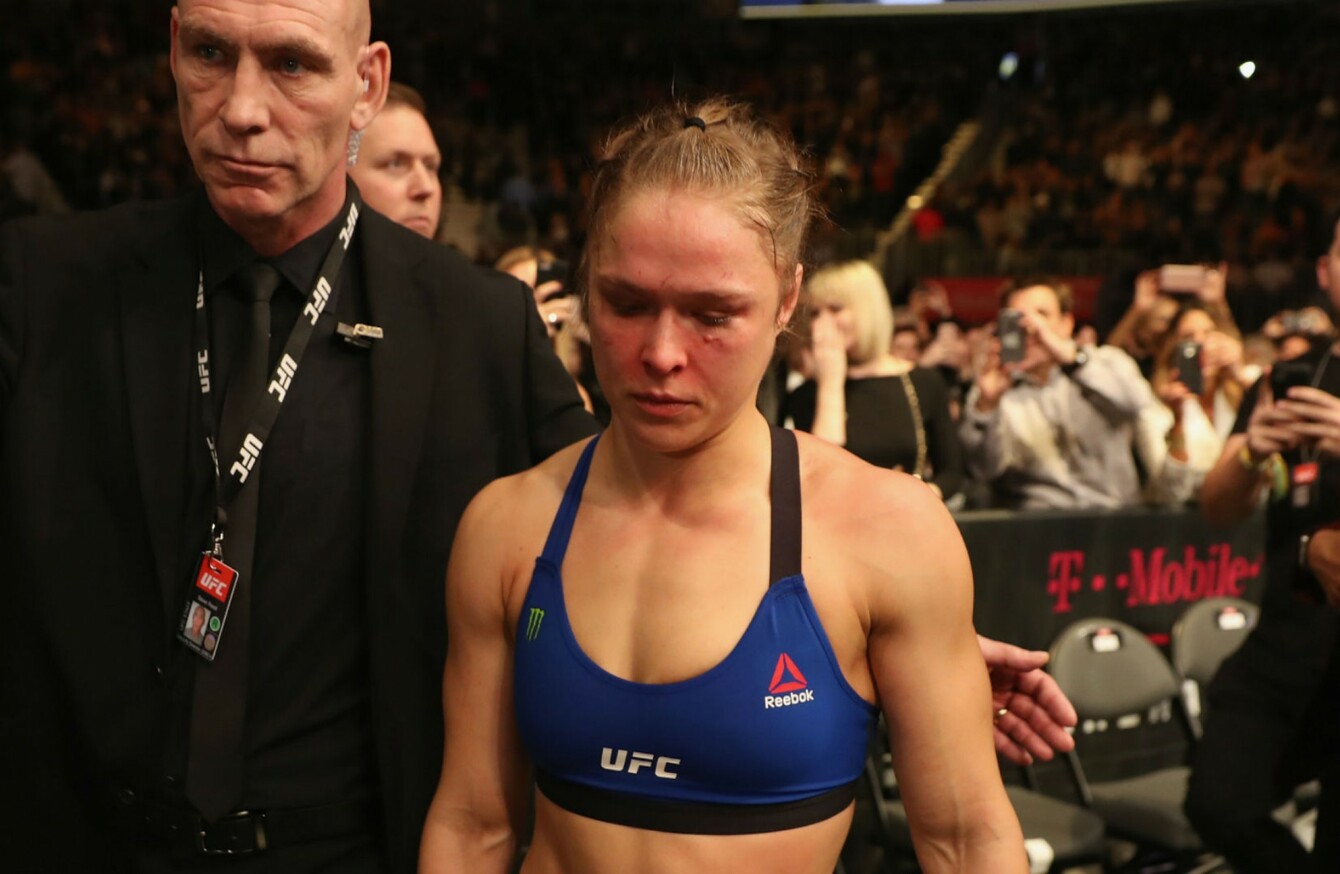 Ronda Rousey.
Ronda Rousey.
RONDA ROUSEY APPEARS unlikely to rebound from her most recent loss to Amanda Nunes.
According to UFC president Dana White, the former women's bantamweight champion likely won't be returning to the octagon.
"In the conversation I had with her, if I had to say right here right now — and again, I don't like saying right here right now because it's up to her — but I wouldn't say she fights again," White said during his appearance on UFC Unfiltered.
"I think she's probably done. She's going to ride off into the sunset and start living life outside of fighting."
Nunes defeated Rousey via TKO just 48 seconds into their much-anticipated title fight on 30 December, the third-fastest knockout in women's UFC bantamweight history. Making her first UFC appearance since her loss to Holly Holm in November 2015, Rousey has now lost two consecutive fights.
It's not even that I think it's an invincible thing, it's just that she's so competitive that her career and record meant everything to her," White said. "And then once she lost, she started to say to herself, 'what the f*** am I doing? This is my whole life — this is it? I want to experience and start doing other things'.
"And I think that's what she started to do, and she's got a lot of money. She's never going to need money again.
Because, unless you spend money like Floyd [Mayweather], you're not going to need money again when you have the kind of money Ronda has."
Ironically, Mayweather recently said he would be open to helping the UFC star in training. The two fighters have made headlines for publicly feuding for more than a year.
The42 is on Instagram! Tap the button below on your phone to follow us!