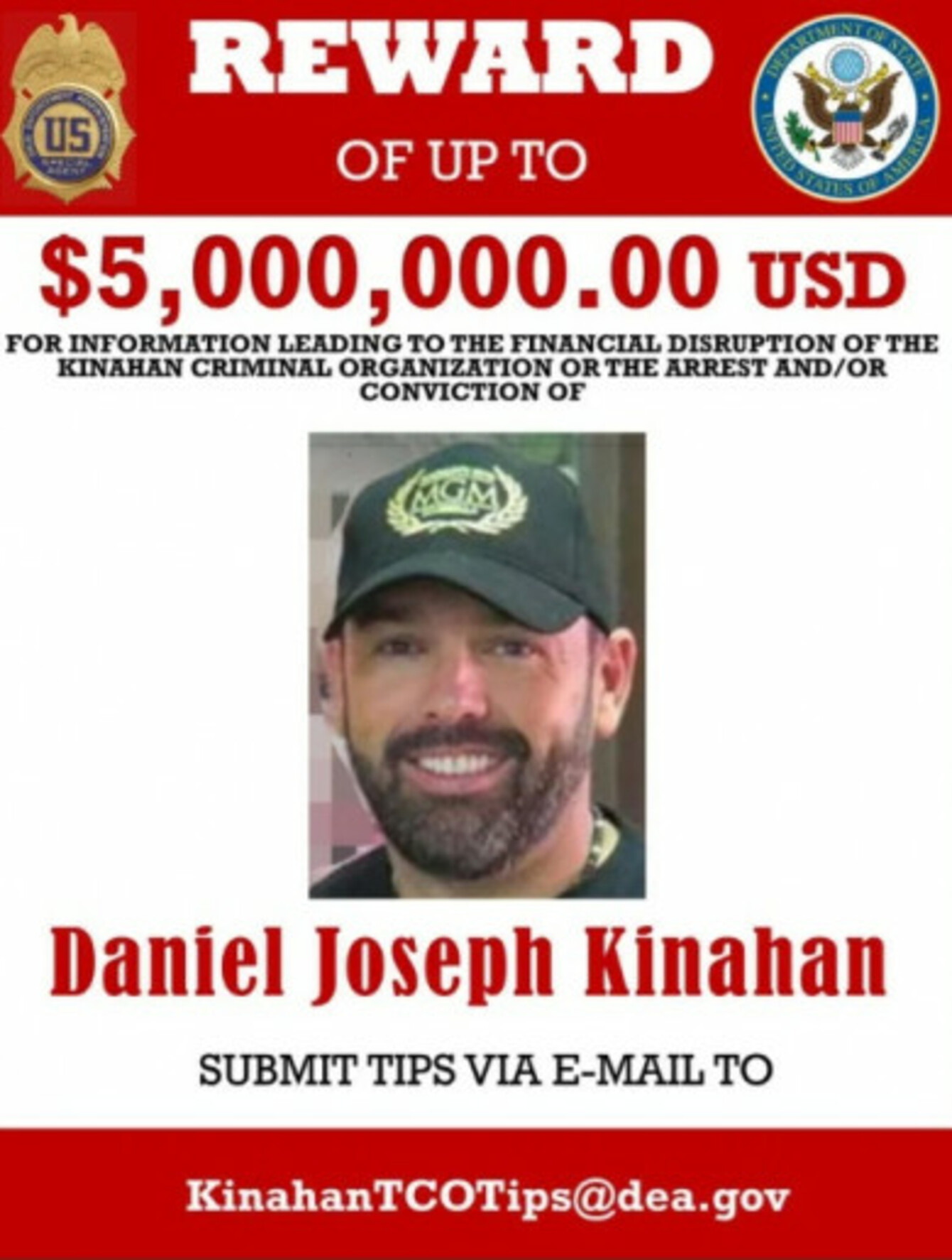 TOP RANK FOUNDER and CEO Bob Arum was the first of professional boxing's major stakeholders to apparently disown Daniel Kinahan after US, EU and UK law enforcement agencies took unprecedented joint action against the Kinahan Organised Crime Group on Tuesday, US authorities offering a $5 million reward for information that would help to bring Daniel Kinahan to justice.
Sixty years after he began his career as a 31-year-old lawyer in John F. Kennedy's Justice Department, Arum sits as one of the most successful and respected promoters in the history of professional boxing.
Following the announcement of the sanctions taken against Kinahan and the six other men named by the US Treasury Department as key members in the Kinahan cartel, Arum told USA Today boxing journalist Lance Pugmire: "We won't have anything to do with Probellum and we're looking to cut whatever ties we have with MTK."
A statement from Probellum on Wednesday reads: "Probellum takes the sanctions made by the US Treasury extremely seriously and the business and its employees will be fully compliant with them.
"We have retained counsel in the US to ensure that we fully comply with all rules, regulations and requirements related to this matter, including not working with any individual or company that has been placed under US sanctions.
"This includes Daniel Kinahan and we can confirm that we will not have any business relationship or communication with him whatsoever.
"Bob Arum's comments implying that Top Rank has ceased a business relationship with Probellum are baseless.
"Top Rank is a competitor and since Probellum's inception, Top Rank has never worked directly with us. Any suggestions that Daniel Kinahan is a shareholder or owner of Probellum are false and defamatory."
Probellum has been hoovering up highly rated boxing talent from all over the world at an unprecedented rate. Having already secured a broadcast deal with US media giant Discovery (which sees Probellum fights shown live on the Discovery-owned Eurosport in Ireland and the UK), it has become a direct competitor to Arum's Top Rank, Eddie Hearn's Matchroom, Frank Warren's Queensberry and Oscar De La Hoya's Golden Boy within just six months of its existence.
Boxing events are, as a general rule, extremely expensive to stage. Their commercial success is predicated largely on gate receipts. On Friday 18 March and Saturday 19 March, Probellum staged consecutive shows in Dubai with 10 fights taking place on each: that's 40 fight purses, a handful of them worth six figures — including those dished out for the Saturday-night headliner between England's Sunny Edwards and Pakistan's Muhammad Waseem.
There were no official attendance figures provided for either Probellum show in Dubai but at a rough count off the TV, the combined attendance was sparse.
This is a luxury that their promotional rivals cannot afford.
And after a few years during which his Top Rank outfit partnered with MTK and Kinahan, Arum came to realise on Tuesday that to be associated with the Dubliner was no longer an affordable luxury, either.
"We are not going to deal with Daniel," Arum told Mailsport's Riath Al-Samarrai on Tuesday. "We will respect the sanctions. We will deal directly with Tyson [Fury] or his lawyer…
"I wasn't pleased with a number of things he (Kinahan) was doing in boxing. I was looking to sever ties anyway."
This is actually the second time that Arum has claimed he will no longer deal with Kinahan. He previously stated as much in 2020 during the maelstrom which followed Top Rank heavyweight Tyson Fury's clearly orchestrated shout-out for his advisor in an Instagram post which kicked off Kinahan's two-year PR campaign in earnest.
There are few corners of pro boxing left untouched: just two weeks ago, Mauricio Sulaiman, president of the Mexico-based World Boxing Council (which is seen by those outside of boxing as one of the sport's four major 'governing bodies' but in practicality is little more than a profiteering private company like its counterparts) wrote of his "full support" for Kinahan's involvement in the sport whose sanctity he claims to protect.
Sulaiman, just like his counterparts at the WBA, WBO and IBF see Kinahan not as a threat, but as an extra avenue through which they can top up their respective coffers through sanctioning fees for title fights, which is their raison d'être.
Kinahan also now counts upon a cohort of influential disciples in the British and American combat-sports media, who exist even outside of the MTK Global-sponsored IFL TV YouTube channel which has for so long moonlit as his personal public relations arm.
It's unlikely that certain media figures will have the minerals to continue to spin on Kinahan's behalf. Anyone who goes to bat for him now, particularly in America, may face bigger problems than issues of journalistic credibility.
For the boxers themselves who have sworn blind devotion to Kinahan, they are now faced with a conundrum: do they swallow their pride, distance themselves from their 'advisor' and look like absolute clowns; or do they double down in their loyalty, risk the scrutiny of international law enforcement agencies and look like even bigger clowns?
Next Thursday's press conference for Tyson Fury's BT Box Office clash with fellow Briton Dillian Whyte has suddenly taken on a new dimension but if indeed it still happens at all, the World heavyweight champion will likely no-comment his way through any quizzing on his friend and confidante.
However, another of Kinahan's highest-profile fighters, Scotland's undisputed lightweight champion Josh Taylor, opted for the side-door on Tuesday night. An outspoken Kinahan devotee who won a highly controversial decision over Jack Caterall live on Sky Sports in February. Taylor has already deleted a tweet posted last year in which he described Kinahan as being "a great advisor and doing great things for the sport."
Thus may begin The Great Deletion, and Daniel Kinahan will likely now recuse himself from public boxing life just as he pretended he would in 2020.
But as has always been the case, just because we can't see something doesn't mean it's not happening.