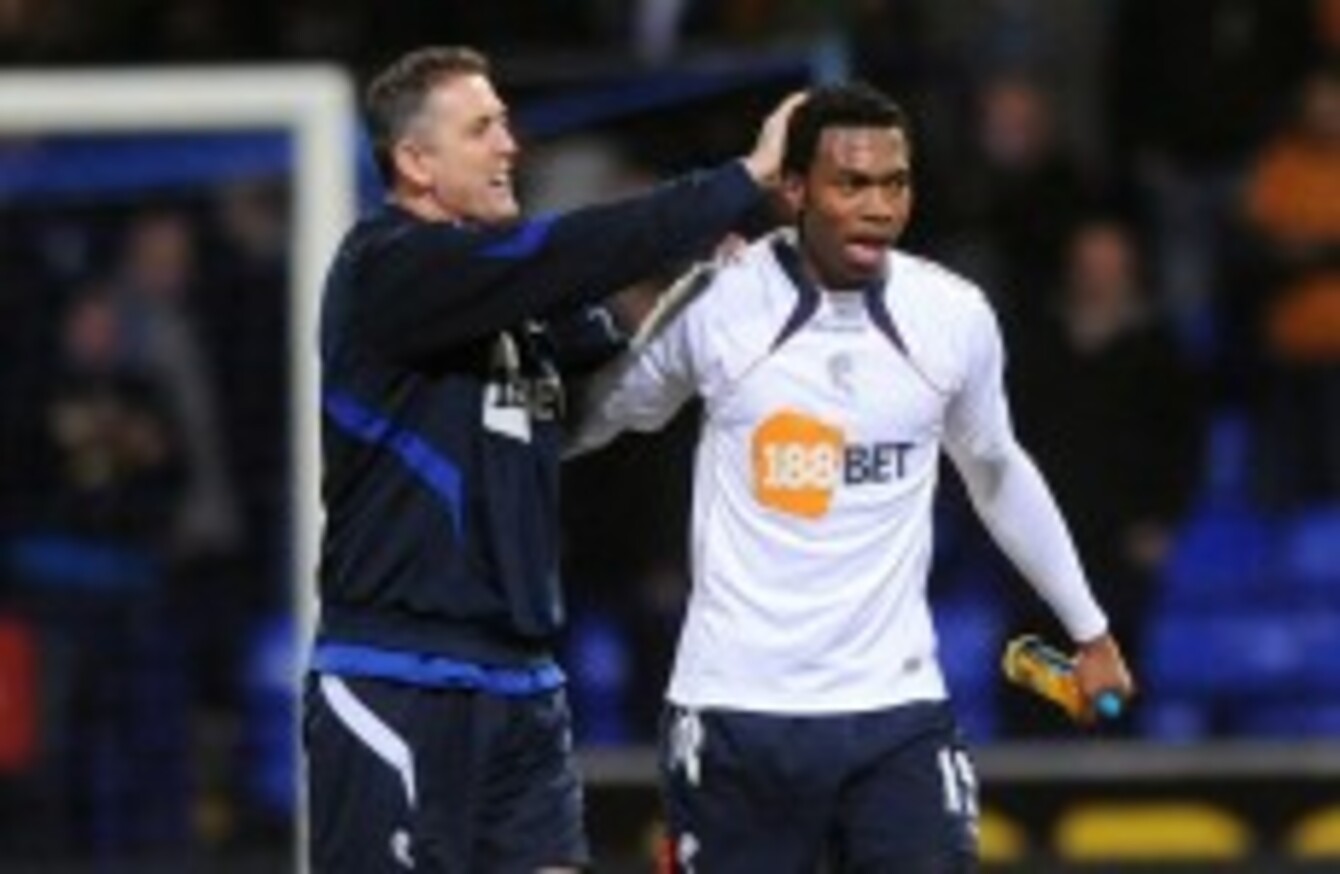 Image: Anna Gowthorpe/PA Archive/Press Association Images
Image: Anna Gowthorpe/PA Archive/Press Association Images
OWEN COYLE BELIEVES Liverpool have bagged a gem by bringing in striker Daniel Sturridge.
The former Bolton Wanderers boss witnessed Sturridge's potential first-hand when he took him to the Reebok Stadium on loan from Chelsea at the start of 2011.
Coyle's Trotters beat the drop and the youngster was a revelation, scoring eight goals in 12 league starts, a period in which he shone as "the best striker in the Premier League" according to the former Ireland international.
So when Liverpool manager Brendan Rodgers called for advice before putting in a £12m bid for the 23-year-old, Coyle's endorsement was as glowing as they come.
"Daniel Sturridge is an outstanding player," Coyle told TheScore.ie at an ESPN event in Dublin yesterday. "He's got fire in his belly and if there are any doubters out there, he'll want to show them the quality he's got.
"Brendan called me before he signed him. We had a chat and obviously I waxed lyrical about him because I worked with him and I could see his quality at close hand.
Sometimes you admire players from afar; you look at them and you say he's a good player. But when you work with people on a daily basis, not only do you see their quality as footballers but you see their quality as human beings.

Daniel's a lovely lad. He's confident, of course he is, but sometimes people get that mixed up with arrogance. He's a gem of a lad. He wants to do well.

I know from speaking to him that he's determined to be a big success at Liverpool and I'm convinced he will be.
Coyle, left, with fellow Irish internationals Frank Stapleton and Ray Houghton at yesterday's ESPN event in Dublin (Sportsfile / David Maher).
Sturridge has made a flying start to life with the Reds. He scored just seven minutes into his debut against Mansfield Town in the FA Cup, a game in which he could have easily bagged a hat-trick, and followed up on that early promise with two more goals in his next three appearances including one against Liverpool's old rivals Manchester United in Old Trafford.
His partnership with star striker Luis Suarez has already been dubbed the new "SAS" by some and Coyle says the two will thrive together, rubbishing fears that Sturridge might cramp Suarez's style.
"To be fair to Daniel, even at Chelsea with AVB — Andre's a pal of mine, we did our pro licence together — he played Daniel every week but played him in a wide area.
Daniel can do that role as well but he's more than capable of going through the middle, being that main striker and scoring goals. I think him and Suarez will love playing together because good players like playing with good players.

You could see at Old Trafford, they've a tremendous understanding and that will stand them in good stead.
Coyle, who was sacked by Bolton and replaced by Dougie Freedman in October, is on the lookout for his own next move and though he's looking forward to getting back into the game, he says he won't rush the decision.
"I've enjoyed the break. It's the first time for 33 years that I've not had a game to prepare for as a player, coach or manager.
"When you love the game of course you want back in, but I won't take a job for the sake of taking it. I've had three or four approaches and I've turned them down because I didn't think they were the right thing. I'll know in my mind when I speak to somebody if that's the right job for me, if I can bring a lot to that club and equally that they'll be as ambitious as I am."
When he does return it's most likely to be with "a Premier League club fighting for its life or a Championship club with aspirations of getting to the Premier League," he added.
"I'm as ambitious as I've always been and what I want to know is, wherever I go in, that they're as ambitious as I am.
"You want to be progressive. Otherwise you're just treading water and that's not for me."