THEY SHOULDN'T HAVE had a chance to kick a game-winning field goal on Sunday but the Patriots eventually took advantage of all the luck that came their way in the final two minutes or so of their win over the New York Football Giants.
Firstly, the Giants had first and goal with two minutes, six seconds left to play and the Patriots had only one timeout.
Two incomplete pass plays — including a Odell Beckham Jr. touchdown that was (probably) incorrectly ruled out — and a sack of Eli Manning following by a timeout meant New England would be somehow getting the ball back with 1.47 left to play.
Then, on the Patriots very first play from scrimmage as they attempted to drive down the field and into field goal range, Tom Brady threw one of the worst passes of his professional career that Giants safety Landon Collins somehow dropped.
Eventually, with 19 seconds and no timeouts left, the Pats got the ball at the Giants 45-yard line needing to get to the 39 to be in field-goal range. Brady — without both Dion Lewis and Julian Edelman — turned to Danny Amendola and the receiver duly delivered.
Here's how it looked on TV: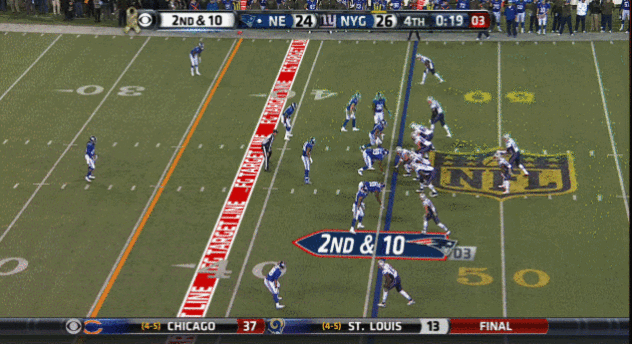 NFL Gamepass NFL Gamepass
Pre-snap read offence
After spiking the ball on first down, the Patriots have second and ten but really it's second and six as the 39 yard line is the target in order to give kicker Stephen Gostkowski a 57-yard field goal.
The Patriots are in their 11 personnel grouping with one running back, James White (#28), and Rob Gronkowski (#87) at tight end.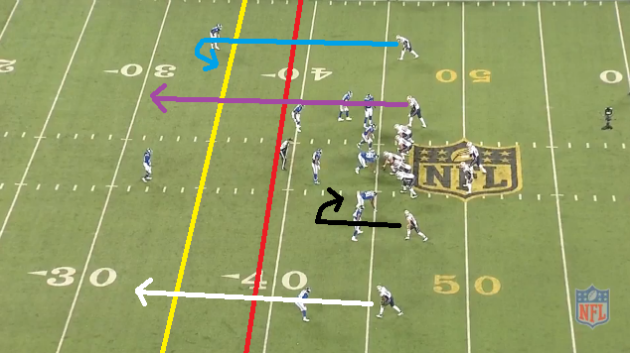 NFL Gamepass NFL Gamepass
The Patriots are using their 'Ace Doubles' formation with quarterback Brady in the shotgun. 'Ace Doubles' simply means a single running back lined up next to the quarterback with two eligible receivers either side of the line of scrimmage.
Brandon LaFell (white) and Danny Amendola (black) are aligned to the left with La Fell running a vertical route and Amendola a curl route that, as you can see, takes him short of where he needs to be to get his kicker in field goal range (red line).
On the right side, Gronk (purple) is running a vertical route while Aaron Dobson (blue) is running a deeper curl that takes him past the first down mark (yellow line).
Pre-snap read defence
The Giants are in their 3-2-6 dime package meaning there are six defensive backs on the field with the Patriots in an obvious passing situation.
New York are lined-up with safeties Craig Dahl and Landon Collins (yellow), linebackers Devon Kennard and Jonathan Casillas (blue) and cornerback Trevin Wade (red) and all showing blitz.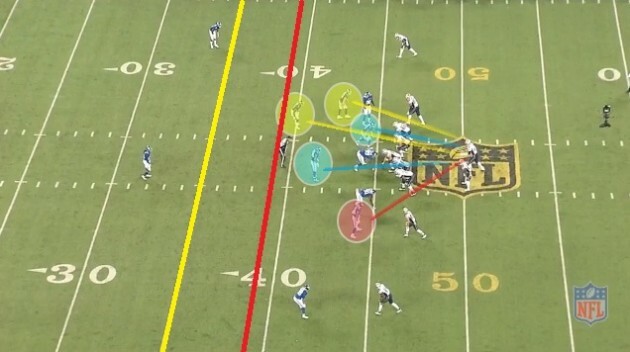 NFL Gamepass NFL Gamepass
Given the game situation, the Giants are not playing the run, but, as we'll see shortly, they're more committed to defending the pass than they are to  actually blitzing the quarterback.
After the snap
As he's walking back into position to take the shotgun snap, Brady is busy identifying the defence and what blocking scheme his team-mates should apply.
Watch how he specifically points to Wade (left, out of picture) — who is covering Amendola — as a potential blitzer.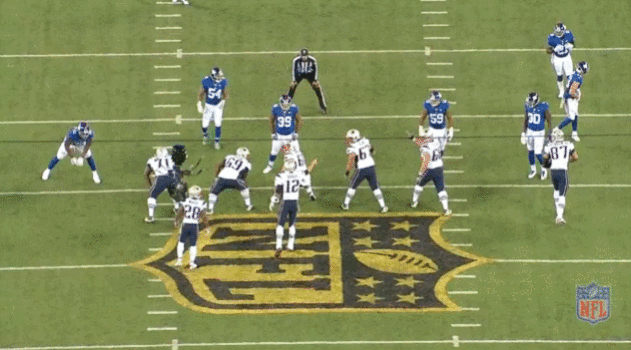 NFL Gamepass NFL Gamepass
As soon as the centre David Andrews snaps the football to Brady, the Giants show their real coverage which is Cover 4 with four players defending the first down marker (yellow) and three the 40-yard line with Wade (circled red) blitzing off the edge and leaving Amendola free.
NFL Gamepass NFL Gamepass
From the time the ball hits Brady's hands to the moment of release is a phenomenal 1.04 seconds. That's about the same time it took you to read the first four words of this sentence. Basically no time at all.
Amendola — whose drop percentage with the Pats is just 2.9% — is likely the hot route on this play which is why Brady never looks elsewhere. A hot route is when a quarterback sees a blitz coming and quickly passes to a receiver running a short route.
Exclusive Six
Nations Analysis
Get Murray Kinsella's exclusive analysis of Ireland's Six Nations campaign this spring
Become a Member
Usually this involves the QB signalling to the the hot receiver to adjust his route. In this case, Amendola's original route may have seen him run a curl route of a deeper depth only to adjust when Brady figured the player covering him was blitzing.
What happens next
When Amendola catches the football, he still has five yards to make just to get his kicker in field goal range with two Giants defenders Brandon Merriweather (#22) and Jonathan Casillas (#54) racing downhill to tackle him.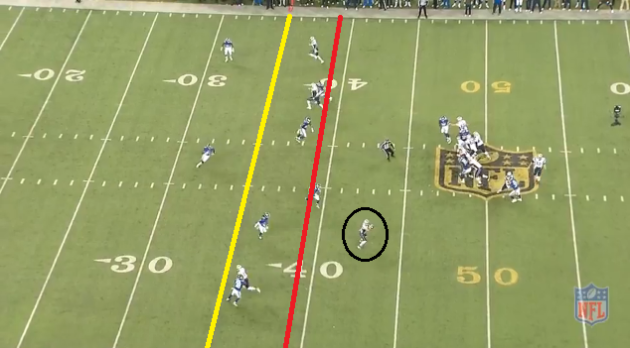 NFL Gamepass NFL Gamepass
Here's where Amendola really earns his salary — which, it should be pointed out, he significantly reduced this year to help the Patriots free up cap space — by shaping to run towards the sideline (red line)  by opening up his right shoulder and hip.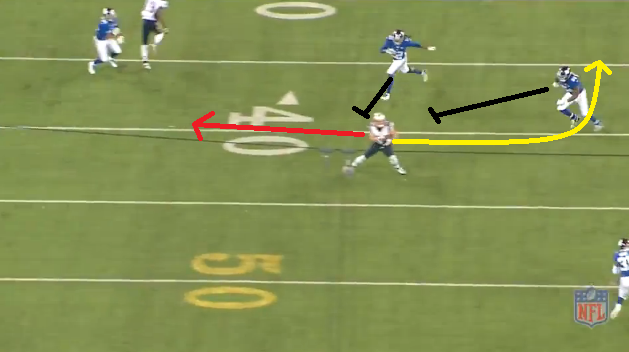 NFL Gamepass NFL Gamepass
However, having sold the sideline, the receiver stabs his foot in the turf and cuts back to the middle of the field (yellow line) making both defenders miss.
NFL Gamepass NFL Gamepass
Conclusion
The Patriots fought tooth and nail to keep their unbeaten record and — as I've already pointed out — were lucky to even be in a position to make this play.
The loss of Edelman to a foot injury in this game, coupled with all the injuries to the offensive line and Dion Lewis in his breakout season at running back puts New England in precarious position going forward.
However, with Amendola as a safety blanket if the Patriots need him, he's shown time and again he'll get the job done.