DUBLIN HURLER DANNY Sutcliffe has described as 'a curse' the number of talented dual players in the county but insists Anthony Daly's side will be focusing on the players at their disposal for the 2014 season.
Ciaran Kilkenny and Cormac Costello were involved with Jim Gavin's senior football squad in 2013 but also featured alongside Sutcliffe for the county U21 hurling side last summer.
But Sutcliffe believes the hurlers cannot dwell on whether those youngsters will juggle both codes in the future.
"I've always thought that someone like Cormac, he'd probably be the best hurler in Ireland at his age, and footballer, which is the curse up here. We lose them players up here.
"Their heart was with the football this year and it paid off for them. We can't be worrying about people who aren't there. We'd love to have them but we're not going to put pressure on them.
"They're only young men, younger than myself, so maybe we'll see. Conal Keaney eventually made the move so you never know but you can only concentrate on who's there."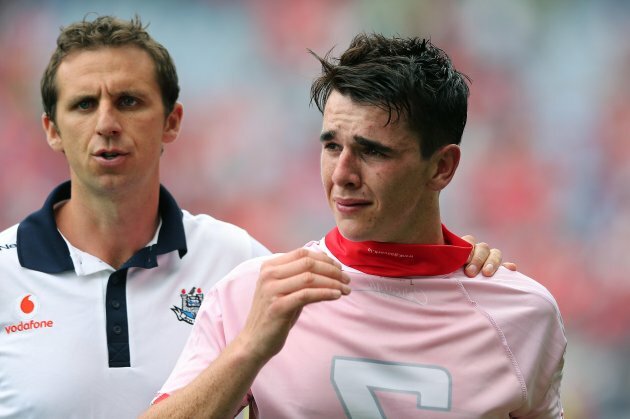 Dublin's Danny Sutcliffe distraught after the defeat to Cork
Pic: INPHO/Lorraine O'Sullivan
Sutcliffe admits the Dublin hurlers are eager to break their cycle of inconsistency ahead of the 2014 campaign and that hurt still lingers after their August loss to Cork.
"We're still really disappointed. The first Clare-Cork game in the final, I chose to be in work that day because I just couldn't watch it whereas maybe other years you'd be delighted to be in the semi-final.
"The easy way to look at it was the red card and feeling sorry for ourselves. I looked back at the tapes and Pat Horgan only got his goal in the 65th minute so there's no reason why we couldn't have went on (to win).
"My ma, it was the first thing she said to me and straight away I snapped at her. It was only after the game. We could have still went on to win the game and that's the way I look at it.
"The main thing is being consistent. We don't want to start a bit of a trend, a leap year where we have one bad year (every second year). We just want to do what the footballers are doing, just be consistent every year."