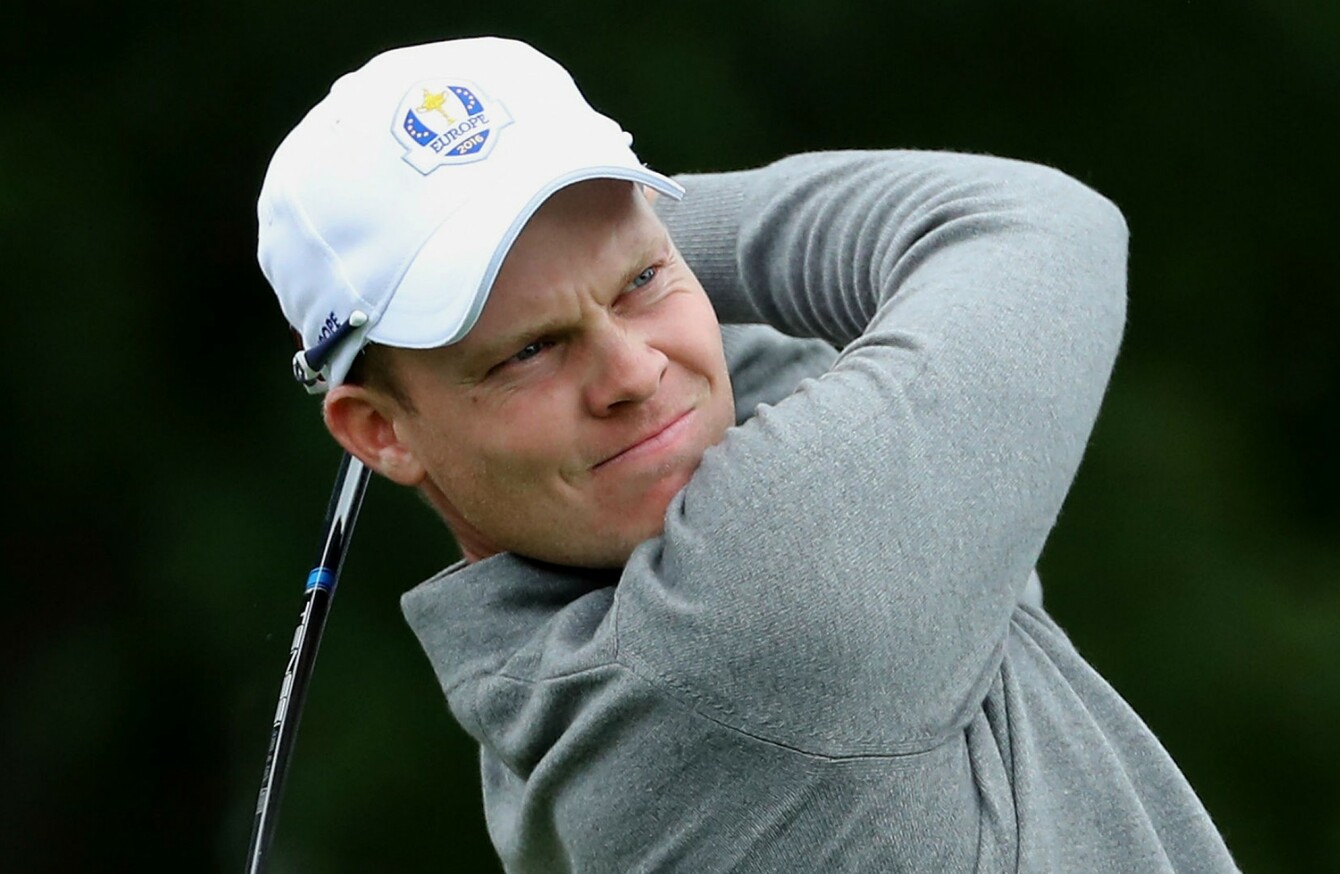 Europe's Danny Willett at Hazeltine.
Europe's Danny Willett at Hazeltine.
DANNY WILLETT HAS apologised for disparaging remarks made about United States golf fans by his brother Pete and hopes to swiftly draw a line under the incident.
Pete Willett risked inciting American supporters with a series of controversial remarks in an article for the National Golf Club ahead of the Ryder Cup at Hazeltine this week.
He wrote: "For the Americans to stand a chance of winning, they need their baying mob of imbeciles to caress their egos every step of the way.
"They [Europe] need to silence the pudgy, basement-dwelling, irritants, stuffed on cookie dough and pissy beer, pausing between mouthfuls of hotdog so they can scream 'Baba booey' until their jelly faces turn red."
The comments drew the ire of European captain Darren Clarke, who stated the remarks are "not what the European Team stands for".
Danny Willett, the Masters champion and a rookie member of the European Ryder Cup team, has now sought out his brother to explain that his words were inappropriate.
He also confirmed a conversation has taken place with US captain Davis Love III and he is keen for all parties to move on.
"I'd just like to apologise obviously to everyone involved for what's been said.  It's obviously not the thoughts of myself and of the team and of captain Darren," he told the Golf Channel.
"I spoke to him [Pete] on the phone after I was made aware of what was said and what has been going on.
"And I said to Pete that, you know, I was obviously disappointed in what was said and what was written about the American fans that obviously took me under their wing fantastically back in April [when he won the Masters].
"As soon as I got done on the golf course, I went to see Davis and me and Davis had a chat for a few minutes about it all, and he took it very well and I think he's drawn a line under it obviously for himself and for the team.
"So hopefully everyone else can do the same and hopefully we can get on and have a great tournament."
Willett said learning of the article did prove a distraction, but his focus now is on helping Europe win a fourth consecutive Ryder Cup.
"I got made aware after a few [practice] holes today [Wednesday], it was obviously going crazy, obviously in the media and stuff," he added.
"It is tough to then concentrate because you don't want people to think badly of yourself.
"We're 12 guys out here representing Europe and trying to do the best we can and like I said, it's not really affecting what we think or what we say.  Obviously everyone that plays in this team plays in America most weeks.
"It was tough then to kind of get your head around everything.  You kind of wanted to get off the golf course and hopefully get it sorted, you know, like I said to Pete, as quick as possible and like I said, hopefully draw a line under it and get back to what we're doing."