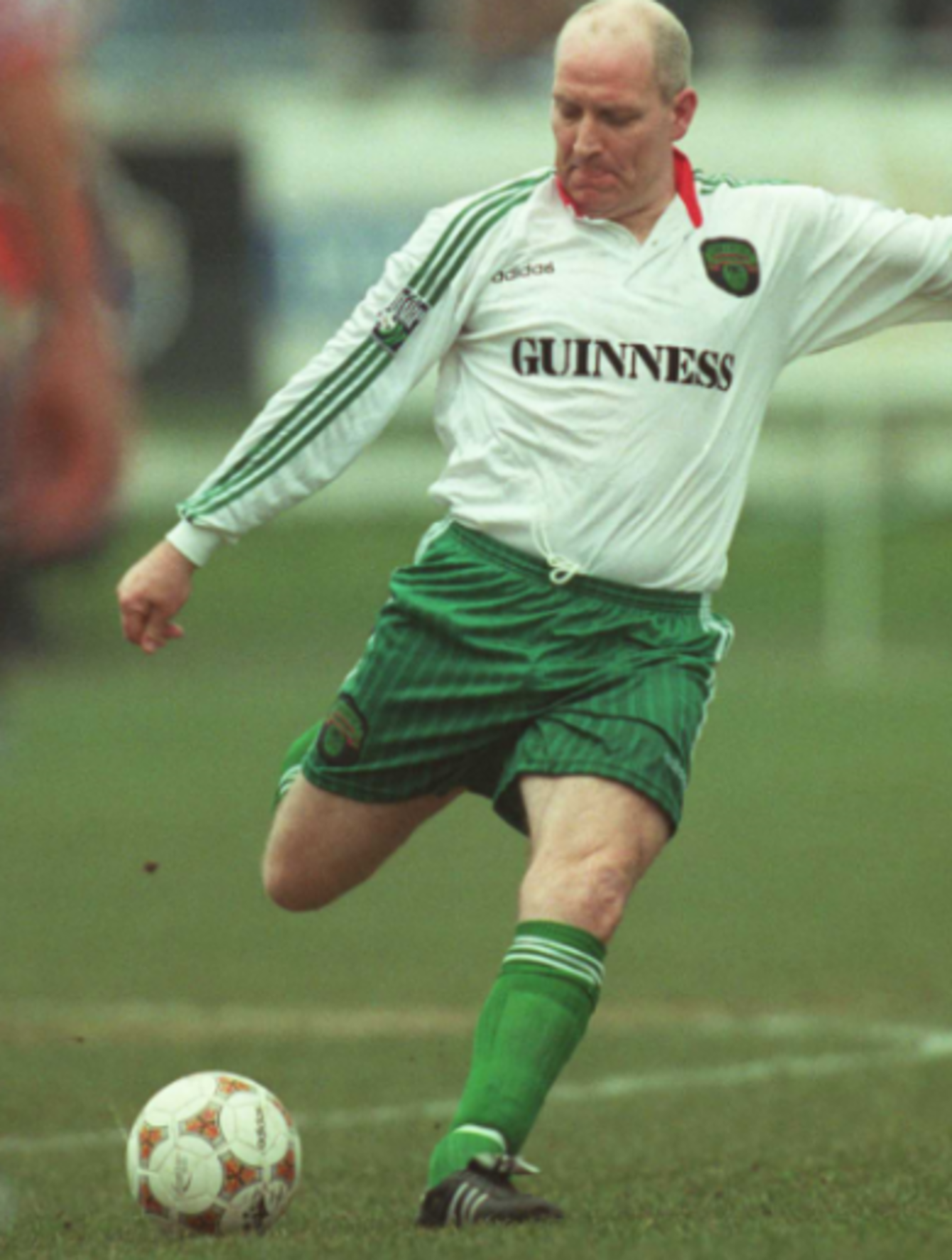 In addition to winning two All-Irelands in GAA, Dave Barry had a successful career as a player and manager with Cork City.
In addition to winning two All-Irelands in GAA, Dave Barry had a successful career as a player and manager with Cork City.
Updated at 14.00
IMAGINE THE SCENARIO. You go to work like every other day. Afterwards, you get your gear and go off to play a game of football with your mates.
Although, it's not just any team — it's your hometown club.
And it's not just any fixture, it is a part of one of the most illustrious competitions in European football.
And it's not just any side you're going up against, it's one of the most famous and successful teams in the history of the game, who were taking part in a European Cup semi-final only a few months previously.
Of course, no one gives you a hope of winning. Nonetheless, the fans arrive in their droves anyway, coming in hope more so than expectation.
And against all the odds, despite being a part-time outfit, you compete. You show your illustrious opponents that any sense of complacency they had going into the game was misplaced. You show them you can play, that you deserve respect. And after 26 minutes of play, you score the opening goal that sends the home crowd wild. Bayern Munich are reeling.
And the story of how Dave Barry got to this stage, where he produced one of the most famous strikes in Cork City's history, is just as interesting as the event itself.
In this League of Ireland legends series, we have interviewed some hugely talented sportspeople who have won countless accolades. However, there is one piece of silverware the rest of them don't have that Barry possesses — a senior All-Ireland winners' medal.
Many people excel at soccer and GAA, but it takes a special person to do both. Not that you would immediately know it from talking to Barry though — he comes across as having the kind of quiet modesty that is particularly associated with Irish athletes of a certain generation, a million miles away from the braggadocio of the Conor McGregors of this world.
Ask him about his achievements with Cork GAA and he'll tell you what a great player Jimmy Barry-Murphy was. Ask him about the memorable nights he was part of with Cork City and he will point to the influence of players such as Patsy Freyne and Pat Morley as being crucial. He is also quick to point out that he could not have done what he did in his career without the guidance of great coaches such as Noel O'Mahony and Billy Morgan in soccer and GAA respectively.
1. Bound for glory
In many ways, Barry seemed destined to be an athlete. He went to school in Coláiste Críost Rí, whose alumnae include Dinny Allen, Billy Morgan and Jimmy Kerrigan, as well as Denis Irwin, an Ireland and Manchester United footballer widely considered to be one of the greatest full-backs in Premier League history.
Family connections with sport also abound. His uncle, Mick Barry, was vice-chairman of the Cork county board, in addition to being chairman of Delaney's GAA club and last year was named as the new President of Cork GAA. His granduncle, David Creedon, was an accomplished goalkeeeper, who played with Cork during the highly successful Christy Ring era. His paternal grandfather was a founder member of Glen Rovers Hurling Club.
On the soccer side of things, his maternal grandfather, Bobby Buckle, and great-grandfather, Harry Buckle, both won FAI Cup medals, with the latter going on to play for Sunderland.
His mother, meanwhile, was a skilled tennis and table tennis player, while Barry himself represented both Munster and Ireland in the latter up to the age of 14.
"I suppose being from Cork, I played many sports," he tells The42.
Football was an extremely important sport in the school. It was a footballing [place], so I was heavily involved in GAA growing up, but I was heavily involved in soccer as well.
"I played with all the Cork sides growing up, the Kennedy Cup sides.
"I captained a Munster selection at 18 that had Jim Beglin in the squad as well.
"At 15, I played schoolboy soccer with the Irish team. Ronnie Whelan was on that team. We went over to Holland. Ruud Gullit played against us over there.
"They were talking about Ronaldo's penalty [against Juventus in the Champions League the other night], the coolest penalty I ever saw was Ronnie Whelan.
"We were 2-1 down, there was 10,000 at it, it was a massive eye opener for me, coming from Cork and probably having the 15 or 20 people watching you to 10,000 people in orange surrounding the pitch.
"Ronnie took a penalty at the end of that game, we were 2-1 down, and he put the 'keeper the wrong way.
"You just see the quality that Ronnie had, even at a young age. At the end of that year, he went to Liverpool [from Home Farm] actually.
Ronnie was exceptional, just the way he played on the pitch. I played in midfield as well. You could just see the quality, everything he did was class. You could why Liverpool, at the end of that year, signed him at 17.
"Jim [Beglin] was a bit older, he was 17, I was 18, when he played with Munster Youths. Jim was very driven, he knew at that time, going back into the late '70s, that he needed to go to a big club. I was chatting to him on the bus going to one game and he was asked to go to Shamrock Rovers. He wanted to get up to Dublin, because if he was up there, he'd have a better chance if he was playing with Rovers. Jim knew exactly the path he wanted to take. I think it was the following year, he moved up to Rovers and [subsequently] got his move to England.
"At a young age, I saw these players in soccer grow up."
2. The trial
Barry describes how he has been "bouncing from soccer to GAA my whole life". It could have been so different though if a trial at Celtic had worked out.
"At 19, I went to Celtic with Kieran O'Regan — Kieran [later] got a move to Brighton. He was [part of the squad] that got to the FA Cup final in the '80s. I went over for a week, but when you do that as a 19-year-old, at the time for me, if you don't make it at 19 or 20, going back into the late '70s, early '80s, you feel like you've missed the boat and that you'll never get across.
The players in the '70s — Liam Brady, Frank Stapleton, David O'Leary, they all went at [a very young age]. I saw Ronnie Whelan going over at 17, so when you get to 19, you think you're an old man, which isn't the case. In the League of Ireland, what they're doing at the moment with the 15s, 17s and 19s leagues is a great pathway for all soccer players who want to stay with it and I think, if you're good enough now, you're going to make it across.
"I was never happy with young fellas going over at 15, 16. I was heavily involved in a lot of players that came back, the Derek Coughlans, the Ollie Cahills, when I managed Cork City, I had all these players coming back to Ireland who went over at 16 and were released then at 19 when they had to be offered a pro contract [if they were to stay].
"What's happening now, players finishing their education and getting to college and still being able to compete at a high level in this country I think is the only way to go and it's really [the case] that we're looking after our own young players now."
3. Hometown hero
And while for many footballers, missing out on a chance to play football in England is the type of crushing blow that they never really recover from, for Barry, it was far from the case. If anything, it was the making of him, as he went on to enjoy the type of memorable career that even Irish footballers who stay in England don't always experience.
Soccer took a backseat for a few years, as GAA became an even bigger part of his life. The work he put in clearly paid off, as his achievements speak for themselves — four Munster club championships, two club All-Ireland championships, four Munster inter-county championships, two inter-county All-Ireland championships and one inter-county league.
It was 1980 when he started playing for the Cork senior football team and he'd continued to feature for them for more than a decade thereafter.
"Growing up in Cork, I played with St Finbarr's and I won a number of county medals, but Jimmy Barry-Murphy was always a big idol down here for all of us.
Jimmy playing in the All-Ireland final in '73 as a 19-year-old, I think that stuck in everyone's mind when we saw it. I was lucky enough to play with him at Finbarr's.
"Going on from that then when you're involved with Finbarr's, there are so many players with All-Ireland hurling medals mostly that you always in the back of your mind are hoping that you can go on and win an All-Ireland.
"If you're living in Ireland and you're living in Cork, to have All-Ireland medals is a massive achievement."
4. Divided loyalties
For all his success with Cork GAA, at one stage, he had to miss out on their finest hour for many years. In 1987, the Rebels reached the All-Ireland SFC final for the first time since their triumph in 1973. Barry, by then, had been controversially dropped from the panel, owing to his desire to combine this commitment with playing in the League of Ireland. In his absence, Cork were defeated 1-14 to 0-11 by Meath in front of almost 70,000 fans at Croke Park.
"In '87, the county board got on to me and said 'we're after bringing in a code of conduct,' which meant you couldn't play any other sport if you were involved with the county teams. But basically, it was just an effort to stop me playing with Cork City really.
Everyone else was playing [other sports]. There were a couple of other lads playing rugby, basketball, they were golfing every Sunday — there was no problem there. It was a swipe [at me]. I felt I was being bullied really to give up Cork City and give up League of Ireland. So I told them 'no'.
"I'd do it again. You have to stand by your principles. I don't think as an amateur organisation, it was right for the GAA to tell me what to do on my free Sundays. I just didn't agree with it."
Barry had, of course, grown up in a different Ireland. He was born in 1963 and it wasn't until 1971 that the GAA ended its ban on members playing 'foreign' games — a strict order, which had been in place since 1905, that created trouble for a number of notable Irish athletes, including Arsenal legend Liam Brady. To give an example of how strict these measures were, the late Waterford hurler Tom Cheasty, for instance, was banned for six months in 1963 after attending a dance, which was run by a local soccer club.
It wasn't so long ago that the ban [on foreign games] was there and people weren't allowed to go into a League of Ireland game just to watch," Barry explains.
"It was always a privilege for me to put on a Cork jersey, but the GAA would look at it and say 'we'll take it away from you if you don't do exactly what we say'. So that was their attitude at the time, there's no doubt about that.
"I played with Billy Morgan against the great Kerry teams for many years and we got many hammerings. But Billy, when he got the job as manager, he asked me to come back."
The story had a happy ending. After Barry returned, he went on to feature in the next three All-Ireland finals on the trot — Cork were beaten again by Meath in '88, before triumphing against Mayo in '89 (and Barry was named man of the match) and Meath in '90 (with Barry receiving an All Star for his contribution over the course of the season).
"To do the double as well with the hurling and football in 1990, that was a great achievement here for everybody down in Cork," he adds.
5. Starting over
By this point, Barry had also established himself as an important player for Cork City in the League of Ireland.
The club was still in its infancy — Barry joined shortly after they were founded in 1984. The first few years were feet-finding exercises. The League of Ireland was highly competitive at the time, with the formidable Shamrock Rovers 'four-in-a-row' team and subsequently, Derry City's famous treble winners, dominating proceedings. Over the course of the '80s, Cork City finished no higher than seventh in the table.
"A great friend of my family was Noel O'Mahony," he says
Noel was trying to sign me at Cork United, when I was 17, 18 and it just never happened. The League of Ireland wasn't going well at the time and I had a lot on my plate then, I was playing both codes. So I just decided not to do it.
"But when it's taken away from you then in '80, there was no League of Ireland in Cork in 80, 81, 82, 83. And then '84, Cork City approached me and asked would I play with them. So I was delighted to get the opportunity to jump onboard. But unfortunately, in my first game up in Dundalk, I broke my leg. That put paid to that season really. I was in a plastic cast from my thigh to my ankle. So that was my experience of playing League of Ireland, which was going for an operation. It wasn't a nice experience. Bobby Tambling was manager then. Bobby lost his job after two or three months because a lot of our players would be coming out of the Munster Senior League.
"It was another level really. Just to stay in the league was a great achievement for Cork City, I felt."
Despite not being consistent enough in the league, gradual improvements were being made and the club's potential was becoming increasingly apparent. In 1989, they reached the FAI Cup final, taking Derry to a replay before suffering a narrow 1-0 loss.
"We probably partied more times after staying in the league than we did after winning it," Barry recalls.
"We got to the cup final [in 1989] and we were fighting relegation and Cork won the national league [in GAA], we won the All-Ireland the same year, so it was a hectic time for me in my sporting career, but I loved it, I was passionate about both codes, but if I was now talking to any young fellas, you have to really pick one or the other… It's just too intense to do the two."
6. Highs and lows
After the transitional period of the mid-to-late '80s, by the early '90s, it was clear that Cork City were building something special.
1990 saw a fifth-place finish for the team — their best season yet. The following year, with a team that included top League of Ireland players, including current City boss John Caulfield, Phil Harrington and Pat Morley, they just fell short in their bid to claim a first-ever league title. It all came down to the final game between the top two sides, with Tom McNulty grabbing a famous winner to secure the title for Dundalk at Turner's Cross.
Source: killianM2/YouTube
"I think we played extremely well for most of that season, but the last five or six games, we let ourselves down," he says.
There was more heartbreak to follow, as a team, which included Barry, was beaten 1-0 by Bohemians in front of 17,000 fans at Lansdowne Road in the 1992 FAI Cup final.
Yet while other teams might have won more trophies, few League of Ireland sides will have experienced the type of once-in-a-lifetime moments that Barry and co enjoyed. For a start, there was the unusual off-season trip for a tournament in China.
"Pre-season, we went to train in a tournament, there were 30,000 at the game, we were going live to Shanghai.
The Polish national team — six of them played against the Irish team a couple of months before that, we played them. We played the Chinese Olympic team as well."
The Cork players were relaxing in the pool at the hotel where they were staying, when news filtered through that they had drawn Bundesliga giants Bayern Munich in the Uefa Cup.
"When we went to China, we were out there for two weeks and we trained every day and played games out there, so it definitely helped us prepare for the Munich game. We were out there when we heard we drew Bayern Munich, so it was an incredible feeling to think that you were coming back to Cork and playing one of the most famous clubs in the world."
SEE SPORT
DIFFERENTLY
Get closer to the stories that matter with exclusive analysis, insight and debate in The42 Membership.
Become a Member
Source: retroloi/YouTube
7. A moment to last a lifetime
The Bayern clash, which took place in Musgrave Park, memorably has led to Barry being described by The Irish Independent as the 'GAA star who became soccer hero at home of Cork rugby'.
Barry opened the scoring in the first half, bursting forward at pace, before blasting the ball home to give his side an unlikely lead. Cork acquitted themselves admirably against their more illustrious opponents and ultimately held them to a 1-1 draw at home.
"I had my own business. I was in the building line. I was working the morning we played Bayern Munich, that's the way it was. Then I got to the ground with Mick Conroy, Paul Bannon, Gerry McCabe, these were lads who played abroad. Mick Conroy played with Celtic in cup finals. They were cribbing about the bonus if we beat Bayern Munich, never mind the appearance money. We were all looking round the dressing room, going 'we're going to play, this is a dream for us'.
But coming from that professional side of things that these lads had, it was all about if you're going to play, you're going to get financially rewarded for it.
"At the time, the chairman didn't see it that way, and it was sorted out a couple of minutes before we went out onto the pitch. But that's League of Ireland, that's what happens. There was no money in Cork City at the time, so that was always going to be some hassle when you're playing a club like Bayern Munich."
8. The Effenberg retort
We've already spoken in detail with Pat Morley about Cork's unorthodox preparations for the second leg, and while it ended in a disappointing 2-0 defeat, the tie was in the balance until late on and Cork went home with the consolation of doing the League of Ireland proud against a side with infinitely greater resources.
Barry had the unenviable task of going up against Stefan Effenberg, widely considered as one of the best midfielders in Europe at the time. Like the rest of the Cork side though, he more than held his own, after the German international had reportedly made some disparaging remarks about the Irish team in the press after the first leg.
Barry feels his rivalry with Effenberg has been "blown out of proportion" in the intervening years, adding: "He never said anything to me. He never came near me really. He barely shook my hand. He was an arrogant man. He knew he was a class player, he knew he was on the German national team and he knew he was the golden boy of German soccer at that stage. He was only young. I think he was in his early 20s. My hair was receding.
"They got a bit of a verbal bashing when they went back to Germany [after the first leg]. He made a comment to the paper back there, he probably said I was old enough to be his father. He never came up to me and said it, but when we went out there, it was still 0-0 with 20 minutes to go. It was still in the melting pot.
"They had most of the possession, but we were still in the game [until the very end].
But I remember coming off and the German media came over and asked me about the game and they asked me about Effenberg. And I said: 'If he thinks I was like his father, he played like my mother tonight.' I never saw reporters with as big a smile on their faces with a comment like that about Effenberg, because I don't think anybody liked him.
"He was thrown off the German national team for his attitude. But for me to say he played like my mother over in the Munich Stadium, I think that was the quote they were all looking for. They wanted something from me.
"But at the end of the day, we were part-timers. All of us were working. It was an extremely proud moment for me to score. Knowing the Cork public and the Cork City supporters, fellas going around Cork into pubs with 'Cork City 1-0 Bayern Munich,' the old scoreboards were up there, so they got this printed on black Guinness t-shirts. It's funny to look back on that scoreline and to think we were ahead against Bayern Munich."
9. Success at last
The experience undoubtedly stood to the Cork side. In 1993, they made up for the disappointment of just missing out on the league two years previously.
After a mammoth series of end-of-season play-offs, they eventually beat Shelbourne 3-2 at the RDS to claim a first-ever title.
"We won the game 3-2, but there was no way we were going to lose that game, not a chance," Barry adds.
"We weren't young fellas at that stage — we were after going through a lot of disappointments in a lot of years."
The club failed to build on this success, however, and went through another difficult period, as financial problems and managerial upheaval saw them struggle to emulate the highs of previous seasons.
Source: retroloi/YouTube
O'Mahony had stepped aside after the league triumph, before a disagreement with the board caused his successor Damien Richardson to depart despite the club challenging for the league at the time. Subsequently, there were brief stints with O'Mahony (again) and Rob Hindmarch. Cork were on the decline though, as Richardson's attempts to introduce a more professional set-up were not realised. Having come second in 1994, the Leesiders finished seventh and ninth the next two seasons.
During this turbulent period, prior to the 1995-96 campaign, Cork appointed the late ex-Sunderland and Derby centre-back Rob Hindmarch as player-coach. It didn't work, however, with many of the players brought in from Britain failing to adapt to Irish football. It was a difficult time for Barry on an individual level too.
"Rob Hindmarch came over and I got a phone call from the chairman out of the blue then," he remembers.
"We hadn't even started back into training, we were still in holiday mode. The chairman Pat O'Donovan rang a couple of the senior pros and asked us all would we play in this game. I was hesitant now because I don't like playing games without three, four or five training sessions under your belt.
"But I actually went out onto the pitch with Deccie Daly and the two of us did our cruciates in that game, so Hindmarch was in and the season didn't go too well."
10. Managing expectations
After retiring as a player, Barry consequently agreed to take over as manager in these difficult circumstances following Hindmarch's departure.
They were looking for one of the senior pros to lean on and unfortunately, it was me at the time. Cork City were in relegation trouble and it was an eye-opener.
"Our last game was the Munster Cup final down in Waterford. Waterford beat us in the final and for me, sitting on the bus coming home, taking Cork City around the country, you have to be able to compete at a good level. Coming back from it, there were 22 on the panel, but I think there were only six on the panel by the time we hit Cork. I got rid of 16 of them. But that's what you have to do. I've been in the game a long time. Pros from England came over and they just weren't good enough and there were players around the place as well that weren't good enough — I had to leave them go as well. But I felt comfortable going into my first season.
"I was in for seven games, they asked me at the end of that season with the squad that was there, so I had to build my own squad. We went on and did reasonably well for the next four years."
Indeed, Barry did an excellent job stabilising the club. He was an inspirational figure that everyone could rally around. As former player Colin O'Brien explained in an interview with The42 last year: "He played senior football for Cork and was a Cork City icon so there was that huge enthusiasm and excitement around it. In that first season he kept us up. We didn't shoot straight up the table. He needed to get us stable, which he did. Then he began to develop things. He got that Corkness back — the squad had that balance with a number of Cork players and that identity returned. We still had players from outside Cork and from the UK and, historically, that was always there with a lot of the successful teams having had that blend. And Dave even brought in other players from around Munster too — Kelvin Flanagan arrived, Stephen Napier, Ollie Cahill."
His finest moment as manager was the FAI Cup triumph of 1998, another first for the club, with Barry following in the footsteps of his relatives in the process.
"I suppose I would have looked at myself as a competitor in both codes, but I didn't want to just come in, go up and down the country and hang on the coat-tails of better teams.
"So you build a team and we came fourth in the first season. We went on and won the League Cup — it wasn't massive, but with Cork City, we hadn't won many trophies, so just to win and get that feel-good factor in the club, the crowds were coming out, everybody was supporting us.
"But I had a lot of young fellas, Ollie Cahill, Derek Coughlan, Gareth Cronin, these fellas were coming back from England extremely disappointed, so getting these young fellas in and getting their confidence back, I got great pleasure out of that as well to see these players who had massive potential thinking that their careers in soccer were over.
But to come back and start winning trophies back home was great for me and there's no doubt about it, my grandfather and great-grandfather, their names are in the history books after winning the FAI Cup. I lost two cup finals with Cork City, so to actually win one as a manager and follow in the history of my family tradition, it was tremendous really."
One key decision in the success Barry enjoyed during his time as manager was the call to bring back popular midfielder Patsy Freyne, who had fallen out of favour in a previous stint with the club. He was a special footballer as well as being a real character.
"I played alongside Patsy for many years. If Patsy was playing now, Patsy would be playing in England, there's no shadow of a doubt. If you look at Pat Morley as well from that team I played with, I think Morley would be over there. What level they could have got to I don't know, but there'd definitely be a club that would sign either one of them.
"When I became manager Patsy was playing Munster Senior League, there wasn't a doubt in my mind to get Patsy back playing at a high level, which I knew he could.
"I think he played probably his best football when he came back to Cork City when I was managing. They say you need a general on the pitch, I think with Deccie Daly as captain, Phil Harrington in goal and Patsy in the middle of the park, I had a lot of them."
11. Different times
During that era, there was a big drinking culture in the League of Ireland, as there was even at Premier League level in the mid-1990s.
"There was a heavy drinking culture in the GAA too I tell you," Barry says. "We went to winter camps in the Canaries and we weren't drinking Shandys over there. If you're asking players to give their heart and soul to a club and to the dressing room, I think there must be a bond there. After games, I would love players to stay together and socialise together and go out and get to know people. A lot of players go into dressing rooms now and they're back in their cars and gone home. They're stopping at a juice bar on the way home.
It's different now if you're pro, that's what people have to realise. If you're a pro, you have to look after yourself, you're training every day, you're conditioning your body every day. But if you're asking players outside of work to just dedicate themselves to a club, to say to them not to drink and not to socialise… In soccer and GAA, if people are seen having a drink now, it's out on social media, people are dragged over the coals because of it.
"I think at times, it's gone over the top really in GAA, because it's an amateur organisation. But if the pros are getting good money, they have to look after themselves, they can't be seen out partying.
"We needed that spirit in the club, and definitely in my time managing, if anyone stepped out of line, they were out of the club — it was as simple as that. If they didn't perform, they were dropped, and people knew that with me — I think it was the culture with Arsenal and Man United, it was just the times, it was accepted, but you had to produce then at the weekend, and all my lads I had were outstanding for me."
Returning to the subject of Freyne, Barry adds: "When you were a manager you want to portray that everyone was working hard. I didn't want anybody going into nightclubs with pictures of fellas on the front of the paper [the next day].
"But I remember picking up a copy of the Evening Echo, the local paper down here, with a picture of Patsy smoking in the dugout. And I never even knew he was smoking in the dugout.
"Patsy thought his career was finished in the League of Ireland really, he was probably many years out of it when I took over to bring him back.
We went to watch a game and Patsy was injured, he was watching the game. I said: 'Is there anybody good out there?' He says: 'They're all useless, I'm better than them all.' Patsy was very confident, do you know I mean?
"Everybody loved Patsy, the way he played, nutmegging fellas and he was tough in the tackle as well, never pulled out of anything. We used to take him off with about three minutes to go, he'd get a standing ovation, there'd be sweat pouring off him, he'd get into the dugout and you'd pat him on the back.
"Myself and [assistant boss] Liam Murphy would be looking at each other, winking and laughing, saying he's after getting a standing ovation again.
"I saw [the infamous picture] on the Monday night and I never knew he was smoking in the dugout. I wouldn't allow it and I would have told him to put it out. But I said to Patsy after: 'Where did you get the fag?' Down in Cork, we say 'tapped'. If you 'tap' a fella, you ask him for a fag. He says: 'I tapped a fella in the crowd, he was smoking behind me.' So it was actually one of the supporters who leaned into the dugout and gave him a fag.
"But would I get upset over that? Not a chance, when people are playing for you and committing themselves to you, playing so well, as Patsy was — I wasn't saying anything to him anyway."
In 2000, Barry resigned as Cork City manager after four years in charge — not that he ever really went away though.
"I've gone to most of the home games since I stepped aside," he explains. "I decided at the time that I wanted to step aside. I went the directors and told them I couldn't do it. I was running my own business and I felt Cork City needed to go full-time.
"They went out and got a full-time pro from England and they were trying to drive it on. They asked me to stay on and go full-time. But your career in League of Ireland terms was a dangerous thing at the time. It's great to see so many managers now going for it and going full-time. It's not an easy career path, but as I said, I was a player, a manager and I'm a supporter now. I'm very close to the people running Cork City — if they need any help, they know where to find me."
12. A unique opportunity
Before we finish up, Barry has one last amusing story to tell about the time he came up against the great Manchester United side of the '90s in front of thousands of people at Lansdowne Road for an Ireland 'B' international.
"At that time, it was just: 'Who are decent players in the League of Ireland?" he remembers. "We'll invite two or three of them to sit up on the bench.' Gino Lawless was there, Pat Fenlon was on the bench and myself. For me to go up and put on an Irish jersey, I was probably 30 or 31 at the time, to play in Lansdowne Road with a green jersey was incredible.
There was about 30,000 at it — all Irish, but they were all Man United fans at the time. United had Peter Schmeichel in goal, they had Gary Pallister, Steve Bruce, Andrei Kanchelskis… What a team!
"Whoever was playing wide on the right [for Ireland] pulled a hamstring. Jack Charlton was there with the Crombie and the hat. I only saw Jack Charlton on the TV [previously]. It was my first time meeting him. Myself and Pat Fenlon were sitting there in the dressing room. [The physio] Mick Byrne says: 'We've Darry Barry there and Pat Fenlon.' [Jack] looked at me a bit unimpressed to tell the truth.
"He asked Pat Fenlon could he play on the wing. Pat says no, he played in the middle of the park. I stood up, because I was the only other option he had. I started undoing my tracksuit and he looked at me, you're going out playing against Man United — I think they came over to play Cork as well around that time, so I'd played against them before. But it was just a dream come true for me, I'd have played in goal.
"You're looking for a bit of feedback from Jack Charlton wishing me well, next he looks at me and says: 'You don't look like a winger son.'
"I had played in Munster finals, I played in front of big crowds, there were 40,000 in Killarney, I played in All-Ireland finals. Maybe Jack was looking at me saying 'he's coming out of a country club somewhere,' but these are massive situations playing in the GAA in this country in Croke Park and in front of the Hill. I was looking at it, I was looking at Jack Charlton saying there's an opportunity for me to put on a green shirt and represent my country. So nothing was going to stop me, I just looked at him and said 'we'll give it a go anyway Jack'. He looked at me and he smiled.
I was two yards away, setting off on the ball, Ryan Giggs was wide on the left for Man United and I was wide on the right for Ireland. I enjoyed it, what an experience, anybody who's going to turn down an opportunity like that is mad.
"After the game, [assistant manager] Maurice Setters said: 'You have to be playing in England to get on the Irish U21 team. It riled me a bit because a lot of our lads go over at 16, come back at 19, they're quality players and then he's saying because you're back in Ireland, you won't be able to play with the U21s.
"But that has changed totally with the standard of League of Ireland now. A lot of players in League of Ireland are getting on the Irish U21 team. But for the FAI to allow anyone to make that kind of comment — if you're Irish and you're living in Ireland, at that stage fellas might not want to go across and may just want to stay in Ireland and further their education. For someone to say 'if you're in England, we'll pick you, if you're in Ireland, we won't pick you,' it always stuck in the back of my mind.
"After the game, Kevin Moran, Mick McCarthy and a couple of the Irish senior lads came up and congratulated me. They just said 'well done'. I did okay and Jack came up, the one thing he said to me is 'I'll have to go to more League of Ireland games'.
"Did he think we couldn't trap a ball, we couldn't head a ball? Were we that bad? Then he thought we were pretty decent. But you live in England for so long and Jack was a World Cup winner, but I said [sarcastically] to him 'Jack, if we were any good, we'd be all in England.' It was just a comment from me afterwards to say: 'We can kick a ball in Ireland as well, you don't have to be in England.' That was the last I saw of the Irish set-up after that anyway."
Not for the first time in the interview, Barry laughs heartily as he reflects on one of the many surreal moments from his life in sport.
The42 is on Instagram! Tap the button below on your phone to follow us!