WHEN YOU LOOK back at the archive footage and the photographs, it just doesn't make sense. Thousands of fans crammed into halls right around the country – from Killarney to Ballina, Killester to Belfast – to watch basketball.
It was a strange time for the country. In September 1979, Pope John Paul II visited. In December, Charlie Haughey was elected Taoiseach. It was a year of industrial disputes and protests. The people wanted change. Something different. In Kerry, a man called Paudie O'Connor had a similar mindset.
Having represented both his local club and his country in basketball, he was frustrated at the gulf in class. He wanted things to improve, starting with his own backyard. He saw how some talented American youngsters who had narrowly missed out on a place in the NBA were enticed to Europe to pick up a pay cheque. So, why shouldn't they be enticed to Ireland? Before the end of the year, O'Connor brought two members from Quincy College – Cornel Bedford and Gregg Huguley – to Killarney. It breached a rule in the constitution, not that O'Connor cared. He had started a movement. Crowds began to get bigger. Interest in a beige, boring domestic league began to grow.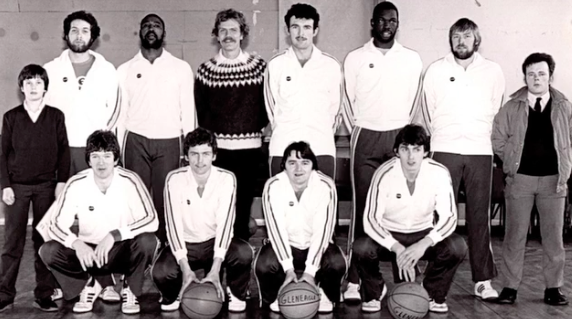 Over the next few years, there was a collection of exciting US players dotted around the country. Tony Andre was a superstar in Killarney and the entire league. Where Bedford and Huguley struggled with the ultra-white social scene and their inevitable outsider status, Andre immersed himself in the community.
"There's a little girl and she walks up and rubs her finger across my skin", he says in the excellent documentary 'We Got Game', which explores the glory days of Irish basketball.
"She looked at her finger and said, 'It doesn't come off'. I didn't take offence. I just said, 'This is my colour'. And just by talking to her, it opened her eyes up".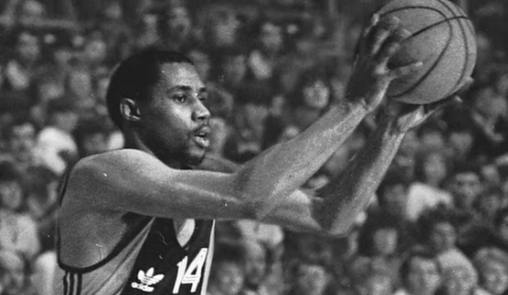 The influx continued. Neptune brought in Terry Strickland and Ray Smith. Local rivals Blue Demons had Jasper McElroy. In Dublin, Kelvin Troy was at Killester. Over in Mayo, Deora Marsh was lighting it up for Ballina.
And in 1981, west Belfast side St Gall's turned to a blonde kid from Baltimore by the name of Dave Hopla.
"We knew where Belfast was because it was always on the news and in the papers", he tells The42.
"But it was all negative with the hunger strikes going on and The Troubles but it didn't bother me in the slightest. I felt safer there than I did on the streets of Baltimore".
Hopla had professional aspirations but no easy route in the US. He played college basketball in Nebraska and was working at a camp when a coach, Pat Knapp, put him in touch with Dan Durkin, who was in charge of St. Gall's at the time. Belfast was a tough sell but it would give the 22-year-old something he craved: pro ball – just like the majority of players who made the trip to Ireland.
"I didn't want to go out and work", he says.
"I wanted to try and play basketball, no matter where, for as long as I could. I said I'd give it a try and I'm glad I did. I wouldn't trade the experience for anything".
Inevitably, there was an early baptism of fire.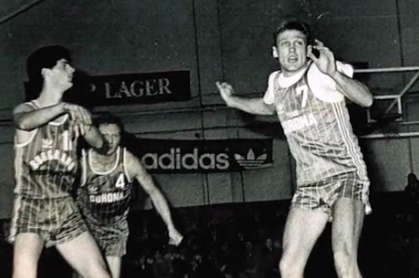 "We flew into Shannon and there was a mutual friend from Philadelphia who had married an Irish girl", Hopla remembers.
"His wife was pregnant and she was due any minute but we still stayed with them for a few days! Then we went from Shannon to Dublin in a truck – like, a lorry – and a couple of guys from St. Gall's came down to pick us up. And then we drove to Belfast and went straight to Ulster PolyTech (now Ulster University) for a practice. It was quite a trip. I laugh when I see the way NBA players travel these days. They wouldn't have had a clue what was going on".
And what about the accent?
Hopla jumps straight in and, impressively, delivers a perfect Belfast brogue.
What about ye? How ye keepin', wee lad? I picked up on it quite quickly and a lot quicker than when we went down south to Cork and the way they, sort-of, sing. I had an easier time with the Belfast accent".
The initial plan was for Hopla to stay for five months. He ended up staying three years. He was drawn to the spirit and the energy of those around him and cultivated relationships that have continued for decades.
"I stayed with Mickey and Marie Gribben", Hopla says.
"He was the secretary of the club and I stayed with them for two years. The place was on the Ormeau Road, right by the bakery and the park. Mickey celebrated his 60th birthday about a month ago and I got on FaceTime with him. The whole crew were there and it was like I'd never been away. You just fall right back into it. I was back there a few years ago to do some clinics and I got to see all the crew again. It was like I'd never left. It's a special, special bond that we have".
Hopla wasn't the only American in the city at the time. By 1983, Dave Shehadi was with Star of the Sea and Steve O'Neill was at Sporting Belfast. They'd socialise together and revelled in their status as the new, shiny objects. Everyone wanted to bend their ears.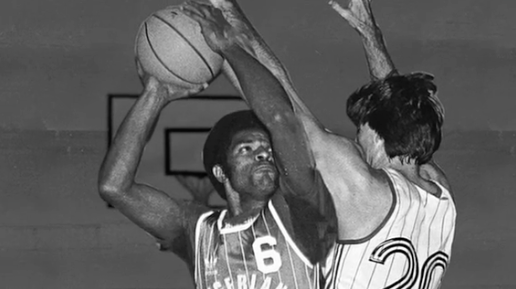 "When we'd go to the pubs, it would be so funny. Because you're a bunch of Yanks talking, people would come over and say, 'Do you know so-and-so?' like the States was really close or something. They'd ask about a place – 'We have relatives there'. We got a kick out of it. 'You gotta come and meet the family'. We were like celebrities in our own right. People just loved hearing the accent. Dallas was the big TV show at the time and they thought everyone lived like that – like JR and the Ewings".
In many ways, basketball existed in a bubble for everyone within the parameters of the city. The games suspended reality for a while. While they were on, it was a distraction. Outside, it was a different story.
"They had the checkpoints everywhere", Hopla says.
"I always had a gym bag with sneakers and workout stuff and every time you'd be stopped and they'd check the bag. You couldn't drive into the city centre. When I went over there, everyone Stateside, naturally, were worried about what The Troubles was like but I never had any problems at all. I had told my Mom, 'If I feel unsafe I won't stay and endanger myself'.
I remember one time I was walking home from the Celebrity club with half a load on and I was heading up towards the Ormeau Bridge. The RUC came out, surrounded me and questioned me. But they could only ask four questions. They said, 'Where are you from?' I said, 'The United States of America'. 'Where are you going?' 'Home'. And after some more I said, 'That's five questions' and they got back in their cars and left. We had a little book that we were supposed to carry – not a passport. Before I went over I tried to do some research on The Troubles but it's hard to understand if you're not from there. I used to always tell people that the Irish are the friendliest people in the world – they just don't get along with one another'.
Hopla and other players became missionaries of sorts. When they weren't playing, they were coaching and trying to encourage more children to pick up a basketball and get involved with the game. There was a determination to leave something of a legacy, an awareness that the sport in Ireland was at its peak and perhaps likely to never rise to the same heights again.
"We used to do some clinics when we were there – over at St. Malachy's – coaching the kids and reaching out to the community", Hopla remembers.
MrDavehopla / YouTube
"We'd go all over and try and get the game going. We just did whatever we could. And you don't know how much of an effect you've had on kids until you see some of the people I coached at the time still so heavily involved now. Like Gareth Maguire and his wife Deirdre Brennan, who coached at Ulster Poly. These people are still involved in the game and it feels good that you left a positive mark there".
By 1984, as much as the entire league was a breath of fresh air, Belfast had its own sporting storylines. The crowds were electric and fed the appetite of those inside the lines.
"The inter-city rivalry when Sporting Belfast moved up to the top division with us – it was incredible", Hopla says.
"Bruce 'Soup' Campbell was there by that time and it was standing room only. You could barely throw the ball in from the base-lines. It was really magical. And the same thing when we would go down and play in Dublin or Cork. And it was always jam-packed in Killarney. It was only a small place but they must've shut the town down when they played.
On the road, you'd get to meet the other Americans and talk about what it was like. I've been in touch with the likes of Jerome Westbrooks and Ed Randolph – getting to see his son (Darren) play in goal for Ireland gets you thinking about where the years have gone".
In 1986, a decision was made to reduce the number of Americans allowed at a Division 1 team from two to one. It was a deeply divisive move. Many felt more opportunities for Irish players would lead to a better standard of Irish player. Others argued that the presence of elite athletes within teams would push local players to a higher level. When the new rule was introduced for the start of the 1988/89 season, it signalled the end of what was a truly golden era for the sport in Ireland.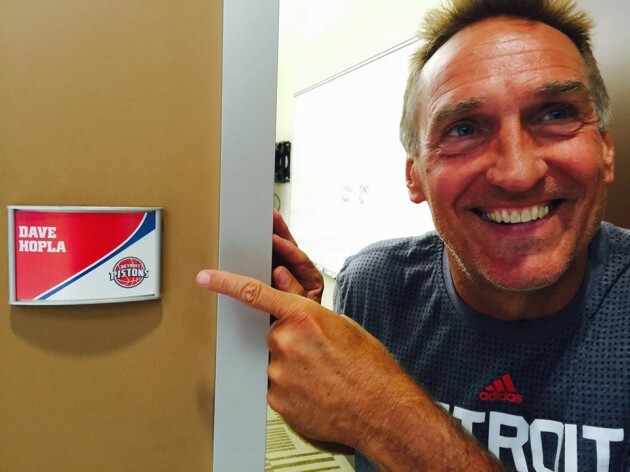 By that stage, Hopla had been back in the US for a while, building a new career as a hugely-respected shooting coach. He's subsequently worked with various NBA teams like the New York Knicks, Toronto Raptors and Washington Wizards while he's helped some of the biggest superstars in the league down through the years – like Kobe Bryant and Ray Allen. He's currently on the staff of the Detroit Pistons under Stan van Gundy.
Like anyone who was associated with Irish basketball in the 1980s, Hopla carries with him some special memories. Listening to the ease in which he reels off names of the countless people he met during his relatively brief time in Belfast, the experience clearly left an imprint. He's not alone. The likes of Troy and Marsh couldn't shake it. They found the place so infectious that they ended up staying.
They were young men in a strange place and made to feel like heroes by those around them. That's going to stay with you.
"I always tell people I'm part Irish now after being there", Hopla says.
"It was at its peak in terms of the crowds and the love of the game over there. It's like whenever I saw (former Killester player) Mario Elie in the NBA and I'd mention Irish basketball. A little smile would come to his face. You have to have experienced it for people to understand, I think. It wasn't on anyone's list. If you asked anyone where they wanted to play basketball, nobody would say 'I want to go to Ireland'. But I wouldn't change it for anything because of the friendships I made".
– First published 08.00, 28 Jan