AFTER WINNING THEIR opening two Guinness Pro12 fixtures, there is a bit of expectation on Connacht when they host Leinster this Friday. While nobody (besides Eoin Reddan) would probably make the home team the favourite, the way Pat Lam's young side have developed can definitely give the supporters hope.
What greatly pleased Connacht centre Dave McSharry about his side's opening games wasn't that they got two wins, but that they picked up eight points without reaching their full potential.
"We came into the changing room after both games thinking that we hadn't played well enough to win either match but we won both of them," McSharry said.
"But that is what the top teams do. Over the last few years Leinster have been great at that so it is good to see that we can grind out wins too."
McSharry was partnered by Robbie Henshaw in midfield against Edinburgh and the duo were part of a young backline that didn't really click on the night. Many fans see Henshaw as a future international 13 and McSharry thinks that given time, the two can mesh well together.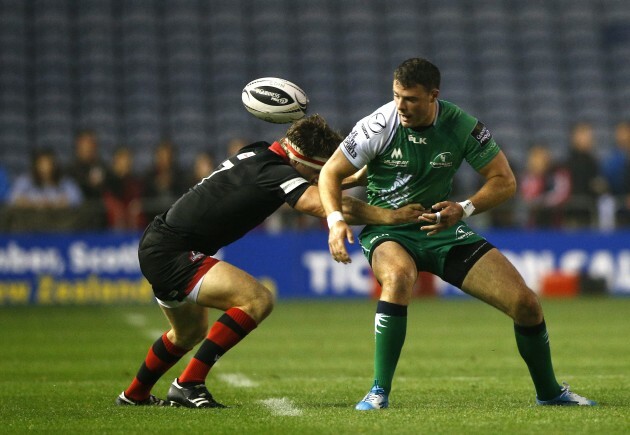 Russell Cheyne / INPHO McSharry thinks he and Robbie Henshaw have a lot of potential as a centre partnership. Russell Cheyne / INPHO / INPHO
"I haven't played a lot with Robbie but I thought we showed some flashes of promise," McSharry said.
"We both came off the field feeling pretty disappointed overall though but I still think we have the making of a good centre partnership."
Connacht started the season with a host of injuries that gave some novice players the chance to get significant game time. One of those players was former Trinity College winger Niyi Adeolokun.
The last two weeks have been Adeolokun's first exposure to competitive professional rugby but McSharry is pleasantly surprised with how the speedster has dealt with the step up.
"Niyi has ticked all the boxes so far," McSharry said.
"He is hungry and he is working hard. He might have gotten his opportunity because we have a few injuries but sometimes you need that bit of luck to get your chance."
One of those injuries that opened the door for Adeolokun was the one suffered by All Black Mils Muliaina. The all-time great utility back might not have played a game for Connacht yet, but McSharry says he is still making his presence felt in Galway.
"It is great to have someone with that kind of pedigree around," McSharry said.
"When he says something in a meeting you listen because he is so experienced. We hope he will be a calming presence at the back and will be able to communicate with the rest of the backline. He isn't just here to be a mentor though, and he is really keen to get going."
Connacht are one of three teams, along with the Ospreys and Glasgow, to have won their opening two league games but the visit of Leinster will be their biggest test so far. McSharry loves the buzz that the visit of Leinster generates in Galway, but he doesn't agree with scrum-half Reddan that the visitors could be considered underdogs.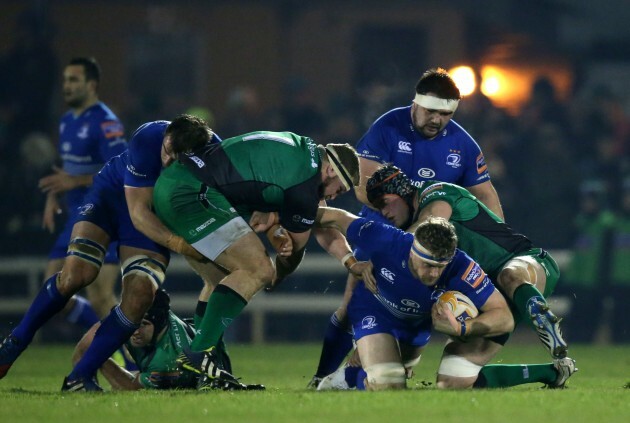 Billy Stickland / INPHO Dave McSharry says there is a special atmosphere around the city when Leinster come to visit. Billy Stickland / INPHO / INPHO
"I don't know if you could call Leinster underdogs," McSharry said.
"It has been a while since you would call them that. But we have built on a good start and if we could get three wins from three it would be huge in terms of achieving our goal of a top six finish."
McSharry played with a lot of Leinster players in the province's underage set-up and he is hoping to put one over on his old friends this Friday. It will be a tough night for him personally though, with Leinster likely to start Ian Madigan at 12. McSharry notes that the defence will have to work even harder if Leinster play with a skilled distributor like Madigan at 12.
"Ian is well able to play there because he is such a good footballer," McSharry said.
"Having two playmakers in the backline presents new challenges defensively and it will probably be a little tougher than what we got in the first two weeks. It is important that as a defence, we are all in sync and keep our focus throughout because they can spread the ball so quickly with two good passers in the same backline."