MADRID, BIRMINGHAM AND Berlin. The three cities of David Gillick's greatest successes. Three runs which defined the career of one of Ireland's most polished athletes.
European indoor gold in 2005 followed by another crowning moment in 2007. Amhrán na bhFiann, the tricolour, the podium. The absolute pinnacle.
And then there was the 2009 World Championship final. A sixth place finish on that occasion but another highlight. Not many Irish athletes get to perform on such an exalted stage.
Seven years later Gillick finds himself in Pavia, a small town in northern Italy. A lot has happened, and changed, in the intervening years.
The Campo Coni athletics field – a community facility – can hardly be called a stadium. There's a track and a small stand down the home straight. It's a world away from those heady days at the Palacio de Deportes or Olympiastadion. 
But in the context of Gillick's career, and more importantly his life, it's the setting for his most important meet. Four years after walking away from the sport, the 32-year-old was back on the track.
"I was scared, I was scared shitless," he tells The42. "I was thinking to myself, even when I was warming up, why am I doing this? I'm too old for this, why am I here?
"Because you get that anxiety and nervousness but then I just said you know what I feel alive, I feel alive today."
INPHO The sweet taste of success in Madrid. INPHO
A matter of months previous he had been locked up in his own thoughts, silently suffering and searching for a way out.
After officially calling it quits in June 2014, Gillick entered the real world mentally and physically drained. He thought he could leave it all behind and get on with the next chapter. It wasn't that easy.
"When I retired, I hated athletics. I had my fill, I'd had enough," he continued.
"I looked back over my career and thought I've achieved the world final, I ran 45 seconds, I won medals and now it's just time to move on and I'd had enough of running.
"I thought I could just step away from it and get on with the rest of my life but I struggled an awful lot. I had regrets and all those feelings – frustration, anger and I was in that ditch of desperation and depression and I didn't really know what I was going to do next.
"That took me three years and it only really was when I accepted where I was at and just said look this is where I am. My wife was pregnant and I needed to refocus."
So he started running again – and here he is in the middle of Dublin Airport at 5.30am on a Saturday morning (1 May 2016) waiting to meet the event organiser for a flight to Italy.
Gillick practically pleaded with the organisers to let him enter the 400m at the European Athletics Promotion in Pavia.
He had to pay his own way over – but even in the minutes leading up to his race he questioned himself. The doubts reverberated around his head. Those same feelings again, those same faces, that same routine.
"The days leading up to it, even on the plane I was a bit oh God, do I really want to do this all over again and what's going to happen on the other side?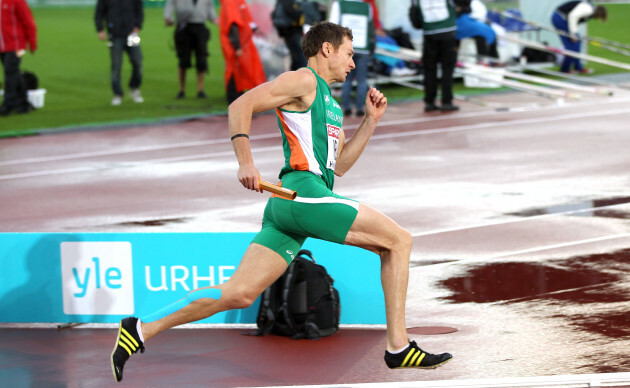 Ian MacNicol Ian MacNicol
"What happens if I go out and run well then there's expectations and all this sort of stuff and I had to overcome that and go back to basics.
"I had to keep telling myself why I wanted to run again and that was simply for enjoyment. There was no pressure. I wasn't the guy I was six years ago going for a European gold medal, I was just a person there who wanted to run and enjoy the freedom of it all."
Lane six.
Gillick, David.
Ireland.
He ran blindly, competing in his first race in over four years. Anything could have happened. But he found his stride. He listened to the same playlist on his phone he used before those indelible days. It all came flooding back – the real reasons why he loved this game.
He got around in one piece. A time of 48.05 seconds over 400m was well off the pace but it didn't matter. He had conquered his fears and ran over them.
"It was a challenge but that emotion brought it all back to me. This is what I've been doing since I was a kid," he recalls.
"I took the challenge on because I needed to. I needed to do something and sport was the only option. Saturday used to be a big training day for me but when I retired I used to wake up on a Saturday and think what am I going to do today?
"I just couldn't get past that. What am I going to do, I've nothing to do. Nothing to stimulate me and focus me."
Sport has that ability. It offers an outlet and occupies the mind. For Gillick, it allowed him to get back on the straight and narrow. Go out and run and forget about the problems and worries for an hour, or two. It allowed the pieces to fall into place again.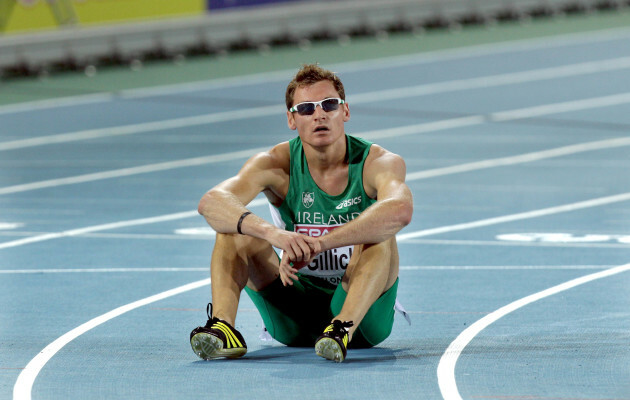 Morgan Treacy / INPHO Morgan Treacy / INPHO / INPHO
"Exercise is more important for my mental well-being than physical. I wasn't in a great place at all but I got back into a routine and a structured training programme.
"Once I began to get my head right I could challenge myself a little bit in terms of exercise and I began to get a bit of self-confidence and just felt a little bit better about myself.
"I stopped analysing what I was doing and just began to enjoy it. I wasn't clock-watching or comparing times to when I was a professional athlete. I ran indoors in Athlone and Belfast and went okay so said to myself I need a challenge.
"That challenge was in Italy. I was proud of myself, I got around in one piece. As the weeks progressed  my times started to come down but I picked up a bit of an injury.
"I suppose in previous years that would have completely derailed me. It would have really challenged my mindset and my confidence and I probably would have just spat the dummy out and said I'm sick of this and questioned why I ever came back."
But the reality is that this time it's different. Running isn't his career, but a hobby. He's not doing it as a job but out of pure enjoyment of a sport he first took up at the age of eight.
Exclusive Six
Nations Analysis
Get Murray Kinsella's exclusive analysis of Ireland's Six Nations campaign this spring
Become a Member
Last weekend, Gillick ran in the National Championships in Santry for the first time in six years. He had nothing to lose, so much to gain. Morton Stadium was where it all started for him. Now he was back with a new lease of life and the shackles off.
A full circle, if you like.
"To be able to do that again now is what makes sport so powerful.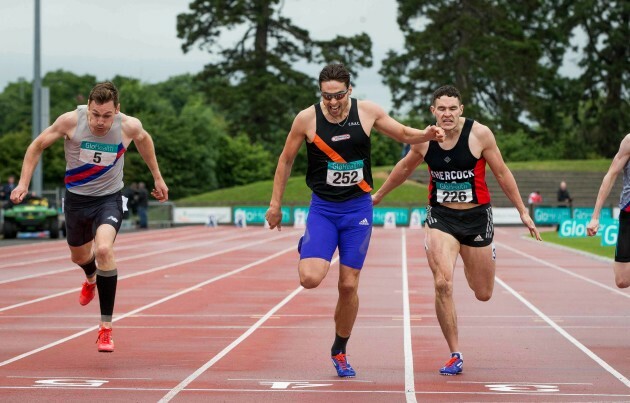 Morgan Treacy / INPHO Gillick finished third at the National Championships last weekend. Morgan Treacy / INPHO / INPHO
"I was still kind of questioning myself over the last two weeks about what could happen at the National Championships but what happened to Ireland at Euro 2016 when you see the emotion on player's faces and the tears and what it means to them – that's sport and you only get one shot to do it in your life.
"I'm just blessed I've taken that decision to get back into running. You only live once and you've just got to go for it."
A third place finish was enough to see him included in the Ireland team for next week's European Championships in Amsterdam.
Suddenly that gentle return to running has turned into a lot more – but he's comfortable with that. Off the track Gillick has adopted a slow and steady approach. A cliched as it might sound, one step at a time.
"I'm not really focusing too far down the line, it's literally next week and that's the priority at the moment," he stresses.
"This is not for anybody else, nothing to do with anybody else, it was just solely down to me and that's when I said okay I'm going to race because I get that buzz again.
"There is always the danger again. The last couple of weeks and months I've taken that steady approach and not got too far ahead of myself and not putting in big plans, literally just get around the track. That's my motto – just get around the track in one piece.
"I feel I've steadied the ship over the last couple of months and feel now that I can spot the little triggers that can derail me and it's a case of just managing my own expectations and other people's expectations but it's also just sticking to the main point of why I got back into running.
"Those nervous feelings really make me feel alive and at the same time keep everything together. I've come back competing and if I can run times that get me to a championship and put on that green vest and represent my country with pride, that's the stuff of dreams."
Just a little bit older, wiser and happier. Rolling back the years.
The42 is on Snapchat! Tap the button below on your phone to add!