WHILE SKY CHANNEL 111 has long since catered to those yearning for a time when Jeremy Clarkson was still employed, its synonymy with the world of elite sports is rather less pronounced. Indeed, nocturnal airings of Takeshi's Castle and Gladiators represent the height of the station's athletic focus to date.
As such, last week's announcement that DAVE, the artist formerly known as UKTV Gold, had secured exclusive rights to stage David Haye's ring return came from somewhere west of left-field.
After all, the 'home of witty banter' is hardly a platform which readily lends itself to top-class prize-fighting. And yet, although he will likely find himself sandwiched in between Mock The Week reruns this evening, Haye himself is no joke.
2008's two-round demolition of Enzo Maccarinelli saw to that, the victory establishing him as only the third ever undisputed cruiserweight champion of the world.
His penchant for rewriting the history books would ultimately take him north of 90kg in search of sport's most fabled prize. And whereas the path from cruiserweight to heavyweight was already a well-worn one, few had charted the course with any great success.
As such, by the time Haye ultimately secured his title tilt against WBA kingpin, Nikolai Valuev, the scale of the task was not lost on the challenger. After all, given that his opponent tipped the scales at seven feet and 316 pounds, there was little to be left to the imagination.
Despite ceding eight stone in weight and nine inches in height, David managed to slay Goliath and join Evander Holyfield as only the second man to hold titles in both the cruiserweight and heavyweight divisions – rarefied company indeed.
Having entered 2010 on the crest of a wave, his outings in the ring amounted to little more than treading water. A pair of routine victories over a has-been in John Ruiz and a never-was in Audley Harrison seemed hardly comparable to the heavyweight heydays of yore.
And while revisionist nostalgia can often be the bane of boxing discourse, in this instance it's an important point of reference. Indeed, even though debates regarding the sport's (d)evolution in recent years are unlikely to abate any time soon, common consensus would suggest that the tectonic plates have shifted.
America's storied monopoly within heavyweight boxing, initially stymied during Lennox Lewis' reign of terror, was all but eradicated following his retirement.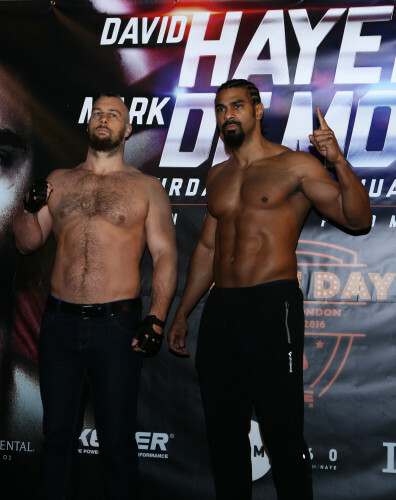 John Walton John Walton
The Briton's farewell fight amounted to something of a passing of the torch in that respect. After all, despite the fact that Vitali Klitschko ultimately came up short against Lewis in 2003, the rising nature of his tide soon became apparent. As it turned out, that controversial loss would prove to be his last.
And while the remainder of the decade was ruled in large part by the Ukrainian's iron fist, his stranglehold on the division was loosened somewhat by the familiar refrain of a 'steelhammer'.
Baby brother Wladimir was first ascribed that particular moniker as he bludgeoned his way to Olympic glory in 1996, and although his thoroughbred amateur pedigree didn't translate quite so seamlessly to the paid ranks, by 2011 he had emerged as the class of the paddock.
Amidst the brotherly cold war which put paid to any chance of either man truly claiming the throne outright, a new pretender had emerged from the trenches.
The history of Haye's hate-triangle with Messrs Klitschko and Klitschko predated even his heavyweight debut versus Monte Barrett in late 2008. Terms for a bout against Vitali at Stamford Bridge were at one point tentatively agreed for June of the following year.
The Londoner's decision to face Barrett served to scupper that grand plan, however, while his pursuit of the WBA crown shelved the Anglo-Ukrainian rivalry entirely.
Haye/Klitschko would ultimately find its feet two years later, and 600 miles east, in Hamburg's Volksparkstadion.
Not only had the venue changed, but so too had the headline act. Vitali's burgeoning political career parlayed into his quasi-retirement from boxing. Wladimir, for his part, was more than happy to step into the breach.
Although Hamburg seemed to represent neutral territory in what was ostensibly a battle of east and west, the geography told only half the story. Indeed, while the two combatants sported 45 previous outings in Germany between them, only two of those were on Haye's side of the ledger.
Exclusive Six
Nations Analysis
Get Murray Kinsella's exclusive analysis of Ireland's Six Nations campaign this spring
Become a Member
With that being said, history suggests British folk aren't exactly averse to going to war in Hamburg, a notion with which survivors from 1945 will be all too familiar.
On this occasion, however, the only battle waged by Haye's countrymen was the one to stay awake. The pomp of the pre-fight pageantry aside, Klitschko's lopsided win made Mayweather vs Pacquiao look like the Thrilla in Manilla.
In reality, the only thing less palatable than the action in the ring was the raft of recriminations which followed; the fact that Haye's broken toe was the MVP of the post-fight press conference was a damning indictment in that respect.
A rather more debilitating injury to his rotator cuff, coupled with an ill-fated foray into the jungle of reality television, would limit 'The Hayemaker' to just one further outing thereafter.
Close to 42 months have passed since he arrested Dereck Chisora's development in the summer of 2012, and though his own career has remained dormant ever since, heavyweight boxing in Britain has come very much to the boil.
In fact, no sooner had Haye exited stage left than one Anthony Joshua had seized the spotlight, the plus-sized prodigy claiming Olympic gold just four weeks later. He has since laid out his candidacy in the professional ranks, a blazed trail of 15 consecutive knockouts doing little to dispel his status as the man who would be king.
And while Haye will likely fancy his chances of usurping this would-be coronation, he concedes that long-time foe, Tyson Fury, is now very much the bearer of the crown.
"I'm not under any illusions, working my way up to the mandatory position is the only way I'm getting that shot" he said earlier this week. "There's been a lot of water under that bridge and if he says he'd rather vacate than 'give me a payday' that shows what he's like as a man and a fighter. I'll have the belts around my waist whether I have to fight him or someone else, it's only a matter of time."
At 35-years-old, however, that time is now very much of the essence. And whereas tonight's fight with unheralded contender Mark De Mori amounts to little more than dipping his infamous toe back in heavyweight waters, Haye will be keen to make some waves before year's end.
David Haye vs Mark De Mori is live on DAVE tonight at 9pm.