IT MAY BE hard to believe, but an Irishman currently sits top of the Champions League goalscoring charts.
With five goals from four matches in the qualifying stages of the competition, Dubliner David McMillan has been a central figure in Dundalk's unprecedented European voyage.
The 27-year-old striker bagged three as the SSE Airtricity League Premier Division champions edged past FH Hafnarfjordur, before hitting a brace in the unforgettable victory over BATE Borisov.
That came off the back of consecutive hat-tricks in the SSE Airtricity League Premier Division, and it seems everything former UCD man McMillan touches right now is going in.
"It's probably been the most hectic month of my life," McMillan said yesterday, as he picked up the SWAI/SSE Airtricity League Player of the Month award for July.
"I think I have been a little bit lucky. I'm in good form and it's strange because at times in your career in training when you hit things and the keeper will pull off a remarkable save and things won't go in for you.
"You think your luck is out. It has just been the opposite this month.
"Everything that has fallen to me I seem to have connected well with it and it's hit the back of the net. Things have gone through keepers' legs or hit the post and gone in, whereas other weeks that doesn't happen.
"You have to take that bit of fortune when it comes. I'd love to try to keep the run going, but when the bad times come you've got to remember that you did have this good spell and that more goals will keep coming."
With six career goals in the Champions League, McMillan has also surpassed legends Glen Crowe and Jason Byrne as the League of Ireland's top marksman in the continent's elite club competition.
"It's crazy," he says of the record. "I wouldn't have had a clue about any of these things starting out.
"In FH, I was told I was the top Dundalk scorer in Europe with four, which surprised me. Then obviously I have gone ahead of Jason and Glen for Champions League top scorer, which is another thing I didn't know about.
These things are great, but it's the end of your career when you look back and acknowledge them. For now, I am just happy that I have two more games in the Champions League to hopefully extend that run and keep the form going."
Throughout his football career, McMillan has been able to balance academic studies and work with the commitments involved in playing for one of the country's top clubs.
Like so many others, he came through the ranks at UCD and had two spells with the Students while earning a degree in architecture. It's a route he would encourage other young players to explore as an alternative to moving across the water in their teens.
"I never had the opportunity to go (to England) at 15 or 16 and even if I did, I think it's a very difficult thing to do, especially with people having to move away from their family.
"I've witnessed it the other way — Paul Corry went across having played with UCD. I think it is a fantastic thing to do. Even if you put the degree aside, that's one thing, but to go over at that age, 20 or 21, with 50 or 100 games behind you, it's a big difference.
"Going over with no experience of first team football, you're kind of hoping to make a breakthrough. It's very difficult. I'd advocate it and if you look at Daryl Horgan and people like that, they may in the future get to play at a higher level.
"Richie Towell, for example, came back and proved himself here with, I don't know, 150 appearances for Dundalk. Now you can see people are getting to play in Europe and it will even raise their profile more."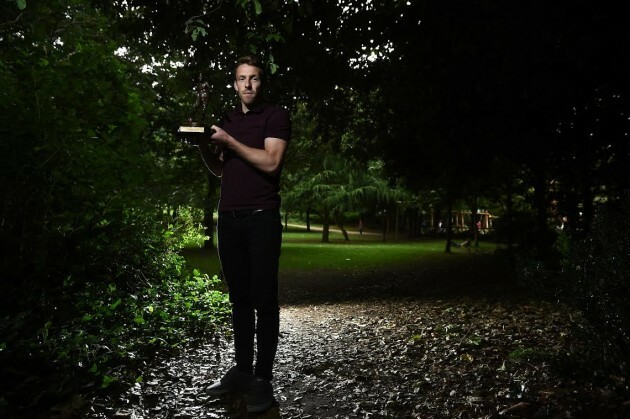 David Maher / SPORTSFILE McMillan with his Player of the Month award yesterday. David Maher / SPORTSFILE / SPORTSFILE
Working 20-25 hours-per-week with O'Brien Finucane Architects in Dublin's city centre affords McMillan the time to train with Dundalk and travel to matches and, luckily, his employers have always been understanding.
"They've been good to me," he explains. "They have supported me all the time. My boss was speaking today, saying if we got a nice trip to Europe he would come and watch us play away.
"That's good. One of them was at the game in Tallaght last week with his son and he enjoyed it. I think they are happy enough. I enjoy being able to do the job as well."
Dundalk's exploits in Europe will have alerted clubs with bigger budgets in more high profile leagues of their most talented players, but at 27, it would take something really special to entice McMillan away.
"To be honest, I am really happy at the moment with the combination I have," he says. "I am progressing to try and become registered with the Royal Institute of the Architects of Ireland (RIAI), which would make me more qualified.
"If a full-time opportunity (in football) came, it would have to be a really brilliant opportunity, because where I am at the moment is, as you can see from the last few weeks, it doesn't really get that much better.
Unless you move to the Premier League, which ain't going to happen, this is as good as it gets."
But has he received any interest from abroad in recent weeks?
"Some lad from Russia sent me a message on Facebook, I'm not too sure about that one!
"Not really. I keep my feet on the ground. That's the great thing about going to work – you can just turn off your phone and keep your feet on the ground.
"I'm 27 years of age. I won't say my best years have passed me but that opportunity may have come and gone. As I said, where I am at the moment is certainly as good as it gets in the country.
"I'm quite happy with that. I have friends and family here and I wouldn't really think of leaving unless it was something astronomical."
The42 is on Snapchat! Tap the button below on your phone to add!