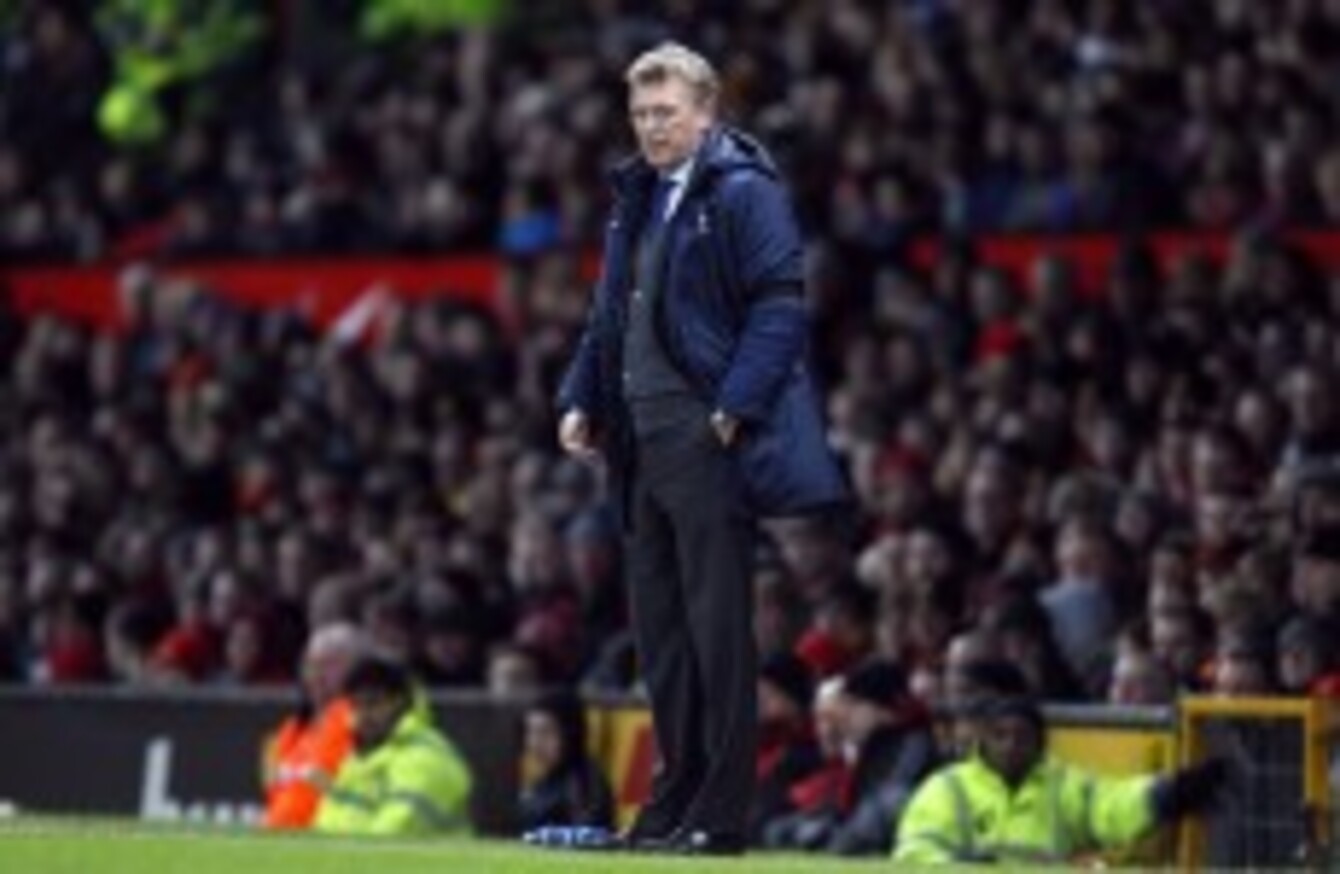 David Moyes.
Image: Dave Thompson/PA Archive/Press Association Images
David Moyes.
Image: Dave Thompson/PA Archive/Press Association Images
THERE ARE PROS…
1. He knows the English game
Moyes will not need a period to bed into the English game, grow accustomed to the styles of play and learn what opponents are capable. After 11 years at the helm of Everton, he already has an intimate knowledge of English football.
Certain aspects of his record with Everton against big clubs left something to be desired – he has never won away against Manchester United, Chelsea, Arsenal or Liverpool – but has sent out teams that have tactically outplayed United and Chelsea at home while he has frequently claimed the scalp of Manchester City and Tottenham.
2. He has a track record of developing young players
It was Moyes who gave Wayne Rooney his debut in the early stages of his Everton management career and he made an explosive introduction, encapsulated by that stunning goal against Arsenal in October 2002.
But apart from that Moyes has displayed an ability to infiltrate his side with young players. He gave Leon Osman his first Premier League start and has since seen him play over 300 times for the club. He gave Jack Rodwell his debut as a 16-year old and developed him to the extent that Manchester City shelled out £12m for him last summer.
Marouane Fellaini and Seamus Coleman were both signed as 20 year-olds and have been resounding successes while Ross Barkley is the latest highly-rated homegrown prospect to be given first-team football by Moyes.
3. He's shown an ability to find transfer market bargains
Moyes developed the knack of unearthing gems for low prices in the transfer market.  He signed Tim Cahill for £1.5m in 2004, Mikel Arteta for £2m in 2005, Joleon Lescott for £5m in 206, Phil Jagielka for £4m in 2007, Leighton Baines for £6m in 2007, Steven Pienaar for £2m in 2008 and Seamus Coleman for £150k in 2009.
Those seven players all progressed following those moves. Jagielka, Baines and Coleman all gained international recognition following their transfers. Arteta and Lescott were both sold on at huge profits while Cahill and Pienaar both shone in midfield roles. That eye for a player is a skill that Manchester United will hope to exploit.
Pic: John Walton/EMPICS Sport
4. He ensures continuity for Man United
Sir Bobby Charlton expressed concerns last December about Jose Mourinho's suitability for the role of Manchester United manager. His subsequent reaction to the appointment of Moyes by describing him as 'someone who understands the things that make this such a special club", hints at a school of thought that exists within the club.
The choice of successor for Ferguson was always going to be difficult but by going for a safe pair of hands like Moyes, they are helping to ensure the club's ideals and structures are unlikely to be ripped up to make way for a new ethos. The use of words like 'integrity', 'work ethic' and 'stability' in the quotes from Ferguson and Charlton in the club's official statement are qualities that have been long associated with Moyes.
5. He has the backing of Alex Ferguson
The fact that Ferguson is not making a clean break from the club but is instead taking on the role of director and ambassador, means that his successor likely had to be someone who he approved of. In that respect Moyes ticks the boxes with his managerial philosophy similar to Ferguson's.
Given Ferguson is staying involved in the club, he will surely be a sounding board for advice and it's hard to have imagined Mourinho approaching him in that fashion. In contrast Moyes is likely to embrace that new role and let's not forget that Ferguson's judgement has been frequently sound in the past.
Pic: Martin Rickett/PA Wire/Press Association Images
BUT THERE ARE ALSO CONS…
1. His lack of silverware
Thirteen years ago, David Moyes saw his Preston North End side lift the title in Division 2 – the predecessor for the current League 1. Claiming that silverware signified Moyes credentials as an emerging young boss but he has failed to get his hands on another trophy since then.
That is the stick that is used most frequently to beat him with despite all the progress he made in his 11 years withf Everton. There have been close shaves such as in 2009 when they lost the FA Cup final to Chelsea and the semi-final defeats suffered in the League Cup to Chelsea in 2008 and in the FA Cup to Liverpool in 2012.
That run may have been accepted to a degree in Everton due to the financial constraints he was operating in but the level of talent and resources that will be available to him at Old Trafford mean that a lack of trophies will not be tolerated by the club's supporters.
2. He lacks European experience
The other major question mark for Moyes is his lack of European football management experience. With Everton he was involved in four campaigns on the continent. His solitary Champions League foray in 2005 ended at the first hurdle in the third qualifying round against Spanish side Villareal.
Exclusive NZ - IRE
Rugby Analysis
Get Murray Kinsella's match analysis and Garry Doyle's updates from New Zealand exclusive to members
Become a Member
They lost 4-2 on aggregate and were unfortunate to be paired with high quality opponents while referee Pierluigi Collina also controversially disallowed a goal by Duncan Ferguson in the second leg. Since then they exited the UEFA Cup in 2008 on penalties in the last 16 against Fiorentina, got knocked out in the opening round of the 2009 UEFA Cup by Standard Liege and lost out to Sporting Lisbon in the last 32 of the 2010 Europa League.
Pic: Mike Egerton/EMPICS Sport
3. He has to handle a bigger transfer budget
As has been consistently mentioned, Moyes performed wonders on limited financial resources during his time at Everton. He is now set to have access to the greater funds that he would have craved while at Goodison Park.
It will be intriguing to see how he handles the expectation that his big-money signings will succeed at the club. At Everton some of Moyes more expensive purchases like Diniyar Bilyaledtinov for £10m and Yakubu for £11.25m both eventually faltered and were sold on at a loss. He also developed a trend of buying strikers like James Beattie, Andy Johnson and Yakubu who were all only short-lived success stories while current front man Nikica Jelavic falls into that pattern as well.
4. He now has to develop an attacking style of play
One of the charges regularly levelled at Moyes was the negative and conservative tactics he employed for big matches with last year's FA Cup semi-final defeat to Liverpool a prime example. To be fair he could point at the players at his disposal when you consider his striker options this season consisted of Nikica Jelavic, Victor Anichebe and Apostolos Vellios.
Manchester United have been able to juggle around Van Persie, Rooney, Welbeck and Hernandez around in the same time frame.  But inheriting a squad with greater attacking depth and scope means Moyes will have to adjust accordingly.
5. He has to manage in the shadow of Ferguson
The shadow of Ferguson will clearly continue to loom large around Old Trafford due to his longevity, his success, his stature and his continued presence at the club. That is a level of pressure Moyes will have to cope with and comparisons between them will be natural once next season starts. It will be interesting to see how tolerant the club's supporters will be if there is a patch of bad form and how the players will respond to a new man at the helm.