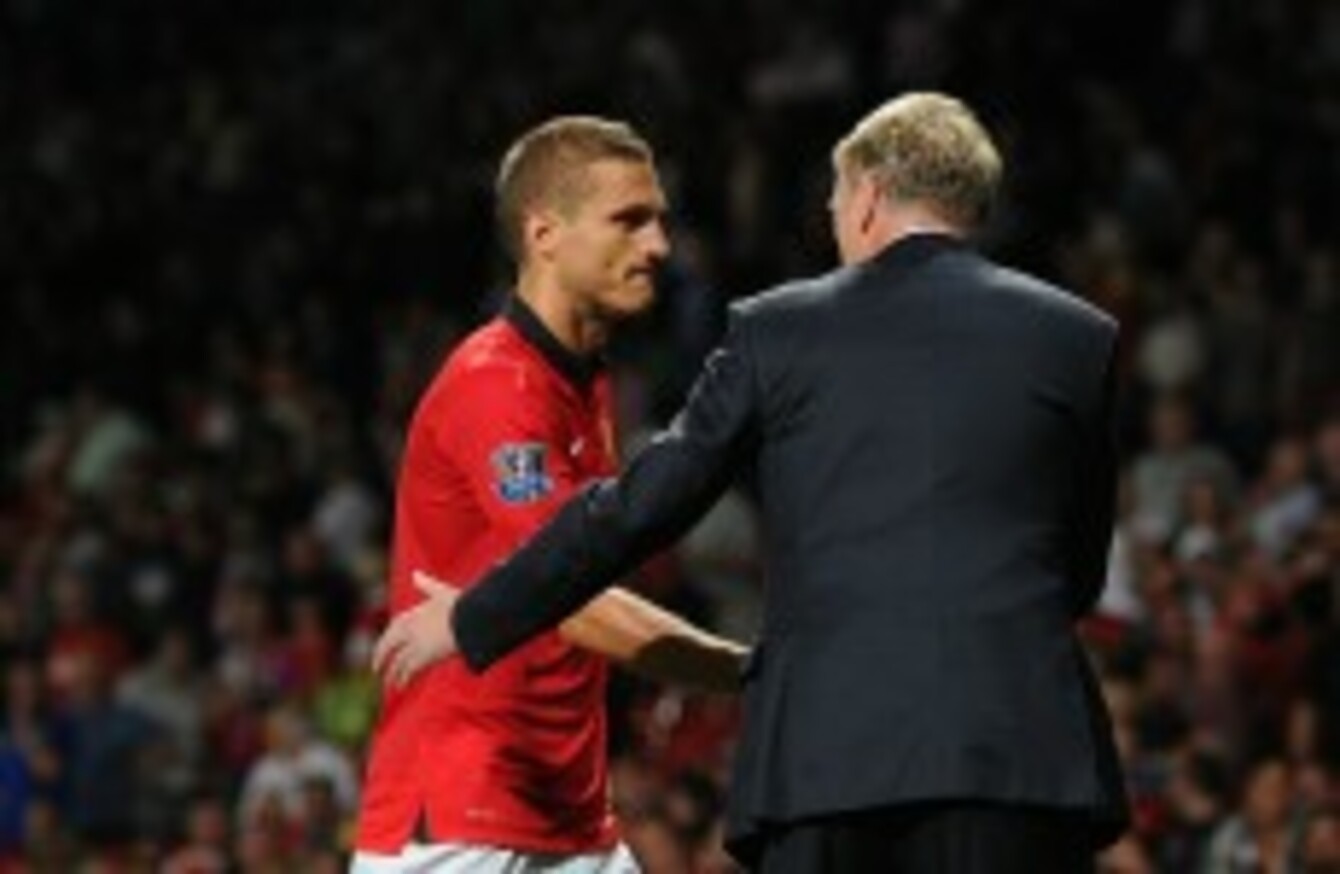 David Moyes shakes hands with his captain Nemanja Vidic.
Image: Martin Rickett/PA Archive
David Moyes shakes hands with his captain Nemanja Vidic.
Image: Martin Rickett/PA Archive
MANCHESTER UNITED MANAGER David Moyes insists Nemanja Vidic's decision to move on from the club during the summer is not part of his grand revitalisation scheme at Old Trafford.
United, currently eighth in the Premier League and preparing for a home league tie with Fulham, suffered a set-back last night as club captain Vidic revealed his intentions to leave the club at the end of the season.
Vidic confirmed, via an official statement, that he would be leaving United after an eight-year stint with the club. "I'm not considering staying in England as the only club I ever wanted to play for here is Manchester United and I was lucky enough to be part of this club for so many years," said the 32-year-old.
Speaking about his captain's decision to seek greener pastures, Moyes was keen to use as many 'us' and 'we' words possible in his 10-minute briefing. "It was something that we all mutually agreed together," he said. "I think it was the right decision for club and for player in the end."
Moyes refused to reveal any of the contract negotiation details that had been dragging on since before he arrived at the club. "Whatever I would've discussed with Vida will remain private but he has been a brilliant servant for Manchester United. He is captain and it will stay that way until the end of the season. He's been a great player for us and we'll continue using him," said Moyes.
A combination of injury and suspension has kept Vidic out of the United starting line-up for nine of the club's 24 league matches but he is hoping to start against Fulham on Sunday. Moyes declared, upon signing Juan Mata in January, that his plans for the club were finally taking shape. The departure of Vidic, he said, did not factor into it.
He said, "People know that I've got things I'd like to plan and do, and change. I can't change it all overnight but that wasn't the reason for [Vidic leaving] as I said we mutually decided. We'll get on with it and we'll move on."