EARLY LAST MONTH, Joe Schmidt and his Ireland coaching team presented at a seminar in the Aviva Stadium, with around 100 schools and clubs coaches from around the country in attendance.
The core skills of the game were the focus of the seminar, with Andy Farrell presenting on the tackle, Richie Murphy on passing, Simon Easterby on continuity, and Greg Feek on the breakdown.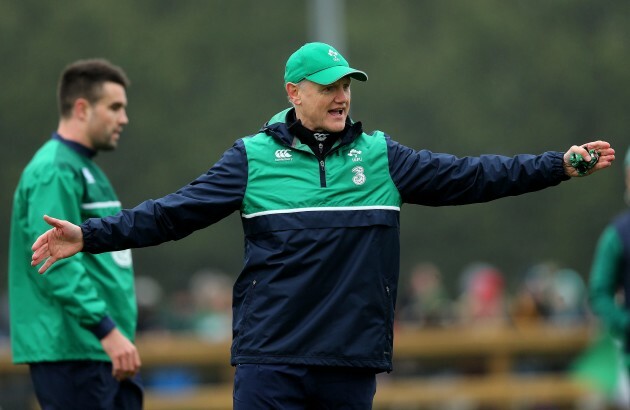 Ryan Byrne / INPHO Schmidt presented at the Aviva Stadium last month. Ryan Byrne / INPHO / INPHO
Schmidt himself spoke about 'connecting the core skills to the game,' before Anthony Eddy presented on sevens and Jason Cowman gave insight into managing players' training and playing loads.
A stellar cast, and this seminar was a strong sign of the way the IRFU is hoping to move its development pathways under performance director David Nucifora.
Nucifora has repeatedly stated that Irish rugby must focus intently on producing as high a quality of homegrown player as is possible.
Produce better coaches and better players will follow.
"We feel that if we can invest in the coaches who are working at that level, there's multiple upsides for us," says Nucifora when we sit down at the Aviva Stadium. "One, we're educating and sharing and they see we're investing in them.
"They have access to the elite young players that we're dealing with, so we need to be educating them, because they're the ones that have the most hands-on time with these players.
"The other benefit is that not only are they just dealing with the players we have a distinct interest in, there's a broader group of players within their school or club that will feel the benefit of improved coaching standards."
The feedback from last month's seminar has been good, with Nucifora particularly encouraged to see several of the attendees getting in contact looking for further learning opportunities.
Clearly, the thirst is there among these rugby educators who play such an important role in the game. It could even be argued that the clubs and schools coaches are more important than those in the professional game.
Nucifora stresses that grassroots Irish coaches have been doing good work for years, but he sees scope for a refined focus on what is being coached and how it's being done.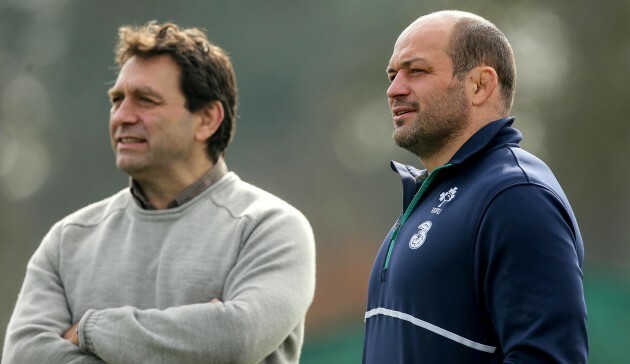 Donall Farmer / INPHO Nucifora [left] is driving the IRFU's refreshed development pathway plans. Donall Farmer / INPHO / INPHO
World-class coaching of the basic skills of the game is at the heart of the plan.
"I think it's about just getting their focus firmly on 'What is player development? What is skill development?' That's what the day was all about.
"The [Ireland] coaches each spent time on explaining in their own areas what they do and what they focus on right up to the national team level on developing the core skills of the game.
"That's what we wanted to try and get these coaches who coach at that level to understand – it's that by investing in the individual and investing in the skill development, that is going to pay huge dividends for the player going forward.
"I think that at times, we can still be a little too team-orientated and worry about outcomes, whereas if we actually invested in developing the skill level of the players, those other things will follow.
"I suppose it's just trying to recalibrate the thinking of our coaches at that level as to what is really important and how they're going to make the biggest impact on the players."
Nucifora says the provincial coaches at Munster, Connacht, Leinster and Ulster also have a role to play in this reshaping by setting an example, and he points to the excellent skills-focused work being done by Pat Lam and his coaches out west as "paying dividends."
Richie Murphy is the IRFU's national skills coach, as well as working with the Ireland team alongside Schmidt, and his role involves putting an aligned and accessible skills programme in place around the country.
Everyone on the same page, helping to produce players who are highly skilled at the basics of rugby.
"There are no secrets in the game," says Nucifora. "The core elements of the game are what they are – you need to be able to catch, pass, run, retain possession, all of those things.
"We're focusing on those and getting that sort of alignment right from our pro teams, certainly our national team, down through our pro teams, down through our academies, down through the provincial talent squads.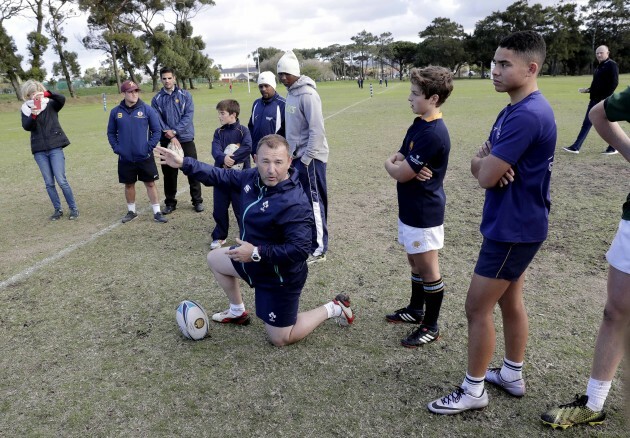 Billy Stickland / INPHO Richie Murphy is the national skills coach. Billy Stickland / INPHO / INPHO
"I think it will have a significant influence on the development of Irish rugby players."
Mention of the provincial talent squads is extremely pertinent, as the young men now forming these groups from the ages of 15 and 16 should benefit from improved coaching standards.
Part of the IRFU's strategy to improve the quality of player streaming into the academies was to appoint a provincial talent coach [PTC] in each of the four provinces this year – Trevor Hogan in Leinster, Mark Butler in Munster, Colm Tucker in Connacht and Michael Black in Ulster.
The PTCs now help to identify and then manage the most promising rugby talent in the country through the pathway from a younger age, hopefully producing a more advanced player for the academies than has been the case.
The new strategy has been unfolding in recent months, with Nucifora confirming that the talent squads – consisting of around 20 or 25 players – have been formed and are already at the beginning of what he hopes will be a successful pathway.
The IRFU has "pumped a lot of money" into getting more from existing staff in the academies to aid these new talent groups, while additional bodies have been added in the fields of physiotherapy, medical, nutrition and strength and conditioning.
While the PTCs will continue to scour the traditional schools and clubs games in order to identify the best talent, they will also be tasked with broadening the IRFU's net and taking a fresh mindset to actually understanding what talent is.
"We've got to make sure we're working as hard as we can to get the best available players into academies," says Nucifora. "We've got to constantly be able to review and question our own systems of identification. Are we missing anything? We've got to keep asking ourselves the question.
"The work that the talent coaches have been tasked with doing is to be able to get out there and not only be able to look at the obvious talent but look at the less obvious talent."
Nucifora also underlines that the IRFU can't simply take a one-size-fits-all approach with their development of young talent. Sometimes, patience will be required.
"If you see talent in someone, some of them do actually take longer to develop and build on their experience. Some players have at their disposal, or have had at their disposal, better coaching and better facilities to be able to develop quicker as a rugby player.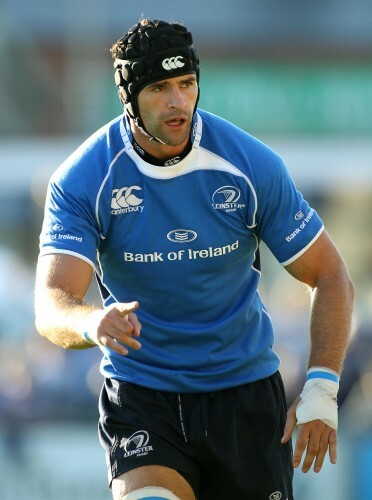 Lorraine O'Sullivan / INPHO Former Leinster and Munster lock Trevor Hogan is one of the PTCs. Lorraine O'Sullivan / INPHO / INPHO
"Part of what we're trying to do with this talent squad is to be able to look at the obvious, but then look at the less obvious. Let's look at the players that may not have the opportunities that some other young players might have had put in front of them.
"I know there are plenty of good young players out there that, because they haven't had access to coaching and to all the other services to develop a player, they've got just as much talent but we have to invest in them a bit more."
The IRFU is hopeful that plans for sevens rugby competitions in non-traditional rugby schools will produce more players for their PTCs to assess, with the shortened form of the game potentially bringing a new range of athletes into the game.
The movement in this area is still a little way off where Nucifora hopes it to be eventually, although the Aviva Stadium did host an U18 girls sevens tournament, the GX7s, back in April, with 16 teams from secondary schools across the country taking part.
"That will expand into the boys and we have a plan to be able to grow that down further in the age groups to U15, U16 levels and have that throughout our schools system," says Nucifora. "That's aimed not necessarily at schools that are the major rugby-playing schools now.
"If they want to compete, that would be great, but it's an avenue to get into schools that predominantly don't play rugby now – that's a huge opportunity for us to be able to break in with the games of sevens."
"There are a lot of good athletes playing the Gaelic sports in this country who could be rugby players, but they need to have an avenue to access the game. The beauty of rugby can sometimes be its own enemy as well – it's a complex game.
"That's why people enjoy it, but it can be a bit daunting for people to start playing, especially if they're a little further down the track age-wise."
Sevens is a key component of Nucifora's strategy of increasing Irish rugby's focus on the basis skills of the game too.
The Australian cites the presentation by IRFU director of sevens rugby Anthony Eddy at last month's seminar in the Aviva Stadium, during which the Australian provided an interesting case study on how sevens rugby truly tests the core skills.
Dan Sheridan / INPHO Ireland's men's and women's sevens teams missed out on the Olympics. Dan Sheridan / INPHO / INPHO
The analysis compared the number of involvements an U18 player had that drew on the core skills of the game during a 15-a-side inter-provincial U18 tie, and in a sevens game at the Rugby Europe U18 Sevens Championship, which Ireland won.
The number of times the player's core skills were involved "was significantly greater in the game of sevens than it was in the game of 15s."
"That can't be ignored as a way of developing our players and that's what the players who are having a go at sevens are finding," says Nucifora.
"They're getting exposed more often to the decision-making and execution of the core skills of the game by playing sevens. It's just improving them as footballers."
Eager to grow the depth of Ireland's playing pool in every way possible, Nucifora and the IRFU have also made moves to build on the job being done by the Exiles in the United Kingdom.
Former Ireland Schools coach Wayne Mitchell has been doing excellent work in his role as the Exiles' talent identification officer alongside development manager Mark Blair, but Nucifora believes that even more can be done in this channel.
"We think that it has untapped potential, just the pure numbers and volume of Irish-eligibile people that are in that area in the UK. It's enormous.
"We're looking at talent development programmes that can aid us and in there even the way we work it  - we have a number of Exiles players that are identified that might come and spend a summer in the provinces," says Nucifora.
"There are other players that are eligible that may already be in other systems in the UK – in academies, etc. – that are Irish-eligible but don't really see a pathway for themselves. If we can identify with those players and they have the ambition and desire to play for Ireland, we need to be able to offer them a development pathway.
"For some of them, it may be to stay in the UK a bit longer, for others it may be an immediate opportunity to come and join one of our teams over here.
"I just think there's huge scope to be able to develop that and Wayne and others have done a great job to get it to another level. But we've got ambition to take it to another level again."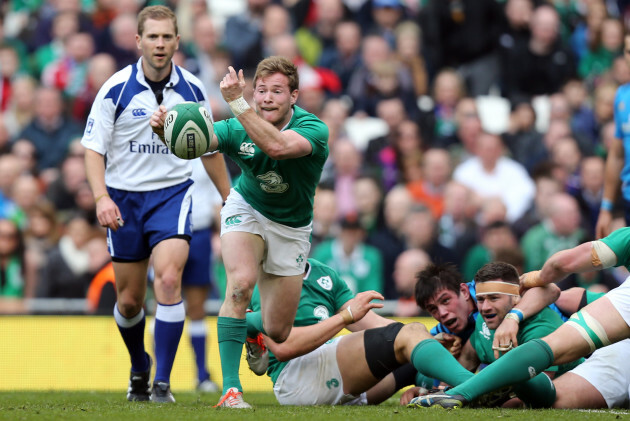 Colm O'Neill / INPHO The Exiles system produced Kieran Marmion. Colm O'Neill / INPHO / INPHO
Nucifora is hesitant to say that the quality of player coming into Ireland's four provincial academies hasn't been good enough in the past, but he is open about the IRFU's desire to ensure that young players are progressing earlier than before.
One measure has been to scrap the U20 inter-provincials, with this season instead seeing the first series of U20/Development games, whereby the U20 players have been mixed into teams with academy, development and senior provincial players.
It has been an unpopular measure in some quarters, so it's worth asking Nucifora why the IRFU went down this route.
"That really came out of our academy managers; they felt it was a better way of trying to develop the talent. They felt that if we had the best of our U20s and the best of the players who are, I suppose you could call them the 'back-end' of the pro squad and academies playing together, it would lift the standard of those games.
"That's what we were looking for; we were looking for the quality of the games.
"As opposed to focusing on the competition as an U20 competition, we were more wanting to achieve the higher standard, higher quality of game so that the players who are in there and participating are getting more out of it, as opposed to the standard of the game maybe being lower if we just restricted it to one age bracket."
There has been some friction around the shift, but Nucifora understands that encountering disagreement is part of his job – whether it is based around Ruan Pienaar or as aspect of the development pathway.
Having previously worked with the Blues in New Zealand, Nucifora understands that one of the strengths of the Kiwis' rugby system is that everything is designed and nurtured with the All Blacks as the clear priority number one.
It has been clear since Nucifora arrived in 2014 that his desire is to see Ireland viewed in that light here too.
"I think we've made great improvements in that area," says Nucifora. "I've worked in the New Zealand system and you're left in no doubt as to what's the most important thing. You buy into it.
Morgan Treacy / INPHO Nucifora, Schmidt and Andy Farrell at an Ulster game. Morgan Treacy / INPHO / INPHO
"I think we've made good strides here in recent times and the relationship that we have between the national coaches and provincial coaches is really good. We've got a great set of provincial coaches out there at the moment and they buy into it.
"It doesn't mean that at times there's not some friction, because it's just the nature of what we do, but I think they genuinely do buy into it and that's terrific because our resource is the player and we've got to be maximising the development of the player.
"To do that we've got to work together and that's what the New Zealand system does really well and the players benefit from that, and I think that we do likewise.
"I think we've just got to keep that in mind in the development pathway – that it's about the player, it's about having a system that allows the player to be the best he can be."
The42 is on Snapchat! Tap the button below on your phone to add!