WHEN IT COMES to ensuring that Ireland can compete with the very best in the world, David Nucifora sees two important pillars holding everything else up.
"There are two key things," said the IRFU performance director this week when he met a number of rugby journalists at the Ballsbridge Hotel to run through some of the crucial issues in Irish rugby as we head into the final month of a long season.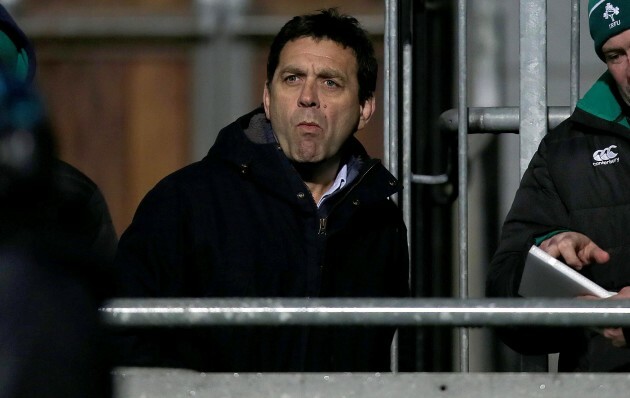 Lorraine O'Sullivan / INPHO Trevor Hogan is one of the new PTCs. Lorraine O'Sullivan / INPHO / INPHO
"You've got to have a talent pool. You've got to develop the talent. You've got to have the coaches to do that. They are the foundations of what's required."
Everything the Australian does in his role as performance director is motivated by a desire to improve Ireland's national team. Some of his decisions have been met with unease and even anger by the provinces but Nucifora is clear-minded about his mission.
"I'd like things to be moving along quicker," said Nucifora when asked to sum up his tenure since arriving in 2014. "You've just got to be patient sometimes with some of the things that you are attempting to try and change.
"I think we've made some reasonably steady progress in certain areas. There is always challenge when you're trying to bring about change. It's a matter of trying to work with that.
"Sometimes change will happen quickly; other times you have to be patient to manage it through. I am more than happy with what we've been able to achieve in the last two years. There's still a lot more work to be done."
Nucifora has been busy getting to grips with what the IRFU term 'the player development pathway' – in other words, bringing young players through the system and into professional rugby.
While Nucifora believes there were solid foundations in this area before he came on board, it's an area in which he has targeted greater efficiency. Changes are afoot and one aspect of that is getting to the most talented young Irish players earlier.
Ireland U20s coach Nigel Carolan warned last month that Ireland's age-grade sides are behind their counterparts "in every aspect; technically, tactically and more importantly physically."
Nucifora and the IRFU are responding by ensuring that they are going to be working with promising young players from as early as the age of 15.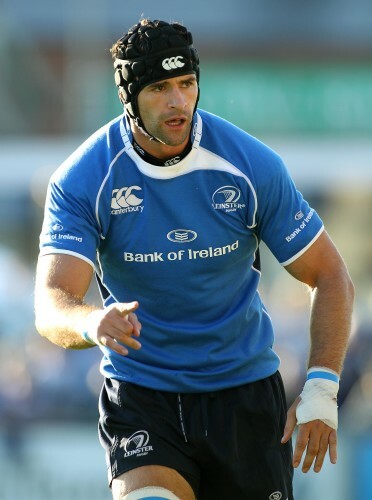 Lorraine O'Sullivan / INPHO Trevor Hogan is one of the new PTDs. Lorraine O'Sullivan / INPHO / INPHO
With that in mind, four appointments have been made in the newly-created roles of 'provincial talent coach,' one for each of the provinces.
Former Ireland lock Trevor Hogan takes the position in Leinster, while Mark Butler – who has guided Rockwell College to extensive success – has been appointed in Munster.
Michael Black, a former international referee who has been working with Ulster's academy in recent years, will fill the role in the northern province, while Colm Tucker – formerly head coach at UL Bohemians – will do the same in Connacht.
"Their role is an investment on our behalf to help us make sure we're identifying the best talent in the game," said Nucifora.
"They'll be working with the domestic rugby staff, looking at kids from the age of 15 and 16 to ensure that we've got the best structures in place to be able to identify talent and then bring that best talent into the development pathways," explained Nucifora.
"These coaches will be mandated with helping to manage that talent through the pathway. We're trying to make sure we're as efficient as we can possibly be in the area of talent ID."
While the schools system, particularly in Leinster, has been the traditional area for identifying the best young Irish talent, Nucifora says the new PTCs will be broadening the base of scouting.
"A lot of the onus will be in the areas outside the traditional catchment areas of talent. I've spoken about the schools being the obvious areas that we know where our talent lies.
"That's great and we'll continue to work with them, but the role of these guys will be to work closely with other clubs and other schools to make sure that we are actually identifying more potential talent we can bring into the pathway to broaden the talent pool.
"That's a really exciting addition to our staff on the ground and something I believe is going to continue to add value over time for Irish rugby."
Carolan, who is also the academy manager in Connacht, is supportive of Nucifora's work and says the former Wallaby hooker has been "really proactive" in his role with the IRFU.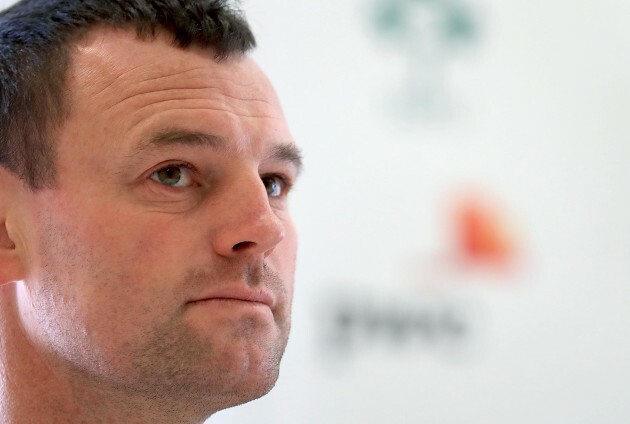 Donall Farmer / INPHO Carolan has been working closely with Nucifora. Donall Farmer / INPHO / INPHO
Connacht man Carolan – who has played a central role in producing the homegrown talent that is driving Pat Lam's senior squad – stresses that Nucifora's work is not about replacing what has gone before.
"The IRFU are just looking to support what is already in place," said Carolan. "It's not about taking over or doing things differently. Currently, it's not broken.
"The Irish system is producing players as it is and this is just to ensure that we've got a more rounded player. Schools and clubs are doing a great job, and it's just to assist what is already in place, and to ensure that there's no stone left unturned in terms of maximising what we have."
Carolan believes that getting to players at an earlier age makes sense, allowing the provinces to instill good habits in terms of strength and conditioning, nutrition, psychology and everything else related to being a professional.
The Ireland U20s coach, however, insists that selecting the best crop of players at 15 or 16 should not mean that the door is closed for those who miss out on being identified as potentially elite at that age.
"I believe you've got to keep the door open for all players," said Carolan. "If you identify what's good early, it mightn't always be talent. It could be some of the personal characteristics.
"The drive, the ambition, and you can resource that with some good coaching. The talented players need to be resourced in some cases with work ethic and put that on it, but, ultimately, every player is an individual project and you just have to apply the appropriate resources to the right person.
"I think it's important that we don't go too narrow too early and we keep the door open. Especially for Irish rugby players and players genetically who start to mature a little bit later.
"We've got to keep the doors open for those guys as well. It's something that we're very hot on."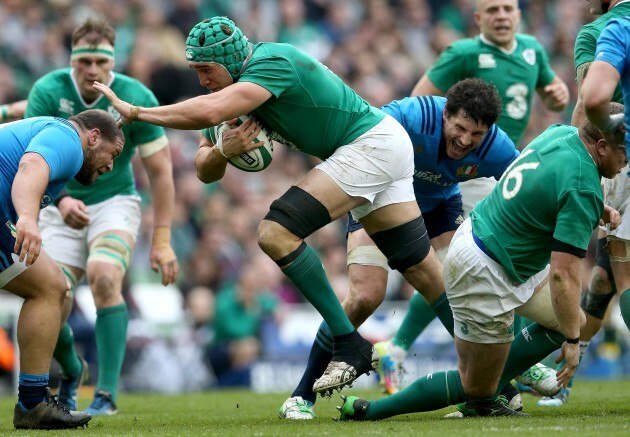 Ryan Byrne / INPHO Dillane was something of a late bloomer. Ryan Byrne / INPHO / INPHO
Indeed, Carolan has seen first hand that players who are not necessarily stars at underage levels can go on to develop into internationals.
"Guys like Ultan Dillane, who was probably seen as a slower burner, guy likes Finlay Bealham. They weren't the stars at U18 or even U20. Ultan didn't even play for the U20s at the time.
"I think as long as we keep the door open for these guys, as long as you can see the potential, it's important that you resource potential rather than resourcing talent. It's really important."
Among Nucifora's other initiatives is the introduction of sevens into non-rugby playing schools, an acceptance that adapting to the complexities of 15-a-side having not grown up in the game can be difficult.
That may well provide more players for Ireland's sevens sides and Nucifora hopes it also results in introducing another swathe of potential professional players to rugby 15s.
Slightly further up the chain the IRFU is setting in motion a move to reduce the All-Ireland League to two top divisions of eight teams, although the union have yet to officially confirm the alterations.
The thinking here is to ensure that Irish club rugby is of as high a quality as possible. It will mean fewer teams playing in the All-Ireland League but it is likely to result in another upturn in the quality and competitiveness.
"It's important that young players play club football," said Nucifora when the topic of the club game was raised.
"I was looking at some of the statistics from this season and we haven't gotten through them fully yet, but our academy players are playing roughly 60% of their rugby in the AIL.
Colm O'Neill / INPHO Leinster academy prospect Joey Carbery starred in the Ulster Bank League this season. Colm O'Neill / INPHO / INPHO
"That's what it's there for and as those players gain experience, they'll probably play a little bit less at that level, but more at the next level and then a bit more at the level after that.
"It's a phase of development they must go through, but the club game has got a massive responsibility to give us an opportunity to play those developing players, in the same way that the British and Irish Cup serves a purpose for the players as well.
"It gives us another level of experience as well that's different from club footie; so does the Pro12 for a number of our young players. It's a matter of combining all of those levels of opportunity of rugby for our players and maximising them."
The42 is on Snapchat! Tap the button below on your phone to add!