IRFU PERFORMANCE DIRECTOR David Nucifora held a briefing at the Aviva Stadium with a number of rugby journalists last week.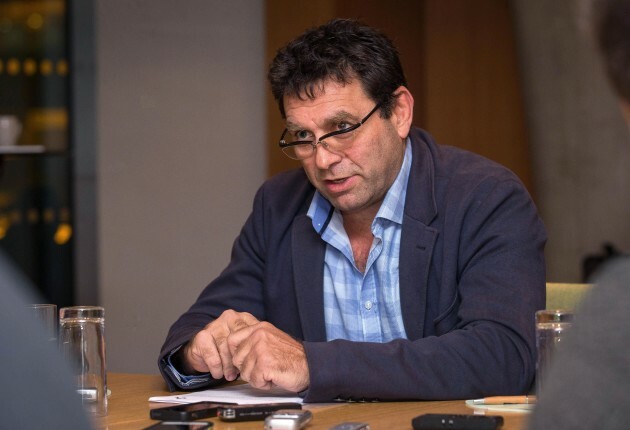 Ryan Byrne / INPHO Ryan Byrne / INPHO / INPHO
Over the course of a fifty-minute meeting, the Australian answered questions about player movement between provinces, non-Irish qualified signings, Ireland's World Cup campaign and contracting players.
While some of the briefing has been featured on The42 already (here, here and here), the full transcript of Nucifora's words lies below. The IRFU chief began by addressing the room, before answering a number of questions.
_________________
"I want to take you through what we've been working on since the Rugby World Cup. I've spent a fair bit of time compiling a review on the World Cup, based on the six-week period of the tournament, based on the lead-up to Rugby World Cup and the period that led into the World Cup.
"I want to take you through the process in how we compiled the report and what was involved in doing that. It was a conglomeration of things: it took into account a number of surveys of players who were at the World Cup, we surveyed the coaching staff, the management team, some key people in the provinces.
"We did a number of interviews with key players, the coaches and also key people within the management staff were individually interviewed and all of that information has been used, gone through and compiled into the report.
"Looking at the World Cup and our aims when we started initially, it was to win our pool. We went into the World Cup in good shape, we performed, we continued to improve our performances through the pool rounds and we came up with a very good performance against a tough French side on the day.
"We managed to top our pool and that was our initial aim, to get ourselves into a position to go deeper into the tournament.
"Obviously, the following week in the quarter-final against Argentina it's an area that people have gone over in their minds, watched the game multiple times and, unfortunately, no matter how many times you watch it, the score stays the same. We didn't get the success that we wanted to and it was a disappointing result on the day.
"We've looked at that game in isolation, the coaches have looked at it and we've looked at the week and what we didn't want to get hung up on – our whole four-year cycle. Yes, the result meant that we were out of the World Cup, but there were broader things that we were interested in that led to a performance, or a lack of performance, and that's where we really started to drill down across all areas over a wider period of time.
"There were a number of things that we looked at across the report in segments that make up the team and how the team functions. There's a lot of things that have been addressed that show were we can get incremental gains in a lot of areas.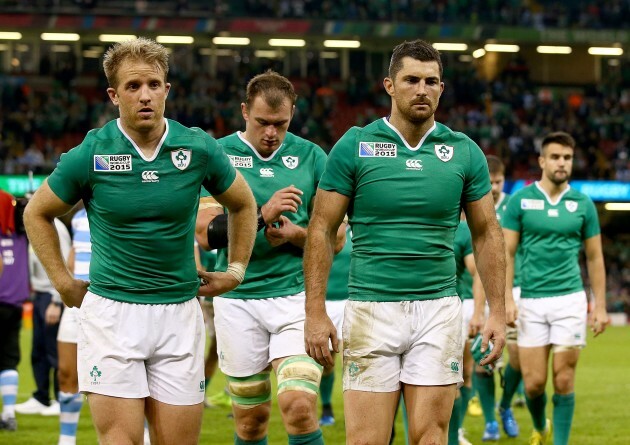 Dan Sheridan / INPHO Dan Sheridan / INPHO / INPHO
"Professional sport is about fine margins and there's a number of things that we've been able to identify and give us the fine margins in an aggregate sense that will help us going forward.
"The week itself, it's been well documented the position we got ourselves in, with suspension with Sean [O'Brien] and the injuries we received over the from the previous game. They're things that are obviously out of your control but some of the things that had been worked on over the previous years had been to build depth in Irish rugby and it still remains a very key factor for us moving forward.
"No matter how hard you try, you can't simulate having Paul O'Connell, Johnny Sexton, Sean O'Brien, Peter O'Mahony all missing on the same day, but we had put a lot of work in and Joe in particular had put a lot of work into blooding new players in the period leading up to World Cup and trying to give them as much experience as possible, but certainly a lack of experience and the absence of our key leaders on the day did have an affect upon us.
"When we look more broadly in the lead-up we've also had to have a look at our systems and strategies and procedures that dictate how Irish rugby works, because the World Cup is just an end product of what you do for a number of years.
"It's obviously a key tournament but you can't just look at it in isolation and this report, I know everyone's got an interest in, but we review all the time, we review constantly, every tournament, every campaign.
"When we look back more deeply into the years leading into this, it made me look back at the 2011 (World Cup) and what happened leading into that.
"I want to read you something out of the [2011] report that was quite interesting:
"To truly produce a crop of world-class players, it is vital to ensure that there are no obstacles in the performance pathway of talent in all positions. The current discussion regarding foreign players in the provincial teams is a crucial issue in this respect, while the concerns for provincial success are understandable, if the priority for Ireland is to continue success in the Rugby World Cup, then maximising the exposure of players is vital.
"There's another piece that reads:
"There are four key comments: To develop the best performance plan and structures, to maintain world class performance in coaching, medical and support services, to have an unimpeded pathway for the development of players and to face up to the challenges of further national and provincial integration.
"So that's some of the key points in there and they actually come out of the 2011 report and to me that was reasonably telling that I'm writing something in 2015 that still has some of the same issues that we were trying to address in 2011.
Dan Sheridan / INPHO Dan Sheridan / INPHO / INPHO
"One of the concerns is that we don't want to be sitting here in 2019 talking about the 2015 and 2011 reports, so we have to make sure that some of the points I've mentioned there are actually addressed going forward.
"A lot of these things that come up through our review were addressed or have started to be addressed by the Plan Ireland document that came up post-2011 World Cup and started to change the landscape in Irish rugby.
"It brought about the agreement of some of those things that had to be done to bring progress in the areas I've spoken about, it was report that brought about my position. In the last 18 months since I've been here, certainly the first 12 months, looking into how Irish rugby systems work and what are the things we need to change and you can see a lot of the things that were addressed in 2011 were still pre-eminent for us in 2015.
"Some of those topics now have to be met head-on if we are to make sure we are getting beyond a quarter-final. I'm not sure, is it five or six quarter-finals now? Whatever it is, it's too many and we need to be going past that number and getting into the real business end of World Cups, but that's not going to happen unless we actively change. If we keep doing what we've always done, we're going to keep getting quarter-finals.
"They're the things we have to make sure don't happen again. There is a strategic plan that's been worked on over the past six months that will start to be activated over the coming months.
"It's a strategic plan that recognises some of the challenges that we've got that are addressed in this review and there are things that I think all of Irish rugby has bought into, that they want changed.
"Plan Ireland was a document done by people in the professional game before I got here. The strategy document that has been written over the last few months is endorsed by the national professional game board that came about as part of Plan Ireland to help us move the game forward here.
"The four [provincial] CEOs sit on that board, the IRFU CEO and some external independent people sit on that as well.
"A lot of the things that we need to now activate and change in how we do our business aren't going to be palatable for everyone all of the time and I suppose we need to be able to work together with everyone in Irish rugby to make some of the changes in these areas to ensure we don't have a situation where we don't have the ability to get the players playing where and when we want them to play.
"I'll give you an example of that, if we use Ian Madigan. The reason why the small issues do make a difference, Ian, in the two years leading into the World Cup played only a handful of games for his province as a starting number 10.
"Ian then goes on to be required to be the starting number 10 in the quarter-final of the World Cup. Is that the perfect preparation? I would say not. There's things like that in our system that aren't perfect and unless we address that type of detail, we're not going to be getting on top of some of the challenges that we're faced with.
Dan Sheridan / INPHO Dan Sheridan / INPHO / INPHO
"It's those sorts of issues that we've got to work together with everyone to ensure we come up with a system that doesn't leave us facing the same hurdles as it currently exists.
"I think it's probably easier from there to open up to questions…"
Q: So how do you change that (Madigan situation) and impress upon a provincial coach that he has to give, say, Madigan X amount of starts per year in a position?
"Ian was in that position with Jimmy Gopperth in town for those two years, and that's not ideal. We've got four teams and I think we've got to keep remembering that, so when you're trying to build depth and give players adequate experience, you've got to use those four teams really wisely.
"If we don't, and the only way we can do that is by working together. I've got to say that's one thing that we have worked hard at and we do do well with the provinces, with regards to who we contract and how we go about reaching decisions.
"Of course you don't always agree on everything, but I think we've got a system that works quite well, where we do have those constant debates about succession planning for the provinces and how that affects the succession planning of the national team.
"It's a matter of having robust, open discussion about situations like that."
Q: Just to be clear, you think there are too many foreign players in Ireland, blocking indigenous players? Will you look to curtail that even more?
"Yeah I think with foreign players, and I'll just get something out straight out – I'm certainly not against foreign players. There definitely is a place for the foreign players in our system because history shows there are a heck of a lot of foreign players who have added a heck of a lot of value to Irish rugby over the years.
"So what we need to do is to make sure we have a system that allows foreign players who can contribute in the areas we require them to contribute in both on and off the field, positionally where they can best fit. So there is definitely a place for the foreign player.
"What we are aiming to do is to put in a number of checks and balances to be able to be very comfortable with a system of due diligence and how we go about choosing who those players should be.
"And we're working closely with the provinces now to produce very detailed succession plans around what they see their best use of their playing resources to be and what they need. We extrapolate that out over a three or four-year period and understand the flow-through of Irish players through that succession plan and that gives us a very clear picture about their thought process and how that matches in with ours.
"So we've developed that over the last number of months with them and that's already given us some very valuable information.
"What we want to avoid is having teams or anyone making ad-hoc decisions in isolation that seem like a good decision at the time, but don't actually fit into their plan or on a broader level fit into a national plan.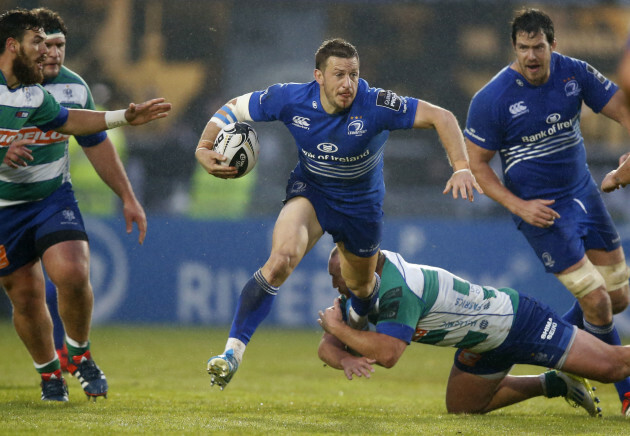 Dan Sheridan / INPHO Dan Sheridan / INPHO / INPHO
"Everything here has to be multiplied by four, when something's been put up by one particular team. If they've got a strong plan, great, but then we've got to look at it on a broader sense of four teams and how that fits.
"Obviously we can't get logjams in any one particular position, we have to make sure it fits across the country."
Q: How does that differ from what has been there before? We've heard this line of thinking before. What has changed?

"I think it's more about that there's a system in place now around how we go about doing it, how we go about actually getting to make sure the provinces are accountable about how they go about business, to make sure that they are very prudent about the way they go about selecting the players they're putting forward, it wouldn't be good business to sign off on each and every player that's put forward.
"There's a link-up not just between good succession planning of talent but there's also the link to the financial responsibility in regard to running a good business.
"We've got some key documents that we're working on with the provinces at the moment that look at the financial planning of each province and also their succession planning, and the two are obviously linked very closely.
"Financial prudence in your succession plan is hugely important, you link it back to talent development of Irish players.
"If I gave you an example of something in recent times, a foreign player put forward in the last couple of months would have cost in excess of €200,000 a year. There's a young Irish player who's been given an opportunity in the last few weeks and a few of you guys have noted how he's done. He's probably earning a 10th of that amount.
"Now why wouldn't we have that player if he's not getting regular opportunity, why wouldn't we be choosing that boy to fill that spot where the proposed foreign player is being put forward to us?
"There is talent, there is opportunity and then there is the quick-fix model, so we have to make sure that the foreigners that are put forward to us actually do the job that is required.
"It can't just be a knee-jerk reaction to say 'Here's a foreigner that some player agent has put in font of us'. It's got to be a plan that is well thought through if someone is going to be given the tick to go ahead and come into the system."
Q: What numbers do you have in mind? Is it going to be four (NIQ players) plus one (project player)?
"At the moment it is four plus one and that is what was decided before I got here. But the four plus one is merely a number. It is a maximum and each player that is put forward has to fit into a business case and if they don't fit into the province's business model and the succession planning of the national side then it is not a good fit.
"So it doesn't have to be four plus one. We have to have quality that gives us value. They are getting more expensive, the market is getting more expensive. The foreign players that we bring in are far more expensive, so we have to be far more discerning about who we bring in.
"At the same time as wanting to keep the key Irish players in the country, we have got to make sure that we use our money widely. We can't just be splurging on foreign players when a lot of that money should or could be reinvested into keeping the best of our Irish players in the country."
Q: So less journeyman ITM Cup players and more high-calibre guys who will help tickets to be sold and markedly improve the provinces?
"For us, we do have to think about provinces and the profile of the player that is brought in. It is about engaging with the fans of the particular teams. They do want to see the best, so if it means that there are fewer of them but they are of higher quality then I think that is a positive thing.
"The four plus one is still there as a number but does it fit the financial model that is sustainable for us to continue to get four foreign players in, when it might be a case of just getting in two really good ones, as opposed to four average ones, and invest the rest of our money into trying to hold on to the best of our Irish boys."
Q: Are you solely responsible for deciding which transfers are allowed for the provinces? For example with Stephen Moore and Munster, who advises your decision on something like that?
"Look, ultimately the buck stops with me, it does. Look, Munster came to us with Stephen and said 'This is what we'd like to put forward'. There's a whole range of things that we think about that go into these decisions.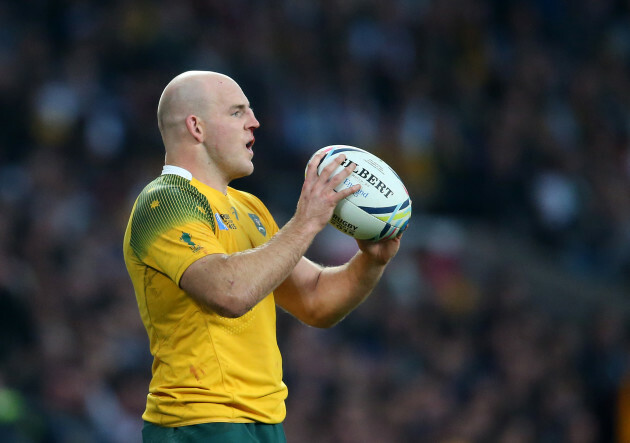 Billy Stickland / INPHO Billy Stickland / INPHO / INPHO
"Having a player that's still eligible to play international rugby that's going to cost a province a lot of money, is that the best use of the funds available at that point in time, where he's going to be missing for a large portion of the season? Probably not.
"It'd be nice to have him but it'd be nice to have him for the whole year. The fact that people have said that we blocked it, it wasn't blocked. I think you'll find that there probably was an offer made to Stephen Moore. It just wasn't accepted."
Q: What will happen with Robbie Henshaw?
"I don't know, hopefully he will be staying in Ireland. We have opened discussions with Robbie and I am hopeful that will be the case. Like most of these things we just have to wait and see how they pan out. I'd be more than confident that Robbie will be playing his rugby in Ireland."
Q: Where in Ireland?
"That's up to Robbie. That is probably something to touch on. I know that sometimes people think that we manipulate the system and tell people where they can play and that's not the case. The players, when they are off contract, it is totally up to them to decide where to play.
"As much as we would like to influence them, we don't have that right. If they choose to play in any one of the four provinces that is up to them. Ultimately, he will make that on a rugby decision."
Q: What sort of message would it send to Connacht if they were to lose their best player to Leinster? 
"Connacht are putting their best forward to be able to put a deal out there to keep Robbie there, and they can't do much more than perform on the field and they're doing a damned good job of that at the moment.
"I'd suggest between last year and this year, they've continued to improve. They've been at the right end of the table for quite a number of weeks and are still up there near the top of the ladder.
"Pat [Lam]'s doing a great job with the group of young blokes he's got out there, and I'm sure when players are making those decisions, Robbie will look at that, and he'll decide whether his future lies best in Connacht or somewhere else."
Q: Do some players need to be more ambitious, and move to avail of a better opportunity?
"Yeah, I think there's a bit of that. I think they have to take responsibility as well. If you're going to be a world-class player, you have to have ambition and drive. If that means packing up the kitbag and moving down the road then that's what it takes.
"There's a lot of guys who do that, but it would be nice to think that more people have got that ambition, and when you see young players doing well, hopefully that whets the appetite of other blokes as well."
Q: Do you direct guys like Madigan and Henshaw to switch provinces?
"We're not going to direct them. Obviously we want to keep them in the country. That's  the main thing for us. If we can do whatever we can do to help those teams keep those players in the country we will, and that's the main thing.
"We'd do a lot of work with the provinces to try and help them maintain and keep players. We don't advertise that, but obviously we do it, because it is a two-way thing. We need to work together to be able to keep guys here.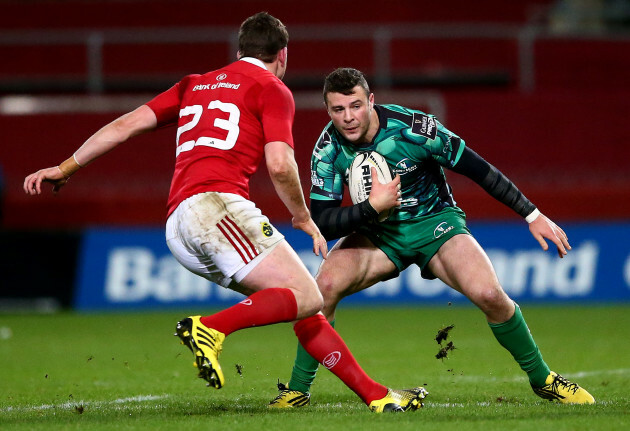 James Crombie / INPHO James Crombie / INPHO / INPHO
"We've got some significant challenges in challenging the cheque books of the UK and French markets, and so we have to play it smart in how we do our business, and that's what we try and do."
Q: Would you at least encourage a player to move provinces if that's seen as the most ideal scenario?
"There are definitely players that we would like to move and take up opportunity in other places, but we can't make that happen. Just like I can't make you go and work down in Cork or overseas, it's the same employment scenario. We can't force them to do things.
"We can encourage them and point out what the opportunities are, but we can't force someone to physically go somewhere they don't want to go. We would hope that by being able to have those conversations, and pointing out what the advantages are to a move, that players would be ambitious enough to take up the opportunity."
Q: How is the relationship with Leinster now? Back in April, yourself and Joe Schmidt challenged Matt O'Connor's views on the player management programme.
"It's good. The communications line between themselves and us has been very good. It's obviously been very busy because they have so many of the national squad, so we are communicating with them non-stop. As far as, you referred back to April.
"From our point of view the World Cup was fantastic in respect of the domestic competitions. It gave a number of players opportunity and you can only applaud Leo [Cullen] for having the courage to give a lot of these younger players an opportunity.
"He probably didn't have much of choice during the World Cup period, because he had so many players missing but that was an opportunity that has already shown and given confidence to the coaches and to the rugby public that there are a lot of good young players coming through.
"In the last month, he has given an opportunity to Josh van der Flier. So again he's prepared to give some of those younger boys an opportunity, which is great."
Q: If you block a transfer how do the provinces react? Surely they argue their case and say 'this is what we need to compete in Europe?'
"If they get a 'no' from us at least they know we've gone through a system and a process of understanding, and why we don't agree with them. There's a lot of times we do agree with them, and things just move ahead.
"On the odd occasion when we don't, that's just the way it is. You've got to accept it and move on, and we try and help solve the problem in another way.
"Again, with succession planning, if it's well thought through, hopefully they will remain competitive in Europe. I think if you look back at the recent crop of games, if I take the example of Leinster, I know there's a lot of talk about Toulon and their playing group, but I was looking at some statistics on that over the last few days.
"If you take the recent crop of games and Leinster v Toulon. I was looking at the statistics over the last few games and Leinster trotted out exactly the same number of capped internationals as Toulon did.
"I think Toulon pipped them by a number of caps out of the 19 or 20 players who are internationals on the starting teams, but if you look then and compare that to, say, the Wasps and Bath games, we had considerably more international players on the field than those teams, considerably more Test caps running around.
"We have a fair bit of firepower at our fingertips in our teams and it's a matter that we utilise it and use it as best we can. I've no doubt that we will continue to be competitive in Europe."
Q: So you feel the provinces are under-performing this season?
"No, I don't think they're under-performing. I mean, they would have liked to have won the (Champions Cup) games in the last few weeks. I mean, let's look at the margins that they're losing these games by; no one's being blown off the park.
"Probably, there's a group of journalists in Toulouse at the moment thinking, 'Shit, what's going on here… we've just been blown away home and away by Ulster'.
"So, there's some good things happening in Irish rugby as well. There's been some good performances in the last few weeks.
Cathal Noonan / INPHO Cathal Noonan / INPHO / INPHO
"We're not happy, the teams are not happy I know, the coaches are not happy with the losses in the last two weeks for Munster and Leinster, but the margins are fine and, again, they're going to be back to the drawing board working on what are the small things that could have been the point of difference to help us win those games, because I think you guys would agree that both the teams could have won those two games with a couple of different scenarios panning out.
Q: Are you not at all concerned about the fall-off in performances from Munster and Leinster, and have you got a plan to help them out?
"The fall-off in form that you're referring to, I'd imagine, is the loss of the last two games for Munster and the games that the guys haven't won here in Leinster. That's a loss of form. I know they're disappointed about it but I think they're fairly pragmatic about what they look at, and they've got to be.
"When you're in professional sport and you're a professional coach, you understand the margins that you're working in are fine margins. If you have a bad trot, then you don't throw everything out the window – that would be the worst thing you could possibly do.
"You've got to re-assess everything that you do and you've got to be able to fine-tune it to work out how you've got to get your team winning again. But we would all be more than confident, the provinces and ourselves, that we've got the players there to be able to still win European competitions. I have no doubt about that."
Q: How will the IRFU help the provinces deal with the strain of 12 Tests in 2016?
"I suppose there's always roughly the same amount of Test matches every year, the competition structure is what it is and they have the playing squads to be able to manage their way through the times when there are clashes.
Exclusive Six
Nations Analysis
Get Murray Kinsella's exclusive analysis of Ireland's Six Nations campaign this spring
Become a Member
"They've got to get themselves through the November period when there's a couple of clashes and obviously the Six Nations that's coming up shortly.
"They happen every year, that is around good planning and having the best squads they could possibly have, it's around making sure that they utilise the talent they've got within Irish rugby; be it through their Academies, through their development programmes, and that's how we replenish the stock."
Q: Is there a fear that more players like Ian Madigan and Simon Zebo will head abroad?
"Obviously we don't want them to leave. The players put themselves at a disadvantage if they leave because you have seen in the past, if you take Johnny Sexton's situation as an example, there are challenges there around getting the players released when we need them to be released for things that aren't in the international window of release.
"So straightway the players that go leave themselves at a disadvantage to the boys that are here in Ireland and are available whenever we need them to do whatever we ask of them. We also lose control over their player welfare when they leave the country.
"That is not ideal because that is hugely important for us. It's one of the big aces that we have in the country, how we manage the players, how we manage their welfare. I have said this before to you that when we come to discussing contracts it's a big part of what the players take into account, how we manage them.
"They know that it is important, so I suppose if the players choose to go… I can't sit here tonight and say players won't go. I do think that there will be players that could potentially leave, particularly with the cycle that we are in at the moment.
"The cycle at the moment where you have just come off the back of a World Cup you are more exposed. They could very well look at it like that and that is a decision that they have to make. This is probably the most contentious time to be able to lock them down, but they are decisions that they make.
"I know that the players value very highly playing for their country and they take all of these things into account and they are not going to leave here without giving it a lot of thought.
"If Ian decided to go and he played 10 every week, we wouldn't ignore him. We don't ignore any of the players that might be overseas. We watch them all very carefully. Does it mean that he is at disadvantage behind the boys playing in Ireland? Yes, it does.
Q: To return to the World Cup review, did you deem the campaign to be a success?
"No it's not where we wanted to be, it's not. We would be kidding ourselves [to say otherwise]. We wanted to go further in the tournament, we want to go at least make a semi-final. We are not happy with that, with the way that it ended up. Does that mean it was a failure?
"No, it doesn't because there is a lot of good things that have come out of Irish rugby in the last number of years. We have had a coach in place in place now for two years who has managed to deliver us two six nations titles with this group of players.
"We won the pool in the World Cup, which was a good achievement. Yes, we lost a quarter final game, that is disappointing. Does that mean it is a failure? No. Are we disappointed? Yes.
Q: What do you expect from the national team in 2016?
"We want to keep building on what we've managed to do. Obviously I think the primary thing for us, and in the eyes of the players and coaching staff, is to defend our Six Nations title.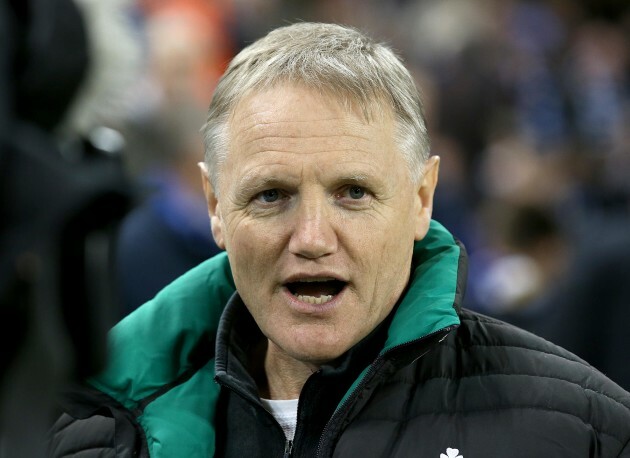 Dan Sheridan / INPHO Dan Sheridan / INPHO / INPHO
"That's the thing that's directly in front of us and that's what they're focused on. I think that's the starting point for us, to go out there and defend that. I think that's probably the most important thing in front of us at this point in time."
Q: The IRFU gave additional funding to the provinces this year – is that a sign of things to come?
"Where we are at the moment, the extra finding will go to investing in the future of the game. It's our responsibility to make sure that Irish rugby is strong, not just in 2019 but in 2023 and beyond.
"We have got to make sure we are putting plans in place that make sure we can remain competitive in the long term. If we keep making short term decisions about spending money on players for the here and now, that is not sustainable.
"We have got to be about making decisions that are sustainable. I think one of the things that happens in any business, you have a risk register that you go through, you look at what are the risks to the business and you address them.
"One of the risks to the business, it's obvious, is that there is more money outside of Irish rugby than we have got. One of the mitigations we have got to go against that risk is to be able to invest in the pathway, invest in talent development and that is one way of fighting the excess financial prowess that exists outside of Ireland. We have got to be able to do that."
Q: Can you go to wealthy Irish people for outside investment, as with Johnny Sexton? Is there outside investment you can bring in to bolster what you're doing?
"There is nothing that is off the table that we are not looking at. We are looking at ways to do what best fits into the system, that best fit into the Irish system. We can't go out and copy necessarily what anyone else does.
"We have got to find a way to be able to bring things into the Irish system that fit for us and work for us. If that includes looking at philanthropy or looking at other types of private investment, sure, nothing is off the table and we will and we are looking at all types of different things to be able to remain competitive.
"As I said, it's about being a smart business and making smart decisions."
Q: What's the main concern in not being more aggressive in seeking private investment into Irish rugby? 
"We have got to do it in a way that fits your business model. Obviously, one of things in Irish rugby is that the players are all centrally contracted and if we can find a way to get outside investment into the team that suits our needs and requirements, then great.
"It might be that it's a case of the high-profile foreign players might be the ones that are funded by that private money and the rest of the money spent on funding Irish players to keep them in the country. You know, it's just another way of maybe doing it. We have got to make sure we use what funds we have got as wisely as we possibly can.
"Again, that is working with the provinces on being very prudent and smart about the way we run our business, making sure we are all making good long term decisions."
Q: What qualifies a player for an international/central contract? 
"There's a number of ways we go about doing the contracting. They're not always obvious to the general public, but you've got to remember that the money that runs Irish rugby all comes out of the one pot. It all comes out of the same pot.
"There are things that we do with contracting that we work together to make sure we get the outcomes that we want."
Q: That doesn't really answer the question…
"I can't tell you how we do our business. I'm not going to sit here and tell you exactly how we do our business."
Q: Who decides which players get international contracts?
"I can't sit here and tell you what type of contract a player has got, it varies with how we go about doing the contracting. It's not something we make public.
"The main thing is, the important thing is, that we keep them in the country. That's the most important thing. How we go about doing that, as I said, we've got to be agile, we've got to be smart about how we're going about doing our business, because at the end of the day that is what's most important to us."
Q: It used to be around 30, now it's around 13?
"Gee, I've only been here a short while but I've looked back and I've never seen 30. I know I looked back to 2011/12 and the number there was around 20. That's the number that gets thrown around occasionally, but we have the same constraints as the provinces do.
"I work within a budget, they work within a budget. I've got a certain amount of money. In 2012, I could have probably bought 20 players. Now I can't buy 20 players, because the cost of the players that we're dealing with are very high-end players.
"Maybe that means there are going to be fewer of them than there were back then. We're still spending a large amount of money between both the provinces and ourselves, but it' just what we can buy for our money."
Q: Can you explain why Paul O'Connell was released from his contract a year early?
"We saved a lot of money, didn't we, because he's injured and he won't play for the rest of the year. We've probably saved some money there in that regard (smiles).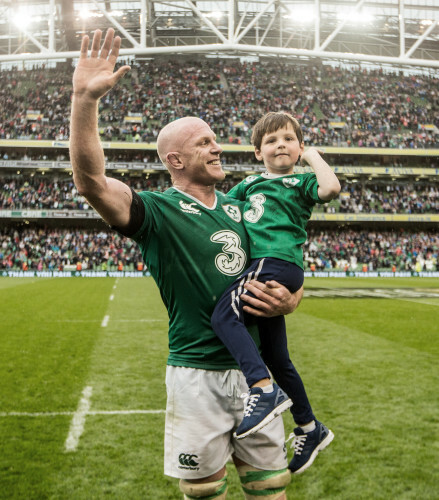 James Crombie / INPHO James Crombie / INPHO / INPHO
"Look, you make every decision individually and Paul's a player that has given huge service to Irish rugby and Munster rugby. It was a decision that Paul wanted to go and experience something different in his career before he retired. I think that the due amount of respect was paid to Paul by both Munster and ourselves.
"All parties agreed that that was the right thing to do at that point in time."
Q: When did you tell Anthony Foley? He didn't seem to know around March/April?
"No, everyone was fully aware of what was going on. All those decisions were made collectively, so it wasn't made independently. It was made by all parties concerned."
Q: What's your view on Irish players breaking contracts? 
"Paul didn't break his contract, he was released from his contract. He was released with the full support and agreement of both Munster and the IRFU."
Q: How important is it that homegrown coaches like Leo Cullen and Anthony Foley are a success?
"We are giving those guys as much support as we possible can and, again, it's got to be a collective effort. Leo is a new coach at this level obviously, Anthony is a bit more experienced, but they're given a lot of support by us and will continue to be given a lot of support by us.
"There are a number of things in place that help support them. They've got the ear of the national coaching staff as well, if they choose to use them in any way, shape or form. That happens on an ongoing basis. There's a lot of banter and talk between the provincial coaching staff and the national coaches, which is healthy.
"We're fully supportive of those guys and we want to see them do well."
Q: Were you immediately supportive of Leo when Leinster wanted to appoint him as head coach?
"Look, we let the provinces make a lot of the decisions. They put things to us, we debate them and discuss it. Once the decisions are made, we support them. I think that's the most important thing and that happens in most areas, whether it's coaches, players, programmes, systems, whatever.
"We discuss everything, we don't always agree, but once we've made a decision we get on with it and we make it work as best it possibly can."