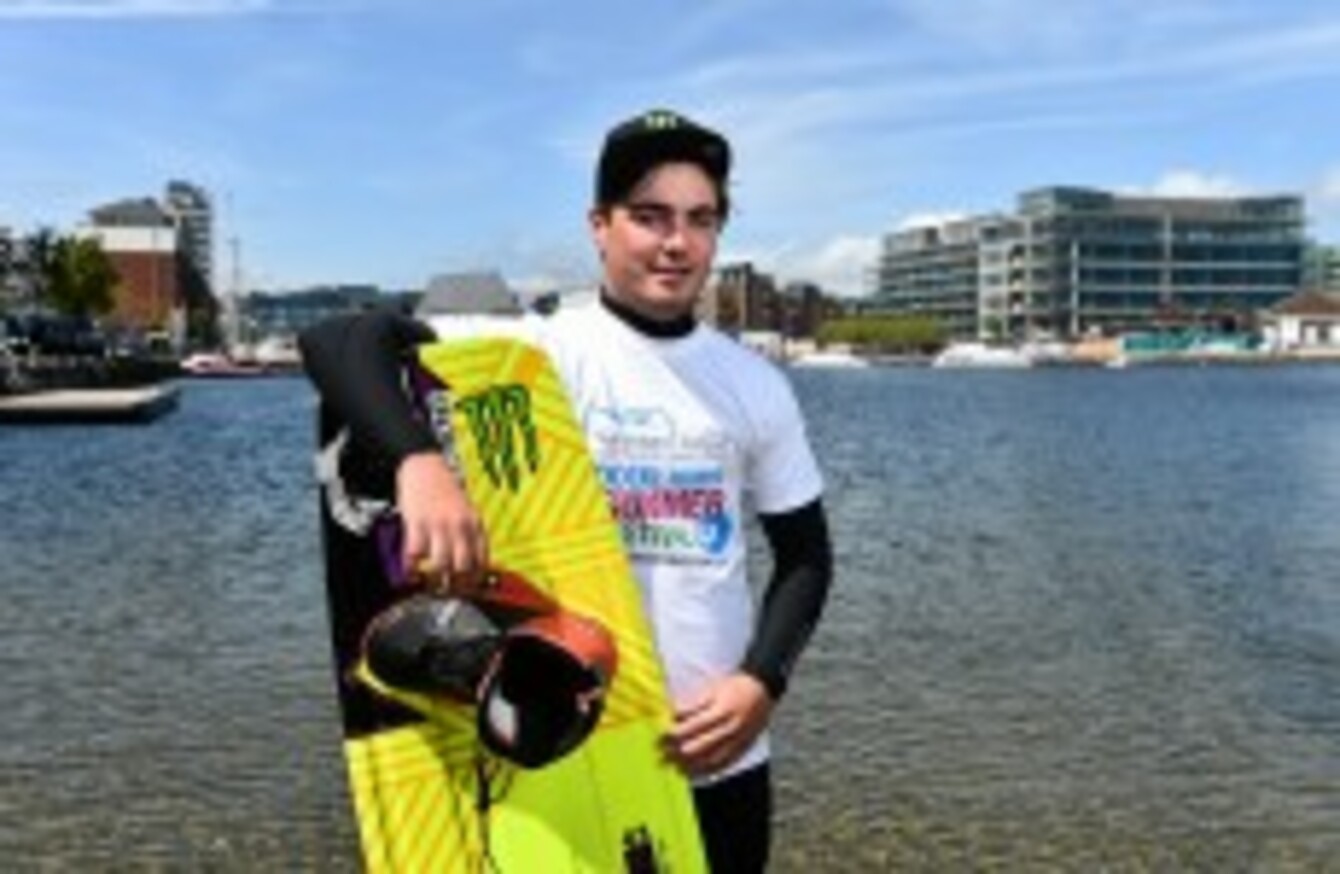 O'Caoimh at Wake Dock in Dublin this week.
Image: SPORTSFILE
O'Caoimh at Wake Dock in Dublin this week.
Image: SPORTSFILE
Updated at 07.45
AS IRELAND'S NUMBER one wakeboarder, David O'Caoimh is a poster boy for the sport in this part of the world.
18 months ago, the 21-year-old made the decision to put college on hold and take up the opportunity to turn professional in a discipline most people will know very little about.
It was bold move to go full-time with something that had been a hobby since he first discovered it as a child during one of his family's regular holidays in Cavan. But O'Caoimh quickly proved that he was more than capable of holding his own among the elite.
He finished sixth at the Wakeboard World Cup in Mandurah, Australia before improving on that by claiming fourth in China later in 2014.
While he admits his debut year was about going along for the ride, the experience gained travelling around the globe to the compete at the top competitions developed the Dubliner into a more rounded athlete going into his second pro season.
"Last year, I just went for it without knowing where it would lead to really but this year, I'm a lot more clued in," O'Caoimh said this week. "The lifestyle of waking up and getting to wakeboard everyday is a dream come true."
Unfortunately, tendinitis in his knee and a shifted knee-cap stunted his progression for a total of four months. He returned to the water just six days before the World Cup back in March but earned a respectable joint-tenth finish despite the lack of practice and last minute preparations.
O'Caoimh believes the injury was actually a "blessing in disguise" as he feels better than ever looking into two months of solid training ahead of major events in the Netherlands, Germany and China all to come this year.
Irish wakeboarding has come on leaps and bounds in recent times and the landscape is unrecognisable from the one O'Caoimh remembers when he began representing his country.
The growth has been insane," he explains. "In 2007, the first ever Irish team was sent away to Doha in Qatar and we were the worst team there. We were so bad and our level was awful.
"I'm getting a lot of the press at the moment but now we have four or five Irish wakeboarders in most of the finals, which is crazy."
He name-checks Cavan native Nicole Carroll as the "next big thing" to look out for in the future. The introduction of cable, using a remote-controlled zip line instead of a boat to pull the wakeboarder, can take considerable credit for the sport's progression on this island and around the globe.
"When I started out, the process was a lot slower," he says. "The cable is so much easier because when you fall you don't have to wait for the boat to come back to you. I can't believe how much people have improved in a short space of time when I come down and watch.
"Before, a lot of the clubs were based around the country on lakes but now we can do it in the city. So the introduction of cable has helped the growth so much."
Governed nationally by the Irish Waterski & Wakeboard Federation (IrishWWF), it is still very much seen as a minority sport in the Irish Sports Council, which awarded just €11,950 in Core Grant Funding for 2015.
Thankfully for David, commercial sponsors have come on board and he can count on the financial backing of major brands like Nissan, Monster, O'Neill and Billabong.
"The federation works hard but there isn't a huge amount of backing from the Sports Council, not to call them out or anything. It's commercially-based so you have to try make yourself appealing from a business point of view to promote them.
"I think the UFC did us a favour as they saw how fast that grew. So they are hoping if they invest in this it could pay off. And I think it will."
So are you going to be their big star in the same way a certain Irish fighter has taken off?
"I'll do my best but I don't have the personality of Conor McGregor!"
He may not possess McGregor's brashness, but O'Caoimh exudes confidence and is undoubtedly ambitious.
"I hope to work my way up the ladder and do as well as I can in the World Cup," he replies, when asked what he believes he can achieve. "Last year I finished fourth, which was a big thing for me. It will be about progressing into the top three places.
Secondly, I don't think wakeboarding will ever be mainstream in Ireland but I want to make it recognised and not have to explain it everywhere I go."
The hope is that his new documentary 'Off The DOC', due for release on Setanta Sports in October, can help with his second aim.
One way of bringing it to the masses would be earning inclusion at the Olympic Games, which is where Des Burke-Kennedy comes in. Chairman of marketing and media with the International Waterski & Wakeboard Federation (IWWF), he will stand in front of the International Olympic Commitee (IOC) and propose that Wakeboarding should be present at Tokyo 2020.
"We're shooting for 2020 and the shortlist will be drawn up between now and September," Burke-Kennedy says. "With the development of cable wakeboard, that is going to give us a chance. We're pushing that really hard and if we got into that, everything changes.
"It's really exciting. If you see a man-made patch of water and you put a two-tower cable system like the one here at Wakedock but twice as long with three or four obstacles on each side, it becomes an arena. We're proposing to the IOC that we run it at night and on the rowing lake so there is no investment needed and it doesn't interfere with the programme.
"The most successful part of the last Winter Games was snowboarding and we see ourselves as the summer version of that."
Originally published at 21.00 on 17 April