IT'S ONLY NATURAL, when charting a young athlete's rise to prominence, to look for a defining juncture that propels their career on an upward curve.
For many, such a watershed moment centres around a breakthrough performance or a peerless achievement.
Yet, for David O'Caoimh, the young Irish wakeboarder, the progression from prodigy to professional has been a journey underpinned by a succession of progressive milestones.
Since first taking to the water on Lough Sillan in County Cavan at the age of five to breaking onto the US circuit in 2014, wakeboarding has always been much more than an avocation for the Dubliner.
Such has been O'Caoimh's undisputed success, both nationally and globally, trying to identify a single juncture or achievement at which his childhood hobby elevated into something much more is not an easy task.
By his own admission, however, a debut win at the 2011 Wakestock festival in Wales was the quantum leap he'd longed for. Not only did the Dubliner announce himself to the wakeboarding fraternity but, at the age of 16 proved he had the capacity to hold his own, and more, against seasoned riders.
Now, at 21, but still in the infancy of his professional career, O'Caoimh is among the global elite of a sport which is enjoying unprecedented growth both on these shores and further afield.
"It's the most amazing thing to be finally able to do something I love, every single day," he told TheScore.ie. "To be able to do my hobby as a career is unbelievable and it's an absolute dream."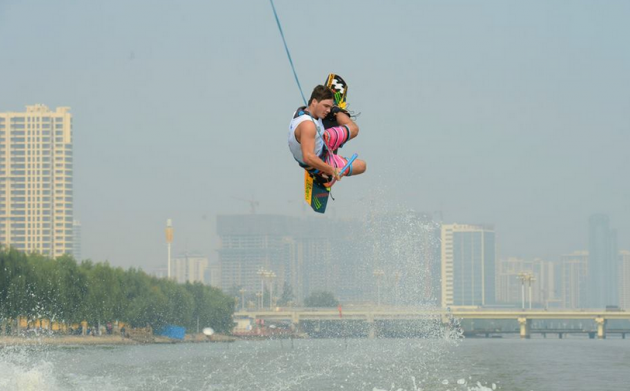 David finished 4th in the World Cup series stopover in China this year
It took a courageous and frankly bold decision to make that dream a reality, though. Having juggled school work with training and competition – both at home and abroad – during his second-level education, something had to give after his Leaving Certificate. There is no middle ground at the highest level.
"I started an Arts degree in UCD but it got to a point where I had to give it a shot or not at all because I was falling behind everyone else. I decided to leave college behind and give full-time wakeboarding a go.
"My parents weren't particularly pleased initially but they came around and over a year later, it's been the best decision I've made."
Last week, the Federation of Irish Sport's annual review showed participation levels had swelled from 3,000 to 8,500 in the last twelve months alone. In fact, wakeboarding is the fastest growing water sport in the world and O'Caoimh is among those riding the wave with considerable success.
From those humble beginnings on family holidays to competing on an exalted stage in America, Australia, Europe and Colombia, the Dubliner's journey has been one of seamless transition, even if his career was put on temporary hold during a brief flirtation with college.
Competitions such as Wakestock, Chill and Ride and the Big Air may not resonate with the average reader but for O'Caoimh, podium finishes at such internationals events have parachuted him to notability.
Luke Lee Photography The Wakeboard Federation are pushing for the sport to be included in the Olympics Luke Lee Photography
Wakeboarding – like many extreme sports – requires a set of skills you're unlikely to acquire impulsively but it was clear from the outset O'Caoimh had a natural propensity on the water.
"My parents used to windsurf and when we bought a mobile home in Cavan, a neighbour moved in beside us with a boat and I learnt how to water-ski. That was my first passion but then I got a go on a wakeboard and that was cooler and since then, I've just been hooked!"
"It didn't come that easily but it's like an sport really, if you keep playing and practising you'll slowly getter better. For me, the first couple of times I did a jump, it just escalates and you keep wanting to get better, improve and outdo yourself."
2014 was the year the Irish Wakeboarding Federation was able to draw on the modern preference for individual sport in a self-orientated age by making it more accessible with the construction of wake parks in Dublin, Cork and Belfast.
Certainly, the sport is going from strength to strength here but as Ireland's climate makes it an unfit location to train, O'Caoimh is based in America for much of the year.
Luke Lee Photography Luke Lee Photography
"I'm in Florida for the first three months of the year because it has the best boats and coaches. From there I go to Australia before the main competitions kick-off during the summer months. This year, I came home for a while because a lot of the events were in Europe before going back to the States."
On the face of it, fleeting visits to some of the world's most attractive destinations may be a quintessential lifestyle but at the same time O'Caoimh is, like the hundreds of other professionals on the circuit, trying to cover his costs and make a living. Suffice to say, it's not cheap.
Fortunately, O'Caoimh's marketability as a pioneer for Irish and European wakeboarding makes him a magnet for sponsors such as Monster Energy, Nissan and Billabong.
"I have some amazing supporters that help me out whether it's paying for projects of flying me around the world to events. Of course, there is also prize money ranging from €1,000 to €15,000 but you're not guaranteed any of that so I'm so lucky to have stable backing," he said.
2014 was the year during which all the pieces fell perfectly into place for the 21-year-old and a cursory glance down O'Caoimh's CV and it's glaringly obvious why his star is continually rising.
However, you can't help but feel that bigger things lie ahead. On Christmas Day, a documentary charting his year will be broadcast on Setanta Sports and while it is a perfect conclusion to a peerless 12 months, O'Caoimh is hoping to use the platform as a springboard for 2015.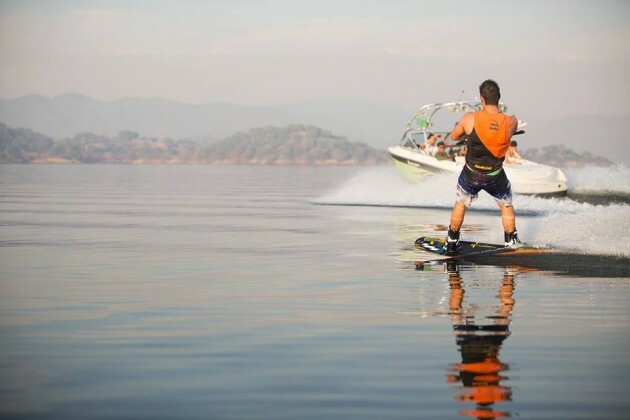 Luke Lee Photography O'Caoimh is hoping to break onto the US Pro Tour Luke Lee Photography
If 2014 was the year he made the breakthrough on the international wakeboarding stage, then next year may just be when David O'Caoimh takes the sport by storm. With three World Cup series events on the horizon (Australia in March, Malaysia in May and Turkey in September), O'Caoimh's sights are firmly set on finishing on the podium for the first time at the show piece meet.
For all wakeboarders, the World Cup is the pinnacle of the sport but that may all be about to change. While the International Olympic Committee overlooked the sport for the 2020 games, O'Caoimh is confident he'll get the opportunity to fulfil another dream in the not too distant future.
"It's something I would love to do," he said of competing in the Olympics.
"I've no doubt if the chance arises in 2024 that I'll work hard to represent Ireland. What athlete doesn't dream of doing that!"
Regardless of what happens in the future, the 21-year-old from south Dublin is already living his dream. If success is measured by the strength of your desire and the size of your dream then David O'Caoimh has already achieved quite a lot.
You get the feeling, however, that he isn't finished just yet. It might be worth taking note of the name because we'll be seeing and hearing a lot more about David O'Caoimh in the years to come.
'Wake to Wake', the story of David O'Caoimh's year, is on Setanta Sports at 6pm on Christmas Day.
Originally published at 10am