A BIZARRE SIGHT in the 18th minute of Ireland's win over the Wallabies last weekend.
David Pocock bursts up in defence, seemingly completely offside, and referee Paul Williams awards Ireland a penalty after initially playing advantage.
From the penalty, Ireland kick up the touchline and are awarded another penalty during the subsequent attack, which Johnny Sexton slots for three points.
We can see Pocock's actions below.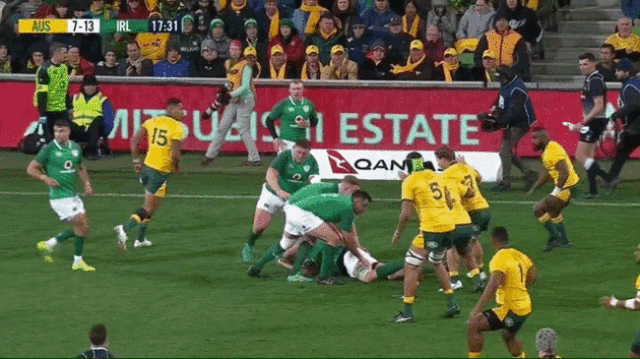 Click here if you cannot view the clip above
On first viewing, it looks like a straightforward lapse from Pocock, who apparently forgets that the laws around previously-existing 'tackle only' tactic have been changed.
Pocock took a 12-month sabbatical from Australian rugby last year but it's worth stressing that during that time he had stints in Japanese rugby either side of a complete six-month break from the professional game.
Pocock has also been playing Super Rugby this year and he is renowned as a devoted student of the game – we can be certain that he knows the laws better than anyone.
That's why it just didn't make sense to see Pocock racing up like that, and it's worth a closer look at what his thinking may have been in this instance.
First, let's remind ourselves of the law in this area – which has changed in the last year or so after incidents like Italy's 'fox' tactic against England and the Chiefs' experimentation in this area.
Part of the global law trials that came into effect in August 2017 in the Northern Hemisphere and January 2018 in the Southern Hemisphere, and now a permanent part of the law book, Law 14.10 tells us this:
"Offside lines are created at a tackle when at least one player is on their feet and over the ball, which is on the ground. Each team's offside line runs parallel to the goal line through the hindmost point of any player in the tackle or on their feet over the ball."
Basically, this negates the need for a ruck to form in order to give us offside lines.
For a ruck, the law book tells us we need "at least one player from each team in contact, on their feet and over the ball which is on the ground," [Law 15.2] and previously a ruck was required to form the offside lines.
Teams like Italy cleverly took advantage of that by refusing to form a ruck and the offside lines did not come into play.
Now, however, the offside lines are created "at a tackle when at least one player is on their feet and over the ball, which is on the ground."
Indeed, that appears to be the case below, just before Pocock advances.
There is "at least one player on their feet and over the ball, which is on the ground" in the shot above.
But we must remember that the same law tells us the offside lines are created "at a tackle".
Has there been a tackle?
Let's rewind and take a look.
Click here if you cannot view the clip above
Ireland receive a restart from Bernard Foley, with Devin Toner lifted by Tadhg Furlong and Niall Scannell to gather it in.
Israel Folau is chasing for the Wallabies and he does make contact in the air with Toner.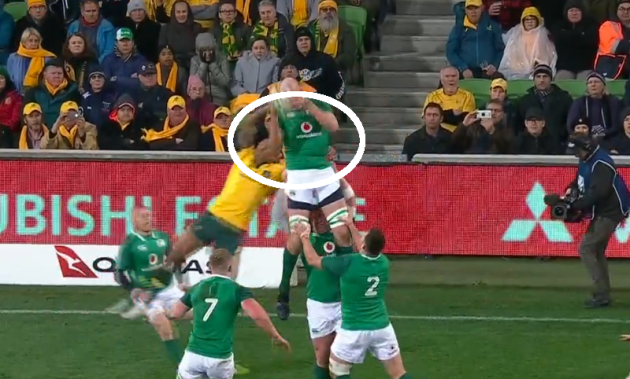 Now, this is arguably the real penalty.
Law 9.17 tells us that "a player must not tackle, charge, pull, push or grasp an opponent whose feet are off the ground."
The contact is slight but Folau possibly fulfills those criteria here, knocking Toner off balance. Importantly, though, the match officials don't believe it's a penalty and they allow play to continue.
It's easy to get bogged down in Folau's contact on Toner here, but let's try to stay on task and find out if Pocock was offside.
Remember, we need "a tackle" in order for the supporting Irish players over the ball on their feet to form the offside lines.
Law 14.1 tells us that "for a tackle to occur, the ball-carrier is held and brought to ground by one or more opponents."
Is that the case here? Does Folau or any other Wallabies player complete a tackle on Toner?
Again, you could argue this either way but the Wallabies don't believe this constitutes a tackle and we can see Michael Hooper standing off.
Hooper has his arms out and, while it's difficult to be certain from the ref mic, seems to be shouting something like "no tackle, no tackle!" or "no ruck, no ruck!"
Either way, Hooper stands off the contact and there is certainly no ruck formed.
Pocock makes the same read as Hooper, viewing this as a 'no tackle' situation and that's why he advances forward.
To be fair, if the referees aren't going to penalise Folau for contact in the air, then Pocock's read of the situation is extremely clever.
As Pocock advances into Conor Murray's passing channel, we can see that referee Williams doesn't react immediately.
It seems that Williams is attempting to make sense of the situation.
Ireland's players respond angrily, screaming "Offside, offside!"
Williams then reacts and says, "No" to Pocock and then a second later lifts his left arm to indicate a penalty advantage to Ireland.
With Murray having opted to pick and carry himself, Pocock turns to move back into the defensive line and says something to Williams that is inaudible on the ref mic, with Williams replying, "Offside."
Ireland kick wide to the right with their advantage but Dane Haylett-Petty claims Sexton's bomb and Williams brings play back for the penalty.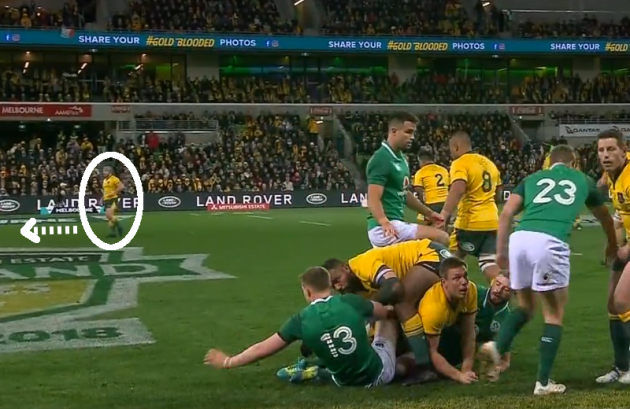 Above, we can see Pocock moving towards Williams for a chat about the penalty.
Exclusive Six
Nations Analysis
Get Murray Kinsella's exclusive analysis of Ireland's Six Nations campaign this spring
Become a Member
Again, we can't hear anything from Pocock on the ref mic but we can hear Williams saying, "What's that? … Yeah … Offside."
Pocock is almost certainly attempting to explain to Williams that he didn't believe there was any tackle and he could not, therefore, be offside but clearly the referee disagrees.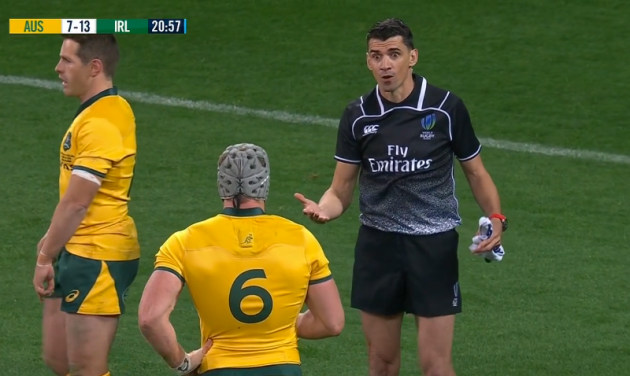 Two minutes later, with the Wallabies about to concede three points after another penalty to Ireland, we see Pocock in a discussion with assistant referees Pascal Gaüzère and Marius van der Westhuizen underneath the posts, above and below.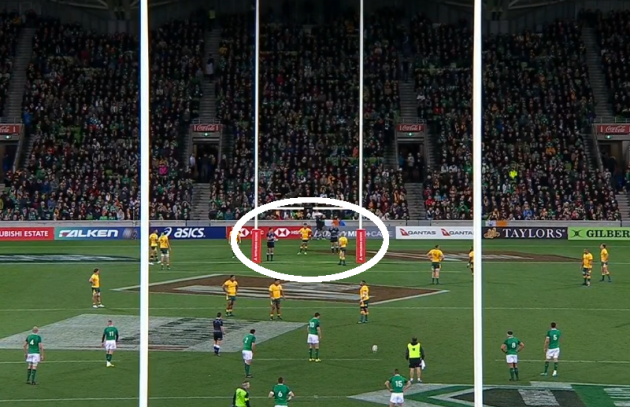 There are no ref mics for the assistants, unfortunately, but it would be intriguing to have listened in to Pocock explaining why his actions were legal and how the match officials responded.
Pocock's actions seemed completely crazy at first but they are instead a sign of his deep rugby intellect.
Yes, perhaps Ireland should have had a penalty anyway for Folau's contact with Toner, but this insight into the clever workings of Pocock's mind even amidst the frantic pace of a Test match is fascinating.
Where we had the 'tackle only' situation before, Pocock has now seemingly brought the 'no tackle' situation into our rugby consciousness.
Will we see him attempt something similar again if the circumstances allow it? Having been penalised in this instance, it is doubtful whether Pocock would risk another costly penalty given how confusing the situation appeared to be for the match officials.
You may well remember Pocock picking off Murray in 2016 in Dublin in a remarkably similar situation – one we examined at the time.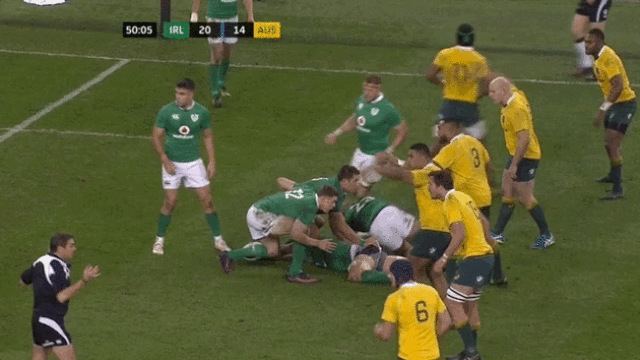 Click here if you cannot view the clip above
The laws were different back then, as we know, and a ruck was required to form the offside lines.
Clearly, there is no ruck formed above.
But it is even more intriguing when we rewind and note that there is no tackle either.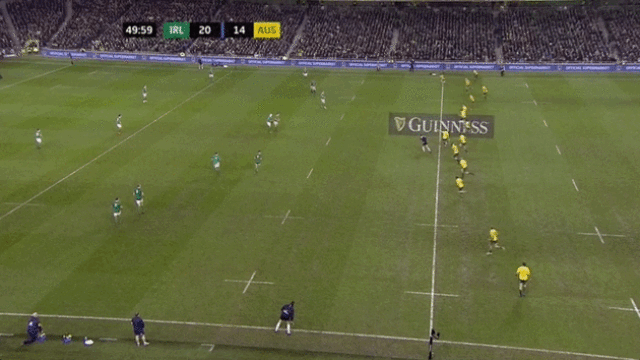 Click here if you cannot view the clip above
Henry Speight gets up in the air in an attempt to claim Foley's restart but there is nothing that constitutes a tackle here.
So, even under the new laws that tell us the "offside lines are created at a tackle," Pocock would have been completely within his rights back in 2016.
Pocock was outsmarting the laws even before they were altered.
The moral of the story: never doubt David Pocock's rugby intelligence.
The42 is on Instagram! Tap the button below on your phone to follow us!