1. Tyrone and Dublin's strike runners
Galway's three-point win over Kerry was the weekend's stand-out result, while Tyrone's 18-point win over Roscommon was equally eye-catching.
The Red Hands are known as a defensive outfit but their counter-attacking game is devastating. The evidence suggests their forward play is getting even better. The 4-24 they put up in Croke Park on Saturday brings Tyrone's total across six games this summer to 13-106.
They're the highest scorers in this year's championship by some distance, although Dublin's 9-90 was achieved across just four games while Kerry managed 4-60 in three matches.
Across the last two seasons, only Dublin have scored more than Tyrone, but the facile challenge in Leinster must be taken into account.
Highest-scoring teams in All-Ireland SFC since 2017
Dublin: 19-214 (271) 10 games
Tyrone: 19-194 (251) 11 games
Kerry: 9-150 (177) 8 games
Tyrone's counter-attacking style is much different to Dublin's possession-based game, but there are some similarities when they attack. Most counties Dublin come up against will drop plenty of bodies back, while Tyrone's deep-lying system means they are often outnumbered when they go forward.
Both sides avail of strike-runners who cut inside from the flank and break the line at pace. It's an effective way of scything through a packed defence and a great way of creating goal-scoring opportunities.
Both of Niall Scully's goals against Donegal on Saturday night arrived after he held his width before cutting inside at pace.
In the first instance, the wing-forward stayed hugged to the touchline. When James McCarthy kicked the ball inside to Ciaran Kilkenny, Scully made an angled run to support the Castleknock man.
Kilkenny fed the ball to Scully and he might even have slipped in McCarthy who had continued his run.
Paul Mannion took his defender away from the goals and left space in front of Shaun Patton's goal, while Dean Rock held back, again leaving space for Scully and McCarthy to run into.
Scully took it past three defenders and finished low past Shaun Patton in a textbook move.
For his second goal shortly after half-time, Scully once again held his width as Jonny Cooper attacked down the middle.
His marker was ball-watching and got sucked into the play as Cooper recycled it out to Brian Howard. The ball eventually made its way back into Scully who was left unmarked on the edge of the Donegal square.
A player of his calibre doesn't miss from there.
For Tyrone's opening goal against Roscommon, once again the wide man changed the point of attack.
Instead of running with it himself, Connor McAliskey's instant catch-and-pass fed the direct run of Cathal McShane. (McShane took a similar line to McCarthy in Scully's first goal).
Sludden continued his run around the back of the Rossies rearguard and McShane smartly picks him out with a handpass inside.
Sludden stroked the ball past Colm Lavin to round off a move that demonstrated Tyrone's understanding of how to rotate a defence and expose corridors.
Keep an eye out for those angled runs from the wings when Dublin and Tyrone clash in Omagh this weekend.
*****
2. Do Roscommon need to adopt a more defensive approach?
Kevin McStay made some interesting comments on Saturday night in his post-game press conference. The Roscommon boss wondered aloud if his side need to adopt a more defensive approach to avoid the sort of heavy defeats they suffered in the Super 8s opener.
"That's a debate we're going to have to have going into the early part of winter," said McStay after the 4-24 to 2-12 loss.
"Because that's the way we play, but it's easy to play against. That's the way we play, but it's easy to play against. (Defensive football) is a type of football that I'm not sure the Roscommon supporters would go and watch, if we changed our style dramatically and if we started looked at a Galway model, or something like that.
"I don't know whether our supporters would want that, or whether our players would want that type of a game. Now going into the next level, that elite level, it's going to take some big strategic decisions in style and personnel, etc, etc.
"It's not a style I particularly like but you have to be a realist as well. I have to give my teams the best chance of winning the games."
The Rossies found themselves caught upfield on numerous occasions with oceans of space for the Tyrone runners to break into.
When they don't have possession, Roscommon usually try to drop Niall Kilroy from centre-forward into a sweeping role and they leave three or four forwards up front. They try to play a positive brand of football heavy on kick-passing and it's brought them a Division 2 title and Connacht crown since the former St Brigid's manager took charge.
Returning to Division 1 in 2019, Roscommon are at a level now where they're trying to make the significant leap up to the top tier. Monaghan and Galway have adopted more pragmatic approaches in recent seasons where they drop bodies behind the ball and look to counter at pace.
Their styles of play may not be easy on the eye, but they've been proven to be effective. Armagh adopt a similar style of play to Roscommon. When the sides met in Round 4 of the qualifiers, both teams went at it and they produced 50 scores between them in one of the games of the season.
McStay continued: "We got lucky last weekend that Armagh said, 'Right, let's have a game here'. And we both had a shot at it. But the majority of teams won't engage in that."
But Armagh were similarly blitzed by Harte's side in the All-Ireland quarter-final last year, suffering a humiliating 3-17 to 0-8 reversal. It's unfortunate given Roscommon play an exciting brand of football, but unless Congress brings in a rule change to encourage attacking play they might be forced to become more defensive in order to continue progressing.
*****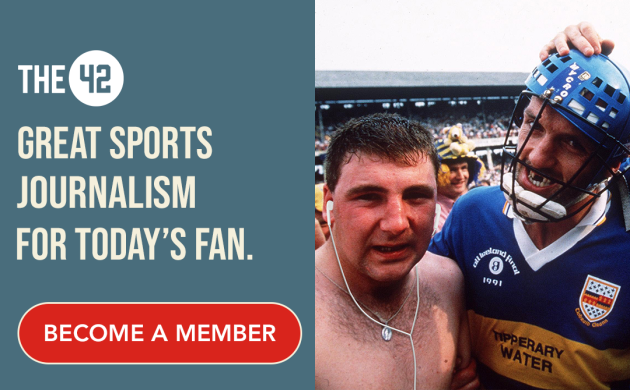 3. Davy Fitzgerald's future in Wexford
After two years in charge of Wexford, there has been some speculation that Davy Fitzgerald might walk away following their latest championship exit.
The 400km five-hour roundtrip he embarks on multiple times a week from Sixmilebridge to the south east is a significant commitment. The Clare man took some time out after their interests in the championship was ended by Waterford last summer, only confirming he'd be remaining in charge in early September.
Wexford have made significant strides during the two years of his reign, achieving promotion from Division 1B at the expense of Galway and Limerick in the spring of 2017.
Later that summer they achieved a first championship victory over Kilkenny since the glory days of 2004 and took a huge crowd to the Leinster final where they narrowly went down to eventual All-Ireland champions Galway.
They consolidated their status in Division 1A this year and enjoyed wins over Waterford, Cork and Galway, but suffered a confidence-sapping league semi-final defeat to Kilkenny in front of a packed Wexford Park when they coughed up a nine-point lead in the second-half.
The Model's 2018 championship campaign never quite took flight and they lost to Galway and Kilkenny to finish third in the Leinster round robin, before falling to Fitzgerald's native Clare in the All-Ireland quarter-final on Saturday.
Fitzgerald-managed teams generally receive a bounce effect in his first year in charge and it remains to be seen if he fancies another crack at it in 2019 after the disappointing end to their season.
Sunday Game pundit Jackie Tyrrell said Wexford have 'stagnated' this year and the sweeper system has become 'dated'.
"I think maybe they've trained a bit too hard earlier in the year, and went for that league," he said. "When they didn't win it and Kilkenny beat them down there, I don't think they've fully recovered and come back rejuvenated like other teams."
If Fitzgerald does decide to give it another year, he may consider taking a more refined approach to the league and try to peak in the summer. But as Derek McGrath and Waterford discovered this year, that's not guaranteed to work either.
*****
Stat of the week
Kerry's defeat to Galway last Sunday means they're now winless on their last four visits to Croke Park. Eamonn Fitzmaurice's side fell by 2-17 to 0-11 to Dublin in their league meeting in March. In August 2017 they drew with Mayo in the All-Ireland semi-final and lost the replay. Kerry's last win at headquarters came in the All-Ireland quarter-final against Galway in July 2017.
*****
Quote of the week
"I said beforehand that it had nothing to do with it. We don't have any excuses, we don't want excuses. There are no excuses. Not even remotely thinking about the fact that we played three weeks in a row, it beats not playing. No, nothing to do with it at all."
-Cats boss Brian Cody when asked if playing for the third time in 14 days had a negative impact on Kilkenny in their All-Ireland quarter-final defeat to Limerick.
*****
The42 is on Instagram! Tap the button below on your phone to follow us!