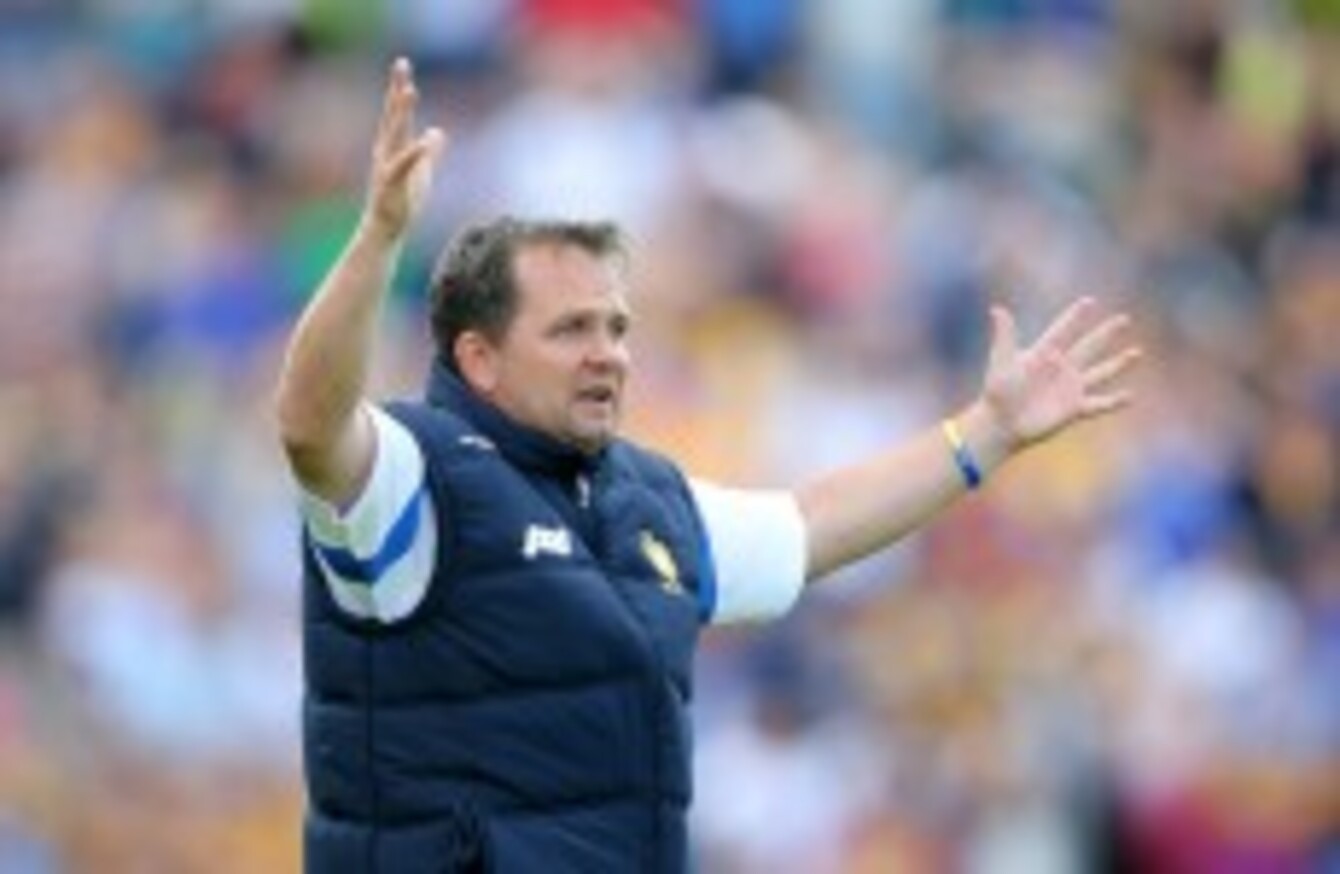 Davy Fitzgerald confronted Peter O'Connell about his writing according to the Clare journalist.
Image: Cathal Noonan/INPHO
Davy Fitzgerald confronted Peter O'Connell about his writing according to the Clare journalist.
Image: Cathal Noonan/INPHO
THE JOURNALIST CONFRONTED by Clare manager Davy Fitzgerald in the tunnel following his side's dramatic draw with Wexford on Saturday evening has spoken out about the incident.
Peter O'Connell of the Clare Champion described how he heard "shouting and roaring" in the tunnel area but didn't realise it was directed at him until the All-Ireland winning boss was standing in front of him.
"It was quite a mundane start to the whole episode." O'Connell told RTÉ's Second Captains Championship radio show on Sunday. 

"I was down around the tunnel area looking for a colleague just to make sure we hadn't interviewed the same people when, in the distance initially, I heard this fairly loud shouting and roaring and for a couple of seconds didn't realise it was directed at myself.
"Then I looked up and there was Davy Fitzgerald approaching in a fairly heated manner.
"Now, he was being held back by somebody – I don't know who it was because it just all happened so fast – and he was looking quite agitated to put it mildly and pointing and gesticulating and stuff and he had quite a bit to say, much of which I can't repeat.
"One of the comments he made which I thought was rather extraordinary was that I was allegedly destroying Clare hurling, which I thought was quite a feat for one person."
O'Connell, who writes primarily about the other code for the newspaper, suggested the incident might be linked to an article he'd written in the wake of Clare's five-point loss to Cork in the Munster SHC semi-final.
"I presume it's linked to stuff I've written for the Clare Champion but, ironically, I cover mostly football and news for the paper.

"I've written one hurling article this year and that was in the aftermath of the Cork game and I presume it's linked to that."
The journalist admitted he was initially bemused by the incident but decided to confront Fitzgerald and defend himself.
"For the first few seconds I was completely stunned. I wouldn't be often speechless but I was there for a few seconds. Eventually, I said to to Davy – I didn't get irate or anything – but I did say that he was wrong in what he was saying.
"He was being pulled further back – the closest he got was five or six yards – and then I decided I was going to approach him in a peaceful manner and have it out with him verbally and ask what was the issue.
However, the situation dissipated soon afterwards with the intervention of a Clare official.
"When I went forward a few yards this figure in a big purple jumper appeared which happened to be the county secretary – [Davy's] father Pat Fitzgerald – and he indicated I should leave the area."
TheScore.ie made numerous attempts to contact a spokeperson for Clare this evening. However, our calls were unreturned at time of publication.