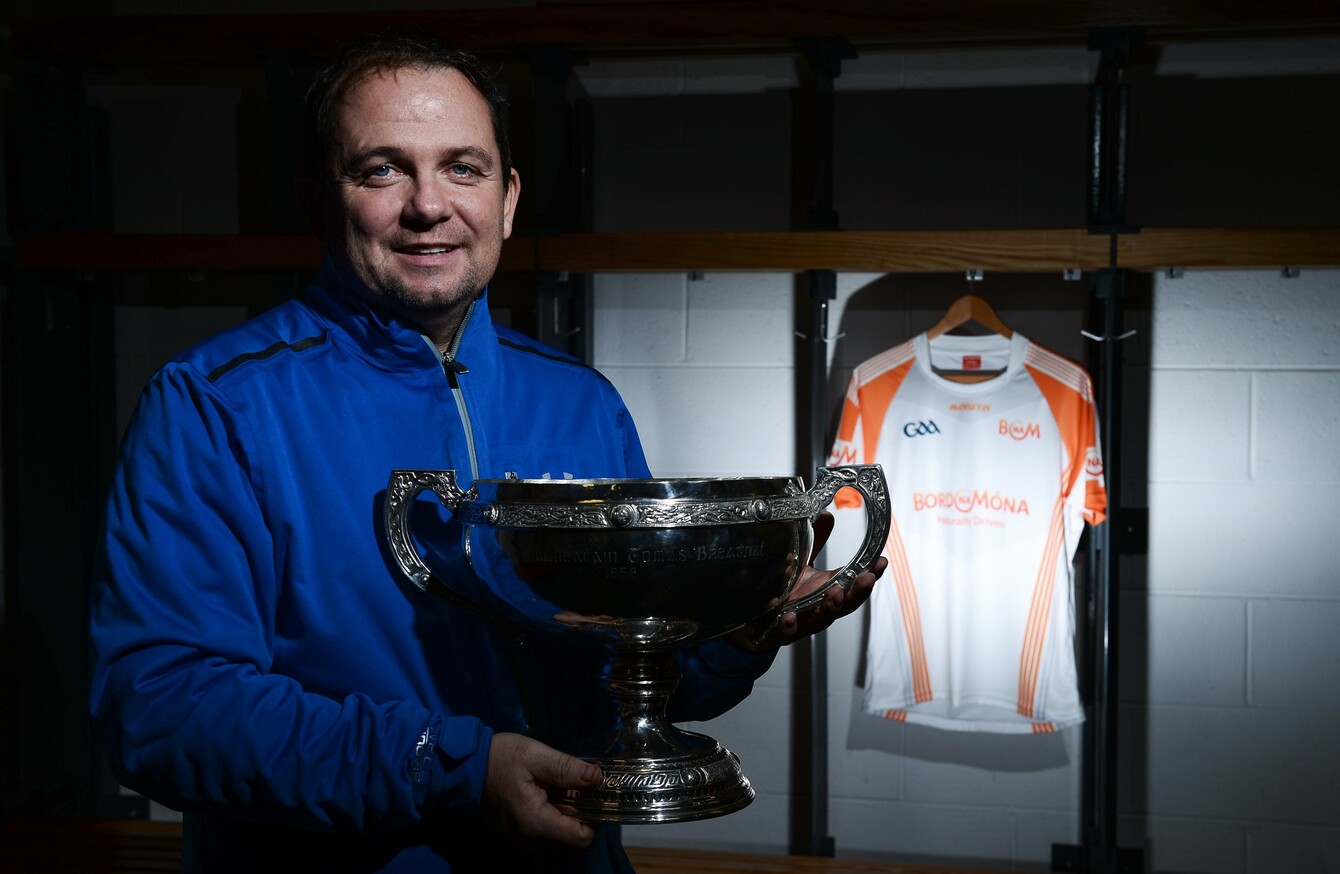 Davy Fitzgerald poses with the Walsh Cup.
Image: Sam Barnes/SPORTSFILE
Davy Fitzgerald poses with the Walsh Cup.
Image: Sam Barnes/SPORTSFILE
SLOWING DOWN DOESN'T come naturally to Davy Fitzgerald. The brakes haven't worked for quite a while.
As a player, as a manager, everything has been at full throttle. He doesn't have time for second gear.
Cast yourself back to his era-defining penalty against Limerick in the 1995 Munster final.
As Fitzgerald buried the sliotar below the crossbar, edging Clare towards their first provincial crown in 63 years, composure was nigh on impossible as his proud Banner blood pumped through his veins.
He turned away from the rippling net and leaped for joy. On his descent, his elation was sharply dismissed as he spotted the gaping goal at the other end he needed to tend to.
Pure bliss, a mid-air reality check and a brief moment of assessment. Then came the mad dash towards the next challenge.
Source: CR's Video Vaults/YouTube
Twenty-one years have passed but Fitzgerald's love for the game remains inspiring in its purity, his waves of emotion as passionate as they are fleeting, and the arrival of reality checks as sudden as they are important.
One can only speculate about the intensity of his internal battles but considering his fierce competitive nature, it's probably safe to assume they're on a par with his external ones; hemming and hawing between rationale and desire.
When Wexford first came knocking, while the door was still swinging from his Clare departure, Fitzgerald politely turned them away.
His summer heart scare was a factor, no doubt. It had also been a roller-coaster five seasons in charge of the Banner. Full of pride and plenty of the gritty stuff. A break would do him no harm, he thought. And he stuck to his guns, initially.
But soon that irrepressible love for an uphill challenge, an opportunity to upset the status quo, began to shift his feet from his firm stance.
A couple of meetings with Wexford officials later and Fitzgerald was ready to complete his U-turn, it was an opportunity he felt he couldn't pass up.
"When Diarmuid [Devereux] came to me, the chairman of Wexford, I turned him down," Fitzgerald recalled at the launch of the Bord na Móna Walsh Cup in Croke Park yesterday.
"I said: 'I don't think I can do this.'
"Now, when I got talking to him and I started to get enthusiastic. I saw where he felt Wexford were … they had players, they had talent, but needed just a different direction or something. And they were so passionate about it.
"It just made me think twice. It made me think that it would be great if another team could join the top ranks."
His health remains a primary concern; Fitzgerald explains he is trying to shift some weight and improve his diet.
The hereditary heart condition that hospitalised him in July before the Galway game, and also in 2009, is still lurking in the background.
He will do what he can to stay healthy but that doesn't involve stepping away from management. Hurling is a stress relief, not a burden, he insists.
"It took me a while to make up my mind [on Wexford]. And a lot of the reason would have been I'm not 100% happy with that," Fitzgerald says as he points to his chest.
"The most important thing in life is life and the health you have. There's times where we don't value that enough.
"And in the last few months, even in the darker times of the last month or two, it's been coming into my head.
SEE SPORT
DIFFERENTLY
Get closer to the stories that matter with exclusive analysis, insight and debate in The42 Membership.
Become a Member
"OK, 'what exactly happened you?' You got a blockage and you don't want to get another one of them again because that could be fatal.
"I'm the kind of guy who likes to f**king … I like to live and do stuff, so it is. I've thought about it.
"Obviously I'm not happy with my weight. [I'm] trying to get a bit of weight off to help ease a bit of pressure in general, change my diet a bit."
The Wexford role certainly whets Fitzgerald's appetite. It's almost comfortable in its familiarity —  a proud coastal hurling county desperate to claw its way back to the top of the tree.
A place where passion and fight is celebrated; a shared belief that deficiencies in skill can be overcome with desire.
It might be a long trek across the breadth of the country, a six-hour round trip he'll be doing three times a week, but Wexford is cut from the same cloth as Clare when it comes to hurling, and that is something that sings loudly in Fitzgerald's mind.
"I saw it [the job as] similar to Clare," Fitzgerald says.
"I'd be very funny, I'd be a GAA person that loves to see a team do something that hasn't done it in a while.
"If you look at most of my CV, back with the club teams I worked with or any of them. A lot of the teams I've won with have done it out of no place.
"The joy that you get from seeing that, from seeing a team doing something that they're not meant to do — that kind of buzz is always there with you in saying 'can I make a difference?'
"That was it. I saw them as very much the same as Clare and I'd love to see them back competing for big-time honours, they haven't been for a while.
"They're a mad, fanatical GAA people down there."
It's been so far, so good for Fitzgerald. He's met the panel, including Jack Guiney, and he's been impressed with what he's seen.
A recent challenge with Dublin pointed out a number of obvious areas for improvement. But Fitzgerald, who also revealed he has a book in the pipeline, has already outlined to the players the mammoth task that lies ahead.
"I want to go in and hopefully do my best for them. They're an absolutely lovely bunch to work with.
"Have they work to do? They have. Liam [Dunne] did a good job with them but they need to go to another level.
"Mentally, they need to go to another level. Hurling wise, they need to go to another level.
"So, hopefully, I'll be able to help them with that.
"I think they just want to be involved in big days and I'd love to bring them to one or two."
The42 is on Instagram! Tap the button below on your phone to follow us!