THE ODDS ARE stacked against them but Doncaster Knights, guided by Irish halfbacks Declan Cusack and Michael Heaney, go to Bristol on Wednesday [KO 7.45pm, Sky Sports 1] looking to secure a place in next season's Premiership.
The Knights find themselves 28-13 down after last Wednesday's home first leg of the Championship final and the expectation is that Bristol, heavy promotion favourites all season, will be able to seal the deal at Ashton Gate.
If Doncaster are to pull off the surprise they believe they can, ex-Munster out-half Cusack and former Ulster scrum-half Heaney will be pivotal.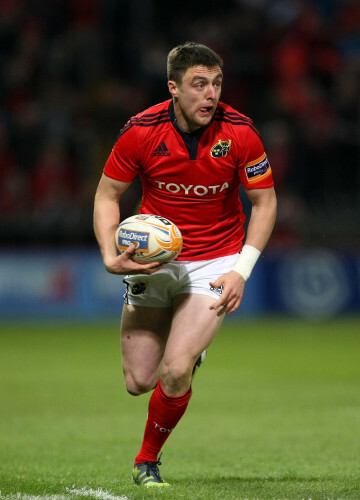 Cathal Noonan / INPHO Cusack spent three seasons with Munster. Cathal Noonan / INPHO / INPHO
The Irishmen have been superb in leading the South Yorkshire club to their best-ever season with a second-placed finish in the league table. That Doncaster were down in National League 1 as recently as 2014 underlines their achievement.
28-year-old Cusack, who had three seasons with Munster from 2009 until 2012, has enjoyed the bond he has been able to create with Heaney since joining Doncaster last summer from fellow Championship side Plymouth.
The Ulsterman was named in the Championship Dream XV of the season and Cusack was very unlucky not to join him.
"We've got a good partnership and it helps that we have been coached in similar ways back home," says Cusack. "We would see the game a little bit the same.
We have a good understanding of each others' games. I know where he likes to kick the ball, he knows where I want to kick the ball from and things like that. We've worked well and it helped that we've found fitness at the same time.
"We were injured at the start of the year but coming up to Christmas we found that fitness and we've been playing together from then on; that consistency has helped massively."
Another ex-Ulster player, David McIlwaine, is on the books at Doncaster and Cusack has also been playing against a number of other Irishmen in the Championship. Indeed, former Leinster prop Jack O'Connell is part of the Bristol team he must overcome on Wednesday.
Having spent two seasons with Plymouth, Cusack is now in his third year in England's second-tier league.
The Limerick man came through St. Nessan's Community College, while also playing his club rugby with Thomond RFC before a move to Garryowen in order to play higher up the divisions of the All-Ireland League. Thomond very much remains his club.
An intelligent playmaker with an excellent kicking game, Cusack played for Munster through the age grades and secured a senior training contract in 2009, before advancing onto professional terms and making his first-team debut in 2010 against Connacht.
James Crombie Cusack's place-kicking has been important to Doncaster in recent times. James Crombie
With the legendary Ronan O'Gara and Paul Warwick in front of him, before Ian Keatley also joined in 2011, opportunities were few and far between for Cusack under head coach Tony McGahan.
He made a total of five appearances for Munster, including three Pro12 starts, but loved playing for his home province and learned huge amounts from being in what was a high-performance environment.
"Obviously, I wish I had more opportunities but looking back it was an unbelievable experience. I learned a hell of a lot in those three years that I was involved, but I needed to play.
"You can only train for so long and learn stuff on the training field. You need to get onto the pitch and put yourself in the deep end. Unfortunately, I didn't get that chance at Munster but you get coaches who don't pick you. I didn't get picked and I had to go somewhere else.
"To be honest, I still use a lot of the stuff I learned in Munster now in everyday training and in games. You don't go into a set-up that has players of the calibre of O'Connell and O'Gara in it and not learn. You try to take in as much as you possibly can.
"It's the habits that you see from those boys, the way they carry themselves, the application of the skill they have, how they go about their work. You learn massive things rugby-wise, but it's really the little things like how they carry themselves off the field."
Naturally enough, O'Gara was of particular interest to Cusack. The 128-times capped Ireland international sometimes had the reputation for being stand-offish with rivals to his 10 shirt but Cusack still gleaned knowledge from him.
"He's an out-half," says Cusack, "Every out-half, like I'd find myself that I can be a bit hard to work with at times because you have to be that guy. At the end of the day, you're the guy that has to go out there and tell 14 other guys what you want to do.
"Just from watching him, being in the same environment, you pick up on things. He doesn't have to tell you things or be your mentor or coach you, you just see what he does and the effect he has on the team, how he goes about speaking to team-mates."
Cusack remains close to childhood friend Keith Earls and a number of his old team-mates at Munster, including Conor Murray.
"I chat to the boys any time I get back home, play a bit of golf with Keith and Conor, people like that.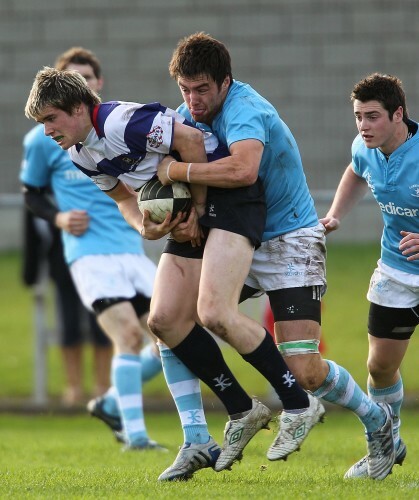 Lorraine O'Sullivan / INPHO Cusack tackles AJ MacGinty, now Connacht's out-half, in an AIL match in 2010. Lorraine O'Sullivan / INPHO / INPHO
"They're friends I'll have for life and it's good to go back and take my mind off rugby over here the odd time. It probably works the same for them, we can have a bit of a laugh and swing a few golf clubs."
With his time at Munster coming to an end in 2012, Cusack was facing the prospect of returning to the AIL full-time, before an offer came out of the blue and from a totally unexpected place.
Gernika Rugby Taldea in Guernica, a town in the Basque region of Spain, wanted Cusack to lead their assault on the Spanish championship and the Limerick man jumped at a unique opportunity.
"I had a chat with my father, and he said, 'Look, it's an experience. 20 years down the line, if you don't take it, you might look back and say you should have gone.'
"I went for that experience to be honest, and within two or three days of agreeing to go, I found out they were in the Challenge Cup, which was an added bonus."
Though Cusack initially found the language barrier a difficulty, he soon came to appreciate life in a new culture.
"It was very different to your typical Spanish city or town," says the out-half. "They love their sport and it's similar to Ireland in that way. It was like the GAA spirit when we played games; every Sunday afternoon the whole town would come to watch us after Sunday lunch.
"They'd all meet in the bar then afterwards and it was very much a community spirit. You've got places like San Sebastien and Bilbao nearby, so I got to see quite a bit of the area. I'm really happy that I did take the opportunity."
The Challenge Cup campaign also offered Cusack his first taste of European rugby as Gernika came up against Worcester, Perpignan and Rovigo in their pool.
The English club handed them two heavy beatings, but there were back-to-back victories against the Italians. While Perpignan also did the double over Gernika, those games allowed Cusack to come against former Munster teammate Lifeimi Mafi.
"No, thankfully not," says Cusack with a laugh when asked if he was on the end of one of Mafi's trademark hits. "I knew better than to run into him!"
In 2013, Plymouth offered Cusack the chance to move closer to home and he shifted his life to the south coast of England.
That first season, Cusack helped Albion to a respectable eighth-placed finish but his second full year with the club ended up in nightmare territory as Plymouth's financial situation deteriorated rapidly.
The threat of administration – eventually a reality – hung over the coaching staff and players for much of the second half of the season and the club was eventually relegated.
"I learned a lot about myself in Plymouth," says Cusack. "The first year, it looked like we had put some good building blocks in place and we were on the right road, but then you had 18 or 19 players leaving in the off-season.
"You'd hear rumours around the club about what was happening and then around New Year's Eve, or the 2nd or 3rd of January maybe, we got told the club could be going into administration. We hadn't won a game for a while, I'd been injured, we were in a rut.
"We got told we could be going into administration. It was tough times but I genuinely think if other teams were in that situation, they wouldn't have made half the fist we made of trying to get out of it.
Exclusive Six
Nations Analysis
Get Murray Kinsella's exclusive analysis of Ireland's Six Nations campaign this spring
Become a Member
"We won two games out of three in January to give ourselves a chance, but I think that period took a lot out of boys. Not knowing where the club was going, not knowing if we'd have a job in the morning, it was difficult."
Cusack had been appointed club captain – the first such role of his career – at the start of that difficult season and says he will take life lessons from the experience of dealing with the different personalities in the squad.
"I didn't do anything different from the way I'm a 10, I spoke the same way I had before," says Cusack of the captaincy.
"It was more the off-field stuff that we had to deal with where I learned a lot. Boys had different problems and there was all that stuff off the field. Trying to manage that and still play was quite difficult, but I learned a lot about myself in those six or seven months.
Doncaster Knights / YouTube
"It's not the same structure or finance as the Premiership or Pro12, and stuff can get left by the wayside, which is difficult for players to deal with. But again, for my life after rugby having had to deal with that stuff last year is going to be big for me."
While Plymouth were struggling badly, Cusack himself was delivering outstanding performances after regaining his fitness. He was nominated for Championship player of the month in March 2015 and attracted attention from elsewhere.
Doncaster provided the opportunity for a fresh start this season and Cusack hasn't looked back.
Director of rugby Clive Griffiths had laid solid foundations after originally being asked to lift them out of National League 1, making it easier for Cusack and Heaney to arrive in and add an extra layer of playmaking class.
"It's very much like an AIL club in terms of the stuff that goes on around the town. The match-day experience and atmosphere is very like your local club at home.
"We play the match and then afterwards you're in the bar with the fans, the directors, everyone. It's a really, really good day out."
With Cusack one of many Irishmen already plying their trade in the Championship, he believes the influx will continue in the coming seasons.
Plymouth's horrible season, with its financial difficulties, is a warning but Cusack stresses the importance of playing opportunities.
"It's becoming a lot more common to have boys I played against coming over here. Even Ian Costello now who's got the job in Nottingham and there are a few boys gone there," says Cusack.
"It's something I think you'll see a lot more of, Irish guys coming and playing in the Championship because to make your way in professional rugby you need to play and it's not worth a year or two years of sitting on the bench or not even making the bench, playing AIL."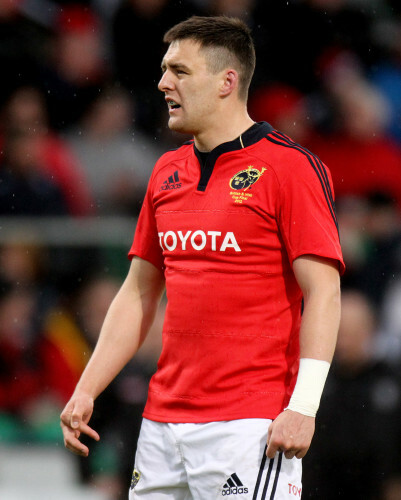 James Crombie / INPHO Cusack is hoping to help Doncaster turn around a 15-point deficit on Wednesday. James Crombie / INPHO / INPHO
As for his own future, Cusack has another two seasons on his contract with Doncaster and is happy with life with the Knights.
"I'm 28 years of age, I want to be playing rugby week in, week out," he says. "I don't want to be sitting on the bench and I don't want to go back to where I was three or four years ago.
"I'm a professional rugby player and a professional rugby player needs to be playing rugby. I've been unlucky enough to be injured a few times and it sucks not being able to play rugby, so where I am at the moment I'm getting to play and I'm enjoying every second of it."
He'll bring all of those Munster lessons to bear again on Wednesday night as Doncaster look to pull off their upset in Bristol.
The42 is on Snapchat! Tap the button below on your phone to add!