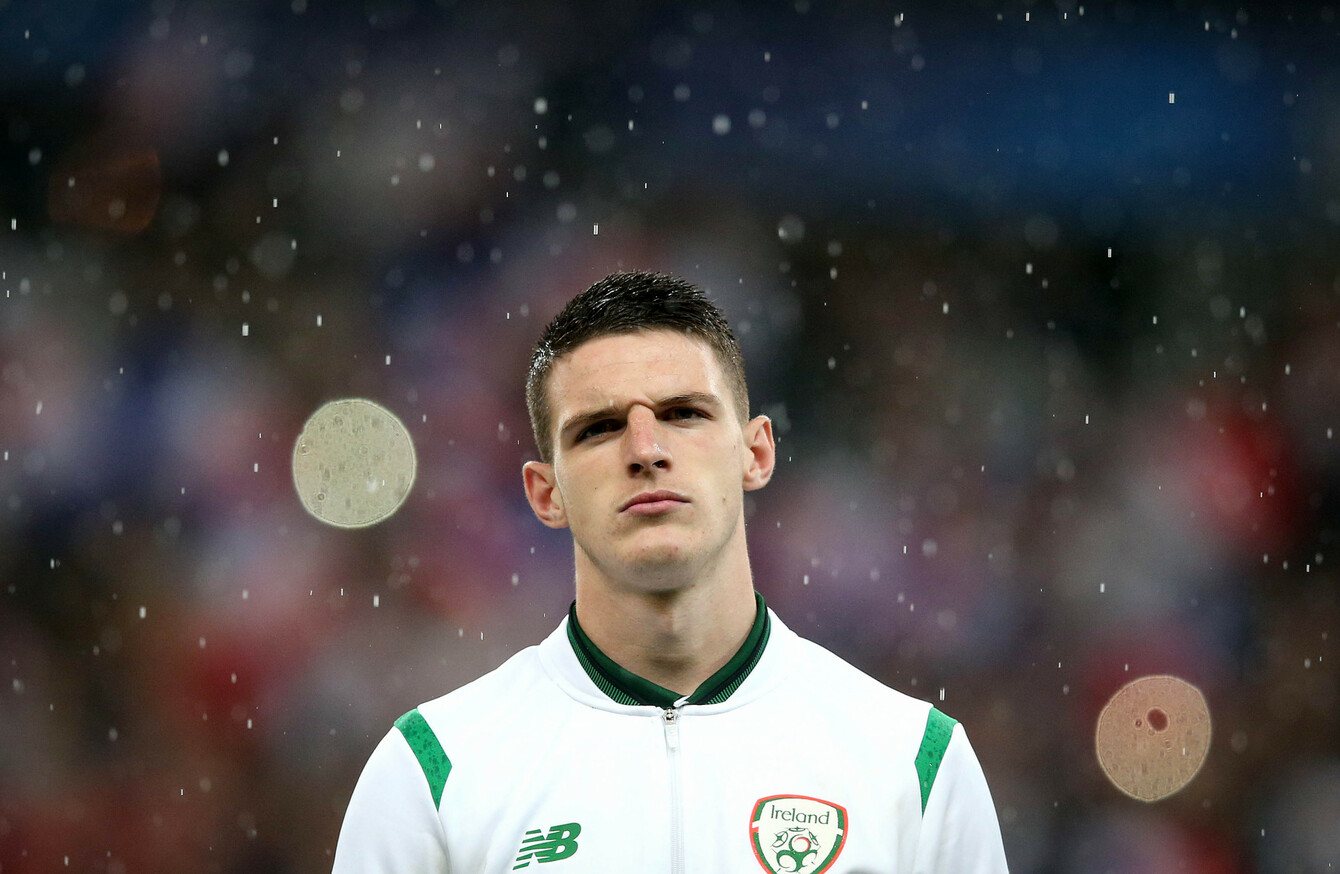 Declan Rice, back in the glory days.
Image: Ryan Byrne/INPHO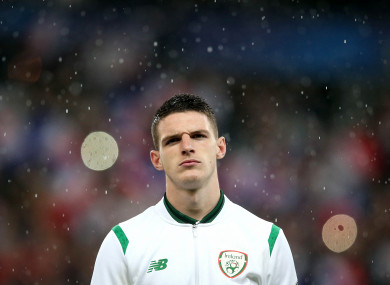 Declan Rice, back in the glory days.
Image: Ryan Byrne/INPHO
WE'LL GET TO Declan Rice in a moment, but let's start with another proud Englishman.
George Orwell, emphatically not A Football Man, nonetheless once said something that allies itself with the governing principle of football in this country for decades.
It is found as part of a withering attack on Charles Dickens, in which he disputed how truly effective Dickens was in his attacks on the squalor and poverty bred by Victorian Britain's ruling class.
"It seems that in every attack Dickens makes upon society", wrote Orwell, "he is always pointing to a change of spirit rather than a change of structure."
That has been one of the abiding features of the Irish senior team in past decades: rather than affect a true change of structure, they have instead focused on a change in spirit.
This usually coming in the form of a new senior international manager, who sweeps to power with a smile and some good vibes, all the while stressing the flinty er, spirit of his group.
Investment in Irish football over the last ten years has been top-heavy, with the expensive appointments (and oustings) of Giovanni Trapattoni and Martin O'Neill buttressed by assistants as noteworthy -and pricey – as Marco Tardelli and Roy Keane.
These have been sanctioned so as to inspire qualification for major tournaments in spite of – rather than because of – the quality of player at the manager's disposal.
It has not been the senior manager's job to develop talent: it has been their job to qualify for tournaments and make money for the FAI.
As Martin O'Neill said in 2017: "You want to try and qualify for competitions, that's my job.
If, for instance, I had taken up the mantle here almost four years ago and John Delaney had said to me 'What we want Martin, in four years' time is a young side that is vibrant and ready to go, so don't worry about qualification' I think we could have done that quite easily.
Whose job it is to develop players has only recently been addressed with the appointment of Ruud Dokter as High Performance Director and the establishing of the Emerging Talent Programme.
For too long player development had been outsourced to England, but this could have been said to be a reasonable strategy for as long as English academies and squads were stocked with players coming from no further south than Cornwall. 
When Arsene Wenger arrived with new-fangled ideas like better diets and globalisation, however, the chances of young Irish players succeeding in England were reduced to a frightening degree: of the Irish players who leave this country to join an English side, only 7% sign a second professional contract with the club they joined.
As our young talent has been ruthlessly winnowed abroad, the temptation has been to fill the void by foraging for Irish roots beneath established players in England.
There is nothing necessarily wrong with this.
The recognition that national identity can be a complicated, multivalent thing has been one of the great political successes of this island in decades, and its power was first articulated by Jack Charlton's Ireland, which offered a wider and more outward-looking interpretation of what it meant to be Irish at a time when the island was made fraught and sick by narrow and binary identities.
But plucking talent born elsewhere, rather than developing our own, will always leave Ireland open to situations like The Declan Rice Saga.
He was born in England, idolised John Terry and, most pertinently, is good enough to walk into the team ahead of Eric Dier. Playing for England gives him a better chance of international success, and it will almost definitely make him more money.
It may jar that international football can be reduced to these cold economics, but it is a reality and one which we have not been averse to profiting from.
That Rice will play for England is wounding, but it should serve as a reminder of the importance of developing a coherent, longer-lasting structure for player development in Ireland.
It is entirely understandable if we don't produce a world-class player domestically – few countries of Ireland's size do – but we should be producing more players capable of consistent careers at Premier League and international level.
We are losing too much talent by sending players over to the frighteningly competitive global academies of England at too young an age.
Some of our most successful internationals of late have been those who stayed in Ireland for longer: Shane Long left for Reading at 18; Seamus Coleman took flight at 21; James McClean was 22 when he joined Sunderland.
Jack Byrne, by contrast, left Kevin's Boys for Manchester City at 15 and is now back at Shamrock Rovers at 22.
Keeping players here for longer would be made easier with closer links between the elite of the League of Ireland and the national team: the last domestic player to be capped in a competitive senior international was Rovers' Pat Byrne…in 1985.
While Martin O'Neill will be criticised in absentia for not capping Rice for at least a minute of the competitive game against Moldova toward the end of 2017, had he done so he would likely have denied a debut to Sean Maguire. Preferring domestic talent in these situations should become policy.
The incipient appointment of Stephen Kenny should help with this, and the FAI have started to address the structural issue with the merging of schoolboy and League of Ireland clubs and the formation of the National U13, U15, U17 and U19 leagues.
That they could only afford to do them for every second age-group, however, shows how money has been tied up in issues unrelated to grassroots, and the length of time taken to address the issues means there may be a couple more Rice-esque sagas to come over the next few years.
If Mick McCarthy does carry Ireland to Euro 2020, the squad's ever-immutable spirit will be hailed as a significant factor in success.
It is deeply ironic that we have become so fixated on the intangible we usually have, rather than address what we don't have.
We have at least started to do that…although not in time to offset the loss of Declan Rice.
Originally published at 18.56