THE DISAPPOINTMENT OF a final loss will stick with Munster for the summer and quite possibly into next season, but the southern province believe they've made progress over the course of 2014/15.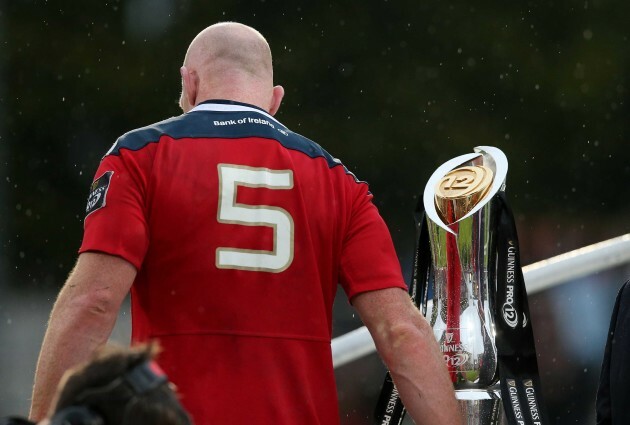 Ryan Byrne / INPHO Paul O'Connell walks past the Guinness Pro12 trophy yesterday. Ryan Byrne / INPHO / INPHO
Head coach Anthony Foley is a man who often likes to use past failures as a source of motivation, meaning this comprehensive defeat at the hands of a superb Glasgow Warriors side will likely be recalled in the future.
It was the failure to turn up in the first half that will have hurt most, with Glasgow free to bring their ruthless attacking game to the fore as Munster kicked poorly and tackled weakly.
Stand-in captain Denis Hurley admitted afterwards that the performance had been a major let down, pointing to that first half as the real key.
It's certainly not the end of the world," said Hurley at Kingspan Stadium.
"To get to the final has been great for the squad. Obviously, we would have expected a lot more of ourselves today, but in fairness Glasgow got on the scoreboard quite early and they're quite a dangerous team.
"Parts of their offloading game really killed us at times, they opened up a lot of space for themselves and their defence was very good on top of that, it was hard to break them down.
"So, we were chasing the game too early and that's probably where we lost it."
Ryan Byrne / INPHO Ronan O'Mahony, JJ Hanrahan and Cathal Sheridan watch on as Glasgow lift their trophy. Ryan Byrne / INPHO / INPHO
Hurley pointing to Munster's achievement in reaching the final is relevant to how he and the province view this season overall, as one of progress.
A slow start to the campaign suggested there wasn't too much to be positive about, while the European defeats to Clermont at home and Saracens away were low points. However, Munster found themselves back in a league decider for the first time since 2011 and Hurley will take that as a sign of moving forward.
We've done a lot of growing, we'd new management in and it's been a season of lessons learned," said Hurley.
"We'll take a lot of lessons from here as well, because there's a great squad building. A lot of new younger lads are getting game time and performing very well and it's making good yards for next season."
That Munster need to continue to grow next season is obvious, particularly with a figure of the stature of Paul O'Connell leaving the province. Replacing him both as a leader and a player is up to men such as Dave Foley, Donnacha Ryan, Jack O'Donoghue and Peter O'Mahony.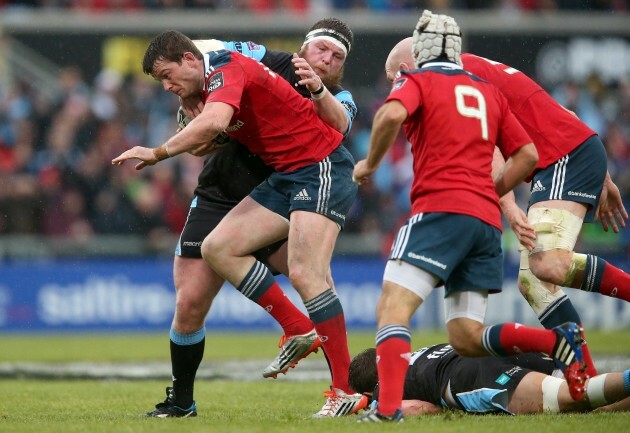 Ryan Byrne / INPHO Hurley was in the 12 jersey once again for Munster at Kingspan Stadium. Ryan Byrne / INPHO / INPHO
O'Connell is not the only one heading for the exit door, as Andrew Smith, Paddy Butler, Sean Dougall and possibly hooker Eusebio Guiñazú leave this summer too.
Hurley has spent much of his season playing alongside Australian Smith in the Munster midfield and will be sorry to see him go.
Andrew's come in and done a massive job, I've gotten on with him quite well on and off the pitch," said Hurley.
"Lads like that, to come in and buy in to what we're all about and slot in so seamlessly… he's a quiet enough guy who goes about his business and you wish lads like that well in the future.
"For lads like that it's disappointing that we've made a final and haven't gotten over the last hurdle with them."