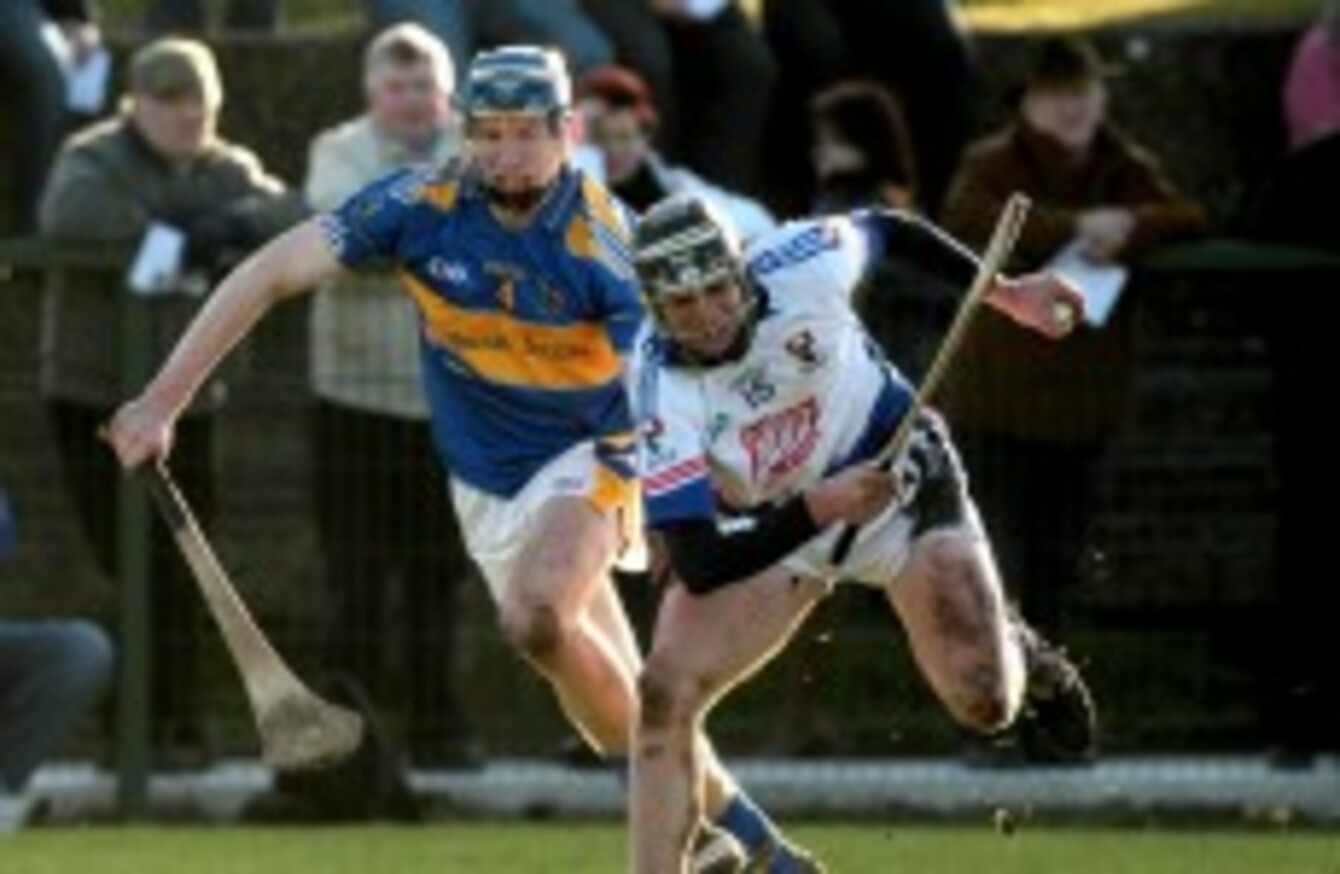 Eddie Connolly (4) in action against Waterford IT's Timmy Hammersley during the 2011 Waterford Crystal Cup clash.
Image: James Crombie/INPHO
Eddie Connolly (4) in action against Waterford IT's Timmy Hammersley during the 2011 Waterford Crystal Cup clash.
Image: James Crombie/INPHO
FORMER IRELAND AND Munster rugby star Denis Leamy has hailed the "courage and bravery" of his first cousin Eddie Connolly, who is battling cancer.
Leamy is one of the main driving forces behind a special 'Night at the Dogs' at Thurles Greyhound Stadium on Friday 18 September, a fundraiser for the Eddie Connolly Trust Fund.
This Trust Fund has been established to help finance special cancer treatment for Connolly (29).
Loughmore-Castleiney stalwart Connolly has represented his club and county at all grades of hurling and football, and captained Tipperary to the All-Ireland intermediate hurling title in 2012.
In late 2013, he was diagnosed with brain cancer and since then, he has been bravely and courageously battling to overcome his illness. 
Remarkably, Connolly returned to club colours last October when Loughmore-Castleiney booked their place in the county senior hurling final.
He has recently undergone a new form of cancer treatment in Spain, which is not covered by medical insurance.
"Eddie's shown a huge amount of courage and bravery, he's been an inspiration an anyone who's met him over the last while," says Leamy.
"Just to sit down and talk to him really gives you a great insight into what a character he is.
"He continues to show that bravery and fight that's been there all his life, he's an incredible man.
"I spoke to him recently. He's at home now in Tipperary at the moment, he had been out in Spain for treatment."
Leamy, now heavily involved in rugby coaching with Rockwell College and Clonmel RFC, is looking forward to the massive fundraising event and has called on sports fans from around the country and beyond to throw their weight behind it.
"It's a fantastic cause and it will be a great night.
"We'll have a lot of of sports stars there from the various codes and our hope is that we can get a massive turnout and have a good night.
"It's a great way of showing our support."
And Leamy expects the tight-kint community of Loughmore-Castleiney to rally around one of its favourite sons.
"It's a great community in Loughmore, a great tightness and bond within the parish.
"You see that in any sort of event, there really is a fantastic community spirit.
"There will be no shortage of effort and hard work being put into this, you can be sure of that.
"There's a great tightness there and they row in behind each other, which is evident in the support for Eddie from his immediate family, the parish, people in GAA and sports circles. 
"Eddie's so well-known in Ireland, he's worked in Dublin and been based in Dublin for a long time now. He has friends in all four corners of the country."
Leamy admits that Eddie's plight has touched the wider family circle.  
"Eddie's father is my mother's brother," he explains.
"We'd have been very tight growing up. On a Sunday, all the families used to go Granny's house in Loughmore.
"Our family is very close as well and it's had an effect beyond Eddie's immediate family, his brothers and sisters, into the extended family."
The 'Night at the Dogs' will be a night of fun for all the family, including a monster auction.
The event was recently launched at Thurles Greyhound Stadium by Leamy and Connolly's Loughmore-Castleiney clubmate Noel McGrath, who went through his own cancer battle this year.
Paul Collins of Today FM will be MC for the evening and this worthy cause can be supported in a number of ways. 
There is a buster draw with a top prize of €500 for €10, including entrance fee.
You can sponsor a race for €500, nominate a greyhound for €100 or sponsor an item for auction. Children can attend for free.
There is also a bank account to which donations can be made directly:
Bank: AIB Thurles
Name: Eddie Connolly Trust Fund
Account: 23828075
Sort Code: 93 53 01
IBAN: IE19AIBK93530123828075
BIK: AIBKIE2D.