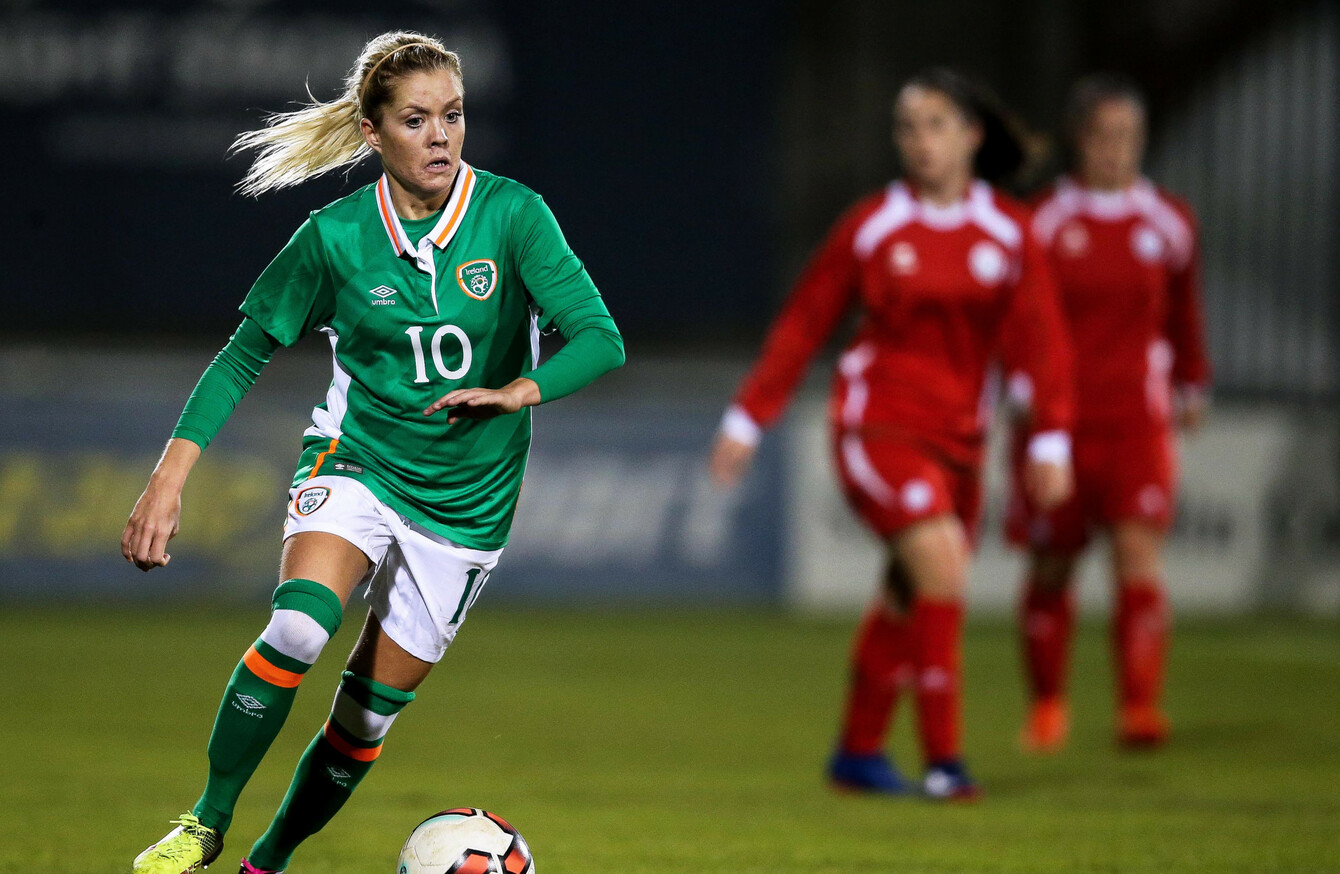 Image: Tommy Dickson; ©INPHO/Tommy Dickson/INPHO
Image: Tommy Dickson; ©INPHO/Tommy Dickson/INPHO
DENISE O'SULLIVAN isn't the type but you wouldn't have blamed her for wearing a wry smile last weekend.
Almost 5,000 people were at WakeMed Soccer Park in Cary, North Carolina to watch their local National Women's Soccer League (NWSL) side, the Courage, take on Houston Dash in a regular season clash.
Already guaranteed a play-off place, the hosts claimed a 1-0 win, assuring them of a home semi-final in the post-season and giving them a great chance of reaching the championship decider. O'Sullivan started her fourth successive game for the table-topping Courage, quite the change from earlier in the campaign when she was frozen out at Houston, lost confidence and purpose and was forced to press the reset button on her career.
It was a reality check for the 23-year-old, who arrived in the US and joined the Dash in March 2016.
Her debut season went well and she featured 18 times for the side, with just four of those appearances from the bench. But things began to change earlier this year. The man who brought her to the club – Randy Waldrum – was sacked after three years in the job and interim coach Omar Morales restricted O'Sullivan to minimal playing time. There were cameos at the end of games, five minutes here and there. For the Cork native, a bit-part role wasn't something she was used to.
But, she wasn't the type to kick and scream. It was no place for tantrums. So, she put her head down, continued to work hard and waited patiently for a chance.
Except, none came.
In July, the Republic of Ireland women's team faced Scotland in a friendly. For O'Sullivan it represented a chance to just get back on a pitch.
"I spoke to the coach at Houston and said, 'I'm not getting minutes here but I'll get 80/90 minutes with the Irish team so I'm just telling you I want to go'", she says.
"Basically, that's what I said to him! And he let me go. But after the game I was thinking about it and I didn't feel as confident and as fit and sharp and that's when it really came into my head that I needed to get out of Houston.
Obviously, I wasn't his (Morales) pick. I dealt with that. I was on the bench. I was only getting – at most – about five minutes a game. I stuck it out for a while and tried to be positive for the team. But I just didn't want to do it anymore. I took it into my own hands and took responsibility and told them I wanted to leave. I made some really good friends on that team. It was hard to leave them – some of the girls – but I didn't leave on any bad terms with anyone there. Everyone wished me luck.
In America, you're put on the waive list and for 24 hours any other team in the league can come in and pick you up. The Courage coach called and said he was very interested so I made the decision to go there."
Staying in the United States wasn't the initial plan. A move to a German club was close to being finalised and a return to Europe seemed likely. But, North Carolina were immensely keen to act on O'Sullivan's potential availability and, within a few days, the switch was completed.
"Germany was very close," she admits.
"It was my initial decision and was planning on going there. There was a lot of talk with the club and my agent and they had put in an offer. And that's actually what I initially told my coach at Houston – 'I'm going to Germany'. So when it came up that I was joining another American team, they were probably like, 'Oh, wow'. But it just didn't work out in the end. Once I went on the waive list, the Courage came in and had my rights. So I ended up going to North Carolina just a few days later – it all happened so quickly. But once I got here I settled in right away.
July 26, 2017
I was glad to just leave. I wasn't getting game time, I wasn't enjoying it. That was affecting everything, my happiness."
Did that struggle extend to her personal life too?
"It didn't affect that side, really," she says.
"I was still hanging out with friends. I was still happy outside of football but the Irish team was on my mind a lot. That's what I was thinking about – the qualifiers coming up and how I have a big role to play on the team. So I was just happy I got it sorted."
O'Sullivan fought hard and backed herself. She felt she deserved more and expressed that sentiment. She got her move and life is good. But she acknowledges that her younger self wouldn't have been so pro-active and would probably have shied away from any conflict.
"I would've been happy to just stay put and not put myself first," she admits.
"I would've stayed there and tried to keep other people happy – that was the way I was. But the only thing I'm thinking about right now is my career. I just needed to make that decision for myself. No-one else was going to do it for me. I needed to step up and speak out and tell the coach what I wanted and it took me to where I am now."
And she can pinpoint the moment when her mindset began to change.
In April, O'Sullivan and her senior Irish team-mates took a stand against what they deemed gross inequality from the FAI.
The group wanted some core issues rectified: loss of earnings, match fees, gym access and per diems. They illustrated their grievances with excruciatingly humiliating tales of having to share official tracksuits with underage teams and how they often had to get changed in airport toilets. They stepped up. They spoke out. They found their voice. They threatened a boycott of their upcoming fixture with Slovakia. And were lauded and rewarded for their bravery.
"I wasn't really there for half of it because I was in America and I wasn't able to be there 100% for the girls and I couldn't control that," O'Sullivan says.
Thank you Ireland for standing up for your basic rights, including the right to strike. You're an inspiration to all of us! 🙌 https://t.co/S4QS2r0Q93

— Hope Solo (@hopesolo) August 7, 2017
"But I came back for the game against Slovakia and we were in that bloody meeting room for, I don't know – 12 hours or something – trying to get the deal done and get what we wanted.
We made that step. We all came together and decided that everyone had to be in it and that if there was one person outside then it wasn't going to happen. We needed to be in it as a team. We were all there and made the decision that the game wasn't going ahead unless we got what we wanted. We all stuck to that decision. It was difficult at the time. We all wanted to play for our country. It's not like we don't want to play because we're not getting money. We thought we deserved more than what we were getting. I just remember being in that meeting room together for 12 hours. It was a disaster. It was horrible. But we were all there together. It wasn't exactly great preparation – being in a meeting room for that long four days before the game. But when we got what we wanted in the end it was a very proud and emotional moment for everyone. And then we went out and got a result too.
It was an intense few months (for me). When I wasn't playing, wasn't getting game-time, wasn't happy…I noticed all of that on my international trips. And I had to make big decisions. But I'm happy I took it into my own hands and made the decision that I needed to leave the club."
O'Sullivan has played over 50 times for the senior team and it's forever in her thoughts. Her main motivation for seeking a move to a different side was the effect it was having on her performances for Ireland. After that summer friendly against Scotland, she carried around the guilt of not having been 100% and told herself that it wouldn't happen again.
"Your confidence will go when you're not playing and you won't feel the same at all, " she says.
"But I always knew I work very hard, that there's talent there and that if I kept pushing myself then I was going to get a club, that I'd go to a team that I was going to be able to play for. It just all depends on what team you're at and whether the coach likes you or not or whether he likes another player in front of you. He (Morales) just didn't really give me a look-in at Houston and that's being honest. In the end I just said, 'I'm going to stand up for myself here – I need to do better for myself'.
And I kept thinking about the national team, really. That's the one thing that pushed me to make the move. When I was back playing against Scotland I knew I didn't give a good enough performance and felt I had let people down. I was like, 'We have qualifiers coming up. This was a friendly today so I can put it to one side but I need to be 100% fit for these qualifiers'. And right now I feel I'm getting my confidence back. I'm getting minutes. I feel fitter, sharper. And I feel happier."
At North Carolina, she's part of the best team in the league. When she signed, coach Paul Riley was emphatic in his praise.
She's an excellent footballer with superb soccer IQ, soft feet and a Rolls Royce engine," he said."Her attributes fit our identity really well."
With hindsight, it's been a smart move from O'Sullivan. But, as she's quick to point out, there were no guarantees. And, as she only knows too well, it's an unforgiving, unpredictable and volatile game.
"We're top of the table, we've clinched a play-off spot, I'm getting minutes. It's been great. The change has been really good and it's benefitted me. But I didn't know what I was in for," she says.
"I could've come to North Carolina and have not gotten any minutes at all. It was a risk for me going to another American team. I could've got a lot of minutes or I could've been sitting on the bench for the entire season. It's worked out for me so far. I've done well. I've settled into the team, settled into the group. But I've just got to keep pushing, keep working hard, get more minutes and look towards next season as well."
O'Sullivan gets a break from club commitments for a while. She's been living for World Cup 2019 qualifiers for the last few months and they've finally arrived.
Drawn in Group 3, the Republic of Ireland will face heavyweights Norway and newly-crowned Euro 2017 winners the Netherlands but their first assignment pits them against Northern Ireland.
The teams clash in Lurgan on Tuesday night.
Back in April, in the midst of a stand-off with their own governing body, many wondered what the future looked like for Ireland's women's football team.
But, it's very much a new era.
Iconic goalkeeper Emma Byrne has retired, 21-year-old Katie McCabe is the team's new captain and this will be Colin Bell's first qualification campaign in charge.
And, added to that, there's a renewed, reborn Denise O'Sullivan chomping at the bit too.
"Since Colin came in it's been a new start," she says.
"We went to the Cyprus Cup with him and there was a different atmosphere around the group. But that's always the case: when there's someone new you want to impress them. There's been a really good buzz around the squad and everyone's excited for the qualifiers and I think we'll do well. The games we've played together under Colin we've done well. I'm just looking forward to it now."
Subscribe to The42 podcasts here: