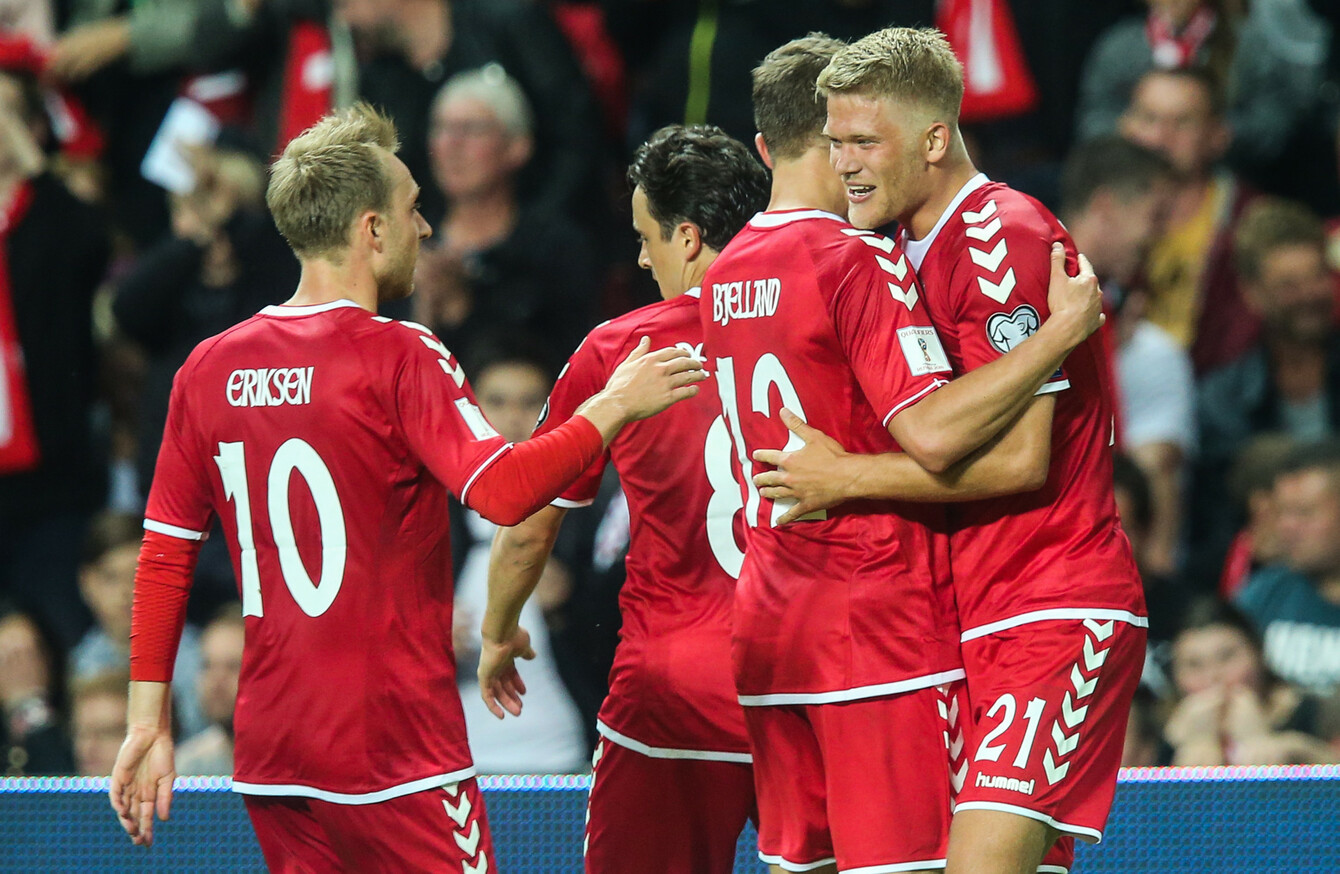 HEADING INTO THE World Cup play-off draw, the Irish attitude was pretty simple: avoid Italy and Croatia and we'll have a strong chance of progressing.
So, there's plenty of optimism now that a two-legged tie with Denmark is what awaits next month.
There's not much in the way of history between the sides. This will be the first competitive fixture since a World Cup qualifier in 1993. In between there have been a couple of friendlies, both resulting in big victories for the Irish.
The Danes haven't qualified for a major tournament since 2012 when, like Giovanni Trapattoni's Ireland side, they were eliminated at the group stage. Still, they were drawn alongside Germany, Portugal and the Netherlands and actually beat the Dutch in their opener.
But, they failed to reach the 2014 World Cup and narrowly lost in a Euro 2016 play-off to Sweden. Recently, there hasn't been much to cheer about.
However, the Danes aren't approaching their Irish assignment with trepidation. Qualifying went relatively well. They lost two of their first three fixtures – back-to-back games against Poland and Montenegro – but recovered to hold off the Montenegrin challenge and easily claim the runners-up spot. Along the way they thumped Poland 4-0 in Copenhagen and claimed a vital away win in Podgorica with Christian Eriksen grabbing the game-winner.
And, that seems to be a big reason why Denmark don't fear the Irish challenge. They believe they have enough quality – like Eriksen and others – to see them through.
Andreas Kraul is a football commentator with Danish national broadcaster DR and admits that the Irish spirit – so crucial in their final qualifier in Cardiff – will ensure the games will be close. But, he's keen to stress that if Denmark's big players step up, they can make the difference.
"Views are mixed in Denmark, but most fans – and national coach Åge Hareide – is satisfied with the draw," he told The42.
"We would, however, have liked to play at home for the second-leg. The feeling is that Ireland will be a tough team to beat, but individually, we have better players. If it's a fight, Ireland could win. But if Denmark can get Eriksen, (Pione) Sisto and (Nicolai) Jørgensen to play, we have the better chance."
Jørgensen was instrumental in Feyenoord winning the Dutch title last term, scoring 21 goals in what his first season in the Eredivise. His scoring rate isn't prolific with the national team but he did find the net twice in qualifying.
22-year-old Sisto caught the eye when Danish side FC Midtjylland began to make waves in European competition. Memorably he scored against Manchester United when the sides met in the Europa League in February 2016. Just a few months later, he was signed by Celta Vigo and enjoyed a solid first season in La Liga, scoring three times in 30 appearances. But, he's started this season superbly and has already matched his goal tally from last term despite only playing seven times so far.
But Eriksen remains the crucial ingredient. Still only 25, he's playing some superb football for both club and country and his form for Tottenham over the last 12 months has led to speculation linking him with a move to one of Europe's elite teams. His influence on this Danish side can't be overstated and he netted eight times during World Cup qualification.
Despite boasting some excellent individual talent, Kraul still isn't surprised to hear Irish players and fans were relieved after the draw was made. But, alluding to their unbeaten run, he's quick to warn that his country has momentum.
Be part
of the team
Access exclusive podcasts, interviews and analysis with a monthly or annual membership.
Become a Member
"I think we expected our opponent to be happy," he says.
"Italy, Croatia and the Swiss are very good teams, so Denmark seems a better draw. But our team is young, hungry and haven't lost in a year."
Morten Crone Sejersbøl, sports editor of the BT newspaper in Denmark, echoes Kraul's sentiment about how the draw is being viewed there.
"I think the overwhelming feeling is that it's neither the best possible draw or the worst. We saw Sweden as the most difficult opponent, though being married to a Swedish girl, I would have found it extremely entertaining.
Most people, I guess, would have hoped for Northern Ireland while Greece and Ireland probably were seen as equal."
He appreciates the side's form is good but also concedes the quality of football hasn't been the best, in spite the of the solid results.
"I think everybody here in Denmark is aware of the fact that all the others would have wished to draw us – I would have wished the same," he admits.
We have had a good streak with nine matches without losing but we haven't been playing overwhelmingly well. We have been good at playing a direct kind of football with a physical focus while we've had some trouble when being in possession and trying to open a compact opponent."
Sound familiar?
Sejersbøl says he's 'a little worried' by Ireland. He adds that, in many ways, they may represent a bit of an unknown quantity for Hareide's side.
"I'm not sure Danes know too much about the Irish squad. We know more about Irish pubs."
Heading into a crucial two-game battle, that's fine by us.
Subscribe to The42 podcasts here: