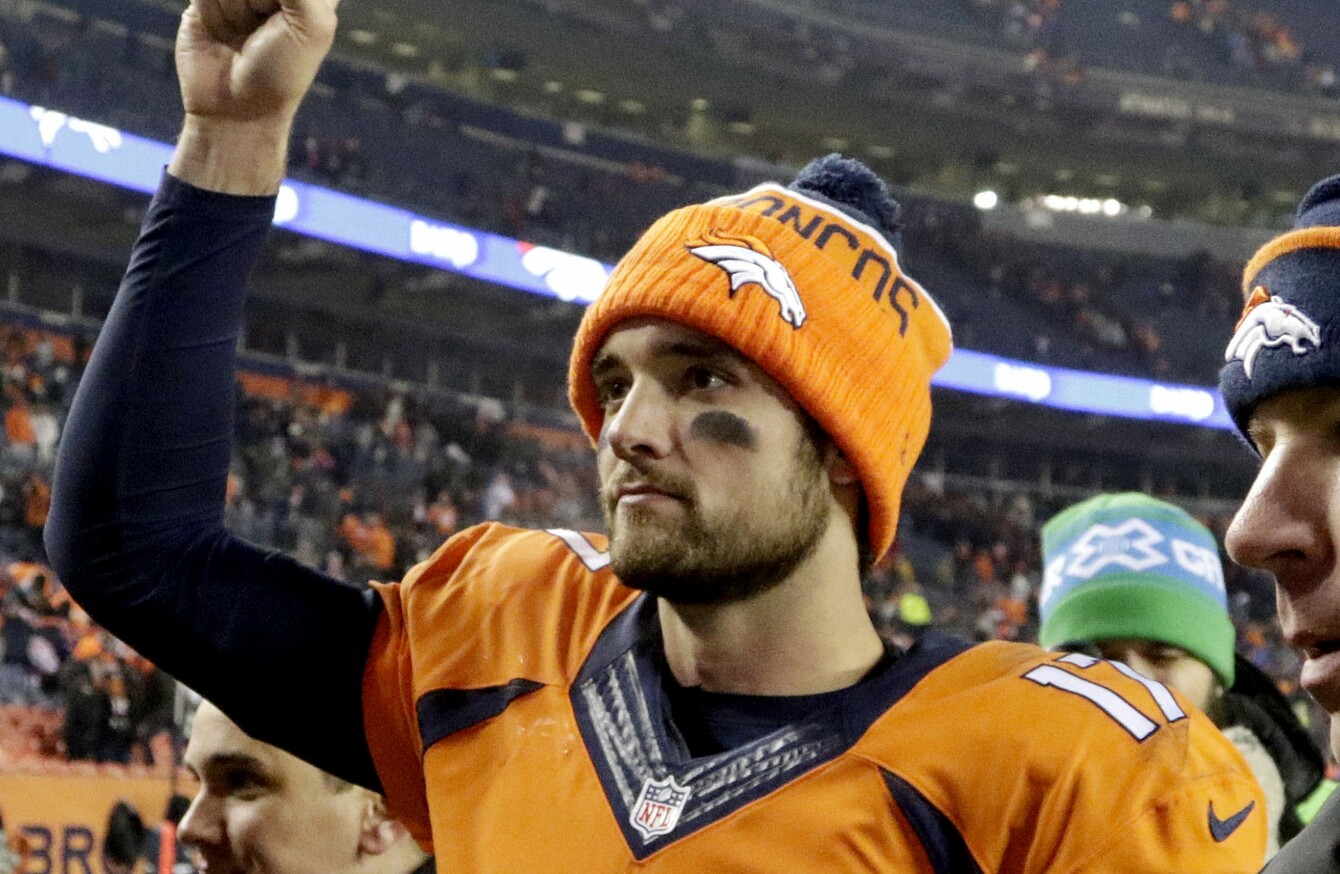 Osweiler threw for 299 yards with one TD and no interceptions.
Image: Joe Mahoney
Osweiler threw for 299 yards with one TD and no interceptions.
Image: Joe Mahoney
BRANDON MCMANUS KICKED the game-winning field goal and DeMarcus Ware recovered a fumble to end overtime as Denver clinched a playoff spot with a 20-17 win over Cincinnati last night.
McManus booted a 37-yard field goal in overtime after having a chance to win the game at the end of regulation but he shanked a 45-yard attempt wide, setting the stage for the extra session.
Quarterback Brock Osweiler, who was filling in for the injured Peyton Manning in the second last week of the regular season, led the drive that resulted in McManus' game-winning kick.
The Broncos win was officially sealed when Bengals quarterback AJ McCarron fumbled a shotgun snap and Ware recovered the ball on the final play of the contest which featured two of the AFC's best teams.
Starter-in-waiting Osweiler finished 27-of-39 for 299 yards with one touchdown pass and no interceptions in front of a crowd of 76,000 at Sports Authority Field.
Like Osweiler, Bengals quarterback McCarron is learning on the job after being pushed into duty because of an injury to Andy Dalton. McCarron completed 22-of-35 for 200 yards with one touchdown pass and no interceptions.
Denver improved to 11-4 after starting the season 7-0.
Trailing by 11, the Broncos took to the air to begin the third quarter, marching 81 yards on the strength of Osweiler's superb passing.
He finished off the drive with an eight-yard pass to wide receiver Emmanuel Sanders, who broke through cornerback Adam Jones' tackle near the goal line for Denver's first touchdown of the game with just over 10 minutes left in the period.
It was Denver's first second-half score in four games but it would not stop there.
After the Broncos forced a punt, Denver took over on its 48. Osweiler passed 13 yards to wide receiver Demaryius Thomas and then handed off to CJ Anderson for a 39 yard touchdown run.
Anderson broke the tackle of defensive end Wallace Gilberry and sprinted down the left sideline for the score to put Denver up by three with 11:17 left.
But Cincinnati, who are also playoff bound, evened the score on kicker Mike Nugent's 52-yard field goal with 6:46 left to play.