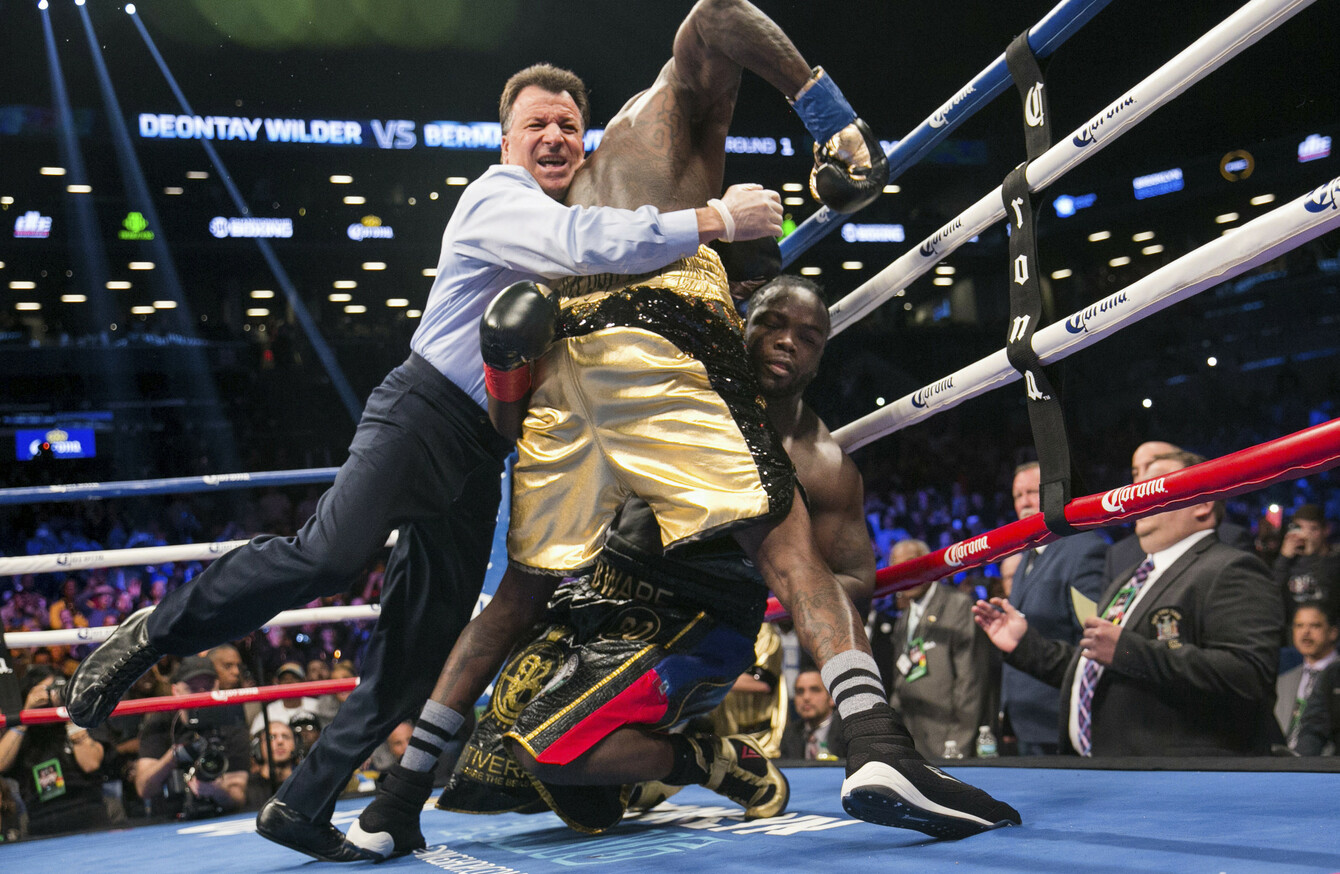 Image: Kevin Hagen
Image: Kevin Hagen
DEONTAY WILDER'S MERCILESS first-round destruction of Bermane Stiverne on Saturday night was imperfect but resonated through its sheer boldness.
The more bumptious boxing aficionado – the kind that might draw comparisons between Wilder and a windmill on Twitter – balked at his coarse footwork, his crass swings, his crude dexterity – still so uncultivated even after 39 fights, all of them victories, 38 of them quick.
The casual observer, though, marveled at his moxie, and the reckless barbarity with which he delivered not merely a beating, but a major warning to naysayers and nemeses alike.
Whatever your standpoint, its impact was indisputable: this was a mic-drop in fistic form, circumnavigating the world by way of social media on a night of combat sport otherwise ruled by Georges St. Pierre's victorious UFC return.
Wilder was demonic in demolishing the only man from 38 to have ever previously taken him the distance, but it was the emotionality of his performance which was most jarring; in the past 18 months, no fewer than three of his scheduled opponents have failed drug tests, costing 'The Bronze Bomber' hundreds of thousands of dollars and, more pertinently, a much-craved opportunity to stake his claim as the world's best heavyweight fighter.
As recently as late September, his original opponent for last Saturday's WBC World heavyweight title defence, Luis Ortiz [27-0, 23KOs], put a kibosh on their eagerly anticipated bout by testing positive for diuretics chlorothiazide and hydrochlorothiazide, which are used to treat high blood pressure but can also act as masking agents for performance-enhancing drug use.
The Cuban's dirty test came just a week after Wilder demanded he not 'fuck up' as he had three years prior, when Ortiz tested positive for anabolic steroids. 'The Real King Kong' followed Poland's Andrzej Wawrzyk and Russia's Alexander Povetkin in agreeing to fight Wilder only to be subsequently pulled for doping.
Wilder, who has consistently tested clean with Vada and overtly prides himself on being a clean athlete in these tempestuous times for elite-level sport, would days later suffer a nervous breakdown such was the stress of having another fight collapse.
It was replacement Bermane Stiverne, then, who bore the brunt of the Alabama banger's frustrations in Brooklyn on Saturday, as Wilder defied boxing convention in channeling his irritation – both at recent pull-outs and Stiverne's barbed verbal assaults – into a berserk performance.
"It was certainly a statement," Wilder tells The42. "I wanted to win and look good while winning, and the knockout was a plus, so I'm definitely happy with my performance.
"There was definitely a lot of frustration up in there. It was a frustrating moment, you know, that I was going through during the build-up to that fight.
"You know, throughout my career, there's always been ups and downs, but more so downs than ups when it comes to me trying to prove to the world that I am the best. It's all I've ever wanted to do, is prove to the world that I'm the best.
But in my attempts to do so, the best opponents – the so-called 'best' – always choose another route. They get themselves on PEDs and then I'm not able to fight them. There was a lot of anger built up coming up to that fight, and the world saw me release all that.
"And here I am, now: I'm a hungry champion. I'm very, very hungry. I still wanna prove myself. I wanna unify the division. And I'm not gonna stop until I do that."
What Deontay Wilder just did is illegal in AT LEAST 48 states... 😰 #WilderStiverne2 pic.twitter.com/AB6WwlWAYM

— JP (@JPYahooSports) November 5, 2017
The build-up to Wilder Stiverne II was as chilling as the fight was brief, frequently straying into a territory deemed odious even in a sport so brimful of violence and chicanery as boxing.
The sweet science would turn sour with what would in any other walk of life amount to death threats; as a bite-sized sample, take Stiverne's warning for Wilder at their press conference this day last week: "I don't fear for your life, because I'm going to kill you. If that's what it takes for me to take that title, that's what I'm going to do. I'm going to walk away with a smile on my face."
Wilder, however, scarcely covered himself in glory in propagating this ghastly narrative, telling FightHype.com: "I want a body on my record anyway. I beat him to within an inch of his life the first time, this time I'm going to end his life."
But whereas Stiverne froze on the spot, the latter emerged at the first bell with 'bad intentions' just as he had vowed, and even in hindsight – so often the retrospective caveat as far as callous trash-talking is concerned – Wilder, who retained his title without so much as receiving a scrawl, believes he was in his rights to perpetuate the undertones of mortal combat.
He challenges fight fans perturbed by either his or Stiverne's unseemly remarks, too, perceiving many to be hypocritical, before clarifying that he doesn't truly wish death upon any opponent.
"What people have to understand is that I have two different personalities," Wilder says.
"On the outside of the ring, I'm Deontay Wilder as I represent myself now – calm, cool, and collected. I love people, I love talking to people, I love being around people. They're my motivation – I like to inspire people.
"But in the ring, I am The Bronze Bomber. The Bronze Bomber feel like a king. He feel like other men trying to take the food from his family's mouths. He feel like they trying to destroy everything that he has built. And with that being said, I'm a savage. I'm a monster. I have no mercy upon my enemies.
And when the enemy talks in the language of trying to take my life as well, I take appropriate measures. I examine every word that he says, and I read between the lines of him saying he want to kill me. I take that into consideration and say: 'I gotta get him before he get me.' And that's just the way it is.
"People got to understand that they contradict themselves as well! They don't want to hear a fighter talk about how bad he's going to beat an opponent – to the point of trying to kill the man – but they want to complain about how much money they're paying to see an entertaining fight? Come on, man.
"If the fight doesn't seem so vicious, if it's not two guys in there like wild dogs trying to rip each other apart, they complain about that. Am I right or wrong?
"Not to mention that even if our fight isn't exciting, we still take a huge risk even getting in the ring. The risk factor is enormous. The risk factor is that we risk our lives each and every time for the fans' small money – to entertain them. So please excuse me if I use strong language.
"If you're offended you shouldn't be watching in the first place, because it's always going to be an R-rated movie when it comes to Deontay Wilder. It ain't no PG-13. So excuse my language.
But, look, I want all the fighters to go home to his children or wives or girlfriends or his side-piece, or whoever they're going home to. I do want that, truthfully, because I'm going home to my children and my family too.
That said, it was just as well the man in the middle last Saturday, Arthur Mercante Jr, had his wits about him, which to tragic effect has not always been the case (see his mishandling of Razor Ruddock v Michael Dokes, Pernell Whitaker v Diobelys Hurtado, Michael Bennett v Andrew Hutchinson, and his utter incompetence in refereeing George "Khalid" Jones v Beethavean Scottland, the latter of whom died six days later).
So frenzied was Wilder's final assault against the ropes that had Mercante's intervention been even a couple of seconds tardy, either Stiverne might have sustained more grave damage or Wilder might have been disqualified for sustaining his barrage with his opponent grounded – scenarios by no means mutually exclusive, of course.
The bout's timely ending instead birthed a potentially iconic scene, as Mercante – his annoying penchant for 'getting involved' at last warranted – attempted to prize Wilder off of his prey, in doing so swinging airborne from the American's six-foot-seven frame not unlike a Dublin flag at half-mast.
"You know, when I first saw that picture it was crazy," recalls Wilder. "Stephanie Trapp – that's who I hired to do my pictures – and when I saw that picture she took, man, I see the referee flying as if he was Superman, like he was holding on to a rock for dear life or something, man, it was crazy.
"The honest truth is that I didn't feel that man on me at all. Not at all. I was so into the moment, I was so transformed into The Bronze Bomber, into my king vessel – that other mentality that I mentioned.
"And you know, the referee said to my trainer: "HE FELT LIKE A ROCK!!!"
Just as an aside, the only thing that I would change that might have made the picture look even more greater, is that I wish the referee would have let go and flown to the other side of the ring. Now that would have been a big statement!
A flying Mercante might have served only to have garnered a couple of thousand extra retweets, because Wilder's statement, though fully expected, could scarcely have been more definitive: be ready, Anthony Joshua, for I am a bad man.
The 32-year-old American has been on a transatlantic collision course with his IBF and WBA counterpart from Watford since the latter turned professional in 2013, but his patience has long since worn thin.
Following both champions' recent victories on consecutive weekends, Eddie Hearn did indeed approach Wilder to fight a British heavyweight, but in lieu of a titanic tussle between the glamour division's two biggest active stars, it was proposed Wilder fight a former Joshua victim in Dillian Whyte, currently ranked number three by the WBC which considers Wilder its kingpin.
Contrary to murmurs that a Wilder-Whyte scrap might have moonlit as an Anthony Joshua eliminator of sorts, this would have been an entirely separate bout to the one which Wilder openly craves – no frills, but merely a standard WBC World title defence against Joshua's Matchroom stablemate for a solid paycheck.
Having rid of Stiverne so emphatically just a week after Joshua laboured to victory over Carlos Takam, though, Wilder was frankly appalled by suggestions he should have to prove himself further before trading leather with AJ, even if this wasn't necessarily Hearn's intention in putting a fight with Whyte on the table.
"You know, when you have fans talking about me stepping in with a fighter that goes by the name of Dillian Whyte… I mean, I hope Dillian Whyte is happy and excited, because we're advertising his name," Wilder says.
"To a king, he's a peasant. He have no business being discussed at this point in time.
Any fan that still want to mention his name in the same breath as mine, even after the fact that I made a statement on Saturday, after the fact that the world now wants to see the most entertaining, the most exciting, the biggest heavyweight fight probably in the history of time – or especially in this era of boxing… Any fan that mention, 'he still gotta go do Dillian Whyte', that's the fan that's biting their fingernails.
"Their legs are shaking. Their mouth is quivering. They can't sleep. They're fearful of what's to come. This American king from Tuscaloosa, Alabama, is going to destroy everything that they worship and praise. Everything is going to come tumbling down. That's why they say that.
And if they want that fight, then this king has no problem accepting that fight; all they gotta do is get their precious Eddie Hearns [Hearn] to put Anthony Joshua on the other end of that bridge, because I will cross the bridge. Dillian Whyte is just the troll on the bridge, and I will knock this troll back under his bridge. I just want Joshua at the other end, because I'm coming. I'm coming regardless, though.
"That's exactly what I'm saying," Wilder replies when asked to clarify that he would fight Whyte on the condition that Joshua face him next. "If they really want to see that, and if I can finally put an end to all of these excuses, put an end to all of these reasons why I can't get to him [Joshua]; if this is the path, and this is the way, then it must take to happen.
"We don't have to chase anyone. We can sit back in America, sit back and do what we do.
At the end of the day, me and Joshua don't need each other for any other reason than to make the biggest fight of our lives, and make the most money of our lives. And if he was smart, he'd come to America to make that money, because there's no comparison with the UK and America: we're too huge. We have so many people, and he'd make more money here.
"But to answer your question, if they involved a guaranteed fight with Joshua in that contract, then it would be my pleasure to whoop Dillian Whyte.
"If people thought I whooped Stiverne…" He laughs, and it sounds calculated. "Just watch how I do with Dillian Whyte. And this I promise.
It's a scenario which is unlikely to come to fruition, however; cold-blooded as boxing promotion may be, using his own fighter as bait – at least in an official, contractually obliged capacity – would not be a good look for Hearn.
Instead, the Matchroom director has met with The Bronze Bomber's representatives (the self-proclaimed 'Bomb Squad') in New York this week to discuss the prospect of Joshua-Wilder, steadfast in insisting he's not protecting his and British boxing's generational poster boy from the American's mitts.
Not for the first time since last Saturday, however, Wilder isn't buying what the British promoter is selling. He rarely does, in fact.
Convinced that Hearn is frightened by the prospect of seeing four years' work all but vanquished should Joshua finally throw down with his U.S. equivalent, Wilder is more meticulous in his assessment of Joshua, pondering aloud the esteem in which the 27-year-old Londoner truly holds himself.
"'Scared' is too strong; we've seen guys get in the ring many times, so they can't be scared. But I think Joshua is very fearful of fighting me. Being fearful is a different term to being scared.
"I think he fears me. I don't think Joshua really wants to fight me, because he know that I am who I say I am. He knows that I am the part. He knows that I mean exactly what I say.
"Americans always come across as cocky, sometimes a little bit arrogant. They talk a lot of stuff. But this American right here, they know that I am who I say I am. And with that being said, Joshua don't want to say any of these things – that's why Eddie Hearn is always talking for him.
After my fight, Eddie Hearn said that Joshua came out with a text message telling him: 'I'm going to eat Wilder.' I don't believe that. I believe that's Eddie Hearn's words. I don't believe nothing Eddie says when it comes to Joshua, because as a champion, and as a fan of boxing who wants to hear the words of a fellow champion, every time I hear something that comes out, I never hear Joshua saying it.
"And every time Joshua do speak", he continues, "we got Joshua and his lack of self-confidence. He don't even know that he's the best! He won't even say he's the best! And when it comes to me, he's not trying to make this fight happen. I'm trying to make it happen ASAP.
"He says he needs more time, maybe 2018, maybe '19, maybe '20, so that he can put himself in a better position to beat me. Only, you can't find no position where you're going to beat someone who's more than a match for you. You can only measure with your heart how you cope in war, and use your mind and skills that you have already built, and test yourself – just like you did against Klitschko.
People say I haven't fought nothing but bums, they say I ran, they say I haven't done nothing. Hearn said Joshua would knock me out in three. So if that's the case, if that's facts, then why are you so hesitant to make the date?
"That's all I want to know."
In the hours since Wilder spoke with The42, Joshua appears to have gone rogue by his own standards, telling IFL TV that he intends to 'slap Wilder around the ring', before warning the inactive Tyson Fury to get his ass in gear ahead of 2018.
A little word on the @BronzeBomber fight. Ready & waiting for the offer 👉🏾 https://t.co/9dt7N5MwaS

— Anthony Joshua (@anthonyfjoshua) November 9, 2017
& @Tyson_Fury get fit you fat fuck

— Anthony Joshua (@anthonyfjoshua) November 9, 2017
"In boxing, we always use the term – and it's a true statement – that styles make fights," Wilder says. "Back in April, with Joshua's style and Klitschko's style, you always knew it was going to be a great fight. I had Klitschko to beat him, and Klitschko had the opportunity to do so, but he made the wrong decisions in the ring, and that's a fact.
Klitschko is just as European as Joshua – they have the same robotic style, muscular build, very little head movement. Joshua might be a more mobile and athletic athlete than Klitchsko, and of course their ages were different too, but stylistically, they're similar.
"No disrespect to my man JB [Jonathan Banks] as Klitschko's trainer – I love JB – but if he had [late trainer] Emanuel Steward, it would have been a different Klitschko.
"And I don't blame that on JB. I really blame it on Klitschko himself, because after Emanuel Steward, you can tell that Klitschko – no matter what he hears from JB – he's going to do what he want to do, regardless. The respect he had for Emanuel and the respect he has for JB are two different respects.
"The champion should be Wladimir Klitschko right now. He knows that. But that's the past, and it's time to look to the present and try to make a better future. That future is me versus Anthony Joshua in a unification fight.
"Me and Joshua will be a great fight too, but it gonna end bad for somebody.
"No more excuses. How can you make any excuse when this man, Joshua, beat Wladimir Klitschko? It's impressive to a lot of people. To be honest, to me, it's like, hey, Tyson Fury beat him while he was a champion, AND he went to his back yard to do it! That's more impressive to me.
"That's more impressive to me than a Klitschko who's gotten older, with a 17-month layoff, that already got beaten, coming back just to get knocked out. How impressive is that, really?"
Indeed, in spite of – and perhaps partially due to – their intermittent online sparring, Wilder has developed quite the fondness for former World heavyweight champion Fury, who recently confirmed his intention to return to the sport in 2018.
As of now, however, he remains in Wilder's periphery.
"At this moment it's all about Joshua for the simple fact that Tyson Fury don't even have a licence to fight yet, so it really would do us no good to talk about Fury.
"We can only imagine in the meantime. He's got to work to get his licence back, and then he'll have to get the weight down.
"Once all that happens he can be realistically talked about in this division.
I would love to see him come back. I love Tyson Fury, man. I love him as a person and as a fighter. He's my type of guy. I would love to see him come back.
"Right now, though, it's all about me and Anthony Joshua."
Wilder maintains he's completed his side of the bargain in annihilating Stiverne, and calls for an end to the petty discourse.
He's spoken directly with Hearn, too, who's currently in New York for his Stateside promotional debut with world-rated Brooklyn middleweight Danny Jacobs this Saturday, as has Wilder's manager, Shelly Finkel.
He speaks plenty and, when avoiding matters of the macabre variety, speaks extremely well, but Wilder now insists that the time for chat is over.
As he perceives it, his inevitable showdown with Anthony Joshua no longer needs to simmer. Close to boiling point himself, he sounds a final warning:
"Eddie knows how to reach me. It's getting very close whether he wants it or not.
"And with the fans pushing it, and wanting it now even more so than ever, it's putting even more pressure on Eddie. It's putting more pressure on them.
"We gonna smoke him out. I promise I'll smoke him out. He gonna fight us. No more excuses.
People don't care how much money's going to be on the line, or purse splits, or that kind of stuff! That's an excuse. People don't care where it's going to be, whether it's in the States or in their little safe haven country in the UK! That's an excuse. People don't care about population of followers on social media – half of the population of England follow him anyway! People don't want to care about that! That. Is. An. Ex. Cuse.
"People don't want to hear you bring a troll or a peasant out to play, bringing Dillian Whyte to a king, to a born fighter, instead of having one of the biggest fights in history. Excuse.
"But what they do want to see, what they do want to hear, is you saying this fight is going to happen. They want a time, they want a place.
So, my message to Eddie Hearns, my message to Anthony Joshua is this: 'Hey, mate. Don't wait. Make the date.'
"BOOOOOOOMMMMBBBBBBB SQUAAAAAAAAAAAAAAAADDDD!"
Subscribe to The42 podcasts here: