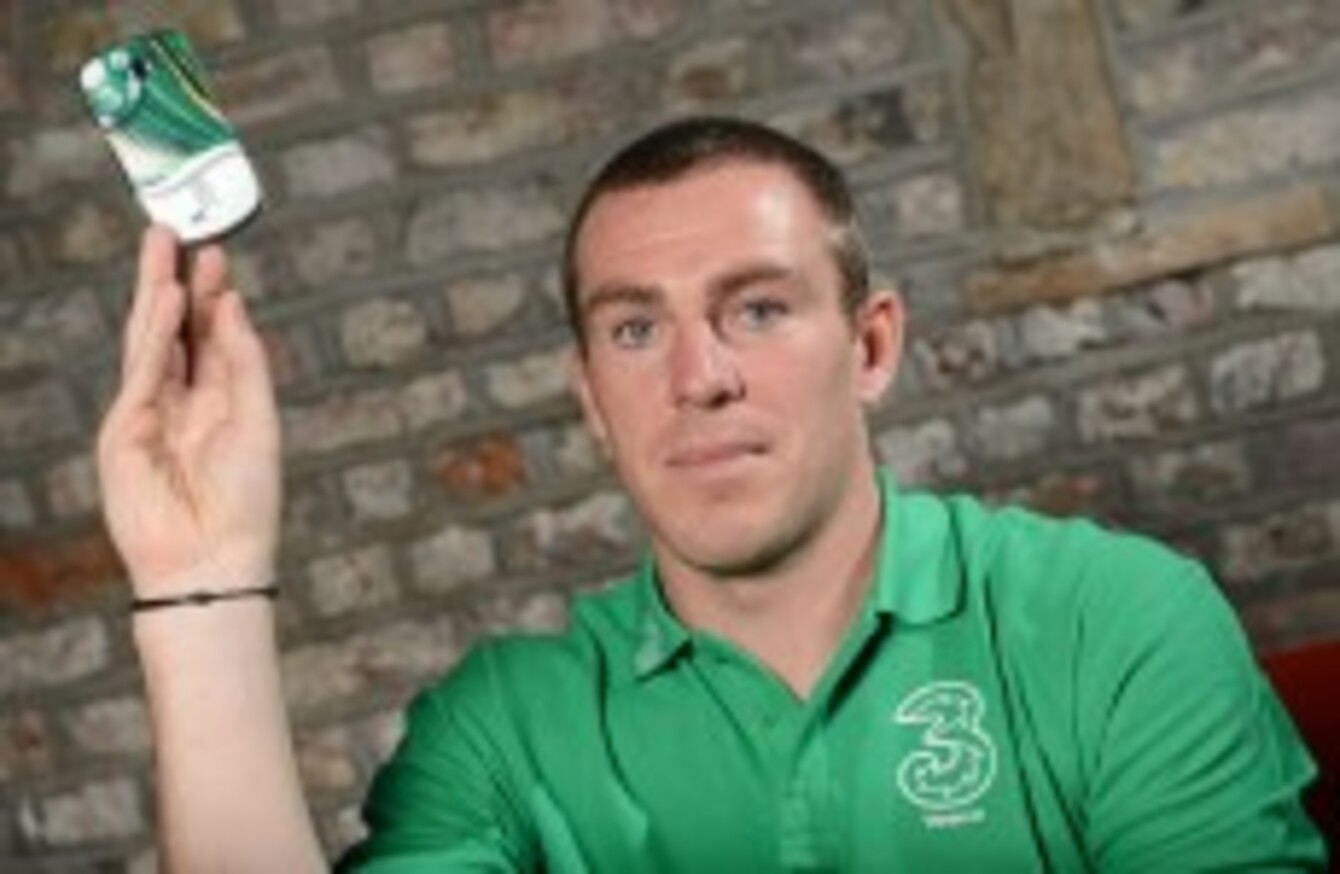 Richard Dunne with his new Samsung Galaxy Mini, complete with FAI cover.
Image: Sportsfile
Richard Dunne with his new Samsung Galaxy Mini, complete with FAI cover.
Image: Sportsfile
RICHARD DUNNE HAS declared himself fit and available for Ireland's Euro 2012 adventure.
The Aston Villa defender suffered a broken collarbone in the February defeat against his old club, Manchester City.
Dunne was reassured, given a 12 week lay-off by club doctors as soon as the pain subsided.
Now, that time is nearly up and the centre half confirms that there have been no hiccups along the way, everything has gone according to plan.
"Yeah it's been perfect, when I seen (club doctor, Ian McGuinness) last week he said 'that's it, go ahead'. I think it's 11 weeks on Sunday, so next week will be 12."
For a month and a half after his operation, Dunne effectively was on an enforced holiday. Since then however, he has been fully focused on getting back into full training.
Of late he's been playing non-contact sessions with the youth team. That will all change tomorrow when he joins his embattled team-mates as they gear up for Saturday's derby meeting with mid-table West Brom – a match he would love to play, but says "probably is too soon."
Dunne hailed the role Aston Villa played in his rehabilitation. While things did go according to plan, Alex McLeish had offered to arrange behind-closed-doors fixtures at the end of the season,with the sole purpose of helping his linchpin get enough game-time under his belt.
Randy Lerner had also made sure that medical assistance available through his Cleveland Browns franchise. However, it came too late and was not necessary,
"I was supposed to go to Cleveland, but when they could have me over, said Dunne, adding "I had already done that training two or three weeks beforehand so it would have probably set me back a week or two so there was no point in the end."
A two week set-back would have ended Dunne's Premier League season, instead he will be thrust into the white heat of a relegation scrap.
By the time he takes to the field against Bosnia at the end of May, he will feel like his season is getting into full swing.
Richard Dunne was speaking at the launch of Three Ireland's Samsung Supporters kit which includes Samsung Galaxy Mini handset, preloaded with the 3Football App and Three's Football Flick game. For more information visit Facebook.com/3football.