BEFORE THE CLASS of '92 made their mark, Sir Alex Ferguson had already fastened onto Manchester United's academy being crucial to the club's future success.
Months before he replaced Ron Atkinson as manager, United had reached the final of the FA Youth Cup and lost over two legs to an excellent Manchester City side that boasted the likes of Andy Hinchcliffe, Ian Brightwell, David White and Paul Lake in their starting XI.
Upon arriving at Old Trafford in November 1986, Ferguson was adamant that the first-team squad needed surgery. And he also looked to United's neighbourhood rivals for inspiration. Why were so many talented local players choosing blue over red? That had to stop. And in 1987, he persuaded a 14-year-old prodigy named Ryan Wilson to quit City's School of Excellence and sign schoolboy terms with United instead. It was a seismic shift. Ryan Wilson soon became Ryan Giggs and United had their first teenage superstar since George Best.
Ferguson was also handed plenty of money to overhaul his team and quickly brought in the likes of Steve Bruce, Viv Anderson and Brian McClair while leftovers from the Atkinson era were scraped from the table. Still, the transition was slow and frequently painful.
Seasons passed and United struggled to gain much momentum. At various intervals, Ferguson required a bunch of young players to step up and deliver. Their time in the squad was brief and their impact and influence certainly under-appreciated.
Dubbed 'Fergie's Fledglings', some of them had been part of that 1986 Youth Cup side. Some arrived a little later. Together they contributed to Ferguson pushing through a notoriously difficult period in his Manchester United career and coming out the other side.
Finglas native Derek Brazil was one of those players and signed for Atkinson in the spring of 1986. He was a late developer, preferring GAA until his early teens. But he quickly excelled on a football pitch and with the exception of a stint at Belvedere, he spent the majority of his underage career with Rivermount Boys.
But he was stung on his first trial in England, when things didn't go to plan at West Ham.
"I went over for a month and trained with the first team, which was really scary," he says.
"Paul Ince was there at the same time, actually, with the Under-18s. But John Lyall – the manager of West Ham, said to me, 'You need to go home and get a job because I don't think you're good enough.'"
But, Brazil – a defender – was back in the UK shortly after and had a string of offers after impressing while playing for the Republic of Ireland in an underage international against England at Elland Road.
"Chelsea, Man City, Tottenham and Man United were all interested," he says.
Phil O'Brien Russell Beardsmore was one of Brazil's contemporaries at United. Phil O'Brien
"I said to the clubs, 'Are these trials?' And they said, 'No, we're quite happy with what we've seen and we want to sign you and show you around'. So I went to all of them and it was great going to Chelsea, with the likes of Kerry Dixon being there. Then at Tottenham, I was playing in 5-a-sides with Glenn Hoddle. Like, when I was younger, I was watching him chipping goalkeepers on the telly and now here I was training with him. I went to Man City for a few days and the manager, Billy McNeill, said, 'Look, we want to sign you' but I told them I still had to go and visit United. And it just happened that Ireland's Under-18s were playing in a training game against the United first team at The Cliff. It was all behind closed doors. So I played for the Irish team and I was marking Frank Stapleton. And he scored a hat-trick. And I just thought to myself, 'There's no way United are going to want to sign me now'.
I went up to Ron Atkinson's office with me Da and we sat down. Ron said, 'Right, we'd like to offer you a three-and-a-half-year contract'. And I said, 'But Frank Stapleton just scored a hat-trick against me'. And Ron said, 'Derek, he should've scored ten but you made so many good tackles and blocks that he didn't'. So, I went away around Manchester with me Ma and Da to think about a few things. There was a big Irish influence at United at the time: Paul McGrath, Norman Whiteside, Kevin Moran, Joe Hanrahan, Frank Stapleton so immediately I kind of felt at home there. They all came to see me, even though I was only there for a few days. So I decided to sign for them. And, y'know what? I signed for United on March 10, 1986 – 32 years ago exactly."
Across 1987 and 1988, Ferguson began to give some reserve team players a chance to shine. Tony Gill, Deiniol Graham and Lee Martin made their debuts while another teenager, Lee Sharpe, was signed from Torquay. Soon, there was more youthful exuberance as scrawny winger Russell Beardsmore was given his opportunity. On the left wing, Giuliano Maiorana dazzled in a handful of cameos. Up front, Mark Robins began to see more game time too.
After captaining the reserve side, Brazil finally got his chance with the first team and made his debut against Everton in May 1989. He came on for Mike Duxbury and played the last half hour but a brace from Graeme Sharp saw United lose 2-1 at Old Trafford.
He had to wait a while for another appearance and featured from the bench away to Millwall in February 1990.
"That was an experience that I'll never forget, to be fair," he says.
"It was at the Old Den, people swearing and shouting bleedin' all sorts at you. Just unbelievable. We ended up winning the game 2-1, which was brilliant. But the weirdest thing was that we were all looking over our shoulders at the Class of '92 because we'd go and watch them play. They were only Under-16s, maybe, at the time but you'd sit there and watch and think, 'Who are these boys?' So we knew that was coming. And I think Fergie knew too and he almost used us as a template in many ways. A lot of us left because of the likes of those boys coming through, like Giggsy. There was just no stopping them. They were a machine.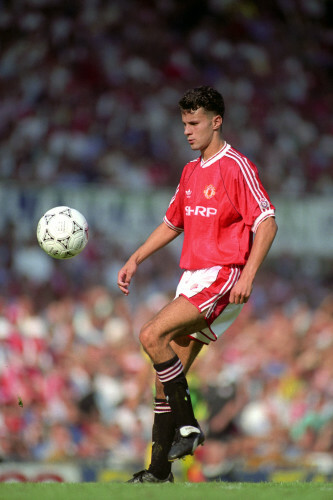 Neal Simpson Brazil had a front-row seat to watch the likes of Ryan Giggs blossom at Manchester United. Neal Simpson
But I do remember feeling very proud when I pulled on that shirt. And probably more proud for me Da because he'd always been a Man United supporter. When I left Ireland at 17, I always felt I was representing my mates from Rivermount Boys and my school, Patrician College in Finglas. I felt I was representing everybody. My biggest regret is that I probably didn't work as hard as I should've done. Unluckily, being a defender and having Viv Anderson, Mike Duxbury, Bruce, Pallister, Clayton Blackmore – it was quite difficult but they are memories I treasure."
A few months later, the 'Fledgling' era seemed to have the perfect finale as Martin thumped home to the roof of the net and United beat Crystal Palace in the FA Cup final replay. It was the first piece of silverware since Ferguson took over and it would kickstart a run of successes including the European Cup Winners' Cup in 1991, the League Cup in 1992 and, finally, the following season, their first championship in 26 years.
By that stage, Brazil had been sold to Cardiff. But he still cherishes what he had at United. The players he shared dressing-rooms and training pitches with and the five-and-a-half years he got to experience Ferguson's management up close.
"The players I was around – Hughes, Robson, Pallister, Bruce…the list goes on," he says.
"The intensity in training…it was probably more intense with Fergie than Ron. With him it was 5-a-sides and he'd join in himself, not a hair out of place. But Fergie was very on it. The likes of Sparky (Hughes)…they'd absolutely go through you. But they were good lads. They'd all socialise off the pitch, maybe too much. We got dragged in a few times. But the intensity of it and the standards they set has always stayed with me. You train like you play.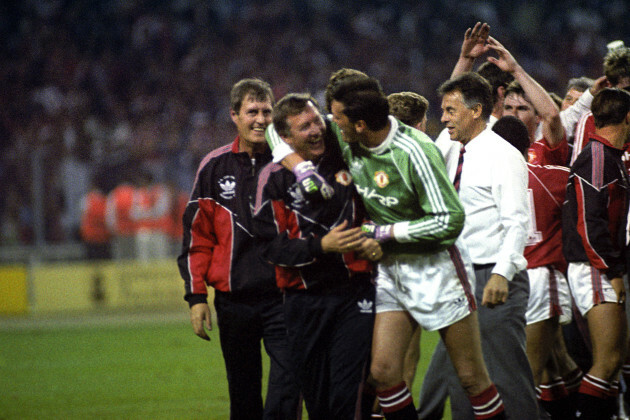 PA Sir Alex Ferguson celebrates with goalkeeper Les Sealey after United's FA Cup final replay win over Crystal Palace. PA
Fergie didn't do a lot of coaching. He'd get Archie Knox or Eric Harrison to do that. He'd stand on the side and would watch. If your standards dropped – not making a tackle or not winning a header – you'd hear him. It was a big shock after Ron. I stayed with him for five years and always found him to be a hard but fair man.
I remember about four years ago I started working for Cardiff as a match-day ambassador and the first game I worked on was Man United. I was told Fergie was in the Director's Lounge so I thought I'd go and say hello. I walked in and he's at a table with Bobby Charlton and Bobby's wife and David Gill. But he stood up and gave me a big hug and said, 'Sit down, sit down. I heard you were working here. How's it going?' So we started to catch up. And I said to him, 'Can I ask you a question?' And he said, 'Yeah, go on'. And I said, 'You never told me why you sold me.' And he said, 'Well, Derek, there were two reasons'. And I'm sitting there thinking, 'Oh, here we go'. And he went, 'Bruce and Pallister – you were never going to get in with them.' But then he really shocked me. He said, 'Anyway, how's Mick and Evelyn?' That's my Ma and Da's names. And I nearly dropped to the floor. This is 20 years since I left the club. And I said, 'Yeah, they're really good, they're still going.' And he said, 'Is your Da still taxiing?' I swear to God. So we got a photo together and it was incredible. That is some attention to detail. I can't even remember people I bumped into two weeks ago. And to have had so many players go through under his stewardship and for him to still remember those kinds of details is incredible."
Decades later, Brazil talks of Ferguson – the man who pushed him out the door at Old Trafford – with incredible reverence. There's no bitterness or acrimony. Instead, it's the complete opposite. Brazil remains spellbound by his former manager, forever in his debt because Ferguson afforded him the opportunity to pull on the shirt of such a hallowed and iconic club.
Derek Brazil pictured with his former manager Sir Alex Ferguson a number of years ago.
"When Fergie came in, he'd have the reserves and some young lads training with the first team," he says.
"That didn't happen with Ron. All the players were kept separate. But if some youth players were good, Fergie would bring them up. They'd get a flavour. The boots are flying around, the quality, the intensity – it just gave you a taste of what it was like playing on a Saturday. There were a few of us who got brought in to those training sessions and he obviously felt, 'Right, these boys can handle themselves'. It's very clever when you think about it. If he thinks you can handle it with the likes of Robson or Stapleton and players like that, then he'd have no fear of throwing you straight in on a Saturday. He made you feel part of the first team. Like, something as simple as everyone had the same suits. All of those things…I think he was ahead of his time, to be honest."
Brazil had a front-row seat when it came to watching the Class of '92 blossom and flourish. But there was another player he remembers fondly who never made the grade. A player who, like him, had been beckoned into those first-team training sessions by Ferguson but whose career trajectory ensured he became a mythical figure. His tragic death at 26 only added to the myth.
"Ah…Adrian Doherty," Brazil says, with a sigh.
"I remember the first day the 'Doc' came in. He was an Irish lad and I was older so we'd normally go out of our way to look after the Irish boys. But he showed up with his baggy jeans on and I thought, 'Oh, Jesus'. But I played in a few 'A' team games with him and the socks were around his ankles. But he was unbelievable. He wouldn't go out anywhere, he'd give away his match tickets and go busking in town. And we were thinking, 'Is he mental or what?' It was such a sad thing when I heard that he'd died so young. But he was always his own man. Even at that age – 17 or 18 – put him on a pitch and he was frightening. Everyone at the club was talking about him. But maybe because he didn't have the right guidance or belief in his own ability…Maybe if he had that little bit of swagger that Ryan had, maybe he would've gone further. Or if he had someone like Giuliano Maiorana's confidence, then the 'Doc' would've been an absolute legend at that club.
No doubt about that."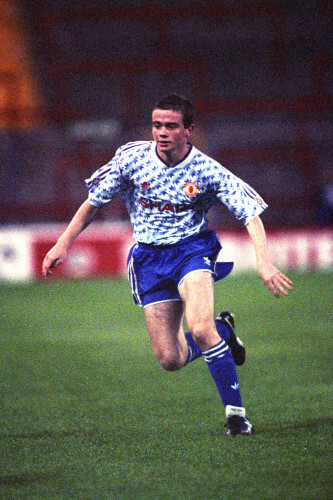 Ross Kinnaird Adrian Doherty pictured playing for Manchester United's reserve side in 1990. Ross Kinnaird
"Giggy was quietly confident. We went to Holland with the reserve team and he came with us but he was so quiet off the pitch. When he was playing, he was dancing around people. It was never in a cocky way but he had ice in his veins. He was so calm and collected. Then you had someone like the 'Doc' who was afraid of his own shadow. But then you gave him the ball and he just did what was natural to him. But I don't think he believed in himself enough. He'd come from Northern Ireland at 17, a young kid, he was only a little slight thing, he was a bit of a loner as well and so you couldn't get into his head. But then there are so many players that are so over-confident and so cocky and maybe if they'd have a little bit of what the 'Doc' had, they'd be better players too."
Giggs had already been named PFA Young Player of the Year when Brazil was winding down his time at United. The likes of Gary Neville and David Beckham had already made their senior debuts. If it was a race, Brazil was getting lapped. But he could acknowledge the group's incredible talent and as an older voice in the reserve team dressing room, he tried to look out for them as best he could.
Exclusive Six
Nations Analysis
Get Murray Kinsella's exclusive analysis of Ireland's Six Nations campaign this spring
Become a Member
"Becks was a lovely lad – salt of the earth, really," he says.
"But because of his accent he got a bit of a hard time from the Manchester lads. I knew what it was like so I put my arm around him and said, 'Okay boys, leave him alone – don't fuck around with him.' And I didn't really think anything of it. Some memories you just forget. But a few years ago, my best mate took his Dad up to Old Trafford and he was in the guest lounge. He was sitting across from Ted Beckham, David's father. They got talking and my name cropped up. And Ted said, 'Ah, I know Derek – he was very good to my boy when he was down here. I'll never forget that.' Later on, I was a Community Coach at Cardiff and United were playing in the FA Cup final in 2004 at the Millennium Stadium. They were training at Ninian Park so I was there and watching them. And when they finished up, the two Neville brothers came over and shook my hand. Giggsy, Scholesy, Nicky Butt – they all recognised me and came over. And that was quite a nice feeling because I must have been alright to them and a nice fella. I looked after them as much as I could but they were special and went on to be world-beaters. When they did get in the team, I always felt they looked out for each other."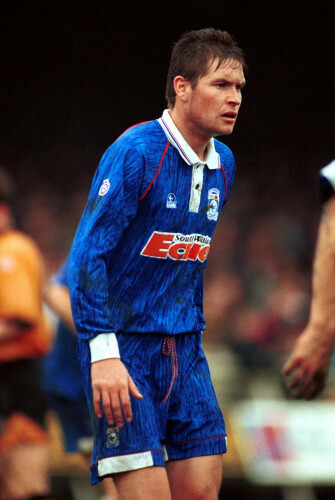 Paul Marriott Brazil in action for Cardiff City in 1992. Paul Marriott
After United, Brazil spent four years at Cardiff and stepped away from professional football at just 27 due to injury. But he's never quite pulled the chord and left United behind. He speaks of his time there with infectious affection. The effect his time at the club had on him and how thankful and grateful he is for having got to experience it is perfectly encapsulated in another anecdote that lights up our conversation.
"I'm the type of person who moves on with their life, " he says.
"But I am immensely proud of what I did there. I know I was only at United for six years and only played a few times for the first-team and my Mam did all my scrapbooks and has loads of stuff about that whole time. But I'm quite a humble person and I don't really talk about it. But my memories of it are amazing.
I got a call-up to play for Man United's Legends a few years ago and we had a game up at Finn Harps' ground. I turn up to the hotel and went to the room for a quick nap before the game that evening. I open the door and it's only Frank Stapleton who I'm sharing with. He was never the most talkative person in the world so he's in bed and reading the paper or something. And I get into bed and I'm laying there. When I was a kid, I supported Arsenal because of the Irish players and I had pictures all over my wall. So I turned to Frank and I said, 'You know what's mad? 30 odd years ago I had a picture of you on my wall and now I'm sleeping in the same room as you'. So I call me Da on the phone and I tell him, 'You're never going to guess who I'm rooming with here – Frank Stapleton'. And he just goes, 'Put him on the phone – I know his Da, Mick Stapleton.' So poor Frank can't get an ounce of sleep. He gives the phone back to me and I say, 'Da, I've got to go.' And I put the phone down. But I can't get to sleep. And I turn to Frank again and I say, 'Isn't it mad, though? That you were on my wall and now you're in the next bed to me'. And he just says, 'If you don't go to fucking sleep, lad, you'll never come on another of these trips again.' It was mad, bizarre. But just great memories of those players and the times we had."
He'll be watching United later today, like he always does.
Peter Robinson An Arsenal fan growing up, Brazil had pictures of Frank Stapleton on his wall as a kid and later got to be team-mates with him at Old Trafford. Peter Robinson
The first mention of Liverpool has him racing down memory lane again and recounting the intense, thrilling battles the teams played out during the early years of Ferguson's reign, including one memorable draw at Anfield in 1988.
"I was at that game and the one thing I remember is when Norman Whiteside came on and we were 3-1 down," he says.
"Steve McMahon was absolutely running the show for Liverpool and Norman came in and went through him. He absolutely went through him. And then Robbo pulled another goal back. And we had a spark and Strach (Gordon Strachan) went on and scored the equaliser. But they were always big games. You ask anyone at United and Liverpool is the one game they want to win every season. Just because of that rivalry. Even in the youth teams, there was always that niggle. It was always there. It was the game you always looked forward to. That was our derby.
MrRalphmilne / YouTube
"I came to Cardiff in '92 and played for the club for four years. That first season we won the league, won the Welsh Cup and qualified for Europe. And there were rumours at the time that Liverpool were interested in bringing me back up north. My agent at the time said to me, 'Look, Liverpool have come to see you a few times.' But even the thought of going there…I never would've gone. Being at United and the hatred they have for Liverpool – and I'm sure it's the same on the other side – when he said it to me I kind of went, 'Oh'. I was basically saying, 'Is there anyone else?' But I was quite happy with Cardiff and then ended up with Newport for a few seasons. I retired from professional football at 27 and I took all my coaching badges at the time, which was the good thing. What I do now is PE in schools. I actually went back and did various courses in different sports, even dance. I've branched out a little but 22 years later, I'm still doing something that I took a badge for when I was 27. And I take great pleasure from that."
Brazil admits that the only football he watches these days is United games. He just can't help himself.
"They're the only ones I watch," he says.
"When you're there and part of something for six years, you're not just part of the first team or the reserves, you're part of the club forever. And I think a lot of that is down to Fergie. When he was there, he made all of us young lads go to the museum one day. It was different at the time, smaller, but he made us look at Georgie Best's boots or Bobby Charlton's shirt and go through the whole thing. He showed us the entire history – which a lot of us, as young kids, weren't probably too interested in beforehand. But he indoctrinated us. He continued to do that every year he was there. Every player needed to know the history of the club.
The last few years have been painful I'm a big fan of Mourinho's. If he parks the bus and gets a nil-nil, he'll get stick but I don't think he cares. He plays the long game. I'm sure it'll be an unbelievable atmosphere. I just hope United play like they did in the second half against Palace. But I feel Mourinho will think a draw will be good enough and go counter-attack, just because Liverpool's front three are a bit special, aren't they? If United get beaten, it will ruin my weekend. My missus will tell you. If they lose, a couple of days afterwards I'm in a mood. And she'll say to me, 'You didn't play last night'. But I have to tell her that when I watch a game it's like I am playing. It's like I am kicking every ball. And I'm sure every player that's played for them feel the same. When you watch them, you're literally in the game. Because you've worn that red shirt and experienced what it's like to be part of that history and the feeling of playing at Old Trafford…it's just magical."
The42 is on Instagram! Tap the button below on your phone to follow us!