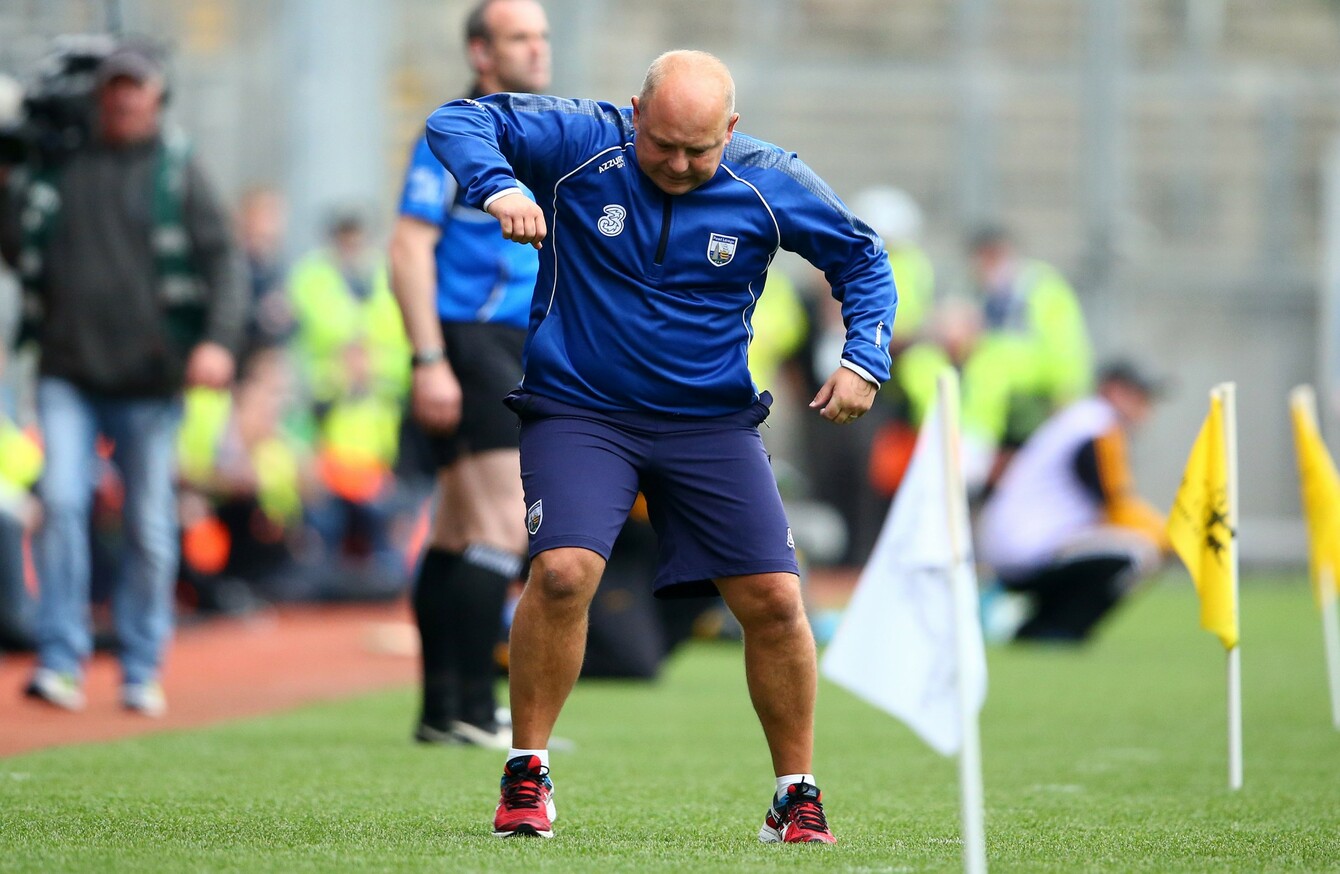 Waterford hurling manager Derek McGrath
Image: Cathal Noonan/INPHO
Waterford hurling manager Derek McGrath
Image: Cathal Noonan/INPHO
A DAY OF conflicting emotions for Waterford boss Derek McGrath.
There was obvious pride and satisfaction at seeing his players deliver a supreme performance in Croke Park.
And yet some frustration as well that it did not carry them into the winners enclosure to deliver a famous All-Ireland semi-final victory over Kilkenny.
"It's a mixture of emotions. I think we should congratulate our lads for the nature of the performance. It was heroic. It was epic. They gave everything inside their soul.
"Anytime you have that, there's a level of congratulations that is merited. There's obviously a small tinge of disappointment based on being in the position to win the game.
"So I don't believe in hiding disappointment for the sake of psychological advantages that will be gained the next day. I think we're disappointed we didn't close it out.
"But we're not portraying any bad body language by doing that in my opinion. We feel we've a different Waterford team that's able to recover.
"The general consensus will be that Kilkenny don't lose replays, that you don't get a second chance. So we'll be coming in as much under the radar as we did today."
McGrath explained why he felt beforehand that his team were perfectly positioned to triumph.
"I just felt it was an ideal scenario in terms of the preparation. I felt the 10 point victory almost kind of was dismissed as a non-event if you like.
"I thought that was harsh on Wexford, and I thought it was an ideal scenario for us coming into the game. It was Croke Park and we could have right cut. but yet be clever as well at times.
"I thought everything was set up and I thought our preparation was excellent. We came up to Carton House yesterday and just got together as a group. Even though in 2008 Waterford went up the night before it was labelled as a mistake.
"We just felt the young group, myself included, on Saturday when you're together you're less nervous. You're kind of together as a group and I thought that worked well. We put everything into it.
"So, yeah, I think that's the probably hard part to take. To replicate that and simulate that again."
Waterford caused Kilkenny serious difficulties by playing with a more attack-minded approach but they retreated notably in the closing stages.
"That's a fair point. We stepped up, but we came back. That's what we were trying to do all day and I think there was a little bit of fatigue crept in there with 63 or 64 minutes gone.
"So you're balancing key players being fatigued against that key part of the game where you need those fellas. We had a few really key players that were firing and were doing well.
"And I think that was the reason we didn't make the sub between the 66th and 75th minute. I think there came a stage where we were clinging to it that you could probably label the fact that we retreated too early, if you like.
"But it's very hard to control the match day. Especially when you're on the cusp of 60 years of hurt being evaporated."
The42 is on Snapchat! Tap the button below on your phone to add!