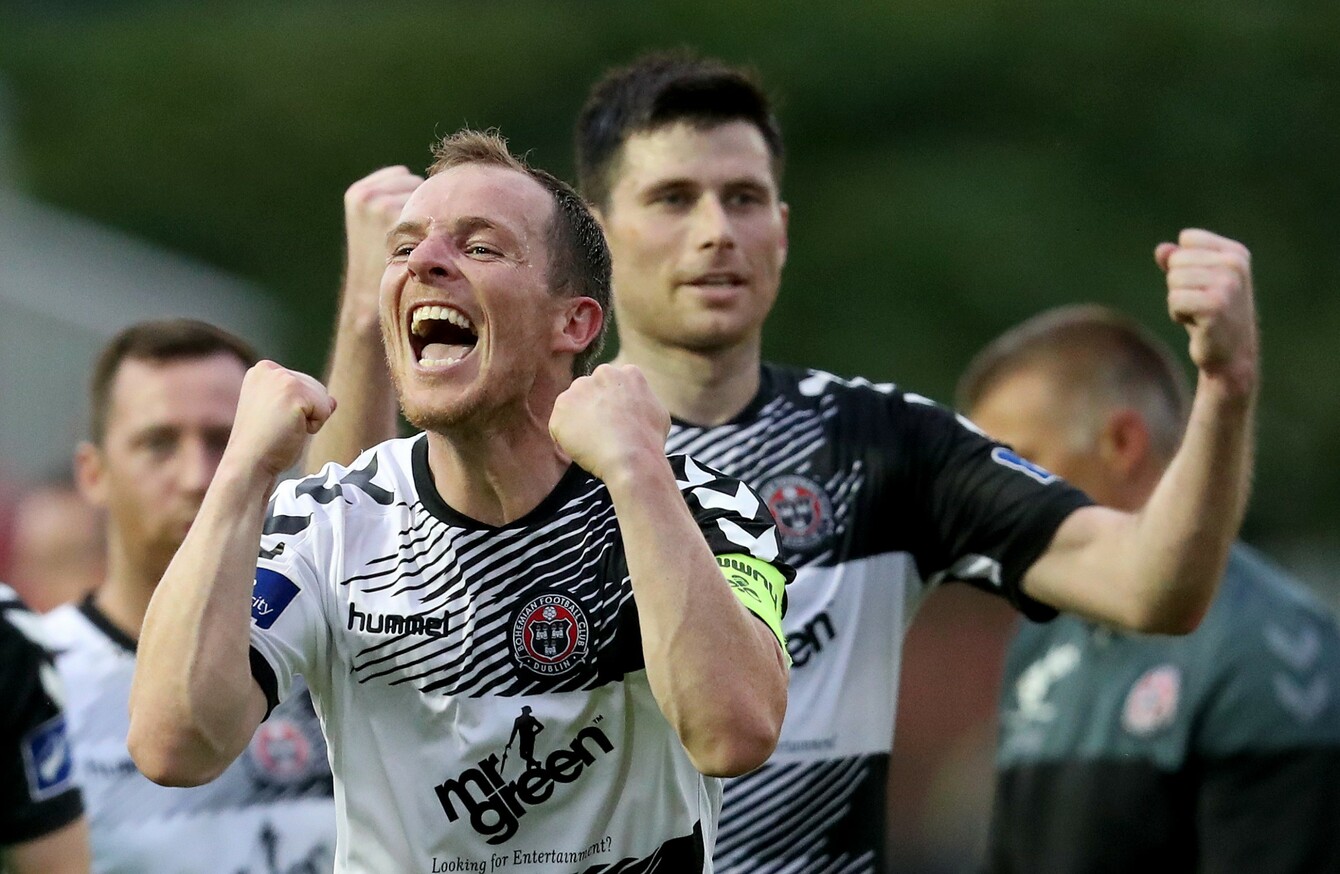 Derek Pender celebrates Bohemians' 3-1 victory against St Patrick's Athletic last Friday.
Image: Bryan Keane/INPHO
Derek Pender celebrates Bohemians' 3-1 victory against St Patrick's Athletic last Friday.
Image: Bryan Keane/INPHO
DEREK PENDER HAS to park his Dublin City bike to take the call. He has just finished his shift working in a bank in Dublin city and is on his way to training to prepare for Friday's important game at home to Sligo Rovers.
But then again, every game is all-important this season. As he himself is happy to explain, league positions can change drastically and a run of games without a win can see almost any club in the Premier Division drop into the relegation zone.
It's simply the nature of this season, a ruthless animal which will relegate a quarter of its participants. This is why the Bohemians captain says his team cannot rest on their laurels which has seen them rise to mid-table following a patchy beginning to 2017 during which the club lost five games in a row until the middle of May.
Since then Bohemians have lost just once in their last five league games, including three wins which featured an impressive 3-1 Dublin derby victory away to St Patrick's Athletic last Friday which sent their rivals bottom of the table.
But Pender insists that despite the recent turn of form the club's number one goal is to be playing in the Premier Division again next season and to avoid going down.
"For us it's all about staying up", he tells The42.
"Anything that comes after that will be a bonus. We know we are in seventh at the minute, but one loss can bring you straight back down.
"On Friday night we play Sligo which is a massive game. We're not under any illusions – it's important that we stay in the Premier Division next season. Bohs are too big of a club to be relegated."
Pender has been playing at Dalymount Park for the past seven seasons, three of those as club captain. He explains that it is a privilege to wear the armband each week for one of Ireland's biggest and most supported clubs, even if he grew up a Shelburne supporter as childhood friends with Wes Hoolahan.
"It's a great honour. Owen Heary made me captain first and then when Keith Long came in he kept me as captain and I was thankful for that. It's such a great honour to captain a club like Bohs.
"It's one of the biggest supported clubs in the country. I take it as a responsibility, but there are loads of captains and leaders in the dressing room too.
"Owen was still playing at the time and then Aaron Callaghan left and he took over as manager. Owen didn't know if he was still going to play or just manage. He said that I would be the captain, there was no big deal or big announcement about it. He just asked me would I captain the team, and I said of course."
Pender began his League of Ireland career at Tolka Park having previously grown up playing schoolboy football for Belvedere. Since then he has played for Dublin City, Shamrock Rovers, Bray Wanderers and St Patrick's Athletic having grown up going to Shelbourne games as a child.
"I used to go to Shels game as a kid. Dalymount is probably closer, but I was from the inner-city. It was a great time to be there and an unbelievable experience. They did so well in Europe. The league and even the country was buzzing at the time for the club."
He has captained Bohemians through some tough years in recent times which has seen the Phibsborough club battle it's long-standing debt with Zurich Bank. It's impact has left it a fraction of the behemoth which had won the league title in 2003, 2008 and 2009, as well as an FAI Cup nine years ago.
Pender points out that the club is at last going in the right direction following some tough years, but notes that it is still punching well above it's weight taken into consideration its annual budget, one of the league's smallest.
"It all depends on the budget. You look at the league and the table doesn't really lie. People with the bigger budgets are at the top end of the table and the people with smaller budgets are down at the other end.
"We are punching above ourselves with the budget we have, I'd say we are probably on the lowest in the league. Keith has done really, really well in the players he has got in and keeping the players he did.
"I think the club is more stable now. You see the same familiar faces at Bohs and they all have the club's best interests at heart. With Keith now in his third year hopefully he will stay for many years. Bohemians is a big club. I can only see it going one way – and that's up. It deserves to be at the right end of the table and hopefully soon it will be."
Pender has endured personal setbacks too. In May 2015 the defender was stretched off in a 0-0 draw at home to Bray Wanderers following an injury to his right leg. An Achilles injury suffered would rule the player out for five months and it would be almost nine months before he would start another game for Bohemians again.
"It was very hard. Mentally it was tough because I had never had an injury like that where I was out for so long. You're always thinking will you be the same when you come back and you're just hopeful that you will be.
"I think last year was a tough season for me. I don't want to use the injury as an excuse but it restricted me in ways that I used to play as a footballer. You slow up a little bit because of such a big injury.
"Mentally it affects you in games where you used to be able to do certain things and you can't anymore. That affects your confidence but the rehab was good and Paul Kirwan looked after me. He gave me a good programme and I got back thank God."
He says he did consider stepping away from the sport entirely when the extent of the injury was discovered. However following the backing of his club and manager, as well as a tenacious desire to play in another Dublin derby he remained motivated to one day return, no matter how long it took to get there.
"I was thinking about stepping away at the start", he explains before pausing for a moment.
"But you miss it.
"I was there for the Rovers game when we beat them 3-1 in Dalymount. Those kinds of nights are amazing and I was definitely going to come back after a game like that.
"Keith assured me, he said 'you're definitely coming back'. It was good to get that boost from him and it makes you work even harder to get back as quick as I could and as fit as I could.
"It was tough. The lads are great and we have a really good dressing room that's great to be a part of, but it's hard to watch when you're injured.
'You don't feel part of the group because they're the ones out there doing the work and they are the ones on the training ground every week. It's just hard when you're injured and you're just going to the games. You don't feel a part of it really."
What are they
really like?
Rare insights on sport's biggest names from the writers who know them best. Listen to Behind the Lines podcast.
Become a Member
Manager Long has played a central role in his career at Bohemians, firstly keeping him as his captain and secondly ensuring his return to the starting eleven two years ago.
"He is a very good man-manager", Pender explains about the Bohemians boss.
"Keith treats the players with a lot of respect and he gets that respect back. He is hard at times with the players when he needs to be. He is understanding with the players being part-time as well and I think that's why he gets the best out of them – he gives them that backing.
"With Trevor Croly coming in this year I think we've gone to a new level as well with training, conditioning-wise. Keith and Trevor are very good together."
In his first season as captain in 2015 the club finished one win away from a place in Europe, finishing eighth a year later  in 2016.
The club also ended a six year trophy draught last season with the acquisition of their 32nd Leinster Senior Cup.
The 32-year-old is happy with how this season has panned out. Six wins from 18 games, albeit scoring just 18 goals along the way without the services of star striker Ismael Akinade, has left the club seventh, six places and as many points above the relegation zone.
"It's a good position at the minute but you look at how congested the league is – it's still very tight between seventh and bottom and even sixth and second – because it's so competitive at the minute.
"We're taking every game as it comes really and trying to get as many wins as possible. Our main objective this year is safety so it's important that we do that as soon as we can.
"When you hear about the league changing and three teams will go down everybody had thoughts about relegation. Every team had concerns. And even with the bad start we had you do have concerns when you see other teams around you picking up points.
"But thankfully we started to pick up wins and points and have started to pull away from one or two other teams that are down there.
"We are starting to get on a little bit of a run. There is competitiveness in this squad to start across different positions, which is always good. We are in a good place at the moment and long may it continue."
The42 is on Instagram! Tap the button below on your phone to follow us!