Donegal 0-16 
Derry 0-15
IN A CHAMPIONSHIP that has been proving to be as predictable as night following day, Donegal and Derry produced the first contest to set the pulses racing in any way. 
There might've been two divisions between the counties where towns and villages can spill from one into the other but today the margins were miniscule. Donegal only led for the first time in injury time when Patrick McBrearty popped over a free. 
Shane McGuigan, with his fourth score levelled and Derry were well worth being on parity, only for McBrearty to kick the winner with 20 seconds on injury time left. Donegal now play Tyrone in the semi-final next Sunday in Enniskillen, knowing they just dodged a bullet. 
Big players come up with big moments.

Paddy McBrearty kicks a fantastic score at the very end of the game to win it for Donegal and break Derry hearts

Watch highlights on @rteone from 9.30pm #sundaygame pic.twitter.com/cee4wdx7TB

— The Sunday Game (@TheSundayGame) July 11, 2021
McBrearty was very well-handled by Chrissy McKaigue and Rory Gallagher's team came within a goal that would've put them four points up early in the second half. Benny Heron's effort cannoned down and only stayed out by inches, with the ball coming back off the line with chalk on it.  
Donegal manager Declan Bonner made the decision not to start Michael Murphy, who had to be content with a seat on the bench. It was the first time he didn't start a championship match since the opening round win over Cavan in 2012 – a run of 51 successive outings. 
By the first water-break, Derry were 0-4 to 0-2 in front with Padraig Cassidy supporting on the shoulder from deep before scoring a fisted point, a typical example of how they could spring. Murphy was already lightly warming up. 
In quarter two, Derry pushed their lead out to four, 0-7 to 0-3, with Conor Glass curling over a lovely score and McGuigan pointing for the third time in the half on 24. Donegal were looking a little cruxed, although did manage to get some sort of a gallop, with Michael Langan in particular with two points, cutting their deficit down to one at half-time, 0-7 to 0-6.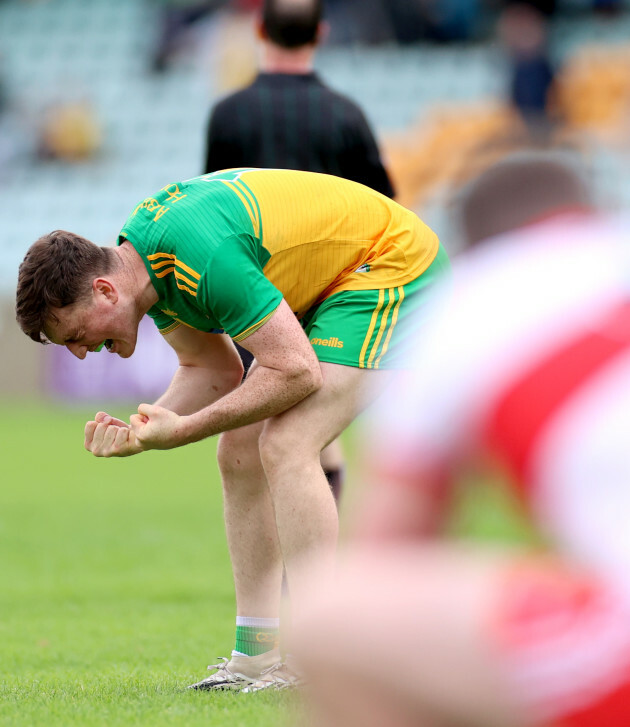 James Crombie / INPHO Donegal's Niall O'Donnell celebrates at the final whistle. James Crombie / INPHO / INPHO
Three minutes into the second half came the one most likely to be discussed into the evening, as Cassidy got in at the end line and centred for Heron, whose punch beat Shaun Patton and crashed off the underside of the crossbar but not wholly over the line. Inches. 
The contest was opening up and Derry were comfortable with that. When Ciaran McFaul put them 0-11 to 0-8 in front on 54 minutes, Murphy was readied and on, only a prelude to a point from Emmet Bradley that he might've taken on for goal.  
Murphy immediately pointed from a free and another substitute, Paul Brennan, scored to lift the atmosphere among the 500 attendees and take Donegal back to 0-12 to 0-10 down when the water bottles were thrown out. 
Niall O'Donnell helped Donegal back within range, although McFaul kept Derry ticking over. Over the course of the 70 minutes, Donegal never led once. McBrearty's two points in injury time meant they still won the race. Only just.
Scorers for Donegal: Paddy McBrearty (0-2f), Michael Langan and Niall O'Donnell 0-3 each, Caolan McGonagle,  Jamie Brennan and Michael Murphy (0-2f) 0-2 each, Paul Brennan 0-1.
Scorers for Derry: Shane McGuigan 0-4 (0-2f), Ciaran McFaul 0-3, Benny Heron 0-2, Padraig Cassidy, Gareth McKinless, Conor Doherty,  Conor Glass, Emmett Bradley and Niall Loughlin 0-1 each.
Donegal
Shaun Patton
Eoin McHugh, Neil McGee, Stephen McMenamin
Ryan McHugh, Odhran McFadden-Ferry, Eoghan Ban Gallagher
Hugh McFadden, Caolan McGonagle
Ciaran Thompson, Michael Langan, Ethan O'Donnell
Jamie Brennan, Patrick McBrearty, Niall O'Donnell
Subs:
Brendan McCole for McMenamin (40)
Paul Brennan for McFadden-Ferry (44)
Michael Murphy for J Brennan (46)
Odhran MacNiallais for E O'Donnell (49)
Oisin Gallen for Thompson (70) 
Derry
Oran Lynch
Chrissy McKaigue, Bredan Rogers, Padraig McGrogan
Padraig Cassidy, Gareth McKinless, Conor Doherty
Conor Glass, Emmett Bradley
Ethan Doherty, Niall Loughlin, Ciaran McFaul
Benny Heron, Shane McGuigan,  Paul Cassidy
Subs:
Oisin McWilliams for Heron (58)
Niall Toner for P Cassidy (61)
Conor McCloskey for E Doherty (62)
Paul McNeill for Loughlin (70+3)
Referee: David Coldrick (Meath).