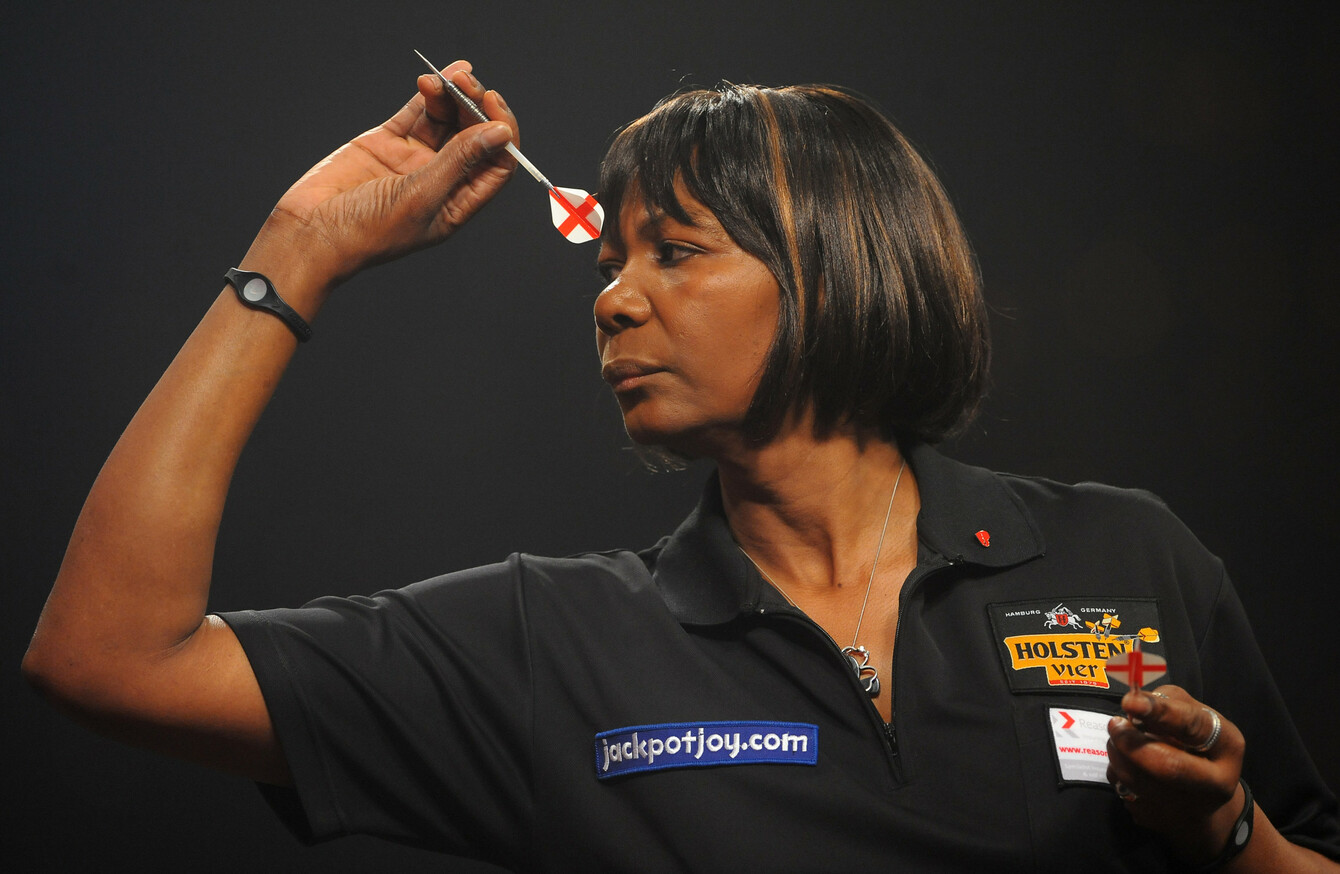 THIS EVENING, DETA Hedman will step up to the oche and embark on her quest to win the BDO Lakeside World Darts Championships.
The top-ranked women's darts player faces Norwegian qualifier Rachna David and will be hoping she can progress beyond the first round, having been eliminated in her opening game last year.
Hedman, known variously as The Dark Destroyer and the Heart of Darts, has been playing darts for the better part of three decades and won over 100 titles in her time.
The world title, however, has continued to elude her. Were she to win, it would be quite the fairytale ending for a player in the twilight of her career.
With all that in mind, you might think that the world number one would devote weeks to training for the biggest event in women's darts, but Hedman's day job with Royal Mail has meant she couldn't take time off in the run-up to the event. After all, it's their busiest time of year.
"From the last week of November and all of December, we're not allowed any time off," she says. "And if you want even a day off, you have to get permission from the mail centre manager."
So this week, Hedman did what she always does and worked a 52-hour week in a Royal Mail sorting centre. After working four long night shifts, she finished up at 4am yesterday morning.
Afterwards, she went home and got a few hours kip before meeting her partner and manager Paul, and heading to Lakeside.
"So not much time to think about anything," she says.
From Jamaica to world number one
Deta Hedman was born in Jamaica in 1959. She moved to Witham, Essex, with her family at the age of 13. She wasn't familiar with darts before moving to England, but one of her brothers acquired a dartboard and she started playing against him as a teenager. (Her brother Al Hedman would go on to win the British Open in 1995.) From there, she advanced to playing in the local pub.
It was all a bit of fun, nothing serious. Then a friend suggested she join the pub team. From there, she progressed to Superleague and County Darts.
In 1989, she won her first ranking title at the Finnish Open. Within five years, she was the world number one and won the Winmau World Masters. In 1997, she was made redundant from her job, forcing her to take a hiatus from darts.
She returned to the sport in 2002 and played with the Professional Darts Corporation (PDC) for five years during which time she became the first woman to beat a man in a game of televised darts – she defeated both Aaron Turner and Norman Fletcher in the 2005 UK Open.
After another period away from the sport, she returned to the BDO in 2010 and has been in stellar form ever since, making the finals of the World Championships on three separate occasions and winning countless other titles.
'To me, that's just pants'
Darts is largely viewed as a man's sport. After all, it's synonymous with pints of lager and William Hill cheerleaders. Hedman was never daunted by the boy's club nature of the sport, however, and primarily played male opponents in her early days. "I think that's where I became good," she says.
In fact, she still reckons she plays better against men than against women, partly due to the fact that she relishes the opportunity to prove herself against them.
"I suppose when you get on there and you play a guy, especially if he's a really good one, you want to show that you can play as well as them and that you can beat them.
"But when you go out now into competitions, most men don't like to be beaten by a woman and they still don't. It is what it is."
This is partly why she no longer has much interest in the PDC, which doesn't have a women's tour and hasn't shown any signs of rectifying that.
"I don't pay much attention to the PDC because they don't have anything for ladies," she says with a tinge of frustration in her voice. "They're not really that interested. It would be nice if they could do something before I retire or before I'm too old, let's put it that way."
Hedman acknowledges that women's darts still doesn't attract a high volume of competitors or command the same interest as the men's game. Nonetheless she would like for women's darts to get more exposure and for prize money in major tournaments to be increased.
"I would like to see the ladies' prize money for those major tournament a bit nearer to the men's than it is. At the World Championship, I think it's still £100,000 for the men and it's £12,000 for the ladies. To me, that's just pants. Because it costs us exactly the same to travel. We have to pay to enter. It is hard going."
As the world number one, Hedman has been helped with competition costs by her sponsors. It's still pretty meagre, however.
"I've got a couple of sponsorships coming in and that's helped tremendously. But even with that, if you put it all together and if you didn't win anything, you would still have to dip into your pockets."
For a lot of the ladies and some men, it's very hard. On the BDO side, it's not as rewarding as it is on the PDC side. You play the game because you love it and also some people would like to make a living, so they try their luck in the PDC. The BDO side to be honest with you – you've just got to love the darts. And I like to travel anyway so that's why I do it as well. I love the darts and I like to travel.
At 58, Hedman's love of darts has yet to wane. She continues to spend most of her free time traveling to competitions with her partner Paul, leaving little time for anything else outside work and darts. She also regularly socialises with her fellow competitors.
Indeed, a recent Facebook post was telling of the camaraderie that exists within the sport.
Health permitting, she plans on going hard at it again in 2018.
"Every year I say to Paul, 'We need to calm it down,' and it seems we do more," she laughs, but you get the sense she wouldn't have it any other way.
'The one that got away'
Regarding her chances at this year's World Championships, she's philosophical. The absence of a world title from her CV doesn't weigh heavily on her.
"We all go in there to try to win it. Okay I haven't won it, but I've never really thought, 'Oh it's the one that got away.' If I'm going to win, I'm going to win it. If I never win it, it's not such a bad thing. It's not the end of the world."
"Of course, yes, it would be nice to have it on my CV. But hey, if it never gets on the CV, I'm still alive anyway. I will still enjoy life either way."
She acknowledges that playing on the first day after a week of night shifts isn't ideal, but it can't be helped either. After all, such is the life of a semi-professional sportsperson.
"Get in there and just get on with it," she says.
The Deta Hedman way.